También puedes leer este artículo en:Español
Kobayashi-san Chi no Maid Dragon (Miss Kobayashi's Dragon Maid) has been a fun cute-dragons-doing-cute-things anime for several years. In the newest addition, Miss Kobayashi's Dragon Maid S, there is even more to love. This slice-of-life title comes with a slice of silly, and we thought about that as we put this list together.
Today's list is an update from a few years back. Things that we looked for this time around were anime with other monster characters adapting to life in the human world, themes of caring for those close to you, and the comedy that is present all through Miss Kobayashi's Dragon Maid. Without delay, here are six anime that you will enjoy if you already like Miss Kobayashi's Dragon Maid!
Similar Anime to Kobayashi-san Chi no Maid Dragon / Similar Anime Miss Kobayashi's Dragon Maid
1. Hataraku Maou-sama! (The Devil is a Part-Timer!)

Episodes: 13
Aired: April 2013 – June 2013
The Demon Lord Satan is close to conquering the human race with his demon army. Just as victory is within reach, Satan, his highest general, and their enemy, the Hero Emilia, are flung through a portal and wind up in modern-day Japan, with their power so low that they cannot use it. After a run-in with the local authorities, Satan takes on the name of Sadao Maou and gets a small apartment with his general. Though Satan's means are meager, from his part-time job at MgRonald's, Maou has a plan of conquering the world once more!
Similar to what the dragons in Dragon Maid go through, Maou and his companions have to figure out how to live on Earth. Most similar to Elma, the devils and hero, who have been transported to Earth have to find a place to live, pay rent, and oblige the new world's laws about not being violent in public. Like how Tooru hates humans and comes to like them, Maou's armies fought against humans, but he really warms up to them and even blends in as the series progresses. If you are looking for a lot of laughs, watch The Devil is a Part-Timer!
The Devil is a Part-Timer! Trailer
---
2. Gokushufudou (The Way of the Househusband)

Episodes: 5
Aired: April 2021
One day, the "Immoral Dragon," Tatsu, vanished from the ranks of the yakuza. He was not abducted or murdered. Quite the opposite: Tatsu is a full-time househusband who protects his turf (family). From mending clothes to creating impeccable bentos, Tatsu believes there's nothing more gangster than a househusband, and by that standard, he is a real gangster. Bumping into one of his "coworkers" from the yakuza, they find it hard to believe, but they too become interested in the gangster-househusband lifestyle!
If you already love Dragon Maid, The Way of the Househusband is another instance of somebody with a very aggressive personality completing domestic tasks with INTENSITY. Just as Tooru is a fire-breathing dragon who takes on the life of a live-in maid, Tatsu goes from being a yakuza to running his household and making it to the market to get items while they are on sale. They both get the job done with great ability, but they do not bow to the conventional means of getting there. For someone who loves Tooru and laughing at slice-of-life moments, check out The Way of the Househusband!
The Way of the Househusband Trailer
---
3. Demi-chan wa Kataritai (Interviews With Monster Girls)

Episodes: 12
Aired: January 2017 – March 2017
Mr. Tetsuo Takahashi is the high school biology teacher now, but he was most interested in demi-humans in college. As the name suggests, these humans have some supernatural makeup in them that sets them apart. As Mr. Takahashi learns that the high school he teaches at has not only three demi-humans (called demis) and a demi colleague, their paths start to cross. As the demis learn more about themselves and each other, they begin to understand each other. The demis have a great high school experience in Interviews with Monster Girls!
A perspective that this show offers similarly to Dragon Maid is that it focuses on the kids as well as the adults. Additionally, in the same way, that Kobayashi is always learning a new perspective based on how dragons view the world, Mr. Takahashi keeps his eyes and ears open for what accommodations are needed to help these monster girls get along a little easier in the world. For a story with plenty of comedy, awkward moments, and teachers who actively support their students, watch Interviews with Monster Girls! And look out for season two, upcoming!
Interviews With Monster Girls Trailer
---
Any Anime Like Miss Kobayashi's Dragon Maid / Any Anime Like to Kobayashi-san Chi no Maid Dragon ?
4. Gabriel DropOut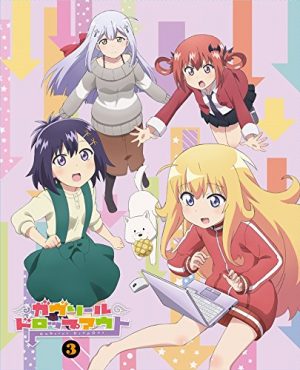 Episodes: 12
Aired: January 2017 – March 2017
Heaven sends angels to Earth as part of their training. Gabriel White Tenma is a young angel who wants to bring happiness to all humankind, and the mission is no different for her. When Gabriel gets to Earth, instead of studying humans as she was supposed to, she falls into a life of gaming and becomes a full-on NEET (Not in Education, Employment, or Training). Gabriel goes from being the top of her class to being a self-called "Fallen Angel." With several friends trying to steer Gabriel out of this pattern, Gabriel gives them a run for their money!
Just like how Fafnir falls into a love of gaming in Dragon Maid, Gabriel is a total hikikomori (social recluse/shut-in) and is not easily deterred. If you enjoy the comedic adaptation to life in the real world, this is a perfect pick for you. Instead of dragons, Gabriel DropOut features angels and demons who live out days on Earth and learn what goes into being an angel or a demon. For more cute-monster-girls-doing-cute-things, check out Gabriel DropOut!
Gabriel DropOut Clip
---
5. Jahy-sama wa Kujikenai! (The Great Jahy Will Not Be Defeated!)

Episodes: 20
Aired: April 2021 – Ongoing
After the Demon Realm is destroyed, the terrifying Jahy no longer rules at the Demon King's side. Instead, Jahy is stuck in the human world, looking like a child. Though she has an idea of how to restore the Demon Realm, she has to deal with much more pressing issues first. Like how to buy food and how to pay for rent. Though Jahy has a truly demonic inside, that's not enough to cut it on Earth. Jahy has to get a job and learn to survive, but as the title suggests, The Great Jahy Will Not Be Defeated!
Just as Tooru has an initial love for destruction and all things evil, Jahy is a real wild girl! Though she is stuck in a child's body, Jahy is still a firecracker, but she must conform to social norms. Just like how Kobayashi shuts down Tooru when she gets a little too exuberant, Jahy learns quickly that her landlady is nobody to try and outfox! For another fun story of adapting to the human world, even though you're evil inside, check out The Great Jahy Will Not Be Defeated! This title is also the newest produced one on this list!
The Great Jahy Will Not Be Defeated! Trailer
---
6. Sewayaki Kitsune no Senko-san (The Helpful Fox Senko-san)

Episodes: 12
Aired: April 2019 – June 2019
Nakano is a too-stressed salaryman who works to live and lives to work. Always on the point of exhaustion, living like this causes darkness to fill oneself and can ruin a person's life. Senko-san can see the stress in Nakano, and before the darkness takes over, she inserts herself into his life to relieve some of that pressure that is always present. With household duties taken care of and emotional support, enjoy our favorite helpful fox. This title gets extra points for being one of the few that shows a vulnerable side of men.
Senko uses her abilities for fire to complete household tasks, like cooking. It is adorably reminiscent of how that did not work with Tooru's fire-breathing ability. Both Kobayashi and Nakano are strung out adults who live lives where they are perpetually exhausted from work and not at all living life to the fullest. With the addition of a very earnest fox (or dragon), our hero's life changes are pretty significant, but it makes for a much healthier life in many areas. For all the feels you love about season one of Kobayashi, check out The Helpful Fox, Senko-san!
The Helpful Fox Senko-san Clip
---
Final Thoughts
What do you love most about Miss Kobayashi's Dragon maid? Is it the adaptation to life on Earth, the intense nature of the dragons, or the family-and-friends atmosphere that Dragon Maid does so well? Regardless of what keeps you watching it, we hope you found something today that will be another fun show to watch! Which of these titles will you watch next? Was there another we should have included? Let us know in the comments!
---
---
Warm and fuzzy (read: scaly), Kobayashi-san Chi No Maid Dragon has quickly become a Winter favourite of ours here at Honey's. Even with a different art style to their usual cookie-cutter, KyoAni has managed to once again deliver us, cute girls, doing cute things, with enough substance and laughs for even those who aren't taken in by the moe. Though if my Pixiv feed is anything to go by, it looks like Kanna could carry the show on moe alone.
So, about that list. If you like Kobayashi-san Chi No Maid Dragon, then we've found six shows that we think you'll love as well. We've focused on slice-of-life series that give off the warm, safe feeling that the Kobayashi household has, as well as characters with the same beaming energy as the dragons that have enchanted us. Of course, we can't forget the importance of how cute the girls are either, as well as the constant laughs they provide. Now onwards to the list itself, here's 6 anime like Kobayashi-san Chi No Maid Dragon!
Similar Anime to 6 Anime Like Kobayashi-san Chi No Maid Dragon
1. Nichijou (Nichijou - My Ordinary Life)

Episodes: 26
Aired: April 2011 - September 2011
Primarily based on the days of school girls Mio, Yuuko and Mai, Nichijou is a slice-of-life series, filled with shorts that feature a host of rather peculiar characters. Everything from bizarre daydreams of castles in the sky, to a principal wrestling a llama, or a child professor tormenting her helpless robot carer, Nichijou is a wild ride where you're never quite sure what might happen next.
Nichijou and Kobayashi-san Chi No Maid Dragon are both based on telling short but amusing stories about their unusual cast. While Nichijou is a fair bit more off-the-walls with its comedy, both shows have a light hearted and silly feel to them such that they can be enjoyed in the same way. Both series are also produced by KyoAni, and while the art style may be very different, the high standard of animation we've come to expect from KyoAni is present in both, as well as their fabled ability to produce cute things. So if you want something, cute, funny, warm, and not too plot heavy, we recommend picking up Nichijou as a side to your dragons.
Nichijou - Official PV
---
2. Danna ga Nani wo Itteiru ka Wakaranai Ken (I Can't Understand What My Husband Is Saying)

Episodes: 13
Aired: October 2014 - December 2014
If opposites really do attract, then Kaoru and Hajime are the perfect examples of that. While Kaoru is an ordinary office lady with a penchant for beer, Hajime is a full blown otaku, with his constantly up-to-date blog being his main source of income. While Kaoru can't quite understand her husband's obsession with cute girls and figures, she chooses to leave him be most of the time. However things are never going to be quite normal in such a household, and so continue the days of Kaoru dealing with odd friends and family, and a husband she can't understand.
A series of shorts, Danna ga Nani wo Itteiru ka Wakaranai Ken is unfortunately only 3 minutes per episode, but still has no trouble drawing you into the semi-functional household, much like Kobayashi-san Chi No Maid Dragon. Both series have a warm, family feel, with characters who are all supportive and helpful to each other, if sometimes in their own strange way. This lack of conflict and chain of heartwarming moments makes both series a joy to watch and are what we expect from the best of slice-of-life shows. So if you have a few minutes of downtime this week, why not give Danna ga Nani wo Itteiru ka Wakaranai Ken a shot.
Danna ga Nani wo Itteiru ka Wakaranai Ken Official PV
---
3. Shinryaku! Ika Musume (Squid Girl)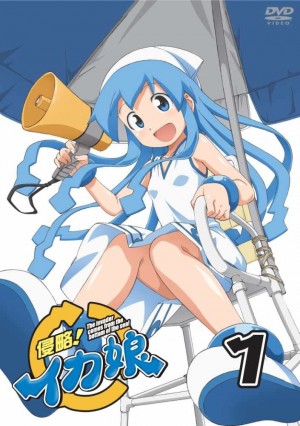 Episodes: 12
Aired: October 2010 - December 2010
Planning to invade our dry surface world filled with weak humans, Ika Musume has decided to venture out of her familiar ocean home. Only she's not quite as strong as she thought, or smart, and taking over the world is starting to seem like a somewhat out of reach goal. Fortunately, she's been taken in by a kindly human family who runs a beach restaurant, and they're happy to give her lodgings, providing she works for it!
Another story about a funny non-human who's come to our world without understanding a single thing about it, like Kobayashi-san Chi No Maid Dragon, Shinryaku Ika Musume is a slice-of-life filled with silly stories of discovery, misunderstandings, and occasionally attempts to destroy humanity. Although slightly more childish than Tooru, you'll find similarities between her and Ika Musume, including their occasional violent inclinations towards humans, and their different ways of doings things, like cooking or exacting revenge.
As the series goes on the family in Ika Musume grow closer, becoming more like the one we see in Maid Dragon, with the same warmth and trivial, everyday problems. With two seasons, Shinryaku Ika Musume is a wonderful comedy series to invest your time in.
Shinryaku! Ika Musume CM
---
Any Anime Like Kobayashi-san Chi No Maid Dragon?
4. Namiuchigiwa no Muromi-san (Muromi-san)

Episodes: 13
Aired: April 2013 - June 2013
I've not been fishing much, but my understanding of it is that mermaids have a reasonably rare drop chance. So Mukoujima Takurou must be pretty lucky to have caught himself one without even trying, although he does spend an awful lot of time fishing to be fair. Now whenever he goes fishing, Mukoujima finds his new scaly companion Muromi-san at the pier, generally being an idiot or possibly drinking. And so it is that his days become significantly more lively than they were before, and it looks like they're going to get even livelier as some more of the half-human, half-fish cuties start turning up.
Namiuchigiwa no Muromi-san captures the crazy, energetic side of Kobayashi-san Chi No Maid Dragon, being filled with mermaids who are slightly off their rocker as well as having a bright and fun art style. We have a main character again who is being bothered by a dopey semi-human who they choose to put up with, in part because they just make life more enjoyable. Replace Kobayashi's apartment with a pier and her dragons with mermaids and you're starting to get the idea. Comedy focused, if you want some extra laughs this winter, we recommend giving Namiuchigiwa no Muromi-san a try.
Namiuchigiwa no Muromi-san Official PV
---
5. Non Non Biyori

Episodes: 13
Aired: October 2013 - December 201
The small village of Asahigaoka, if you can even call it a village, is a far cry from the bright lights of Tokyo, though that doesn't seem to bother the newest resident Hotaru too much. Recently moved into the area, Hotaru is about to enter 5th grade at the local, and only, school, which consists of a grand total of five students and one teacher. Fortunately, her new classmates are a lovely bunch; the perfect companions to be stranded in the middle of rural Japan with.
We have new beginnings again, but this time with one young girl joining the class, rather than a bunch of dragons harassing an office lady. Another slice-of-life series, Non Non Biyori is a bunch of stories about rural life, connected by a vague sense of time passing, similar to how Kobayashi-san Chi No Maid Dragon slowly goes about its tales of daily life. Although the settings are fairly different, both still feature a pretty varied cast of characters that both help and irritate each other like how close friends or family might, making them very pleasant to watch. Also if you like Kanna-chan you're sure to find Non Non Biyori's Renge cute too! So if you're somehow missing it from your slice-of-life library, be sure to check out Non Non Biyori.
Non Non Biyori Official PV
---
6. New Game!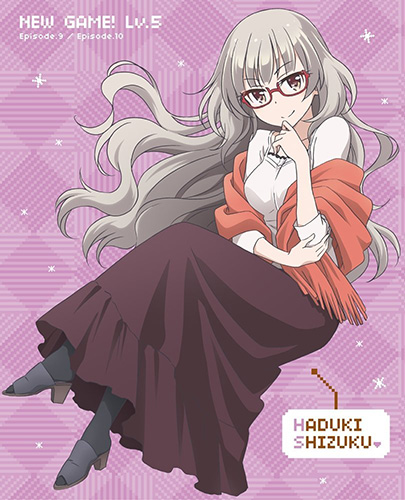 Episodes: 12
Aired: July 2016 - September 2016
Aoba Suzukaze is one lucky girl, getting to join the games company she adores as a junior game designer straight out of high school. We're not too jealous, though because it looks like a lot of work! The new girl at Eagle Jump, Aoba is quickly learning the ropes of 3D modeling with the help of her idol and senpai at the company Kou, as well as her cute and friendly co-workers. Thankfully despite the mountain of work that awaits her, Aoba's unrelenting positivity is a force to be reckoned with, and it looks like one of her high school friends might even be joining her for moral support!
Buzzing with energy, New Game's Aoba has an enthusiasm for her new job that reminds us of Tooru's enthusiasm for her's. Although unlike Tooru, Aoba does appear to be getting paid. Both New Game and Kobayashi-san Chi No Maid Dragon are bouncy and fun series, centered around cute girls. Whereas Maid Dragon has Tooru and the ever adorable Kanna, New Game has Aoba, her friend Nene, hedgehog owner Hifumi, and the list goes on. What we're trying to say is, if you like Maid Dragon for the cute girls, then New Game should be right up your street. There are plenty of slice-of-life series that are worth watching if you like Kobayashi-san Chi No Maid Dragon, but New Game is for sure one of the prettiest, cutest, and most fun new entries to the list.
New Game! Official PV
---
Final Thoughts
While there's nothing that quite mirrors Kobayashi-san Chi No Maid Dragon, we think these six series capture the same spirit, and we're sure you'll think so too! There actually aren't many monster girl shows that are very similar to Maid Dragon, though we would like to give an honourable mention to Monster Musume, which very much sits on the ecchier side of the fan service fence. A shout out to this season's Demi-chan Ha Kataritai as well for it's amusing demi-human antics.
So how many of our list have you seen? Which was your favourite? Which will you watch next? We love reading your comments, so why not let us know down below!
---