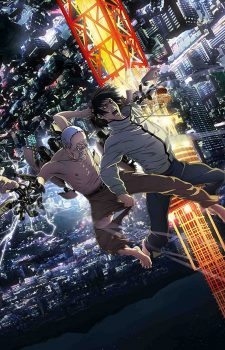 This 2017 fall anime season has been one intense season we feel at Honey's Anime. With stories of humans turned robotic beings and battle royales with supernatural beings, our minds are reminded of the greatness that was Gantz from creator Hiroya Oku. With intense—and very mature—thriller action, Gantz was loved by many manga readers and anime fans as they watched. That's why if you're in desperate need for anime like Gantz, well, you're in luck, folks. Our job today is to provide you with some new anime to watch that's currently airing—as of this article—this fall 2017 season just like Gantz.
Now, you might be new to our site—which we welcome you if you are—and/or might be a long-time fan of our articles. Regardless, our goal in this article titled Thriller Action Anime Fall 2017, Liked Gantz? Watch This! is aimed at showing you some new anime to enjoy and sink your free time into. The shows in question come in the form of Juuni Taisen and Inuyashiki. Below, we have cleverly found ways to compare both Juuni Taisen and Inuyashiki with Gantz and thus proclaim why both of these shows need to be watched if you loved or liked Gantz. Now then, we won't make any of you wait any longer. It's time to start this comparison article and make sure you're not missing out on one thriller/action season of anime!
About Gantz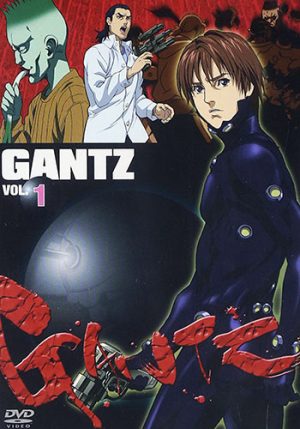 Episodes: 13 (Season 1)
Aired: Apr, 2004- Jun, 2004
Friends, Kei Kurono and Katou Masaru, have just been killed together after a subway train hit them both. However, what awaited the two wasn't Heaven or Hell but a small Japanese style room with a strange black orb in the center of it. Several others who have also died appear in the room alongside Kei and Katou and learn that they have been given a second chance but if they wish to return to the world of the living, they must survive a deadly game. The recently deceased must team up or work solo and defeat various alien-like targets to amass points and gain a chance at resurrection. Now Kei and Katou must endure this dark game and see if they can return to the lives they lost.
Liked Gantz? Watch Juuni Taisen!
Episodes: 12
Aired: Oct, 2017- Present
Unbeknownst to normal people, every 12 years a deadly free for all battle royale is held. In this battle, 12 warriors each representing a Chinese Zodiac animal are told to kill one another till only a sole survivor remains. The prize for accomplishing this monumental task is the chance at getting any one wish granted for the victor. It has been exactly 12 years since the last battle known as the The Zodiac War has been held and with that, 12 fresh new warriors meet each other in a large building. Who will win and gain the ultimate prize? Find out in Juuni Taisen!
Three Major Similarities Between Gantz and Juuni Taisen
1. An ultimate prize
Those who are fighting under the odd black orb known as Gantz and the 12 who are fighting within the new Zodiac War might be fighting for two different prizes but both are pretty amazing. For the Gantz fighters, the ultimate prize of either being reincarnated back into the human world with their original bodies or continuing the game to help their friends survive. Meanwhile, Juuni Taisen offers its warriors the prize of whatever they wish for. Let's be honest those are both pretty amazing prizes. However, we do wonder if what you have to go through to gain the so called ultimate prize is worth it at the end of the day.
https://twitter.com/12taisen/status/922791082198417409
2. Time limit
Oddly enough, both Juuni Taisen and Gantz have their characters working within a time limit. When Gantz orders a new alien to be killed, quite often he—which we do learn it's a male—assigns a time limit to execute said target. Meanwhile, Juuni Taisen's zodiac warriors such as Boar, Ox, Monkey and so on, also have a time limit to adhere to. For these warriors, they were forced upon starting up the new Zodiac War to swallow a strange crystal-like object which in it contains a deadly poison. Within 12 hours, the object will be melted by their stomach enzymes and thus kill them once the poison releases into the body. That effectively makes hiding and waiting an ill-advised strategy and ensures the Zodiac War keeps progressing quickly. Ultimately, the time limit in both shows—Juuni Taisen and Gantz—create a thriller-like atmosphere keeping us viewers in constant worry if these characters should fail to meet the time limit rules.
3. Action and drama in equal doses
Finally, if you loved Gantz for the non-stop drama of characters betraying one another or romances broken up because of death, then we fully recommend Juuni Taisen. Each episode of Juuni Taisen divulges new information for how our characters got wrapped up in the Juuni Taisen and how their lives were prior to the killing game. The same could be said of Gantz which quite often talked about each character's tragic past and what led up to their death to condemn them to end up playing in the Gantz game. We won't lie folks, we here at Honey's Anime had our eyes shed waterfalls with some of the characters backstories in Juuni Taisen—we're looking at you Monkey—but that made each episode so great to watch. Drama always works well with action when used correctly and we feel both Gantz and Juuni Taisen did an incredible job of fusing these two themes together in their narratives.
---
Liked Gantz? Watch Inuyashiki!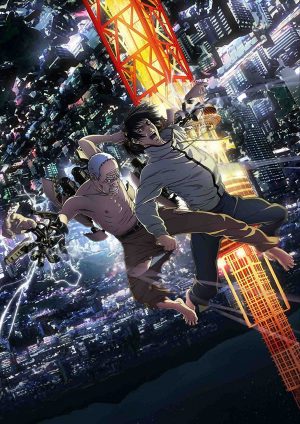 Episodes: 11
Aired: Oct, 2017- Present
At 58 years of age, Inuyashiki Ichirou has been given very little in his life. Not only is Inuyashiki's family cruel and distant but work has left Inuyashiki looking ten times older than what he should look like. Then one afternoon, Inuyashiki is told he has terminal cancer and will soon die. Sad and wishing to be alone, Inuyashiki goes to a park to let free his emotions. However, a spacecraft from another world hits and kills the 58-year-old and a young bystander as they teleported on Earth. Feeling responsible, the alien lifeforms rebuild these two humans and make them into living weapons. Inuyashiki decides to use his new form to save those who need help but the younger man has different plans in store with his new powers…
Three Major Similarities Between Gantz and Inuyashiki.
1. Same creator
Many fans of Inuyashiki don't realize that both Gantz and Inuyashiki were created by the same mangaka Hiroya Oku. While both stories have no relation to one another—though there are numerous homages to Gantz in several episodes of Inuyashiki in the form of posters on a character's wall—some can clearly see similar themes within both shows. For example, quite often in Gantz characters like Kei and Katou would cry heavily whenever their emotions were pushed forward. That same theme is found in Inuyashiki where characters love to cry and let loose their tear ducts. It might seem silly but this method of animation and storytelling makes characters relatable and human. That's why it's quite often nice to see a creator do different shows as they tend to use what they know best in the other work.
2. Redemption and sacrifice
One of the two major themes in both Inuyashiki and Gantz are the concepts of sacrifice—self-sacrifice included—and redemption. Case in point, one character in Gantz called Jouichirou Nishi reminds us of Hiro Shishigami—besides them both looking the same—who undergoes a dark beginning and then finds reasons to help others. Both Nishi and Hiro show signs of being sociopaths but they also show signs of having humane elements even if that doesn't forgive them for their crimes or cruelty to their friends. Both of these characters in their respected series find redemption in different ways and that could be said of other characters in each show. That's why we can fully recommend checking out Inuyashiki if you loved the characters in Gantz.
3. Emotions will flow
While there are tons of action scenes in both Inuyashiki and Gantz—quite mature violence mind you—that doesn't mean you won't find your eyes watering up from time to time. Both shows have a very strong way of making you reflect on your own personal life—the good and bad—and realizing not to take certain things for granted. As we mentioned earlier, Hiroya Oku seems to understand how to infuse into his works a human feeling that makes every action, every choice and every consequence taken by the characters in both Gantz and Inuyashiki matter. That's why you'll find some characters from Inuyashiki and Gantz mirroring elements from your life in some ways. Though maybe minus the alien lifeforms, killing game and sci-fi action parts.
Final Thoughts
Quite often we here at Honey's Anime here a new season doesn't have cool anime shows and we have to wonder are those people looking for the right shows to watch? Both Inuyashiki and Juuni Taisen are incredible thriller and action heavy show which make them perfect for fans of those genres. Plus, if you loved Gantz—which was in many ways action and thriller personified—then you absolutely need to check out both Juuni Taisen and Inuyashiki. If you are already watching either of these shows or both, comment down below and tell us what you think about them. As always for all your anime recommendation needs and articles, stay stuck to us here at Honey's Anime!
---