Hokkaido is commonly recognized as a place that exhibits distinctive changes in seasons, complementing the island from Honshu, Kyushu, and Shikoku. Hokkaido offers breathtaking scenery that may be considered comparably drastic against the other islands. Keeping wanderers in tune with nature, Hokkaido displays a majestic spring, a pleasantly comfortable summer, a robust, harvesting fall, and a stunningly beautiful winter wonderland. With this picturesque setting, we aren't surprised that anime studios have jumped on the bandwagon as well with increased coverage of Hokkaido's beautiful surroundings. So with Honey-chan as your personal tour guide, we give you our best recommendations for the top 10 anime set in Hokkaido. Let's jet!
10. Kita e.: Diamond Dust Drops (Diamond Daydream)

Episodes: 12
Aired: January 2004 – April 2004
"In the dead of winter in Hokkaido, things can get pretty cold." Diamond Daydream is a romance, drama, and slice of life anime. It's been said that if a couple finds diamond dust, then they will both experience extreme happiness from that moment on. From this, we follow the story of six young women, Atsuko, Kyoko, Akari, Suomi, Shoko and Karin and their encounters with this mystical element. Diamond Daydream is a timeless and refreshing anime that demonstrates relatable qualities. As these young women reflect on their life choices, we observe their many triumphs, conflicts and interactions with various people on a daily basis.
The myth emphasized in Diamond Daydream really captures the wishful, serene and romantic nature of the winter season. Self-discovery and the effort to overcome obstacles for improvement is an excellent way to show that these young women are ready for new beginnings. Transitioning from a slow, cold winter into a blossoming spring, every girl is staged at different points in their lives. With each episode, we notice that whatever choices these women make, the results seem to always link back to their roots in Hokkaido.
---
9. Saishuu Heiki Kanojo (She, The Ultimate Weapon)

Episodes: 13
Aired: July 2002 – September 2002
"Shuuji and Chise are two third year high school students in Hokkaido, Japan. The two like each other, and fall in love. Both Shuuji and Chise spend their day enjoyably, but one day, an unknown enemy attacks the city of Sapporo. In the midst of it all, a mysterious flying object appears. Lost in fascination, Shuuji chases after the mysterious object and before his very eyes he sees...Chise."
In the middle of airstrikes and hostilities, She, The Ultimate Weapon or more commonly known as SaiKano, does not fail to provide fans with beautiful imagery of Sapporo's forestry, coastline, and city views. As the war gradually swells into their town, Shuuji and Chise still remain focused on maintaining their relationship, going about their lives. When the conflict picks up, Chise learns to balance becoming a weapon of mass destruction, as well as discovering the experience of true love for the first time. From these circumstances, Shuuji helps her adapt to both.
---
8. Figure 17: Tsubasa & Hikaru

Episodes: 13
Air Date: May 2001 – May 2002
Tsubasa Shina is a 10-year-old girl who moved to Hokkaido from Tokyo with her father. At her new school, Tsubasa has trouble making friends because she is so shy and unsociable. Then one day, for better or worse, her life changes as she encounters a UFO crashing into the forest behind her home. Arriving at the scene, she discovers the pilot unconscious, as well as a creature trying to kill him. Frightfully, Tsubasa tries to flee when the creature sets its sight on her. In the vicinity of the pilot, another alien life-form emerges, fusing with Tsubasa's body to form Figure 17. The life-form takes the name Hikaru, turning into Tsubasa's twin. Further down the line, as the threat still looms over Hokkaido, it will take some time for the pilot's reinforcements to arrive on Earth.
Although Figure 17: Tsubasa & Hikaru has a sci-fi element, the story also focuses on the slice of life aspect, where we observe Tsubasa integrate into country life. Growing in confidence with the help of her clone, Tsubasa is able to make friends a lot easier. More than that, we see how the invasion of Maguars is disrupting the calmness of Hokkaido and how it is essential to get rid of these foul creatures for good!
---
7. Sakurako-san no Ashimoto ni wa Shitai ga Umatteiru (Beautiful Bones –Sakurako's Investigation-)

Episodes: 12
Air Date: October 2015 – December 2015
Beautiful Bones –Sakurako's Investigation- is the story of Sakurako Kujou and Shoutarou Tatewaki. As lovely as she may appear, Sakurako has an affinity for the study of bones, or osteology. With her unique skill, civilians and government agencies call upon her to help solve complex cases. An interesting pair from the start, we are presented the gradual development of Sakurako and Shoutarou's working relationship, as they complement and aid one another throughout this 12-episode mystery anime.
In Beautiful Bones -Sakurako's Investigation-, the flora of Hokkaido is in full effect, representing the spring season at its finest. Sakura, the Japanese staple, can be seen in abscission, blanketing the ground with soft and colorful splendor. The color palette used is so bright, beautiful and vibrant. A lot of detail went into displaying the landscape and environment, making Beautiful Bones a visually appealing and mind-stimulating anime.
---
6. Noein: Mou Hitori no Kimi e (Noein: to your other self)

Episodes: 24
Aired: October 2005 – March 2006
The story of Noein is set in the city of Hakodate. In a fluidic timespan where multiple dimensions are fighting each other on the verge of destruction, a group known as the Dragon Calvary is dispatched to find a weapon needed to cease fighting. In present day Earth, we are introduced to Haruka and Yuu as they set out to run away because they can no longer bare their living conditions at home. The two youngsters then meet Karasu, a member of the Dragon Calvary. Karasu believes that Haruka possesses the essential Dragon's Torque, and further, claims to be Yuu from the future. An adventure, slice of life and sci-fi anime, watch and see how these worlds duke it out in an epic battle.
Utilizing the same location throughout each episode, Noein helps viewers envision what it would be like to be in Hakodate. Becoming familiar with the setting, it helps us pinpoint specific locations, both in the present and future. As we are able to distinguish the changes and destruction that Hakodate will endure, it will surely impact our sense of closeness to this notable port city.
---
5. Servant x Service

Episodes: 13
Air Date: July 2013 – September 2013
Servant x Service is a romantic comedy about Lucy Yamagami (for short), a civil servant who works at the Welfare Administrative department. When Lucy was born, her parents couldn't decide on her name. So they jot down everything that would be suitable for her, and to their surprise, the extra long name got approved in the books. Now, as an adult woman, Lucy wants to give her "just desserts" to the department that decided to "okay" her ridiculous name in the first place. Alongside this plot, we also watch Lucy interact with various co-workers. A simplistic and exciting storyline, we can now truly experience the hard work and chaos that goes into working for the people!
As new, fresh employees to the workforce, Lucy, Yutaka, and Saya constantly struggle and get chewed out in the Welfare sector. In a city located in Hokkaido, we get insights on the difficulties of today's job economy and the pressures these three can handle with their position. Collectively working together to ensure citizens' satisfaction in Hokkaido, Lucy and her co-workers must also learn how to balance their own lives. Unfortunately, the people can't take their problems elsewhere!
---
4. Working!!

Episodes: 13
Air Date: April 2010 – June 2010
Irasshaimase! Welcome to Wagnaria, a family restaurant located in Hokkaido! With an obsession for all things adorable, tiny, and cute, Souta Takanashi finds himself having a hard time turning down Popura Taneshima's request to work at Wagnaria. Although she is older than him, Popura dislikes this "younger than she looks" complex, but Souta constantly points this out and adores it. Working!! documents Souta, Popura and a number of other co-workers who somehow balance and disrupt the functions of Wagnaria on a regular basis.
Wagnaria portrays a common theme in restaurant chains all over Japan. These establishments exist in various locations and are increasingly popular to natives and foreigners. Unlike the professionalism and efficiency of Japanese work ethics, Working!! demonstrates the complete opposite with wild antics, spontaneous shenanigans, and comedic outbursts. Though this anime is set in Hokkaido, restaurants like Wagnaria are seen everywhere! Order up!
---
3. Kimi ni Todoke (Kimi ni Todoke: From Me to You)

Episodes: 25
Aired: October 2009 – March 2010
In the anime Kimi ni Todoke, Sawako is often mistaken for the scary girl from "The Ring," thus giving her the nickname, Sadako. The gossip surrounding her deters people from getting to know who she really is. In actuality, Sawako is very timid, kind, and sweet. As Sawako yearns to fit in, she is drawn to Shouta Kazehaya, the most popular boy at school. Incidentally, when Shouta starts talking to her, Sawako's spirit is overjoyed. Over the course of time, Shouta and Sawako venture onto new, exciting experiences.
As an incredibly realistic slice of life anime, Kimi ni Todoke expresses a light, warm and calming feeling, journeying with the couple in their blooming romance. Set during the school year, we get to encounter day-to-day life as students in this small town school. Fresh and airy backgrounds are displayed when the couple embraces during an intimate occasion, and somehow, we can't help but feel the same lovey-dovey sentiment.
---
2. Gin no Saji (Silver Spoon)

Episodes: 11
Air Date: July 2013 – September 2013
"With neither a goal nor a dream, Hachiken enters Ozeno Agricultural High School in Hokkaido, also known as Ezono. What awaited him there were sweat, tears, youth, and …animals!" As his peers are driven and ambitious, Hachiken has uprooted himself from his city life and into the countryside, where he believes he will excel, but couldn't be more wrong! Silver Spoon tells the story of Hachiken, growing to appreciate the struggle of agricultural routines and lifestyle, and learning the strenuous skills required with his newfound friends.
Silver Spoon accounts the typical routine of activities students learn in managing agricultural life. From farming, to livestock, to figuring out numbers, we follow various characters from all backgrounds, determining if they have what it takes to hack it in this industry. As Hokkaido is one of the leading areas in agriculture, it is fitting that the story takes place here.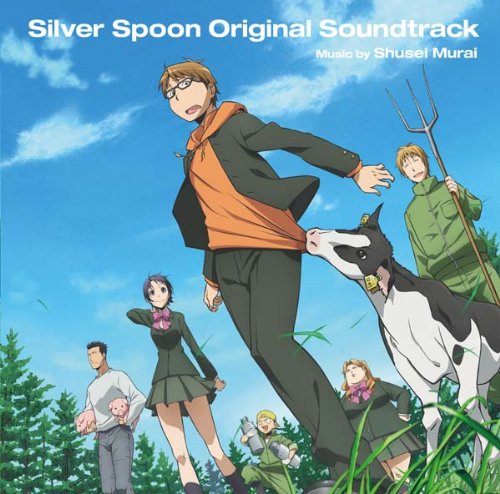 ---
1. Boku Dake ga Inai Machi (Erased)

Episodes: 12
Air Date: January 2016 – March 2016
Erased follows the story of 29-year-old Satoru Fujinuma who is an aspiring manga artist, but feels he doesn't have the potential to make it in the business. Leading a pretty ordinary life and putting his manga dream on hold, Satoru works as a pizza delivery guy. Contrasting this, Satoru possesses a supernatural ability that he doesn't really share with many people. The skill, 'Revival', allows him to move into the past to correct tragedies and wrongdoing. As Satoru is presently being accused of murder and arson, he uses revival to go back 18 years to correct a string of murders in order to alter events occurring to date.
One of the most intriguing mystery, psychological anime to date, Erased will keep you on the edge from start to finish. Touching on many deep and complex issues, Erased brings awareness to these topics and their lasting effects on families and communities. When Satoru uses his revival, he is frequently sent to the same winter-y period in time in order to save his friend Kayo Hinazuki, as well as the other victims. Connecting this season to being a cold and somber time, the tone does pick up as the snow melts into spring.
---
Final Thoughts
Ranked based on popularity, we hope you enjoyed our choices of top 10 anime set in Hokkaido! If you haven't already, make sure to check out all of these great titles! In exploring Japan's second largest island, we hope this list gives you a glimpse of what this area of the country has to offer. Its geography, history, and cultures are some attributes that draw in natives and visitors to travel and live in this area. Furthermore, Hokkaido offers some very unique qualities in comparison to Japan's other islands. As such, let us know your thoughts and/or if we've missed any other great anime with a setting in Hokkaido! Comment below! See ya!
---