Welcome to Osaka, home of exquisite seafood and succulent Osaka-style okonomiyaki. A city that is without question, a major player to the frame of culture that is Japan. A city that is often lost in the mix with its counterparts, Tokyo, and neighboring Kyoto. With Tokyo as the international bullseye of Japan, and Kyoto as its cultural center, Osaka unfortunately remains distant to the rest of the world. With Japan's numerous prefectures often the victims of the general public interpretation, and by extension, its depiction within films and television, the Kansai-ben native region of Japan isn't always viewed in the most appreciated light. However, what Honey's Anime is here to provide to you all, is the mercantile capital's chance to shine. Without further ado, we introduce to you, our Top 10 Anime Set in Osaka. Time to get a taste of culture.
10. Chie the Brat (Jarinko Chie)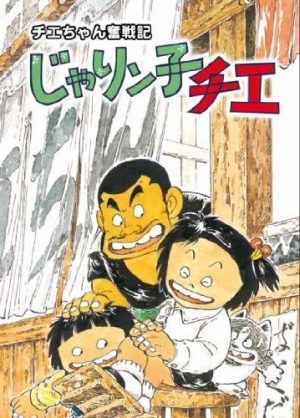 Episodes: 64
Air Date: Oct. 1981 – Mar. 1983
What would it take to turn you into the most unfortunate person in all of Japan? Well, it may start off a little bit like, being forced to manage the family diner over the backdrop of having separated parents, and a father who's unemployed and a member of the yakuza. In other words, your life would look something like the life of Jarinko Chie; and that's just scraping the surface.
Set in Shinsekai, Osaka, Chie the Brat sets us on a fun comedic tour throughout its malarkey-lined, bustling neighborhoods, and outspoken populace. The exaggerated characters give this exquisite story its energy, but the nature of Osaka is what brings this series to life. Osaka's juxtaposition with Tokyo is heavily relied upon within the nature of this piece, and can be attributed to its unique sense of character; which helps pull this series apart from the multitude of anime that exist. While dodging your typical protagonist-versus-antagonist story plot, Chie the Brat gives us a well-balanced stroll through Osaka. One that is quite unforgettable.
---
9. Hand Shakers

Episodes: 12
Air Date: Jan. 2017 – Mar. 2017
Welcome to the year AD20XX, in a world that is home to groups known as the Hand Shakers. Hand Shakers are a pair of individuals who, when joining hands, can summon "Nimrods"; a power born from within their psyche. These Hand Shakers will compete with other Hand Shaker pairs in hopes of gaining a chance at the ultimate challenge. A battle against "God".
Set in Osaka, this sprawling anime series brings forth a colorful plunge into the world of fantasy. With a story plot built on a unique concept, the Kansai region setting makes for a double score. As you delve into the ongoing lives of Tazuna Takatsuki and Koyori Akutagawa, you get a lavish view of the energetic city of Osaka in the background. With artwork handled as beautifully as it is in Hand Shakers, every scene becomes a treat that'll make you wish you could stand in their world right beside them.
---
8. Magical☆Shopping Arcade Abenobashi (Abenobashi Mahou☆Shoutengai)

Episodes: 13
Air Date: Apr. 2002 – Jun. 2002
Young residents of the Abenobashi commercial district of Abeno-ku, Osaka, Arumi and Sasshi, find their worlds turned upside down when they are transported to an alternate universe. Muddled with swords and sorcery, they attempt to get back to their reality, but find themselves traversing numerous worlds derived from various film, television, and game genres. Including sci-fi, fantasy, war, dating sims, and American films. To make things even more strange, these worlds seem to be manifested from the mind of Sasshi, as they are primarily populated by analogs of his/her relatives, and acquaintances. All except for one blue-haired stranger named Eutus.
As nonsensical as this may sound, there's a lot to keep this series close enough to the ground for everyone to get a grasp of its handles. One of those being its astounding setting within Osaka. Known for being a merchant city, Abenobashi is a magnificent way to express the heart of Osaka. The well-crafted scenery, various artistic interpretations, and splurge of Kansai-ben make this one great option to spend the day in Japan's cheerful south-west. Time for a little bit of shopping arcade fun.
---
7. Free! – Eternal Summer

Episodes: 13
Air Date: Jul. 2014 – Sep. 2014
One year after its creation, the Iwatobi High School Swim Club is already faced with the looming threat of disbandment. With seniors Makoto Tachibana and Haruka Nanase departing at the end of the school year, Nagisa Hazuki and Rei Ryuugazaki must pull in new members to keep the team alive. But that's only the tip of the spear, as Haruka and Makoto must struggle with deciding their futures as well. And while Samezuka Academy Swim Team Captain, Rin Matsuoka, may be able to skate past this struggle due to already being aware of his future goals; a sudden appearance of an old friend of his, Sousuke Yamazaki, still manages to stir up trouble.
As this anime implies; being an archipelago, Japan is surrounded by water, and the people of Osaka are no strangers to the multi-faceted resource. As such, one way to experience life best is to dive in head first, and that's exactly what Free! – Eternal Summer is here to do. Within the series, we see a few notable locations being represented. For starters, Kinki Daigaku of Higashiosaka is the reference for the show's main setting, Samezuka Academy. We also get a view of the iconic Namihaya Dome, which is used for the nationals during Free!'s second season run. No fancy wordplay necessary; Free! –Eternal Summer takes a piece of Osaka's soul, and brings it to the table for the world to experience.
---
6. Lovely Complex

Episodes: 24
Air Date: Apr. 2007 – Sep. 2007
Welcome to the life of Risa Koizumi, a young high school girl whose only hope is to meet her true love. She is head over heels for the tall, handsome, school eye candy, Ryouji Suzuki. Height being the standout feature, as Risa's height of 172 centimeters makes finding the right man harder than it should be. However, once she has the finish line in sight, Ryouji happens to fall for someone else. Leaving, not only Risa, but secret admirer of Ryouji's new love; Atsushi Ootani, stranded and heartbroken with nowhere to go. That is, until Risa and Atsushi find themselves lifted by each other's pitiful situations. Unfortunately, Atsushi's unattractive 156 centimeters in height may cause an already complex relationship to fall short.
A part of understanding Osaka, is understanding its people. Leveled with stereotypes that both speak to their individuality, and vilify them at the same time. While Chie the Brat gives us an outstanding performance when it comes to depicting two character types that are of the same coin; works like Lovely Complex aren't to be left out of the conversation. It's to be noted that Lovely Complex, in a sense on par with the image of Osaka when viewed by its relationship with Tokyo, depicts its characters in a rather realistic manner. In other words, we get to understand that your average "Osakan" is more than your shabby, overzealous, gambling fiend caricature. Instead, they are comedic, energetic, and downright fun. Bottom line, getting to know Risa and Atsushi is worthwhile; and the backdrop of Osaka culture is the icing on the cake. So, why not take a slice?
---
5. Gantz: 0

Episodes: 1
Air Date: Oct. 2016
Gantz is here in full movie attire, and with it, everything necessary to provide that anticipated blockbuster punch. The recently deceased, and now resurrected, group members; Yoshikazu Suzuki, Reika, Masaru Kato, and Joichiro Nishi, gear up for a new mission. They are unusually sent out to Osaka, where their skills are pushed to their limits, and their desire to survive is put to the test.
Presented with a dark overall tone, Gantz: O takes us through a new side of Osaka. A grim, action filled, thriller put together within a fully CGI-rendered environment, provides that needed change of atmosphere that helps separate Gantz from many other anime. While its choice of setting may not particularly come into play, the change of scenery from previous Gantz iterations is a much welcomed one. So, feel free to gear up and join the Gantz bandwagon.
---
4. Detective Conan Magic File 4: Osaka Okonomiyaki Odyssey (Meitantei Conan: Osaka Okonomiyaki Odyssey)

Episodes: 1
Air Date: Apr. 2010
Conan is all set to depart from Osaka, but before he leaves, Heiji and Kazuha make it their mission to eat out with their close friend at an okonomiyaki restaurant. But life is never as easy as it seems, for the likes of unassuming neighbors, annoying students, busy streets, and a random mother asking for help babysitting, look to make their journey for a farewell feast seemingly a lost cause.
What seems like one quirky way to set foot into the laidback Kansai region will bless its viewers with not a second wasted of absolute enjoyment. With a plot baking on one of Osaka's culinary treasures, those who have experienced Osaka will laud the fun take on the prefecture's relatable atmosphere; and for those who haven't been as fortunate to visit the wonderful city as of yet, will suddenly find themselves booking their next travel location before the episode reaches a close. So, if you haven't gotten your handful of Osaka culture, then there is no better way to start than with an episode of Detective Conan.
---
3. Kanon (2006)

Episodes: 24
Air Date: Oct. 2006 – Mar. 2007
Yuuichi Aizawa was once very fond of visiting his cousin in the city, but for the past seven years he has remained as far away as possible. Something was stopping him from ever returning, and with the memory of that incident now gone, he suddenly finds himself back in town. As he traverses throughout the cold of the winter season, Yuuichi finds himself coming into contact with several young girls. These girls seem to have some connection to Yuuichi, and may be the key to unveiling his long forgotten past.
The winter days of Kanon topple the city with glamorous white snow. Dazzling the viewers at every flip of the scene. Immediately, we could get a clue of this anime's setting just by catching a few episodes. Kanon's reference of Moriguchi, Osaka is front and center, and in fact, provides a decent illustration of what life may feel like for its residents. A toned down, far separated from your typical Kansai stereotype, portrayal of character and life. It goes to prove that, one's understanding of culture, or subculture, is up to how one interprets it. And Kanon's position against other anime that either reference or use Osaka as its primary setting, shows just how characteristically different those interpretations can be.
---
2. Clannad

Episodes: 23
Air Date: Oct. 2007 – Mar. 2008
Typical rebel student; constantly ditching classes and feigning ignorance towards the reality of life. This is Tomoya Okazaki, and his dull life will soon take a big step in the opposite direction. After coming across a strange girl named Nagisa Furukawa muttering to herself; grabbing Tomoya's attention after she suddenly yells Anpan, Tomoya unusually begins noticing her more often throughout school. With nowhere to hide, Tomoya eventually gives in to her stubbornness and takes Nagisa up on an offer. To help her revive the school's drama club. As the days' pass by with Tomoya spending more and more time alongside Nagisa and four other club members, Tomoya begins to view life in a new light.
And life in a new light is what we get. Throughout Clannad we receive a great portrait of a quiet, laid back neighborhood that rings the bell of a slow relaxing life. From the apartment, to the old neighborhood walkways, we constantly receive a great rendering of what looks profoundly similar to Suita, Osaka. In fact, the resemblance is uncanny, not only in visual depiction, but atmosphere as well. The Okazaki apartment grows to stand for many things within the world of Clannad. Pain, new beginnings, and relapse, amongst many more. And while the structure is no longer standing within the real world, Clannad's representation of the once unknown building has turned it into something of a priceless monument. To imagine that something so small, could transform into something so symbolic when placed in the right hands.
---
1. The Monogatari Series: The Second Season

Episodes: 26
Air Date: Jul. 2013 – Dec. 2013
Diving back into the world of Monogatari, The Monogatari Series: Season Two brings us another whirl of gods, ghosts, and more surrounding Koyomi Araragi and his close comrades; Mayoi, Nadeko, Sururuga, Tsubasa, and Shinobu, as they fight not to succumb to the overwhelming darkness plaguing their lives. But that's only the start of their problems. As the school semester begins, kickstarting the hurdle towards a fast approaching graduation, Koyomi is faced with the prospect of choosing a path for his future, and accepting what that decision may mean for his relationships with his friends. That is, until Koyomi disappears.
Thus, while we jump aboard the feverish hunt for our favorite protagonist, we get to witness a spectacular show of what Osaka has to offer through its many references throughout The Monogatari Series. The use of bridges isn't unheard of within this intriguing anime, and has become somewhat of a motif within its narrative. Likewise, we get a wonderful shot of bridges such as the Sugaharashirokita Bridge, and surrounding waterfronts that help define Osaka's geographical character. As mentioned earlier, this is only one example, so tune in if you're looking to see more beautiful Osaka renditions.
---
Final Thoughts
We hope that these 10 selections can help provide you with some insight into the magnificent world of Osaka. From its people, to its culture, Osaka has much to offer. So much, that these 10 anime are just breaking the ice. Thus, those of you who may know of another great piece that is worth adding to this list, please feel free to sound off in the comments below. We're always listening.
Anime is life! Anime is culture!
---