Japan's culture has shared a lot of beautiful things with the world. Food and drink, performance arts, manga and anime, and so much more. Anime, in particular, has gained the attention of the whole world. As authors were Japanese, characters for a long time have reflected people and culture traditionally associated with Japan. As the genre has grown, both the audience and the authors have diversified. Today, multicultural casts in anime are much more frequent than they were in past years.
Anime with multicultural characters that made this list will reflect the world we live in, rather than any of the fantastical places created by authors. Some people may not live in their country of origin, but they bring part of that nationality to the story. Things that put an anime towards the top of this list are popularity, amount of cultures represented, and how the author has chosen to display these differences. We hope in this list that you find your next binge!
10. Jormungand

Episodes: 12
Aired: April 2012 – June 2012
First up on our list is Jormungand. Koko Hekmatyar is an arms dealer who travels across the world to conduct business. Accompanying Koko on her adventures is her team of ex-military bodyguards. If you pay the amount agreed upon, things should go fine, but if a customer has other ideas, they'll find themselves on the wrong end of this group. Evading local and national law enforcement, Koko travels the globe to get the job done. With no shortage of ammo, the cast of Jormungand is willing to do whatever it takes to accomplish Koko's dream of world peace. Did we mention that? Our primary arms dealer has a goal of peace. Just how will that happen?
The bodyguards employed by Koko come from several countries. They come from the United States, Germany, Italy, Japan, Finland, and unspecified countries from Asia. Other than Koko and her team with ex-military backgrounds, former child soldier, Jonah, is also part of the group. These characters come from different places and experiences but become a team to support Koko. In addition to a multinational team, Koko and the group travel to various countries for their line of work. Jormungand is a good show for you if action is what you're looking for.
---
9. Hetalia Axis Powers

Episodes: 52
Aired: January 2009 – March 2010
This anime makes characters out of nations involved in WWII and plays out a lighthearted history of the time. Something very entertaining about this anime is the fun characterization of each country. Italy is friendly and gets along well with Germany. America wears a bomber jacket, talks fast, and loves to make a plan. Russia is always dressed for cold weather and loves it whenever Latvia and Lithuania need some help. Brittan is America's older sibling and has memories of when America was younger, and they were closer. Though WWII was a solemn and challenging experience for every country involved, Hetalia Axis Powers offers a silly telling of the relationships characterized as a bunch of cute guys.
Hetalia Axis Powers makes each country's character dense with pieces of culture from that country. For example, Italy loves art, hates fighting, and remembers how "grandpa Rome" lived a hard life that gave him scars as an old man. Japan, as a person, is reserved and frequently concerned about how he will get along with all the other new countries he is meeting. Hetalia Axis Powers makes this list for representing so many countries in a very entertaining form but doesn't make it to the top because the episodes are only a few minutes long, and there really is no plot. This anime can be a little harder to get all of the references for if you ignored world history. The quips go by fast, which makes the rewatch a blast.
---
8. Cowboy Bebop

Episodes: 26
Aired: April 1998 – April 1999
This next anime takes place in the year 2071. Spike Spiegel is a bounty hunter who travels space and has adventures looking to find inter-stellar criminals. This lanky sharpshooter is quick on his feet and is no stranger to danger. With his longtime partner, Jet Black, and their crewmates Faye Valentine, Edward Wong, plus their "data dog" Ein, they cruise the galaxy and lookup bounties together. In this anime are jazz soundtracks that make this like nothing else you have seen.
Though this show takes place in outer space, there are familiar cultures represented throughout. Faye Valentine is someone who learns she survives years in a preserved stasis but learns she came from Singapore. There are characters at different points that have Mexican influenced garb, like sombreros and ponchos. Along the way, we meet Laughing Bull, who is a descendant of Native American tribes. In Cowboy Bebop, cultures of Earth are still present in space, even though humanity has long left its motherland behind.With wit, skill, style, and a little luck, the crew of the Bebop have adventure ahead.
---
7. Black Lagoon

Episodes: 12
Aired: April 2006 – June 2006
Rokuro Okajima has graduated from community college and has a dull job in a big company. He travels to the South China Sea to run an errand for his company when he is kidnapped by a band of pirates! They look to use Rukoro for a ransom, but that does not work and the very-much-alive Rokuro to be declared dead. Rukoro, now nicknamed "Rock," decides to join up with the pirates, and has to make himself useful and get a lot tougher to survive. The group, Lagoon Company, transports goods across the seas of Southeast Asia.
While Rokuro is Japanese, the group of their ship, the Black Lagoon, consists of several Americans of different backgrounds. The character Dutch is an African-American Vietnam veteran who is the leader. Revy is a Chinese New Yorker who is the muscle, and Benny is a Jewish Floridian who has really annoyed the FBI. Lagoon Company's base of operations is in the Thai city of Ronapur. The company is familiar with Hotel Moscow, a Russian based crime syndicate. From shore to shore, Lagoon Company will move your product with no questions asked.
---
6. Great Pretender

Episodes: 23
Aired: June 2020 – September 2020
Makoto Edamura, through unfortunate circumstances, has been forced to a life of pickpocketing and otherwise tricking people out of money. Self-titled "Japan's greatest swindler," his skills meet a challenge when he cons an unassuming tourist who turns out to be the French con man Laurent Thierry. Makoto, called "Edamame," finds himself in Los Angeles and swept deeper into a world of crime, glamour, and affluence. If he wants to stay afloat and ahead of the truth, Makoto is going to have to lie with elegance.
Great Pretender takes place in both Japan and the United States of America. Edamame and his French fellow conman find themselves in the United States working cons against people such as mafia dons. Laurent has a crew who come from his own country of France, as well as Japan and Iraq. This glamorous, vivid anime is one of the hottest up and comers in 2020!
---
5. Carole & Tuesday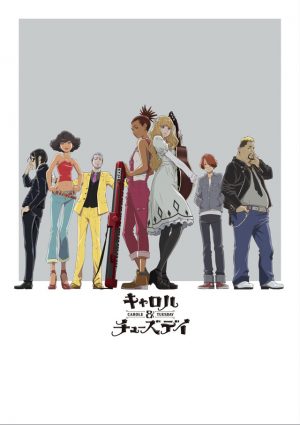 Episodes: 24
Aired: April 2019 – October 2019
In the future, most of Earth has recolonized on Mars. The story starts when a girl named Tuesday runs away to journey to Mars' Alba City to make a living in music. There, she meets Carole, a girl about her age who lives alone and always has. Carole plays her piano in public one day, where she encounters Tuesday, who lived a sheltered life until this point. The two hit it off and start making music together. Overcoming one obstacle after another, the two find themselves in a televised competition for talent. Can Carole and Tuesday bring their love of music to the next level and make a living from songwriting and performing? In an age where most tasks are handled by AI, they have a long way to go to get to the top.
Because most people from Earth have relocated to Alba City, the mix of characters in this show represent many different cultures. From the Chinese landlord who always is sitting downstairs smoking a pipe, to their manager who immigrated to Mars from Texas, everyone comes from someplace different. Even panels of the audience listening represent lots of different ethnicities in one spot. Once the "music scene" is reached, the artists themselves vary greatly too. A couple of megastars remind the viewer of Beyonce and Jay-Z. The music performed goes from electronic to soul, to rock, and the piano-guitar duet of Carol and Tuesday.
---
4. Appare-Ranman!

Episodes: 13
Aired: April 2020 - Ongoing
Appare Sorano is an inventor interested in steam-powered machines. In a whirlwind of a show's introduction, Appare and his companion, Kosame Isshiki leave their lives and Japan behind and head towards America on a steamboat Appare invented. Upon their arrival in Los Angeles, California, they have no money or friends, but they decide to take part in the "Trans-America Wild Race" to use the one-million-dollar prize to return home. Appare builds a machine, makes some friends, and they depart! The race goes from LA to New York, so they have a long road ahead.
Because this competition has such a large prize, Appare and Kosame are not the only international contestants. Jing Xialian, in her traditional Chinese attire, is looking to break stereotypes around women racecar drivers. Accompanying Kosame and Appare is the young Native American character, Hotoro. Hotoro has memories of his lands being taken and his parents killed by a man with a certain tattoo. Hotoro is looking for revenge, and soon learns the man who killed his father worked for the Mexican garbed "Gil the Butcher." There are also several drivers from the European-based "BNW." This is an "amazing race"-themed show with a whole cast of people looking to win for their own reasons. Watch Appare-Ranman if you like your adventure served with a side of comedy.
---
3. Yuri!!! On Ice

Episodes: 12
Aired: October 2016 – December 2016
Yuri Katsuki is an ice skater who experiences a great loss in competition. At a low point emotionally, he returns home after college to lick his wounds and figure some things out. Yuri is not in competition form anymore, but he loves to skate. One day, some children take a video of Yuri performing a routine originally done by a Russian competitor, Victor Nikifrov. Victor sees this video and makes his way to Japan to offer to be Yuri's coach. Yuri accepts, and the two begin a journey to take Yuri to the international competition stage. The relationship between Yuri and Victor is one overflowing with comedy and romantic tension, as Victor has found renewed inspiration from Yuri's viral video, and Yuri has long looked to Victor in the ice-skating world.
Most of this story is about Yuri and his journey, filled with all kinds of surprises from the ever-challenging Victor. During the international competition, we meet skaters from other countries, whose likeness resembles several professional athletes from around the world. In this anime, you get to see performances from China, Thailand, Sweden, Italy, Canada, South Korea, Russia, Japan, and more! Just like the Olympics, this event has athletes from all over the world, representing their country and doing their best. This anime has been well-received by fans and is worth a watch if you already love watching ice-skating at the Olympics every few years.
---
2. Nihon Chinbotsu 2020 (Japan Sinks: 2020)

Episodes: 10
Aired: July 2020
There is a tremor. Then a small quake. A pause. Then civilization-collapsing shifts in the Earth, and chaos follows. As the name suggests, this anime is one where Japan begins to sink into the sea. This story follows Ayumu Muto, her brother, and her parents. After the disaster begins, all family members of the Muto household start the story by beating the odds and finding each other, though they were apart then the event arose. Though this family has this small victory, the road ahead is littered with death, uncertainly, and the natures of humans when society fails. This story is exhilarating, but not for the faint of heart.
Nihon Chinbotsu 2020 takes place in Japan and centers around the Muto family. The two children in this family are of Japanese-Filipino descent, as their mother is originally from the Philippines. The Muto family teams up with some interesting characters on their journey, including Daniel, a lighthearted man from Yugoslavia, and Kaito, who is a famous Estonian YouTube star who has been uploading videos during the dangerous journey. In addition to having several different countries represented, this anime also has moments that show both the differences in Western and Eastern culture (an example being crossing fingers) and a strong love and lament for Japan, especially by older generations. This show is like a roller coaster, so buckle up and open Netflix.
---
1. Shokugeki no Souma (Food Wars! Shokugeki no Soma)

Episodes: 24
Aired: April, 2015 to September, 2015
From a young age, Souma Yukihira has helped out in his family's restaurant and honed skills in the kitchen. As Souma nears high school, his father decides to close the shop and travel around the world cooking. Souma makes plans to attend Tootsuki Culinary Academy at his father's recommendation. Believing he already knows how to cook just fine, Souma soon learns that while he has enough skill to make it into the academy, there is a long way to go before he can take the top spot.
Tootsuki Culinary Academy is an internationally known school, so professors and students alike are from around the world. The first instructor they encounter is from France. Souma makes a rival who comes from his family's restaurant in Italy. Even though they are not from these countries, some characters appear to be representative of America and India as well. In addition to people, Food Wars! also has topics about different foods of the world. This anime takes the number one spot because it has substantial cultural differences with people and subject matter. Additionally, this anime has a big fan base. If you are reading this list and have not watched Food Wars!, it is our first recommendation!
---
Final Thoughts
Whether your interest in anime is in comedy, romance, shounen, drama, or anything else, multicultural casts are showing up in just about every genre. Multicultural anime offer characters who more people can see themselves in, and some empathy a viewer may not have had before. Multicultural anime here show themes from multiple countries throughout their series.
International themes in anime are growing, and we hope we offered some recommendations here that you may not have seen before and want to try. Which will you watch next? Was there another anime we should have included in this list? Tell us in the comments!!
---