También puedes leer este artículo en: Español
Candy Boy
Yuri, if you ask me, is the purest form of love. Why is that? Well, it's about two girls falling in love and make out. That is sweet, cute and sometimes hot, and, uh… Let's save that thought for another time, another topic, shall we?
Though I admit that when you hear the anime has yuri, they usually go for the sappy romance stories, and really they're not for everyone. There is nothing wrong with these kinds of stories and I do find them interesting when character building is done right, but if I just wanna see shows with plain jane yuri fanservice, there's a bunch of them. And coincidently I'm gonna list 10 of them here!
Let's get started!
10. Yuru Yuri (Happy Go Lily)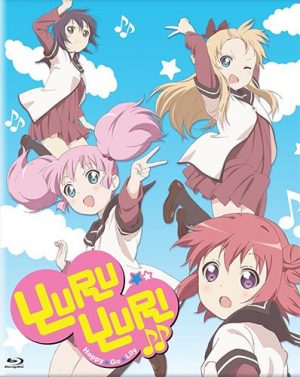 Episodes: 12
Aired: July 2011-September 2011
Yuru Yuri is centered around the daily lives of Akaza Akari and her friends Toshinou Kyouko, Funami Yui, and Yoshikawa Chinatsu. The group of friends form the Amusement Club — a club with activities that consist of basically lazing around and doing random fun activities.
I think this is the third time I mentioned Yuru Yuri in my articles and for good reason because Yuru Yuri is one of the best shows when it comes to yuri fanservice. It is generally tame, but the show has a good amount of adult humor that keeps you asking "how old are these girls again?" There are no gratuitous panty and boob shots, or anything like that, and the jokes usually revolve around Chinatsu obsessing over her crush Yui, Kyouko pulling pervy moves on Chinatsu, Akari's sister being creepy, Chitose fantasizing, Ayano seeing tacos, etc.
---
09. Sengoku Otome: Momoiro Paradox (Battle Girls: Time Paradox)

Episodes: 13
Aired: April 2011-June 2011
Hideo Yoshino is your typical average schoolgirl who one day was transported back in time while praying at a local shrine to help her with her upcoming test. She is sent back to the Sengoku Period when Japan was in constant conflict. During this time, Yoshino met one of the of the three warlords of that time, Oda Nobunaga. However, there is something amiss: Oda Nobunaga and the entire population are all women.
We've been here before: Fantasy anime centered around Japan's Sengoku Period like Samurai Deeper Kyo or Sengoku Basara, and Sengoku Otome is no exception. The unique twist this time is that in this fantasy world, men don't exist and every figure from Date Masamune to Oda Nobunaga are all female. The yuri fanservice is on the lighter side, but entertaining. Seeing Akechi Mitsuhide getting all jealous and thinking pervy things about Oda Nobunaga offers great laughs. I wonder how the real Oda Nobunaga would react if he saw that his female version is a tall redhead with huge boobs and wears a skimpy and impractical getup.
---
08. Haiyore! Nyaruko-san (Nyaruko: Crawling With Love!)

Episodes: 12
Aired: April 2012-June 2012
Yasaka Mahiro, your average and blandest boy (fact) around was minding his own business until he met a mysterious girl named Nyaruko. This girl is a special agent who was sent to Earth to protect Mahiro from monsters. Why are the monsters after Mahiro? Does he have something that they want? And who is Nyaruko? And is H.P. Lovecraft rolling in his grave after he found out Japan turned his Eldritch horrors into cute and sexy girls?
While technically not a yuri show, it does have a good amount of yuri fanservice thanks to our lovely Eldritch abomination Cthuko aka the lustful and fiery red hair twintails girl… or something. Right. Cthuko is so in love with the main heroine Nyaruko, she goes to great lengths to get to Nyaruko's undergarments. Cthuko literally jumps at Nyaruko every time Nyaruko does something suggestive like seducing the main hero Yasaka Mahiro. If I were to personify Lust, one of the Seven Deadly Sins, Cthuko fits the bill.
---
07. Kämpfer

Episodes: 12
Aired: October 2010-December 2010
If your wish is to become a girl, then Senou Natsuru is one of the luckiest guy on the planet, as he can do just that. Unfortunately for him, there is a consequence to his transformation: He/she is now a Kämpfer, a female warrior with powers who are locked in an eternal struggle to fight other Kämpfer for… some stupid reason. The story is lackluster and it made me feel bad just to write the synopsis...
It's so bad, it's good — This sums up Kampfer quite well. The main draw is the yuri fanservice mainly because the characters and their designs are hot, the main villain is also hot and they all want the female Natsuru. The story is just, well, too meh to bother, so if you're planning to watch this, watch it for the ladies.
---
06. Kuttsukiboshi (Stars Intertwined)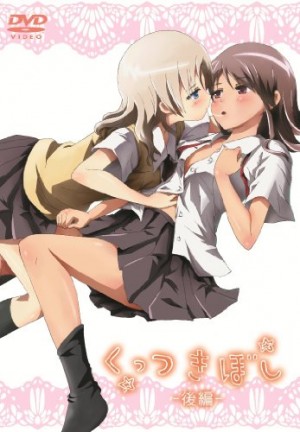 Episodes: 2
Aired: August 2010-May 2012
Kawakami Kiiko is a girl with supernatural powers: she can move things with her mind. Kiiko meets an attractive young girl named Saitou Aaya and starts developing feelings towards her. The two eventually get together and while everything's fine for the both of them, Kiiko will soon discover that Aaya holds a secret that could ruin their relationship.
This is the most unique entry on this list because the entire series was written, directed and animated by one guy named Ishikawa Naoya. It's very hard to describe the story without spoiling too much, so let's just say that you can get anything you want through force. Oh and space lesbians.
---
05. Queen's Blade

Episodes: 12
Aired: April 2009-June 2009
The Queen's Blade tournament is held every four years to determine the most beautiful and powerful Queen. Enter Leina Vance, the heiress of the Vance Family and next in line for the throne, is seeking the title of Queen. As she travels the land of Gainos, she meets other warriors from various lands also seeking the title.
If you combine all fetishes, personify a few of them, and put them into an anime, the result is Queen's Blade. There's a story here and there, but let's be honest here, you watch it for the huge cast of female characters in very skimpy outfits. Each character is very unique with their very own style and quirks, voiced by popular VAs, so there's someone for everyone. Who is my favorite? Airi-sama all the way!
---
04. Seikon no Qwaser (The Qwaser of Stigmata)

Episodes: 24
Aired: January 2010-June 2010
Oribe Mafuyu and Yamanobe Tomo rescued a wounded boy without realizing what they were getting themselves into. The boy is named Alexander Nikolaevith Hell and he is a Qwaser, a kind of superhuman who can draw the power of elements and use them as powerful weapons, as the fate of the world hangs in the balance. The bizarre twist is that the Qwasers require a special kind of liquid to recharge their powers and this liquid is none other than breast milk.
While breastfeeding is the anime's main fetish and main attraction, the arguably best parts are the antics and homosexual relationship of Ekaterina "Katja" Kurae and her slave Katsuragi Hana. Even though their relationship is in an S&M kind of way, they do feel real affection towards each other. This probably made the breastfeeding scenes involving them an extra punch.
---
03. Fate/kaleid liner Prisma☆Illya 2wei!

Episodes: 10
Aired: July 2014-September 2014
A sequel to the anime of the same name, 2wei! takes place right after the first season. The girls are once again called back on active duty when they find out that the Cards have left some very nasty side effects on their world. However, their seemingly easy mission goes totally awry with the appearance of a dark stranger who looks just like Illya.
The overall tone of the anime is pretty gay especially when Chloe, Miyu and Illya are involved. Chloe needs constant magical energy to keep her going and in order for her to do that, she must "extract" the energy by physical contact and the most efficient way is French kissing. Her favorite source of magical energy are none other than her companions Illya and Miyu. There are times when Miyu gets jealous and tells Chloe to get energy from her instead of Illya. Chloe happily obliges, obviously.
---
02. Cross Ange: Tenshi to Ryuu no Rondo (Cross Ange: Rondo of Angels and Dragons)

Episodes: 25
Aired: October 2014-March 2015
In the far future, Earth has finally reached total peace after humanity obtained the ground breaking information transfer and material generation technology called "Mana." With this power, pollution, famine, and wars have disappeared. However, peace is not really what it seems. The Norma or people who cannot use Mana were cast out of society and live in oppression.
The main character of the story is the first princess of the Misurugi Empire, Angelise Ikaruga Misurugi and is a strong believer that the Norma should not exist in this world and must be exterminated. On her baptismal ceremony after she turned 16, her elder brother Julio exposed Angelise as a Norma. Angelise was exiled to Arzenal, an island in the middle of nowhere and starts her new life as a soldier to risk her life to protect the world that hates her.
More like Cross Ange: Gundam with Lesbians! *ahem* I mean, come on! The show is riddled with Gundam references (notably Gundam SEED) and the show wasn't shy showing the yuri fanservice goodness. To put it simply, the main character and outcast Angelise Ikaruga "Ange" Misurugi is stuck on an island filled with nothing but women and is forced to fight dragons while wearing impractical skimpy suits for battle. Yeah, I know.
---
01. Valkyrie Drive: Mermaid

Episodes: 12
Aired: October 2015-Ongoing
Tokomome Mamori is a special kind of girl who was transferred to a mysterious island chain in the middle of the ocean in the most unconventional way. The young cast away was suddenly attacked by the island inhabitants, but then was luckily saved by a girl named Shikishima Mirei. As their assailants pressed on with their attack, Mirei suddenly kissed Mamori, and Mamori turns into a sword!
At first glance Valkyrie Drive looks like an Ikkitousen clone and Senran Kagura 2.0, but upon closer inspection, the shows are nothing alike. Unlike Ikkitousen, Valkyrie Drive is fun and not a pain to watch and unlike Senran Kagura, the yuri fanservice in Valkyrie Drive is on constant overdrive. The main fanservice is the fact that the Liberators must sexually arouse their partners, the Exters, to turn into weapons before fighting. The process usually involves near explicit lesbian sex right in front of everyone. And yes, it's one of those anime that defies classification.
Plus the anime is currently airing and they might pull another bold move that's, well, bolder the the previous lewdness.
And there you go!
---
Palabras finales
If I want to give an honorable mention, it'd be Agent Aika. Agent Aika or AIKa holds a special place in my heart as one of the first anime I saw that made me go "WTF" due to its excessive fanservice. To be fair, the fight scenes were very well-animated, but distracting… If you want to know what I mean, go Youtube search "Agent Aika Fight Scene" and click on the first video to see what I mean.
The list you just read is made for one purpose: to titillate, excite and get a few great laughs with a yuri twist. The shows aren't all totally yuri, but a majority of anime right now have some form of yuri fanservice in them. If I wanted the list to be pure yuri, then I would be forced to list all of the yuri shows from my Top 10 Yuri again and probably add in Ikkitousen: Dragon Desti—ugh, man, that show was awful… *ahem*
What do you think of the list? Please leave a comment below!
---