We often hear that music brings people together in all sorts of ways. The unknown power of music motivates, inspires, and brings a lot of joy and excitement to anyone who reaches out for it. Idol anime gives so much to its fans, providing a philosophy that drives popular culture. Fame, status, endurance, and success propel the idol phenomenon as entertainers are manufactured by the industry to reflect the needs of idol enthusiasts. With this notion, idols are meant to cast light as good role models and be the envy of all group circles. With that being said, we share with you our choices for top 10 idol anime movies! Now, let us hear ya scream! Woo!
10. King of Prism by Pretty Rhythm

institution designed to breed future idols. Concurrently with the Prism King Cup, Hiro and his classmates endlessly practice and train in order to compete and parade their talents. Will they prove they have what is needed and more to be like the growing sensation band? Mic Ch-ch-check it out!
King of Prism by Pretty Rhythm spotlights the essential elements in becoming an idol superstar, which includes long repetitive rehearsals, voice and dance practice, building relations and networking, and the overall enjoyment of putting in this hard work for the fans. Hiro, Shin, Louis, Kouji and Kazuki are a vibrant group of characters that remind us how hard and costly the price of fame can be. Moreover, our idols in the making demonstrate that a little fun, comedy and relaxation in between can often remedy a stiff and taxing schedule.
---
9. PriPara Movie: Mi~nna no Akogare ♪ Let's Go☆Prix Paris

PriPara is a world all girls dream of, where everyone dreams of becoming an idol. This magical world is blissful, like walking into a dream. If anything appears to be wrong in your life, coming to PriPara will bring you a lot of joy and happiness. The overall sense of belonging is what makes this world so great! Contrary to this, the band of girls are bombarded with alarming news. They are transported to the Grand PriPara Canyon, announcing that they must make their way to PriParis in Prance. Why? As the worldwide PriPara headquarters, it is the center of all things Pri! Furthermore, they are instructed to rescue Falulu, an extremely well known idol girl who has been captured after discovering the sparkle is disappearing from the area. The idol girls must collect as much sparkle as they can, otherwise, PriPara world will disappear forever!
Everyone is waiting for you in PriPara! This idol film is a feel-good adventure that is truly enjoyable to watch. It is imaginative and vibrant, capturing each idol girl's spirit and determination. When we watch these girls sing, dance, and perform for the sheer fun of it all, we experience the essence of idol anime. In musical cooperation, what better way to do something you love than to do it with a group of fabulous friends.
---
8. Starmyu OVA

Episodes: 2
Aired: July 2016 – September 2016
Graduation Ceremony and then graduation. These two events are something every student looks forward to at Ayanagi Academy. The ceremony is the flagship event for the Kaou Council, performing and completing their last jobs before they retire. The Star Teams' students make their preparations in order to show their gratitude and hard work in this final hurrah. However, the journey doesn't end here! Strategies are in place for Team Hiiragi and Team Ootori as they ascend towards higher heights in their musical career.
Starmyu OVA is one idol anime film that you wish existed IRL due to every pivotal event signaled with our idol boys breaking out into song! Alongside the voyage of entertaining the audience, the various teams must deal with the drama and pressures of bringing on their best performance. In this transformative story, we learn that a lot of responsibility comes with prestige and stardom. Furthermore, the teams must weigh the difficult decision of sticking with traditions or going with personal devotion. With upbeat and powerful performances, this two episode OVA is definitely a must-see!
---
7. Wake Up, Girls! Shichinin no Idol (Wake Up, Girls! The Movie)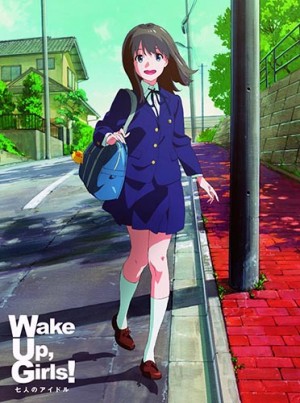 In Wake Up, Girls! The Movie, we begin by seeing how these seven members link up to form their idol group. Off to a rough start, the girls debut with little luck establishing their fan base. After their performance, unfortunately, they are knocked down a peg, as their manager takes off. This finds their label and band on the brink of extinction. Oh dear! However, the girls experience a turn of events, finally offered a second chance at their dream! Of course, it is paired with much turmoil, but nonetheless, the girls are willing to bear it. With their good fortune and long-awaited big break, Wake Up, Girls! The Movie takes on the demands of the musical industry.
In this film, we watch a group of young girls, Airi, Nanami, Minami, Kaya, Yoshino, Miyu, and Mayu, fight hard for their place on the stage, reaching for the goal they want to attain as top idols. We experience their heartfelt crusade, recognizing that this lifestyle and field of work, is more than just fame and flashing lights. Music, as they emerge from every walk of life, is something they all truly enjoy. With that being said, every one of these girls is ambitious, a truly admirable trait and essential in an environment that is super competitive and unkind.
---
6. Kami nomi zo Shiru Sekai: 4-nin to Idol (The World God Only Knows: Four Girls and an Idol)

Aired: Air Date: September 16, 2011
In the World God Only Knows: Four Girls and an Idol, we meet a group of young girls named Miyako Terada, Chihiro Kosaka, Ayumi Takahara, and Elucia de Lute Ima who decide that they want to form a light music band. In the process, they look to Keima Katsuragi for help, as his peers recognize him as top student. In the process, they meet Kanon who becomes their friend, as well as their foe. Watch these gals undertake a tremendous venture in becoming idol girls!
In this music comedy OVA, the story embarks on themes and characters from the anime series, except that it highly emphasizes musical and idol matters. While the group has a fantastic objective in mind, they expected to be decent from the start, but after listening to their first recording…. Oh boy!, do they have a lot of work to do! When the girls decide that they want to be a part of the upcoming festival, they all work extremely hard to fine-tune their instruments, learning that to play them well is not enough. They later come to understand the intricate mechanisms and sounds that resonate through their instruments, making these tools a part of them.
---
5. Aikatsu! Movie

The story of Aikatsu! Movie details the journey of a young girl named Ichigo Hoshimiya, who was just an average middle school student until she suddenly learned about idol culture. At Starlight Academy, girls strive for excellent in turning into the next big star. This movie centers on Aikatsu!'s greatest "Super Live" concert yet, the Dai Star Miya Ichigo Matsuri. We see Ichigo plan for the concert, highlighting the various press conferences, rehearsals, lessons, and tons more she must handle before the final show.
Aikatsu! Movie is a slice of life musical anime that is visually and musically appealing from start to finish. While watching this film, we really get to experience the emotional roller coaster and struggles in following Ichigo's idol dreams. Ichigo shows that being an artist is not only about singing and looking great, but also how much planning and organizing one must do in order for a show to go on without a hitch. Moreover, as we see other idols accompanying Ichigo, we learn that success follows someone who aims high for it, with additional support by an extremely loyal group of friends.
---
4. The iDOLM@STER Movie: Kagayaki no Mukougawa e! (THE IDOLM@STER MOVIE: BEYOND THE BRILLIANT FUTURE!)

The iDOLM@STER Movie: Kagayaki no Mukougawa e! centers on the continuing journey of the idols of 765PRO, as they make their way beyond the brilliant future! The idol girls are currently at a training camp, making waves after their huge success at the New Year Concert, resulting in the home office working overtime. Consequently, what do the girls of 765PRO have in mind next? To perform at an arena concert, of course; their biggest yet! Everyone's getting pumped up for the occasion, but will they sink or swim?!
Taking on a new stage, we cheer our girls of 765PRO on! In this iDOLM@STER movie, we explore and observe a range of fun and unique characters who offer something different and exciting in our viewing experience. Producer-san is also a notable character, someone who supports and loves his idol girls compassionately, only wanting the highest success for them. Additionally, the music is super lively and upbeat and the performances are phenomenal.
---
3. Love Live! The School Idol Movie

Love Live! The School Idol Movie follows the events that occurred after the second season of the series. During this time, the idol band Muse, has become a huge success. Climbing to the top, the group receives an invitation to perform at a huge event in New York. This performance hopes to expand the idol industry, gaining exposure for the Love Live Project. "Started from the bottom, now we here", the group had no idea that Muse would last this long. Through these events, we observe all the ups and downs of the girls while working to become rising idols, maintaining humility, and ensuring that fame and success doesn't get to their heads.
Love Live! The School Idol Movie includes a colorful and likeable cast, with vibrant, bright animation. To create realism, the film highlights the journey to reach your dreams and the difficulties that will be encountered along the way. In addition to the idol music, Love Live! School Idol Movie includes a lot climactic drama, followed by the girls making up, and a lot of comedic relief to ease the tension. Furthermore, the girls of Muse have a very positive outlook to every situation, even when things may appear grim and worrisome.
---
2. Interstella5555: The 5tory of The 5secret 5tar 5ystem

Interstella 5555 is a continuation of the background story featured in Daft Punk's music videos: "One More Time," "Aerodynamic," "Digital Love," and "Harder, Better, Faster, Stronger." Interstella 5555 highlights the band, the Crescendolls, who are members of a blue alien race. Crescendolls members, Arpegius, Octave, Baryl, and Stella are captured by their evil record producer, brainwashed, and sent to Earth. The plot unfolds as a pilot originating from their home planet rescues them. Interstella 5555 is a continuous earful of enjoyable music, providing non-stop foot thumping.
"Music got me feelin' so free, we're gonna celebrate!" This film makes it on our list due to its sheer emphasis on musical enjoyment. The Crescendolls are in complete distress, lost, and just want to make their way back home, although the endless music masks all of this. Many of us would be in a state of panic, out of focus, and scared in this type of situation, but with the continuous tracks accompanying their idol epic journey, we can't help but jam while watching this movie. "One more time!"
---
1. Detroit Metal City (Detroit Metal City: The Animated Series)

Episodes: 12
Aired: August 2008 – October 2008
Detroit Metal City: The Animated Series is a music comedy OVA that centers on the popular death metal band, Detroit Metal City (DMC), distinguished in the industry for their dark and vulgar tones. DMC's frontman, Johannes Krauser II is a dark demon who has emerged from hell on a quest for world domination…at least that's his front! Krauser II's real name is Souichi Negishi, an average, calm and peaceful musician who prefers the sounds of Swedish pop to death metal any day, but must take on this act in order to make ends meet. In this OVA, we chronicle Souichi's escapades, as he attempts to deal with his normal life, his rock persona, and all the chaos in between.
Detroit Metal City is absolutely hilarious, undeniably hysterical, and incredibly entertaining. We learn that being famous has its ups and downs, noticing the contrast in lifestyle between Souichi and Krauser II. Although this OVA is unlike some mentioned on this list, this adult-natured music anime demonstrates idol themes due to the celebrity and notoriety involved. Furthermore, once dealt with fame, the question often arises whether or not stars can ever return to their once normal existence.
---
Final Thoughts
We hope you enjoyed our recommendations for top 10 idol anime movies! If you haven't already, make sure to check out all of these great titles! As we watch these stars get heavily promoted in idol anime culture, these films showcase all the elements they are involved in and more, including training, talent scouting, management, and touring. They also demonstrate the exhilaration as well as harsh realities of becoming an idol superstar. On the whole, let us know if we've missed any other great idol movies by commenting below! See ya!
---