The word "otome" means "maiden" in Japanese, and it's frequently used to describe those visual novel games intended for a female audience. The main concept in an otome game is a girl surrounded by handsome guys who try to win her attention; the girl has to choose one of them, and live a wonderful romance leading to a happy ending, or one leading to a bad ending. Recently, a lot of otome games receive an anime adaption, and they gained a lot of popularity. The concept remains the same as for the otome games: a girl surrounded by handsome guys – and possibly a romance. However, otome anime aren't necessarily based on otome games: some of them come from manga, and some of them are original works keeping the main concept of the otome games–they can be called reverse-harem shows–as well.
In this ranking, we will talk about ten amazing otome anime, adapted from visual novels or other sources. Stick with us until the end; if you need even more, scroll down and take a look to our previous article, too! Let's go!
10. Brothers Conflict

Episodes: 12
Aired: July 2013 – September 2013
Rintarou Hinata is a single father who falls in love, and then marries Miwa Asahina. Rintarou's daughter – Ema – wants to give the newly-wed couple space, and so she decides to move in a mansion called Sunrise Residence, where her step-brothers live. Ema is happy with her new life in a bigger family, yet each of the handsome brothers begins to show a deeper affection towards Ema... who will she choose, in the end?
Based on the light novel created by Atsuko Kanase, Brothers Conflict had a video game, and a manga adaption, as well. As an otome anime, it keeps the main characteristics you would expect: handsome guys revolving around a girl who simply cannot choose. The brothers have such different personalities that they can suit anyone's tastes! Also, our heroine is your typical high school girl trying to realize her dreams.
---
9. Dance with Devils

Episodes: 12
Aired: October 2015 – December 2015
Ritsuka Tachibana is a diligent student, that's why she is overly shocked when she gets summoned by the student council. Rem, Urie, Shiki and Mage–members of the council–begin interrogating Ritsuka. It takes just a moment for her to realize that there's more than meets the eye: they want to achieve something different. However, things take a turn for the worse, and Ritsuka finds herself dealing with vampires and devils: both these groups are looking for an item that can give them an unthinkable power.
Born as a manga in September 2015, Dance with Devils was soon adapted into an anime, and later on it received a video game adaption, too. The four handsome student council members do all they can in order to catch Ritsuka's attention. Each of them has feelings for her, but they will have to struggle as Ritsuka has to deal with vampires and devils who think she knows where the "Grimoire" is.
---
8. Code:Realize - Sousei no Himegimi (Code:Realize ~Guardian of Rebirth~)

Episodes: 12
Aired: October 2017 – December 2017
In her vague memories of the past, Cardia Beckford can recall her father Isaac, and the house where she was holed up alone, feared as a monster by the other people. Isaac had embedded in her chest the "Horologium", an eternally beating heart wielding a huge power, which is why it is craved by many. One day, Cardia is taken by the British military forces, and later rescued by a gentleman called Arsène Lupin. Her savior and his friends offer to help Cardia discover the truth about her existence.
Code:Realize was born as an otome visual novel by Otomate in 2014 for the PlayStation Vita. In its anime adaption, it's a reverse-harem full of surprises, starting with our heroine, Cardia. She is very strong, and helps the rest of the team, instead of waiting to be rescued. The handsome guys revolving around her are gentlemen who, step by step, begin to have deeper feelings toward her. If you wish to watch a non-conventional otome series, with an out of the ordinary heroine, Code:Realize is what you're looking for!
---
7. Hiiro no Kakera (Hiiro no Kakera: The Tamayori Princess Saga)

Episodes: 13
Aired: April 2012 – June 2012
Tamaki Kasuga goes to live with her grandmother in a remote village called Kifumura. The moment she arrives, Tamki gets attacked by strange creatures; later, she is informed that she has the blood of the Tamayori Princess, just like all the females in her family. With her power, she has a duty: to keep the otherworldly creatures sealed away. Even skeptic about the entire story, Tamki gets five beautiful men following her and acting as her guardians; eventually, she will accept her role, and begin a perilous path.
Hiiro no Kakera was born in 2006, by Idea Factory, as an otome game. As an anime, this show is literally the dream of every otome girl: being surrounded by beautiful men, who are ready to protect you, and help you in every possible way. Each of the guardians with different personalities, they will try to win Tamki's heart... but if you want to know if one of them actually make it, you really should watch Hiiro no Kakera!
---
6. Magic-Kyun! Renaissance

Episodes: 13
Aired: October 2016 – December 2016
Hoshinomori Private Magical Arts High School is where Artistas – people who can inspire passion with their Magic Arts – are taught. Kohana Aigasaki is a new transfer student, and her duty is to plan the Hoshinomori Summer Festa, which is the school's cultural festival. Together with other six boys specializing in their own Arts, they aim to make the festival a success. Not only that: since once a year, an Artista Prince and Princess are chosen, they dream to be selected alongside Kohana!
Magic-Kyun! Renaissance was born as a media mix franchise by Sunrise, Pony Canion, and Broccoli. It means that it came out simultaneously in its anime, visual novel, and manga version. In the otome show, Kohana is our heroine, and she is surrounded by beautiful, and talented boys, who vie for the Kohana's attention. However, aside from its typical otome traits, this show is worth watching for its positive vibes and lighthearted atmosphere!
---
5. Kamigami no Asobi

Episodes: 12
Aired: April 2014 – June 2014
Yui Kusanagi is your typical high school girl, and one morning she wakes up in a strange school. She finds herself in a place she had never been to before, and then is suddenly summoned by Zeus in person. He explains the situation to Yui, and the reason why she is in that school. There are six gods who don't know what love is and act selfishly. Yui's task is to teach them an important lesson about bonds, and relationships.
Kamigami no Asobi was born as a visual novel otome game in 2013, by Nippon Ichi Software, and Broccoli. It gained a lot of popularity, so it was adapted into an anime later on. In its anime adaption, we find Yui who manages to draw the six handsome gods near. Even though each of them seems to be romantically interested in her, Yui will be able to establish a true friendship with them, and she will eventually learn what love is. Whether you are into otome anime or not, Kamigami no Asobi is an absolute must-see!
---
4. Hakuouki (Hakuoki ~Demon of the Fleeting Blossom~)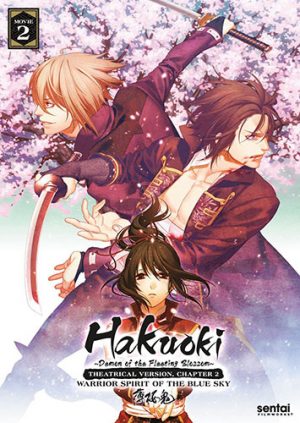 Episodes: 12
Aired: April 2010 – June 2010
The story takes place in 1860, and it revolves around Chizuru Yukimura. His father–a well-known doctor–leaves her and heads to Kyoto, but when his letters stop coming, Chizuru decides to head to Kyoto as well, disguised as a man. Upon her arrival in Kyoto, she gets attacked by a strange creature. One of the members of the Shinsengumi rescues Chizuru, but then he takes her to the Shinsengumi's base, in order to decide whether kill her or let her live.
Hakuouki is probably the most popular in this list, as its franchise is one of the longer, and began in 2008 with its visual novel version. Its otome anime version makes Hakuouki one of the most touching and captivating show of this genre. Its peculiarity lies in the fact that it's a reverse-harem, so Chizuru is surrounded by the handsome men of the Shinsengumi. Each of them is too fond of her, but she actually chooses one: the one who stole her heart at first sight, in spite of everything. That's why you should totally give Hakuouki a try, it won't fail you!
---
3. Akatsuki no Yona (Yona of the Dawn)

Episodes: 24
Aired: October 2014 – March 2015
Yona is the princess of Kouka, and since she was born, she lived a comfortable life, spoiled rotten by people who adored her. What the real world was like, Yona really had no idea. Her childhood friend – Son Hak – watches over her, and has always loved her, but Yona has always had a crush on Soo-won, her cousin. The well-off, peaceful life of Yona is turned upside down one sad day, when her father's killed by an unsuspecting person, and she is forced to run away together with Son Hak.
Akatsuki no Yona was born as a manga in 2009, and had an anime adaption in 2014, which gained a huge popularity, thanks to its captivating plot, and a range of amazing characters. Our princess Yona, in her escape, is surrounded by beautiful men who help and protect her. What makes Akatsuki no Yona one of the best otome anime, though, is the fact that even being a reverse-harem show, it is plot line oriented. At the same time, it doesn't lack romantic moments, and it gives room for a lot of "ships".
---
2. Kamisama Hajimemashita (Kamisama Kiss)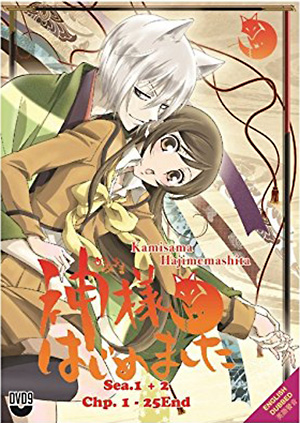 Episodes: 12
Aired: October 2012 – December 2012
Her gambler father left Nanami Momozono full of debt, without a home to go back to, nor money. Wandering around the city, seeking a solution, she happens to save a mysterious man called Mikage. Taking pity on Nanami's situation, the man offers her his own home. Nanami is skeptic, so she runs to that address, only to discover that Mikage's home is actually a shrine. Then, a man with fox ears appears before her eyes: it's Tomoe, Mikage's former familiar, and he doesn't accept Nanami as the new Land God. But actually, Nanami herself doesn't know that she has become the new Land God...
Born as a manga by Julietta Suzuki's wise pen in 2008, Kamisama Hajimemashita had its anime adaption starting from 2012. It is a non-conventional reverse-harem show, with a peculiar heroine, who is funny and strong-willed. Exactly like Akatsuki no Yona, Kamisama Hajimemashita has a solid plot, but it's also true that Nanami is surrounded by beautiful men. Her heart, though, belongs to Tomoe, and it's clear as daylight from the first episodes. Trust us, Kamisama Hajimemashita is totally worth your time: it's funny, full of love and positive vibes!
---
1. Watashi ga Motete Dousunda (Kiss Him, Not Me)

Episodes: 12
Aired: October 2016 – December 2016
Kae Serinuma is a chubby and funny high school girl with one big passion for Boys Love. She enjoys spending time shipping her cool classmates, imagining hot things. Kae Serinuma is a fujoshi to the core, and she lives in her own world. Due to some circumstances, Serinuma loses weight, and what was a chubby girl, suddenly turns to a beautiful, popular teenager. She begins to draw attention, and the same cool classmates she keeps shipping begin to look at her intently. What can she do now that while her head is filled with BL thoughts, the boys are attracted to her?
Watashi ga Motete Dousunda totally deserved our first position! It was born as a manga by Junko in 2013, and immediately gained a huge popularity. Kae Serinuma finds herself surrounded by the boys she has always looked at from afar, imagining BL stuff. They are all handsome, vie for her, and yet she befriends them and keeps her head in the fujoshi world. This show is a masterpiece in the otome anime universe: it's full of comedy, yet our protagonist would prefer seeing boy-on-boy action, rather than the boys courting her. Give it a try if you want to be surrounded by hotties, in a show that will make you crack up!
---
Final Thoughts
And so our ranking comes to an end! Whether you are already fans of otome anime/games, or you are just curious about them, we really hope this chart will be useful somehow. When otome anime are adaptions from otome games, they become really fun to watch, while trying to understand which route the heroine will follow; when they are not, it's equally fun to see a heroine surrounded by handsome guys interacting with them, guessing who she will choose. Now it's your turn: let us know what you think in the comments below, or if you know other otome anime that could fit this ranking! See you next time.
---
---
To please an otome's heart by playing off the appeal of the idea of being surrounded and pursued by gorgeous males—that is the importance of otome anime. For some, otome anime is a serious hobby, while for some others, it's simply another fun genre. The number of anime that are adapted from otome games have been rising in the past five years, and we usually get at least one in every season. Some of them exploded in their popularity, and some of them has a moderate but pretty loyal fanbase.
Here we have built up a list top ten otome anime! It's not only for otome anime that were adapted from otome games; we'll be taking you to take a look at some anime nestling under the bigger umbrella of shoujo and reverse-harem as well, in which they also have otome games in the franchise. Keep an eye out for your favorite!
10. Amnesia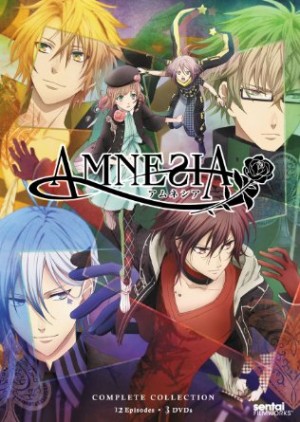 Episodes: 12
Aired: January 2013-March 2013
An anime adaptation from an otome game with the same title, Amnesia is a story of how a young girl woke up with all her memories gone. Not even the audience knows the Heroine's name, as the girl proceeds to meet a boy named Orion and begin her struggle to try and make sense of her identity, her boyfriend that she doesn't remember, her life, her relationships—and did we mention a boyfriend? Following the story of the original game quite closely, Brain Base brought Amnesia anime out in Winter 2013, animating pretty much all possible routes in the game.
Amnesia's initial interesting premise and its gorgeous artwork drew quite a fanbase around it—other than an anime, the franchise also has a manga adaptation called Amnesia Later and Amnesia Joker. Those who didn't play the game might have trouble in following the anime, especially with the many time jumps. The anime is clearly primarily meant for those who have enjoyed the game and loved the characters. Don't let it stop you from trying it out—it's got cool music, really interesting character designs, and top-tier seiyuus such as Ishida Akira, Hino Satoshi, and Kakihara Tetsuya.
---
9. Kamigami no Asobi – Ludere deorum –

Episodes: 12
Aired: April 20143-June 2014
How would it feel to be surrounded by gods, receiving both their attention and their affection? Kamigami no Asobi brought it into a new level as the heroine, Kusanagi Yui, was 'abducted' by none other than Zeus to teach the young gods he had assembled in his 'school' about being human. Which is good and all, considering the good-looking gods that surrounded her, except Yui was given only a year to finish her task, or she'd be stuck in that world forever. And so Yui began her life in the school, facing gods from different mythology starting from Greek to Japanese and Norn, and even Egyptian.
Adapted from an otome game by Broccoli (who is famous for bringing the Uta no Prince-sama games), Kamigami no Asobi aired in 2014, animated by Brain's Base with stunningly colorful animation and really good character designs and literal costume porn. Part of its main appeal is its seiyuu line up—not only the six main eligible gods are voiced by top-tier seiyuu, but all of the cast! You'll get to hear not only Irino Miyu, Ono Daisuke, Hiroshi Kamiya, Hosoya Yoshimasa, Kaji Yuuki, and Morikawa Toshiyuki! The game itself is also getting a new installment: Kamigami no Asobi InFinite, which will be released on the 21st of April for PSP and PSVita platform.
---
8. Norn9: Norn+Nonet

Episodes: 12
Aired: January 2016-March 2016
Norn9: Norn+Nonet is an anime adapted from an otome game that would be quite enjoyable for everyone to watch. The setting is more a scii fantasy—the mysterious ship Norn9, which only has teenagers with special abilities aboard, including three teenage girls and nine guys. In the game, the player was given the choice to choose one of the girls to play, and would consequently have three of the guys (depending on your choice) to chase after, but the anime focuses more on Koharu. Kinema Citrus brought out the anime adaptations with, frankly, really great and consistent art, and that is one of the main plus points of the anime.
As Norn9 had just finished airing last season, if you're interested in it you really should see for yourself, as it does have an interesting mix of otome elements and sci-fi fantasy genre. The other appeal of Norn9 is the absolutely gorgeous soundtrack and its solid seiyuu line-up. We get Ono Daisuke, Kaji Yuuki, and Shimono Hiro for the guys. For the girls, we have Takagaki Ayahi, Saiga Mitsuki and Yanagi Nagi!
---
7. Diabolik Lovers

Episodes: 12
Aired: September 2013-December 2013
Originally a visual novel franchise released by the famous Rejet, Diabolik Lovers' anime adaptation was a very much-awaited one by its fans. It tells the story of the six Sakamaki brothers—all of whom are vampires—and the heroine, Koumori Yui, who was sent by her father to live with the brothers as a 'sacrificial bride'. The anime has its sequel, Diabolik Lovers More Blood, which still centers around Yui's life with the Sakamaki brothers, but also brought in the new vampire clan, and there are already plans for another cour, it seems.
Zexcs is the studio in charge of Diabolik Lovers' anime adaptation, and while a number of fans might prefer the game artwork, the anime is pretty good, too. The main appeal of Diabolik Lovers, other than the attractive character design, is the seiyuu line up that gets even better with the sequel. After all, it was adapted from a visual novel otome game that was also popular for its drama CD series before the anime even started. But with the addition of Morikubo Showtarou appearing in the anime series, it gives another new anticipation for the next cour.
---
6. Starry Sky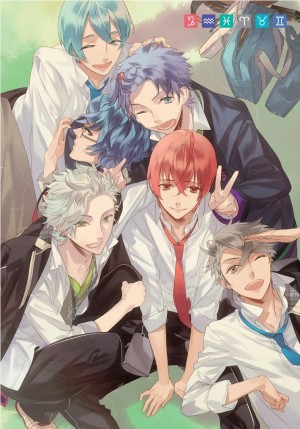 Episodes: 26
Aired: December 2010-June 2011
The concept of Starry Sky, much like the title itself, is that the thirteen guys that surrounded Yahisa Tsukiko are all personification of zodiacs. The previously all-boys school academy she enrolled to has just changed recently to a co-ed school, but since the area was quite rural, Tsukiko is the only female student in the school. The anime took an interesting way to adapt the game—each episode was only 11 minutes long, and each of the main guy gets two episodes focusing on them and their background stories. All in all, it's a very slice of life anime adaptation.
The original game, released by Honeybee, had four different installments with each game representing a season and focusing on three eligible bachelors. Studio Deen handled the anime adaptation for Starry Sky, and again, while a number of people would like the game artwork more, the anime artwork is pretty good, and the soundtrack is heavenly. Starry Sky is also probably that one otome game and anime with the best seiyuu line up, with both big names in mainstream game/anime genre and big names in otome genre itself. Orikasa Fumiko takes the role of the heroine, and among the male seiyuus for the zodiac guys are Midorikawa Hikaru, Yusa Kouji, Miyano Mamoru, and Suzumura Kenichi.
---
5. Hakuouki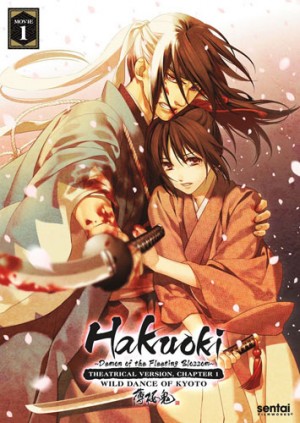 Episodes: 12
Aired: April 2010-June 2010
Time to take a look at an older series! Hakuouki is set in the Bakufu era, and centered around Yukimura Chizuru, a daughter of a doctor who had embarked on a journey to Kyoto to find her father, only to find herself getting mixed up in Shinsengumi's business as they realized that Chizuru's father is the man the Shinsengumi have been looking for. Chizuru ends up joining Shinsengumi to continue look for her father, and the plot unveils as they discovered what dark secret Chizuru's father has been involved in.
The Hakuouki franchise is one of the long-standing otome franchise—the game it's based on began in 2008 and still has sequels coming out (the last one was in 2015). Since then, Hakuouki has had three anime seasons by Studio Deen, two manga adaptation, and two movies. The newest installment of the franchise, Hakuouki ~Otogisoushi~ which is anime shorts of the chibi versions of Hakuouki characters, is currently airing. Those who love the more veteran seiyuus would be spoiled in this long-standing franchise—you'll get Kuwashima Houko, Miki Shinichirou, Ookawa Tohru, Toriumi Kousuke and Yoshino Hiroyuki in one package!
---
4. Harukanaru Toki no Naka de ~hachiyou shou~

Episodes: 26
Aired: October 2004-March 2005
Yes, a much much older series: Harukanaru Toki no Naka de's romantic adventure video game was first released in the year of 2000, for the PlayStation and PlayStation 2 platform. It had seven installments, and since then, had received at least 2 different manga adaptation, an anime adaptation and nearly countless OVA adaptations. The story is set in an alternate world resembling Kyoto during Heian period called Kyou, and revolved around Motomiya Akane who was sucked into the world along with her classmates Morimura Tenma and Nagareyama Shimon, and was later told that she was the Miko destined to save Kyou from the Oni clan by helping the Hachiyou, which are eight gorgeous, single men that somehow includes both of her classmates.
The anime itself aired in Fall 2004 with 26 episodes, not counting the many OVAs released for the franchise. The heroine Akane was voiced by the late Kawakami Tomoko, and among the cast for the Hachiyou are Seki Tomokazu, Miyata Kouki, Hoshi Souichirou and Inoue Kazuhiko. As it is based on a romantic adventure video game instead of the now much more common visual novels, trying to get into this series is quite refreshing, since it does have a pretty solid plot and characters.
---
3. Kiniro no Corda: Primo Passo (La Corda d'Oro ~Primo Passo~)

Episodes: 25
Aired: October 2006-March 2007
So what is it about? Kiniro no Corda is a series that takes classical music as its core concept. Hino Kahoko, who is enrolled in a school divided into two branches—the Normal Branch and the Music Branch—encountered a fairy named Lili, who granted her a magic violin which anyone could play as long as they believe they could play it. With that, Kahoko entered the Music Branch and joined the school's music competition, facing the five guys she'd later get closer with.
Based on an otome game by Koei, Kiniro no Corda's visual novel game was first released in 2003, and has since had seven installments, three anime adaptations, and two manga adaptations. A 2-episode anime special as a sequel for Kiniro no Corda: Primo Passo was aired in 2009 to promote the new games, but the most well-known anime adaptation was still Primo Passo, garnering quite a fandom in its golden days back then. The animation quality for Primo Passo was perhaps not the best, but it didn't affect the enjoyment of watching it either, and you'll get to hear the more veteran seiyuu such as Kishio Daisuke, Morita Masakazu, Taniyama Kishou and Itou Kentarou!
---
2. Uta no Prince-sama

Episodes: 13
Aired: July 2011-September 2011
Uta no Prince-sama, fondly shortened as UtaPri, revolves around the life of Nanami Haruka, a talented songwriter who graduated from the Saotome Academy and is now working as both ST*RISH and Quartet Night's songwriter. In the anime, she's quite oblivious to the romantic feelings the boys hold for her, but it doesn't make the anime less fun—if anything, it added to the humor. As a franchise, UtaPri has more than the anime up their sleeves—the franchise now included both visual novel and rhythm games, as well as a series of Shining Theatre CDs and of course, the Maji Love Live concerts.
Still one of the otome anime with the biggest fandom and enthusiasm, Uta no Prince-sama had recently announced the title for its fourth anime season: Uta no Prince-Sama: Maji Love Legend Star. It would continue where it left off in the third season, after the comeback of HEA*VENS, but still revolving around Nanami Haruka and the songs she writes for her boys. Now, including Quartet Night, there are with three major idol groups in the franchise, and the anticipation of what kind of story the fourth season will come up with is pretty high in the air.
---
1. Ouran Koukou Host-bu (Ouran High School Host Club)

Episodes: 26
Aired: April 2006-September 2006
Adapted from a manga with the same title, Ouran told the story of Fujioka Haruhi, a 'commoner' who attended the prestigious Ouran Academy and accidentally involved herself with the Ouran Academy Host Club after breaking an 8 million yen antique vase and indebting herself. Suoh Tamaki recruited Haruhi to work in the Host Club to pay her debts, and Haruhi's rather insane days with the Host Club began. It is only later that Tamaki realizes that Haruhi is a girl!
A lot of people considered Ouran as one of the best anime they have seen in their lives. It's really not too much of an exaggeration; Ouran has a solid plot, really interesting characters with established background stories, and most importantly, it balanced drama and humor very well and it's absolutely fun! Out of all this list, Ouran is the only one that was not adapted from an otome game—however an otome game adaptation by Idea Factory has been released where you could play as Haruhi, as well as including several game-only original characters, and the Nintendo DS version of the game was fully-voiced, too!
---
Conclusion
Not all female audience might be interested in otome anime, but for those who do, and for those who really are into otome games, the otome anime adaptations have always been something fun to look forward to. Which route would the anime follow, or what kind of compromises it would make in order to let a wider audience that are outside of their game audience enjoy it? Most importantly, otome anime adaptations usually brings in new fans who haven't played the games, and that's always a good thing, isn't it?
Let us know if you have your own favorite otome anime titles, or if you agree with our list!
---