También puedes leer este artículo en:Español
With the World Cup having come and gone, now is as good a time as any to revisit soccer's influence in anime. After all, it's the most popular game in the entire world. All that is required to play is a ball, a field, and an agreed upon space for goals. Because of this, soccer has managed to serve as something as a gateway for anime. It's a very relatable subject for most of the world's population, after all!
However, since we've already done a Top 10 Soccer anime list before, a change of pace was needed. For this list, only 2 anime from that old one will return again. This was a chance to highlight some other great soccer anime that have been overlooked over the years!
10. One Piece: Yume no Soccer Ou! (One Piece: Soccer King of Dreams)

Episodes: 1
Aired: March 2002
The characters of One Piece have gathered for a friendly game of soccer! Well… sort of. Some of the more despised villains have shown up and it'll be heroes vs villains! You've got Buggy the Clown! Jango! Even the most nefarious of all, Odacchi, the author of One Piece! It all comes down to a single shoot-out…
If you're a One Piece fan, there's really no reason to not watch this. Clocking in at a miniscule 5 minute run length, Yume no Soccer Ou was made to play before one of the One Piece movies. However, this short is what seems to have stuck with fans more than the actual movie. Maybe it's because it's just such a silly setup. After all, soccer is never mentioned in the main series. Or maybe it's because it's one of the only public appearances of Eiichiro Oda!
---
9. Ganbare! Kickers (Fight! Kickers)

Episodes: 23
Aired: October 1986 - March 1987
Even for elementary school students, the Kickers aren't exactly a very good team. As a result, the kids have started internalizing their failure as a lack of talent. After tasting defeat for so long, the team's new player with a "can-do attitude", Kakeru Daichi, starts to turn things around. Now the Kickers have begun their underdog story and hope to at least beat their biggest rivals, the Devils!
If the plot summary sounds a bit like a certain other, incredibly influential soccer anime that has the words "Captain" and "Tsubasa" in it… you're not really wrong. Ganbare! Kickers was made when Captain Tsubasa's popularity was white hot and everybody was wanting a piece of the pie. That doesn't mean that Ganbare! Kickers is bad, though! In fact, Ganbare! Kickers is a rare anime that has survived over the years thanks almost exclusively to European fans; or more specifically, German fans. Many children of the 80s still very fondly remember the show and was a gateway series for many older European fans to get into anime!
---
8. Keppeki Danshi!! Aoyama-kun (Clean Freak! Aoyama-kun)

Episodes: 12
Aired: July 2017 - September 2017
Aoyama is the perfect human. His grades are perfect. His soccer skills are perfect. His cleanliness is perfect. There's just one problem; he's too perfect. Aoyama, in fact, suffers from obsessive compulsive disorder and cannot deal with even a speck of dirt on him. As a result, Aoyama has learned to play soccer without getting himself dirty, but at a cost. He can only play at a fraction of his normal abilities. Can Aoyama still lead Fujimi High School to the national soccer championship when the rest of his team isn't that great?
It's hard to find a unique take on soccer anime nowadays. After all, there have been so many stories told about soccer, that it's tough to find any new ground. But Keppeki Danshi manages this just by virtue of its hero having a fully developed social disorder. It's mostly played up for laughs, though, and serves as a nice introduction for younger anime fans just discovering irreverent humor. There are bits of drama underneath the gags dealing with Aoyama's disorder, however, so it's not all just wacky hijinks.
---
7. Days

Episodes: 24
Aired: July 2016 - December 2016
Do you ever look back on your high school days and wish you tried just a little harder? That's what Tsukamoto Tsukushi is hoping to avoid. A chance encounter with his school's pretty boy idol, Kazama Jin, pulls him into playing a game of soccer at a local field, and Tsukamoto discovers he loves the game. His passion leads him to try out for his high school championship level soccer team and, through sheer perseverance, somehow ends up on the starting line-up!
Days is easily one of the more popular soccer stories as of late. Much like the story itself, this is largely due to how Tsukamoto endears himself to the audience. He's the kind of guy who knows just how terrible he truly is and forces himself to work to the bone to earn his place on the team. It's the kind of endurance we all wish we had but never thought we could achieve. That's exactly why we cheer for him, though! We want him to succeed to assure us that our hard work will pay off too!
---
6. Inazuma Eleven: Ares no Tenbin

Episodes: 19+
Aired: April 2018 - Ongoing
Inazuma Eleven: Ares no Tenbin takes place in an alternate timeline that's set directly after the story of the first DS game. Our three heroes -Haizaki Ryouhei, Inamori Asuto, and Nosaka Yuuma- all live on an island that deeply loves soccer. However, they also can't keep their soccer club open for some reason. In order to save it, Inamori sets out across the seas to win in the Football Frontier, a national soccer tournament for junior high students. Unfortunately, his first game is actually against last year's champions!
Perhaps Inazuma Eleven's time as one of the biggest properties in Japanese pop culture is over, but that doesn't mean it's not still popular. Being based on a story-oriented video game also helps keep the structure a bit more fresh. The original games made a name for themselves by blending tried-and-true RPG world building and sensibilities with a sport that people understand, so you get that kind of experience watching the new anime too!
---
5. Detective Conan Movie 16: The Eleventh Striker

Episodes: 1
Aired: April 2012
Conan Edogawa is looking for some R&R after solving all of Mouri Kogoru's cases for him. He sets out to watch the big match between his home team, Tokyo Spirits, against their rivals, Gamba Osaka. However, someone's planted a bomb in the stadium and, as usual, Conan has to save the day yet again by doing what he does best: pretending to be a kid to throw suspects off their guard and get to the truth!
One of Conan Edogawa's more forgotten traits is his love and skill of soccer. It's a unique angle that only occasionally gets explored in the TV anime, but was given the chance to be fleshed out more in the Eleventh Striker. This Detective Conan movie in particular is a pretty unique subject matter for the series to boot. After all, who else is going to give you a soccer anime that combines a "whodunit" style murder plot? No one, that's who.
---
4. Aoki Densetsu Shoot! (Blue Legend Shoot!)

Episodes: 58
Aired: November 1993 - December 1994
Some best friends are totally inseparable. That's certainly the case for Tanaka Toshihiko, Shiraishi Kenji, and Hiramatsu Kazuhiro. The three were joined by their junior high school's soccer club and created a formidable trio as a result. Now it's time for high school, and they just won't let go of their past glory. They all attend the extremely new Kakegawa High due to the presence of Kubo Yoshiharu, an incredible player who as a freshman managed to take Kakegawa's soccer club to the top 8 in the prefecture practically by himself!
Far too many soccer stories focus on a single individual's influence on an entire team. That's why it's nice to have a soccer anime that's specifically about a group of friends. It heightens the stakes when you grow to love and root for the entire team equally rather than just one or two members you become attached to. It's more than just watching three guys and their idol grow together though; each of these boys has their own life they need to overcome, and that's what makes it such a ride.
---
3. Akakichi no Eleven (The Red-Blooded Eleven)

Episodes: 52
Aired: April 1970 - April 1971
Not all sports heroes are necessarily young hotshots with something to prove to the world. Some are rebels who don't want to be pushed around by the man. So, when Tamai Shingo is confronted by his high school's sadistic coach Matsuki Teppei to join the team, Shingo creates his own squad as an act of defiance. Now Shingo's goal is to crush his own school's team to show them that playing soccer should be about love of the game!
Akakichi no Eleven is noteworthy for one simple fact: it's the original soccer anime. It's hard to imagine a time in which soccer was new subject matter for the medium, but it's true! Before even Captain Tsubasa, there was Akakichi no Eleven. This came before the concept of combining sports with shounen battle was ever thought up. This makes Akakichi no Eleven even more unique now than it was nearly 50 years ago. Watching it now is closer to following an animated soap opera than your standard soccer show!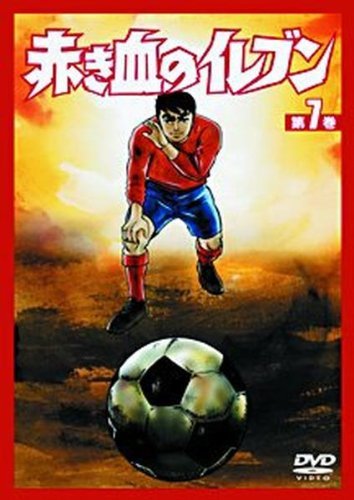 ---
2. Giant Killing

Episodes: 26
Aired: April 2010 - September 2010
While you might think all professional level teams are guaranteed to always be professional, that's not always the case. Take East Tokyo United, for example. They're just barely on the cusp of being dropped down a tier, and to make matters worse, they just lost their last five major games. ETU was pretty destined to drop down to the minor leagues, so they did what most would do in such a time of crisis: panicked and took desperate measures. Their decision ended up working out for them, as they hired Tatsumi Takeshi as a new coach. His methods are unconventional, but they're just what the team needed!
For all the sports stories that take place in high school, there's shockingly few that actually take place with adult teams. But that's absolutely not fair, as many of the most exciting events in real life sports come from the drama of professional sports! And that's exactly what Giant Killing is all about; the fear of having to stop playing what you love for a living and being forced to fit into a boring salaryman lifestyle. It's like a Dead Poets Society for adults who watch cartoons, and that's what makes it special.
---
1. Captain Tsubasa (2018)

Episodes: 22+
Aired: April 2018 - Ongoing
You might know this story. Oozora Tsubasa is an elementary school student with a totally single-track mind. He has an almost spiritual connection to soccer, spending every waking moment at least dribbling his soccer ball. He's originally all set to play at a prestigious school that's known for their excellent team until he catches a glimpse of the team's all-star level goalie, Wakabayashi Genzou. Tsubasa no longer wants to play with him because he's so good! He wants to play against him and win instead!
Okay we're bending the rules a bit including this reboot over the original Captain Tsubasa, but they really are two very different beasts. While the original anime is a story of its time, the 2018 Captain Tsubasa anime is a modern reflection of how we remember these old 80's anime. After all, what impressed fans thirty years ago simply doesn't translate to today, because we live in a post-Captain Tsubasa industry. There's something extremely admirable in the way Studio David captured the simplicity of the story of Captain Tsubasa while revering what made it fun; the ridiculously over-the-top goal shots, the earnest gumption of its heroes, and an easy-to-follow tournament structure that's addicting to follow.
---
Final Thoughts
Soccer is such a wide topic that at this point, it can cover pretty much anything. It can cover mental disorders, be turned into a soap opera, or even lead to a murder mystery! That's what we were hoping to highlight with this list more than anything; that soccer anime isn't just tried-and-true battle shounen. However, we'll also admit the shounen model is still the most popular in comparison.
Disagree with that? Think Whistle should have returned over Days? Think the Captain Tsubasa reboot sucks compared to the original? Well, please, let us know in the comments below! We'd love to hear from you!
---
---
There are so many sports that exist in this wonderful world from the graceful style of figure skating, to the extreme art of freeride snowboarding, there's something out there for everyone. One sport however seems to bring everyone of us together especially when a championship is on the line, and that's soccer. Footy is the more commonly used term to refer to the beautiful game, but soccer is still used across the western hemisphere. The sport has risen to the top of the ladder as the favorite to watch simply due to its finesse, team work, and craft behind it all. When we watch a game all we tend to see is simply passing a ball back and forth, but there is such a deeper strategy behind it which is what makes the game so rich and satisfying.
There are set plays, formations and coach tactics that are all combined together to create legendary comebacks, and unfathomable goals from distances we never thought a ball could travel from. All of this is what encompasses the art of soccer, and so let us get underway and prepare for kick off with our top ten outstanding soccer anime picks.
10. Offside

Episodes: 39
Aired: May 10, 2001- January 31, 2002
Honey's Anime has put together a great list and we are now ready to kick off with our first pick on our top ten. Offside is an anime that released in May 2001 and ran for about 8 months before its season finale in January of 2002. The story follows Goro, a well established, tall middle school goalkeeper whose passion was to join Yokonan Elite Football Club, but due to an accident his dreams were put on hold and ended up in a low ranked club opposite of Yokonan. Throughout his time with the club he managed to befriend other players Shingo, Hideki, and Kazuhito who all were very skillful players and together they challenged Yokonan and other various schools to see which team would take home the championship title. Any setbacks that the Kawasaki Club would face would only be a motivation to improve, which helped Goro to discover his hidden talent as an ace striker.
Soccer is full of passion and excitement due to its roller coaster ride of events that transpire on the pitch. Offside truly shows us how momentous it can be when you find the right team, build up your morale, and take your skills to the next level. We hope that you enjoy this one as much as we did.
---
9. Whistle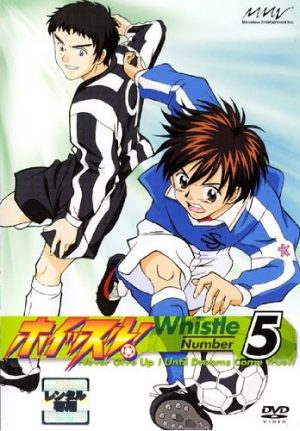 Episodes: 39
Aired: May 6, 2002 – February 3, 2003
It's time to bring a new sub onto the field since we could use some fresh legs in our top ten. Coming in at number nine is Whistle which stars Shou, and his dream to become a world class soccer player. The major problem is that he isn't very adept at the game. Shou had been accepted to the very distinguished Musashi no Mori High School, which is known for its top ranked soccer team, but due to his inexperience he wasn't able to get above third stringer. After making a transfer to Sakura Jousui Junior High, Shou managed to pick up where he left off and improve his skills. With continuous support from his newly acquired friends, teammates, and most importantly his own determination, Shou makes it a goal to make sure he lives his dream as one of the best.
Whistle is an inspiring story of a boy with determination to not give up on his dreams. Many of us can attest to this as there have been times where life challenges us, and make it seem as if our dreams are so far away. The fact is that these challenges are bringing us one step closer to our purpose, and life is only training you to stay on your feet to keep going. Make sure to check this great soccer anime when you get the chance.
---
8. Moero! Top Striker

Episodes: 49
Aired: October 10, 1991 – September 24, 1992
We are getting closer to the top five, but before that Moero! Top Striker makes its way to the number eight spot on our list of soccer anime. Hikaru is a 13 year old teen who enjoys the sport of soccer. Whenever an opportunity arose to play he would leap to the occasion and take part. His father purchased him a soccer ball when he was a child, and since then Hikaru made it a mission to improve his game. Hikaru moves to Italy to learn more about the sport and joins a team in Genova, but drops the team to play alongside his friend Anna. Despite the challenges the team would face down the road, Hikaru and his new team Columbus would go on to win against Margerita, one of the best teams in Genova. From this major win, Hikaru now embarks on a new journey to take home the greatest prize: The championship title.
Moero! Top Striker saw its release in October of 1991 and aired for just under a year when it wrapped up in September of the following year. Despite its age, you can never let go of the beautiful game and so we urge you to give this classic a watch.
---
7. Hungry Heart: Wild Striker

Episodes: 12
Aired: September 11, 2002 – September 10, 2003
Hungry Heart: Wild Striker revolves around Kyousuke and his strive to compete above his brother's level. Throughout his early career Kyousuke had been compared so much to that of his brother that he decides to quit to pursue other endeavors. Life suddenly changes for him when he is confronted by a girl who forces him to coach her women's soccer team. The experience helps him rediscover his passion for the game, and so he decides to join a soccer team which his friend suggested thus leading him down a new path of a professional career in soccer. Along with his new friends Rodrigo and Sakai, the three work together to ensure that they all succeed in becoming their greatest version.
It's great to see the hunger come out of people because we truly get to see them perform at their maximum level. Watching Kyousuke train harder to surpass his brother was a huge inspiration to us, and so we hope that the hunger resides in you to watch Kyousuke become his greatest version.
---
6. Ginga e Kickoff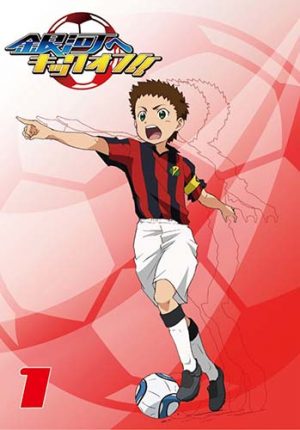 Episodes: 39
Aired: March 26, 2012 – February 26, 2013
Coming in right before our top five is the shounen soccer anime called Ginga e Kickoff. The show stars sixth grader Sho who is determined to recreate a new team of players after his previous team disbanded. His new team the Momotaro Predators are the main focus and despite not being the greatest player himself, his passion for the sport is what keeps him striving for more to become a true professional player.
As you can see from our list, many of the players all have a dream to become the greatest version of themselves. We here at Honey's Anime are a team of individuals who band together much like a soccer team to bring you the best content. Our goal is to ensure that you score as many goals in your life as we have, and to reach the top of whatever platform you intend to seek. Ginga e Kickoff is a great example of true sportsmanship and teamwork, so we encourage you to check out this shounen series for more.
---
5. Area no Kishi

Episodes: 37
Aired: January 7, 2012- September 29, 2012
Kakeru was just your ordinary high schooler who didn't really have much faith in himself pertaining to soccer. He instead focused more of his time off the pitch and helped to manage other players on the team, which included his brother Suguru who is the ace of the squad. Unfortunately, a tragic accident turns things around for him, and he starts to reevaluate everything. What Kakeru didn't realize was that within himself there was a hidden talent waiting to be unleashed to the world, and it wasn't until his old crush Nana makes her way back into his life that his eyes opened wide to his unbelievable skill. In hopes to one day perform in the World Cup, Kakeru trains harder than ever with the motivation of Nana who is actually a top ranked player who plays for the women's national team.
Area no Kishi is an awesome anime because it shows how much work you have to put in to truly see progress in our talents. Kakeru with the help of his old crush and motivation from his brother really made this an emotional one to watch, but worth every minute of our time. Give this one a try also and let us know what you think!
---
4. Captain Tsubasa

Episodes: 128
Aired: October 13, 1983 – March 27, 1986
Where ever you go in Japan there will most likely some reference to this next top ten soccer anime, and that's none other than Captain Tsubasa. Spanning over three years on the airwaves from 1983-1986, the story takes us through the life of Tsubasa Osora as he follows his ultimate dream of becoming a world class soccer player. Throughout much of his life, Tsubasa has experienced a lot of adversities that set him back from accomplishing his goal such as tough rivalries and difficult championships. Now it is time for Tsubasa to overlook all of the trials and tribulations of his past, and become triumphant in his dream to reach the upper echelon of players in the ultimate battleground: The World Cup.
Tsubasa moves with his mother to Nankatsu City, which is well known for its prestigious elementary school soccer teams. Despite being the best in his own home town, Nankatsu has a lot more competition of higher skill levels and he'll need a lot more training to achieve better results. Throughout his new experience in Nankatsu, he befriends a young girl named Sanae and a talented goalkeeper named Genzo. Fortunately they all share the same passion for soccer and so they all work together to ensure that Tsubasa can live his dream to represent Japan and to win the championship for the nation. The series has had many sequels and so we highly encourage you to watch the rest of the story to see how it all unfolds!
---
3. DAYS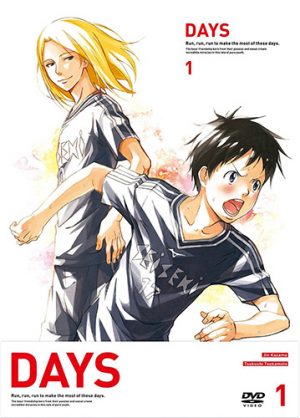 Episodes: ?
Aired: July 3, 2016
As we all know soccer is the beautiful game and so therefore we need beautiful anime to complement its success. Summer season is coming very soon and what better than a soccer anime to kick us off in the right direction. DAYS is an upcoming anime produced by Pony Canyon and takes place in present day Japan. The series is about two boys Tsukushi and Jin who both have aspirations to make it into the big leagues of soccer. Tsukushi claims to have no special talents while Jin is widely regarded as a soccer genius. One night the two cross paths and suddenly each of their lives change as they both get dragged into the competitive world of soccer.
We are most certainly excited for DAYS since it is a breath of fresh air in the sports anime genre, and we haven't watched a great soccer anime since Giant Killing, which by the way is coming up soon. If you're into soccer then be sure to keep this one bookmarked because it looks like it may be a promising series.
---
2. Inazuma 11

Episodes: 127
Aired: October 5, 2008 – April 27, 2011
Inazuma 11 is an anime based off of a video game franchise which aired around fall of 2008 and lasted for three years. Mamoru is a super confident and boisterous soccer player who leads the Raimon Middle School team. Armed with his grandfather's teachings on special training and competitive spirit, Mamoru has only one desire, and that's to lead his team to victory. The only problem that is hindering the team from consistent success is that they're weak, unskilled, and lack drive to see things through. The sky starts to clear up however, when new team members join the squad and bring life back into the remaining members which create a new streamline of energy to work with. Mamoru's fighting spirit returns and now his ultimate goal of winning the Soccer Frontier Tournament is closer than before with the help of his new gang.
This family friendly series will surely keep your attention at maximum as every episode grows more and more interesting as the team morale begins to manifest into something huge. Inazuma 11 is one worth watching, which is why it truly deserves its number two spot on our list for its action packed entertainment.
---
1. Giant Killing

Episodes: 26
Aired: April 4, 2010- September 26, 2010
We have reached the final minutes of the second half and Giant Killing is our number one pick to sub in for the last minute goal. Giant Killing follows the path of the charismatic and talented East Tokyo United captain Takeshi Tatsumi, who ends up suddenly leaving the team after a very successful career to join an amateur team in England. This sparked many problems for the team as their record, team morale plummeted, and their new captain Murakoshi isn't able to pick up where Takeshi left off. Several years have passed since the incident and Takeshi makes his way back to East Tokyo but this time to help coach his once threatening team back to where they should be. Unfortunately, due to past resentment from fans of the club, a lot of weight is put on Takeshi in order to restore faith in the team, and to bring home the championship. With the clock ticking and challenges only growing bigger, Takeshi has to make every shot count in order to win back the respect of not only his squad, but the roaring fans that once held his name high on the pedestal.
---
Soccer is the sport that truly brings every nation together with the Olympics being the number one on the list. When you are able to sit in a crowd of roaring fans, it is an experience like no other and we surely hope you get a chance to feel it yourself. While these are just a small handful of soccer anime to choose from, we also recommend you check out Aoki Densetsu Shoot! Ganbare, Kickers! and other sequels to some of our already listed shows. So until next time, be sure to leave your comments down below should you have any questions pertaining to the list, or if you think there's an anime that could've made the cut.
As always, for your sweet anime fill, keep it locked here at Honey's Anime.
---