We're finally here. Now that December has officially arrived, people's minds are gearing up for the festive season, particularly that one day in the latter stages of the month that is celebrated by various people across the globe. Whether you're a Grinch, looking to get on Santa's "Good" list, or simply don't observe for whatever reason, you understand the significance of the holiday to a huge chunk of people across time and space.
So it goes without saying that anime tends to pay particular attention to Christmas as a period of change, rest, merriment or even sorrow and we've gotten some really impactful Christmas-themed episodes over the years. We think about this kind of thing quite a lot (every year!), but we're thinking of more recent Christmas episodes. So, without further rambling, let's outline some of the best Christmas-themed episodes of the past decade!
5. "Hitherto, and Forever More" – Horimiya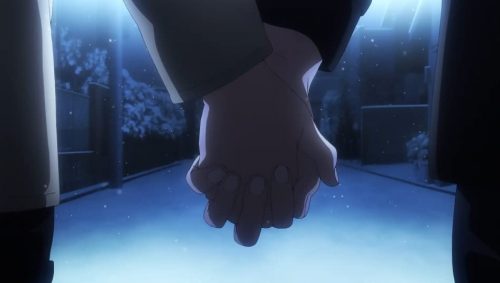 This adorable anime brought us one of the best anime couples we've seen in a while in Miyamura and Hori. Their journey is not without its problems; however. Unfortunately for the both of them, Miyamura has to work at his part-time job from the 23rd onwards. Miyamura tells Hori that he'll do his best to show up, but she says he doesn't have to force himself. His purported absence from the Hori family Christmas activities makes Hori's brother and father humorously unhappy.
Christmas is a bit of a touchy subject for all the pairings in the show, as Yoshikawa grapples with her growing feelings for Ishikawa, and Sengoku reckons with his relationship with Remi, and Hori and Miyamura have a tender moment after his brief visit to drop off the Hori family Christmas cake. At this stage of their lives, the future is extremely uncertain, and Hori had been considering the consequences of their graduation on their relationship. Hori wants to be with Miyamura after they leave school, which prompts him to propose in a surprising turn of events. Hori tells him that she'll make him happy, an expression of her intent for their relationship, and emotional investment in their future. It's a beautiful episode filled with various scenes where the characters reaffirm their relationships, or simply find their footing and prepare themselves for a changing future. Maybe it isn't so realistic for high schoolers to get engaged before they've even graduated. Maybe that's part of what makes this episode special.
---
4. "My Christmas!" – Ore Monogatari (My Love Story!)

In episode 17, Takeo and Rinko plan to have an event where they invite both of their friend groups for a Christmas karaoke party. While reserving their time and place at the karaoke spot, Takeo and Rinko catch wind of an urban legend surrounding a Christmas tree in the courtyard. If a person were to climb to the top of the tree and claim the star at its peak, they would be guaranteed success in asking out the person that they are in love with. After hearing of this legend, our wholesome couple learns that their friends have feelings for each other and attempt to use their Christmas outing as an attempt to push their friends closer together. While Kurihara attempts to turn on the charm, it appears that Nanako seems to be contemplating the nature of their relationship.
Any attempts Kurihara makes don't seem to hit the right note. When Rinko suggests that everyone take a break to have a look at the big Christmas tree in the courtyard, Kurihara uses the chance to grab Nanako's hand, which causes her to question him about the nature of their relationship. The not-so-smart Kurihara frustrates Nanako by not doing anything to send the trajectory of the relationship in any way, he just accepts what comes like a pushover. After an incident at the karaoke spot, Nanako's frustration with Kurihara reaches a breaking point and she leaves the party. In her absence, a dejected Kurihara is comforted and inspired to make a lasting impression by his good friend Takeo. The episode reaches its climax when Kurihara reaches the star at the top of the large Christmas tree and presents it to Nanako, citing that he wants her to be his girlfriend. It's an emotional scene and incredibly tender, as the things that Kurihara hates about himself, even though they are frustrating, are things that Nanako likes about him. It's romantic and the characters in question make such a cute couple, it makes us sick! (In a good way)
---
3. "Spartan Crafts Club" – Dr. Stone

Having crossed the threshold into a new age of energy by creating a hydroelectric generator, Senku's Kingdom of Science has improved by leaps and bounds in the first Christmas since he stumbled upon Ishigami Village. Having created this generator, his next step is one of the most important electrical inventions: the lightbulb. After struggling to find materials that could make a filament that won't burn through easily, Senku's success is realized on Christmas Day, when he decides to use his completed light bulbs, which took two months to complete, as decorative lighting on a large tree, something reminiscent of the modern world. It turns out that it was all according to Senku's plan to have it ready by Christmas!
---
2. "Bleak Christmas" – Wotakoi ni Koi wa Muzukashii (Wotakoi: Love Is Hard for Otaku)

This anime is relatable for some, hilarious for most and this particular Christmas episode is no different! Hirotaka and Narumi see Christmas decorations being put up around the city, and Hirotaka's little brother giving out coffee samples in a Santa costume outside the café. The real focus of the episode; however, is the relationship of Narumi's colleagues Koyanagi and Kabakura.
The former is resentful of the latter for having been too busy working the previous Christmas. Koyanagi leaves the office early on Christmas Eve, and Kabakura chases after her, guiding her to a fancy restaurant where he had reserved six months in advance to make up for the previous year. Even though Koyanagi hadn't fully forgiven Kabakura for the previous, romanceless Christmas, she hands him a present containing a limited-edition figurine. On the other hand, the other resident couple of this show, Narumi and Hirotaka, spend their Christmas playing games together at home. The sheer tenderness of the moment despite Kabakura and Koyanagi's rather… interesting dynamic makes this episode a memorable and romantic Christmas episode that carries Wotakoi's signature ability to make you feel good.
---
1. "Christmas and Girlfriend" – Kanojo, Okarishimasu! (Rent-A-Girlfriend!)

At this point in the Kanojo, Okarishimasu! (Rent-A-Girlfriend!) storyline, Kazuya and Chizuru have come to an agreement to cut their contact in light of the fact that another professional girlfriend, Sarashina Ruka, has developed some very real feelings for him. Kazuya himself agreed to a trial dating period with Ruka, so he no longer has any need for a rental girlfriend. However, Kazuya can't help but obsess over Mizuhara. While out on the town over Christmas, he spots Mizuhara and begins tailing her without thinking.
He ends up seeing her on what appears to be a date, with a guy who is much more handsome than Kazuya. Suspicious of the guy's intentions, Kazuya follows him into the bathroom where he eavesdrops on a telephone call that sounds like it's about Chizuru. Some keywords in the stranger's conversation lead Kazuya to believe that he's some kind of bad guy, but it turns out that he's just an actor who goes to the same acting school as Chizuru. She just happens to be a rental girlfriend to make money to take herself to acting school, and it serves as good acting practice.
Kazuya explains that when he thought that she was being taken advantage of, he wanted to do nothing but put a stop to it by all means. After realizing how much of a fool he is, he comes close to admitting to himself that he's fallen in love with her. She breaks his train of thought by handing him a phone case for his broken phone (which we'll remember happened when he dove head-first into the sea to rescue her). Kazuya is moved to tears by the gesture, noting that it's the first time he'd ever received a Christmas gift from a girl. Since meeting Chizuru, Kazuya feels that his life had taken on a different colour.
---
Final Thoughts
It has been a crazy and challenging year for us all in some capacity, so the upcoming Christmas period is a good time to truly decompress. Anime rises to the occasion time and time again with its Christmas episodes, and it always is a pleasure looking back on the ones that truly left a mark. What's your favourite anime Christmas episode? Drop a comment below and tell us your thoughts!
---