También puedes leer este artículo en:Español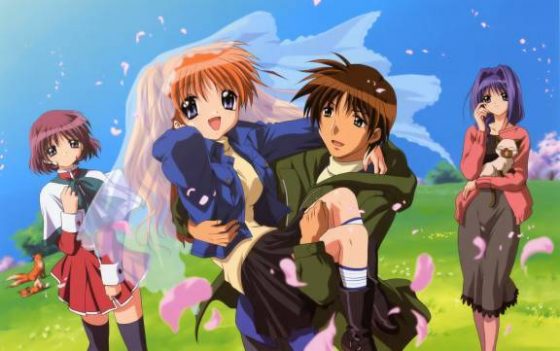 Introduction
Christmas is almost upon us people. It's less than a week away, and there's a lot you probably still have to do. Perhaps set up lights, perhaps you don't have a tree yet, perhaps you have some last minute gifts to buy, and perhaps you need to watch some anime. Scratch that. You need to watch some anime in order to get in the mood for Christmas. Now, there aren't many anime that deal whole heartedly with Christmas, but there are a ton that either fit the winter setting or attach themselves to the Christmas spirit of love and giving. Hopefully between this updated list and last year's list below, you'll be able to pick out some great anime to watch this Christmas!
10. Stranger: Mukou Hadan (Sword of the Stranger)

Episodes: 1
Aired: Sep. 2007
Sword of the Stranger is an action-packed story of heartbreak. It follows the orphan Kotarou and his dog Tobimaru as they are being chased by a group of assassins. Luckily for the duo, they run into a ronin whose incredible skills might be able to save the two.
Again, this pick might surprise you, as the show throws in a decent amount of blood, which doesn't quite fit in with Christmas. However, it does take place in the winter, and more importantly, conceptualizes and displays the ideas of self-sacrifice and giving. There are two scenes in particular that will warm even the coldest hearts during this movie. One is between the boy and his dog, in which the boy is willing to go to the end of the world to keep his pup by his side. The second is between the boy and the stranger which gives way to one of the most epic fight scenes in any anime.
---
9. Ookami to Koushinryou (Spice and Wolf)

Episodes: 13
Aired: Jan. 2008 – Mar. 2008
A mix between light romance and economic intrigue, Spice and Wolf takes us throughout a medieval fantasy world. Specifically, the anime follows Kraft Lawrence and the crazy adventures that ensue after he meets the wolf goddess Holo. Between his calculating ways and her ancient wisdom, the two make for a great business duo as well as sparring pair, when it comes to wit.
You might be wondering why Spice and Wolf is on the list, and that's a fair question. Similar to another entry that you'll see on this list, Spice and Wolf has two aspects that allow it to be on this list. First off, a ton of the setting fits with the holiday spirit. There's generally snow outside, and even when there isn't, our heroes are generally forced into a warm hearty cabin or hall with a fire and drinks. These settings definitely create a sense of the winter spirit. The second is the game of give and take that Holo and Kraft play that creates an endearing environment of romance.
---
8. Kanon (2006)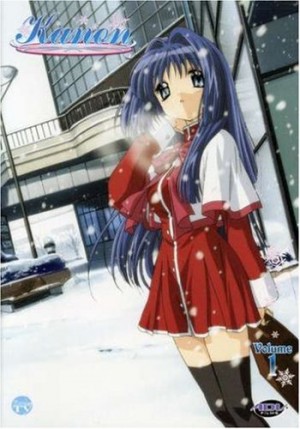 Episodes: 24
Aired: Oct. 2006 – Mar. 2007
First things first, be sure to watch the 2006 version. You will probably regret watching the original from 2002. Now, Aizawa Yuuichi used to visit his cousin in the city all the time, but for seven years he was unable to. Arriving back in the city after so many years, he realizes that he can't recall any of his memories about the town.
Yes, Kanon (2006) is a harem with several girls falling for our main character. That being said, the show properly takes care of each character and refuses to indulge in too many of the clichés that are inherent in harems. Thus, we find ourselves swimming through the tragic stories of the characters that we come into contact with rather getting stock characters. Through this method, our hearts open up to each character as we are led through drama and romance on a continuous basis.
---
7. Winter Sonata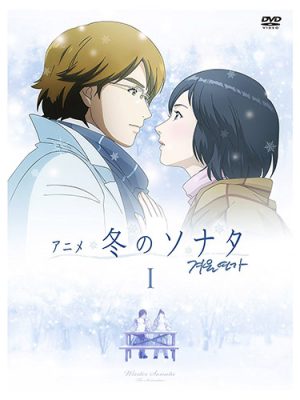 Episodes: 26
Aired: Oct. 2009 – May 2010
Yoo Jin has been madly in love with Joon Sang for a long time. However, when he dies in an accident, Yoo Jin moves forward with her life by marrying her friend from childhood. Though at first comfortable with this choice, she soon meets someone that bares an uncanny resemblance to her lost love.
In terms of romance and heartfelt drama, Winter Sonata delivers on multiple fronts. Its gorgeous artwork allows the characters' expressions to better affect the viewer as well as pushes people into the setting. Tied with the animation is the incredible voice acting of the cast (from the Korean drama this anime is based off) that deftly manipulates our empathy. Admittedly, there aren't any laughs to be held in this anime, so it's really only for those who can handle a tear jerker over Christmas.
---
6. Clannad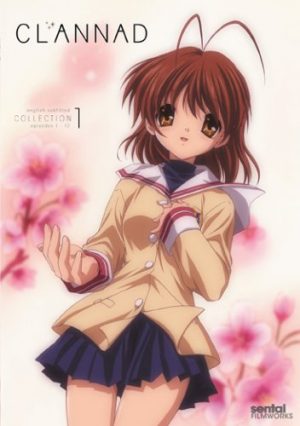 Episodes: 23
Aired: Oct. 2007 – Mar. 2008
Clannad follows the unlikely relationship that forms between Tomoya, a truant, and Nagisa, a girl whose sickness has kept her out from school. Though Tomoya does his best to avoid Nagisa at first, he soon finds her an integral part of his life and development. Though this relationship isn't the only one in his life that is developing. There are a few other girls that vying for his affection.
Perhaps more heartbreaking than heartwarming, Clannad is one of those shows that brings about all the feels, which fits particularly well for Christmas and the winter season. Tomoya's relationships can very much mirror relationship you have in your life. There's the friend who particularly pushes you, the one who knows your past, and the one you want to help out. With each of these relationships, we receive tremendous insight into each person's life and become deeply invested in him/her. It's through this method that Clannad is able to pull at the viewers' heartstrings and bring out every inch of emotion, which in turn makes you extremely grateful for all the relationships you currently have.
---
5. Itsudatte My Santa!

Episodes: 2
Aired: Dec. 2005
If your child was born on December 24th, you might be tempted to name him/her Santa. That's what happened to the main character in Itsudatte My Santa!, and due to his parents' whimsicality, he quite frankly hates anything that deals with Christmas. Well, his hate is put to the test after meeting Mai, a girl who is practicing to be a Santa.
So we have a character named Santa, a character training to be a Santa, and within their relationship a reflection of Charles Dicken's A Christmas Carol. To put it more bluntly, a cold=hearted character, who despises Christmas, finds himself warming up to the Christmas season thanks to the endless kindess and jubilation of another. In the end, very few anime have as much Christmas-related imagery as Itsudatte My Santa!
---
4. Love Hina Christmas Special: Silent Eve

Episodes: 1
Aired: Dec. 2000
Love Hina is one of those harems that often acts as a gateway into the anime world. As it follows Keitaro, a boy desperate to get into Tokyo University, ends up helping out at his grandmother's hotel. Well, this hotel's residents happen to be all female and their particular quirks generally leave Keitaro beaten or exhausted.
Now in this special OVA, Keitaro hears about a rumor that if you declare your love on Christmas Eve, then your love will come to fruition. Essentially, this OVA holds all the comic gold that derives from the eccentricities of all its characters that the anime has, but wrapped up in a more sufficient and heartwarming way. With the entirety of the animation being during the Christmas season and hopeful romance in the air, it's a feel-good video for both you and the uninitiated to enjoy.
---
3. Ookami Kodomo no Ame to Yuki (Wolf Children)

Episodes: 1
Aired: Jul. 2012
The hardworking college student Hana falls in love with a mysterious man who attends some of her classes, but does not actually go to the college. Their love blooms quickly, even after she finds out that he is half-wolf, and the two have two children, one boy and one girl. However, one night, Hana's husband dies and leaves her in charge of two kids with the ability to change into wolves.
Depressing, but ultimately heartwarming is the best way to describe Wolf Children. This is because the importance of family and the undying love of a mother are the center pieces for the movie. These two points push past all the pain and suffering and show just how crucial a role family plays in all of our lives. Hana is everyone's mother and she reminds us just how much our parents, but especially our moms, give to us each and every day. The animation also gets a couple bonus points for having gorgeous animation and some picaresque snow scenes that fit perfectly with Christmas.
---
2. Toradora!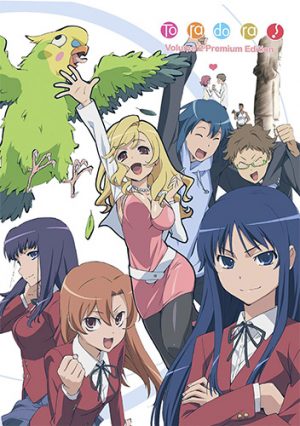 Episodes: 25
Aired: Oct. 2008 – Mar. 2009
Toradora is a show essentially about five high schoolers and the way their love lives intersect in a million and one ways. More specifically it's about Taiga and Ryuuji who both have extremely negative reputations. Taiga is actually violent while Ryuuji simply scares people off with his looks. These two form an unlikely friendship and decide to help each other out, as each is the respective best friend of the other's love interest.
Toradora will warm your heart as much as it will break it, which is why it has made this particular list. Friendship and its trials as well as the sacrifices needed to keep one intact are explored thoroughly in this anime. What's particularly special about it though is the way in which relationships are destroyed and reconstructed throughout the entirety of the show as people restrain and release their desires. On top of that, the show's plot reaches its climax when the characters are celebrating Christmas.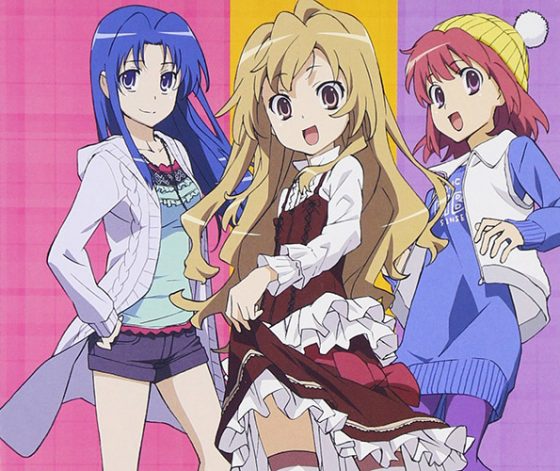 ---
1. Tokyo Godfathers

Episodes: 1
Aired: Aug. 2003
It's Christmas Eve and we are introduced to three homeless people: Hans, Miyuki, and Gin. These three have the fun task of shifting through garbage on this most celebratory of nights, and to their great surprise they discover an abandoned baby. Unsure of what happened to land the baby in such a circumstance, the trio decides they will do whatever they can to find the child's parents.
With an adventure that incorporates an unlikely group of heroes, the yakuza, and many other characters; Tokyo Godfathers is a beloved touchstone in the anime world. Each of the main characters are truly lovable humans with a penchant for self-sacrifice. The creator's choice to view the world from their perspective served to provide a unique viewpoint for the story, as it forces our eyes to take in lifestyles that are usually covered up in the commercialized Christmas season.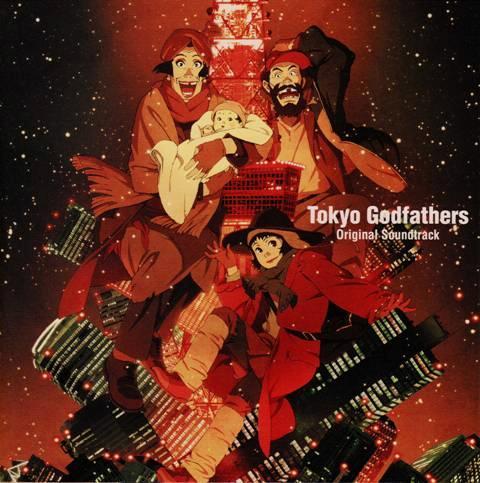 ---
Conclusion:
So those are 10 anime that will definitely get you into the Christmas spirit. The main factor tying all of them together is the fact that each displays a high level of warmth that will bring about some raw emotions. This idea of warmth is an integral aspect of Christmas as we get together with our closest family and friends to exchange gifts, or perhaps just spend some time together. Now, if for some reason you binge those quickly, then be sure to snag a few from the list below as well.
---
---
It's Christmas time again! Time for snow, food, family, friends and, if you're in Japan, romance! If you want to get into the Christmas spirit anime-style, we've got 10 recommendations for you right here. And because it's anime, it can be enjoyed by everyone, regardless of beliefs or upbringing. Some of the entries are series and some are movies or OVAs, so you can either pick something to marathon or watch all month, or just have a Christmas movie night!
The anime on this list have been picked because they either have obvious Christmas themes, are well loved by fans during the holidays, or because they give you the Christmas feels. I'm warning you now though, since Christmas is kind of a couples holiday in Japan, there are quite a few romantic selections. So start gathering your Christmas cookies and hot cocoa, get comfy by the fire (or near your heater) and take a look at our offerings so you can get into the anime Christmas spirit!
10. 5 Centimeters Per Second (Byousoku 5 Centimeter)

Episodes: Movie
Aired: February 2007
After spending years together and bonding over their shared differences, Takaki Toono and his close childhood friend, Akari Shinohara are separated because of Akari's family's job in this Drama, Romance, Slice of Life anime. While they try their best to keep in touch at first, and even meet up one time, life continues and they slowly lose touch, never really forgetting about each other or their past together and always wondering if they'll meet again.
5 centimeters per second is definitely a drama and it's not a movie about or set around Christmas. But there are many gorgeous snow scenes and it does tug at your heartstrings and makes you feel all kinds of melancholic. It will definitely set you in the mood to get in touch with friends and family you haven't seen in a while. What better time for that phone call than the holidays?
---
9. ef: A Tale of Memories

Episodes: 12
Aired: October 2007 – December 2007
Next is a series with two separate stories. In the first, Hiro Hirono meets Miyako Miyamura after she steals his bike on Christmas Eve to chase her purse snatcher. Turns out, they go to the same school and hit it off, until Kei Shindou, Hiro's childhood friend who's always had a crush on him, becomes involved and it becomes a love triangle. In the second story Renji Asou meets Chihiro Shindou, Kei's twin sister whose memory only lasts 13 hours. She wants to write a novel and Renji decides to help.
This Drama / Mystery / Romance anime only begins on Christmas, but it is still a great holiday show. The fact that there are two stories that are somehow connected adds depth and aids the character development. And all the love and emotions being dealt with really put you in the Christmas spirit of love, joy and helping others.
---
8. White Album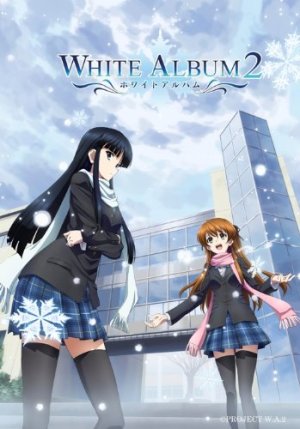 Episodes: 13
Aired: January 2009 – March 2009
Touya Fuji is a university student who is dating an up-and-coming idol singer, Yuki Morikawa. Because of Yuki's job and status, it's getting more and more difficult for them to spend time together since idols usually aren't allowed to be in relationships. There is someone on their side though, another idol! But why?
White album is a Romantic Harem anime set in the winter with plenty of snowy scenes and with Christmas as an important part of the plot. The art is beautiful and it has good music, which one would hope considering the main protagonist is an idol. It's romantic, funny, emotional and maybe a little confusing at times, but fans agree that they enjoy watching this title around Christmas time! Though if you want closure, I suggest watching season 2 as well.
---
7. Toradora!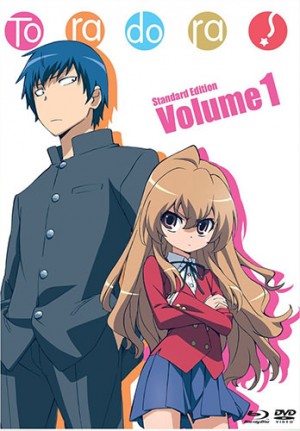 Episodes: 25
Aired: October 2008 – March 2009
After classroom rearrangements, Ryuuji Takasu ends up in the same classroom as his best friend and his crush, Minori Kushieda. Minori's best friend is Taiga Aisaka a tiny little firecracker with whom Ryuuji forms an agreement to help each other get close to their respective crushes. Of course, all this working together might end up with Ryuuji and Taiga developing feelings for each other…
While Toradora! Is definitely not a Christmas anime, it does have a huge plot point that occurs during Christmas. Being a Rom-Com / Slice of Life, you know there will be happy moments sprinkled throughout a sequence of love triangles, awkwardness and tsundere moments. Toradora! is a popular series among anime fans to re-watch (or watch for the first time!) around Christmas.
---
6. Amagami SS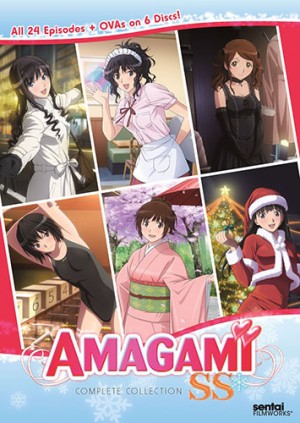 Episodes: 25
Aired: July 2010 – December 2010
Junichi Tachibana got stood up on Christmas a couple of years ago. Now in his second year in high school, with his heart healed up, he decides to try again. And he has many girls to choose from! Two childhood friends, the most popular girl in school, a shy girl, the class president and an underclassman. No matter who he chooses, Junichi wants this year's Christmas date to be perfect!
Set in between Chrsitmas and that being the culmination of the story, this Comedy Romance anime is where you should look for a Slice of Life Romantic Christmas show. Don't be misguided by the mention of several girls though, this is not a Harem anime. It's based on a dating game so you actually get to see a different story for each girl! Everybody wins! Or do they?
---
5. Love Hina Christmas Special – Silent Eve

Episodes: 1
Aired: December 2000
It's the turn of the millennium and there's a rumor that if you declare your love on Christmas Eve, your wishes of love will come true. Keitaro hears the rumor and tries to balance re-taking exams and planning his declaration of love.
This is the oldest anime on the list and it comes from a very well-known, classic harem anime. It's obviously centered around Christmas, it has your typical comical harem moments and of course, romance. This is a cute, Slice of Life Christmas special you should watch at least once in your life.
---
4. Chocotto Sister

Episodes: 24
Aired: July 2006 – December 2006
During Christmas time, Haruma Kawagoe was looking forward to having a little sister, but his mother miscarried. Saddened and worried, he prayed with all his heart for his mother to get better and wished for a little sister. Years later, he's in college and on Christmas, he finally gets the present he wished for so long ago, a little sister! Luckily, Choco comes with an instruction manual.
Chocotto Sister has a great blend of Drama, Comedy, Slice of Life and a bit of Ecchi. While the beginning sounds a bit sad, it is the set up for many funny, sweet moments ahead. A full grown little sister as a Christmas present, life in college and a female Santa on a motorcycle, this anime will bring a good mix of excitement to your holiday viewing!
---
3. Tokyo Marble Chocolate OVA

Episodes: 2
Aired: December 2007
Yuudai is very shy, so even though he is in love with his girlfriend Chizuru, he can't seem to be able to communicate his feelings to her. At the same time, Chizuru hasn't had good luck in relationships, so this lack of communication seems like the end to her. During their first Christmas together they end up getting separated and must face their romantic and personal insecurities on their own.
Set during Christmas time, this Slice of Life Romance takes us through the lovers' two separate stories and therefore their individual perspectives on their situations. They must figure out what they feel and how to say it if they want their relationship to work out. Add to this an escaped miniature donkey and you've got yourself some good old Christmas entertainment!
---
2. Itsudatte My Santa! OVA

Episodes: 2
Aired: December 2005
A boy named Santa who was born on December 24th and – not surprisingly – hates everything Christmas related, meets Mai, a cute Santa in training on Christmas Eve. Being that he is unlucky and miserable because he's often alone, Mai promises to do anything she can to make him happy.
You can't get any more Christmas-y than this. It's set during Christmas, there are two Santas, a scrooge-like boy gets his heart softened and shown the meaning of Christmas, and to top it off, there's Comedy, Romance, and Fantasy in this slightly Ecchi Shounen OVA.
---
1. Tokyo Godfathers

Episodes: Movie
Aired: August 2003
Hana, Miyuki and Gin are homeless. While going through the garbage on Christmas Eve, they find an abandoned baby named Kiyoko. Along with the baby, there are clues as to the identity of the parents, so they set out to find them. Their adventure finds them involved with the Yakuza, preventing people from dying and witnessing Christmas Miracles.
Tokyo Godfathers was an instant classic when it was released and won many awards. The character development is fantastic, the art is gorgeous and the different perspectives on humanity it presents are heartwarming. The music is great and the Comedy and Drama are balanced exquisitely. If you only watch one of the recommendations in this list, I suggest Tokyo Godfathers.
---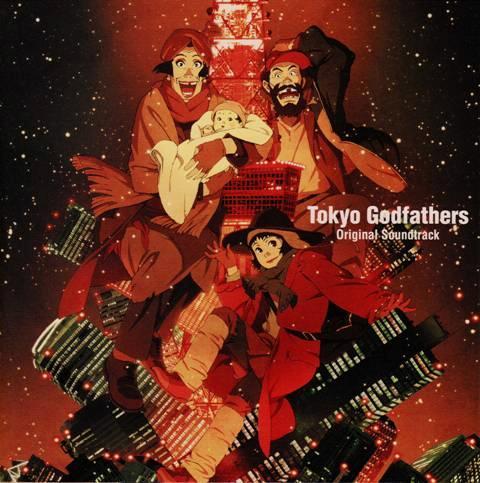 Closing
There you have it, 10 anime that will get you in the Christmas spirit. Though some of the titles mentioned are full series that aren't completely set around Christmas, they still set a good holiday mood. Like I mentioned before, there are a lot of romantic titles in the list because in Japan, it's more of a romantic holiday than a family holiday. But that's where movies like 5 centimeters per second and Tokyo Godfathers come in, they deal with other aspects of humanity like friends, growing apart and helping and caring for others.
We've also added quite a few OVAs and films among the series so you can enjoy some Christmas-y anime with loved ones who may not be into marathoning a 25 episode series!
Please let us know what you think in the comments below! What series or movies will you be watching this holiday season? Any fun, anime-related plans?
Thanks for reading and happy holidays!!
Nya~!
Enjoy the Holidays with our Christmas Articles!
---