Something that we really hate about every new season is that everything looks so shiny and new until you get into it. Then when you do, you are confused and wondering why you are watching some of them. You load up the next episode and question, "Is it really worth it?". The same thing happens to us and we had to give some shows the chop. Whether or not they were just plain bad, sold us on something that was not what they turned out to be, or just were plain boring, these are six shows that we at Honey's Anime had to bid farewell early on.
1. Hyakuren no Haou to Seiyaku no Valkyria (The Master of Ragnarok & Blesser of Einherjar)

Episodes: Ongoing
Aired: July 2018 - ongoing
Yuuto Suou is in another world. He becomes the patriarch of clans to save them from being taken over or decimated. In this new world, he is learning quickly how it is survival of the fittest and he needs to save those close to him. He now aims to become king in another world surrounded by beautiful maidens who pledge their loyalty to him.
To be blunt, this anime is an assault on everything. The art is terrible, the story is a cringefest, and the concept is dull and has been done multiple times before. The voice acting might be the only going for it, but the girls calling Yuuto "brother" and "father" is unforgivably bad. Somewhere around episode two, I checked out and no longer wanted to see more. While the light novel may be something liked, which you can thank the talented translators who worked hard on it for, the anime & original story itself are showing that isekai is more or less dead and the bottom of the barrel needs to be scrapped for something to be pushed out and called "an anime."
---
2. Jashin-chan Dropkick

Episodes: 12
Aired: July 2018 - September 2018
Jashin-chan is summoned from Hell one day by a girl who is really into the occult. Yurine is her name. The problem is that Jashin-chan wants to go home and Yurine has no idea how to send her back. So Jashin-chan is forced to live with Yurine in her closet. The problem is through, Yurine is poor. So things like meat for hotpot are a luxury. Jashin thinks if she can kill Yurine, she will be free from the mortal world. Thus daily she tries to take Yurine out.
I really have to note that this anime really let me down. I originally translated the page for it on Honey's Anime, and I really wanted it to be good. But after just one episode, I was ready to send Jashin-chan back to the cesspool of Hell it belongs to. The series teases a bunch of supernatural beings including an angel who has lost her halo, and the initial setup on paper sounds great. However, the art is subpar and the humor, if it can even be referred to as that, is mundane. Nothing feels funny and it just feels forced. Rumor has it that the first episode is actually meant to be the final episode of the series, and if that is the climax, then I shall bow out gracefully now and not subject myself to it.
---
3. Ongaku Shoujo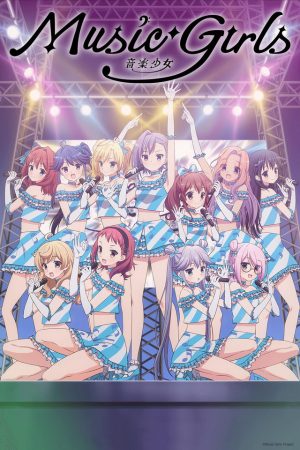 Episodes: 12
Aired: July 2018 - September 2018
Ongaku Shoujo tells the story of a fledgling idol group by the same name who meets a girl named Hanako. She is the spark that they need to elevate themselves from C-tier idol to SSS-tier. Through her drive and passion, she helps the team grow even further.
To be honest, idol anime is not my cup of tea. I do watch some series here and there to diversify my watching habits and expose myself to new ideas and genres. However, this reminds me of other series that are, frankly, forgettable. Idol Jihen, Action Heroine Cheer Fruits, Ongaku Shoujo. That is where this idol group that wants to elevate itself beyond, will just fall. With the successes of decent idol shows like Love Live! Sunshine!! and Bang! Dream, companies are churning out idol anime in hopes that they will reach the level of sales that the aforementioned shows enjoy. Sadly, Pine Records should have invested in a better writer and a bit better art via a different studio. J.C. Staff might have been able to elevate this anime to another level, but with 12 generic characters that are a dime a dozen in anime, generic sounding tracks, and a story that is also–surprise–generic, Ongaku Shoujo will fade into obscurity rapidly. Thank goodness, too.
---
4. Yume Oukoku to Nemureru 100-Nin no Ouji-Sama

Episodes: 12
Aired: July 2018 - ?
Our main character is transported to the Land of Dreams where people possess powers involving dreams. It is here that Yumekui, also known as dream eaters, torment people by eating their dreams. The main character turns out to be a princess who has the power to wake up the princes and rid the world of Yumekui.
Oh gosh, Yume Oukoku really tries to be similar to the likes of Fushigi Yuugi, but quickly it falls short. There's inconsistencies with the plot (like how the princes are asleep?) and it quickly descends into what is essentially reverse harem garbage. It's no surprise that while it had promise, we had no desire to continue with this anime. Sorry but we've got busy schedules.
---
5. Senjuushi (The Thousand Noble Musketeers)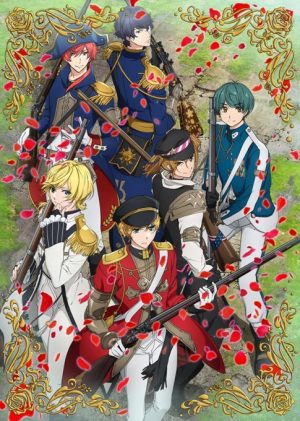 Episodes: 12
Aired: July 2018 - ?
War troubles the land and the World Empire government wants to have complete control of the people. There is a secret resistance that is plotting a rebellion to change the fate of the world. Using old guns, these men will fight for all that they believe in.
Oh, Senjuushi is a weird anime to come out in a time when the west is battling about gun control, etc. etc, but we digress. This anime is incredibly boring with gun fights that are mirror magical girl anime and fantasy anime all around. The concept is uninteresting and all of the melodrama is quick to irk. Really, it was hard pushing through the episodes and if you have seen even 1 episode, you'd drop it immediately, too!
---
6. Grand Blue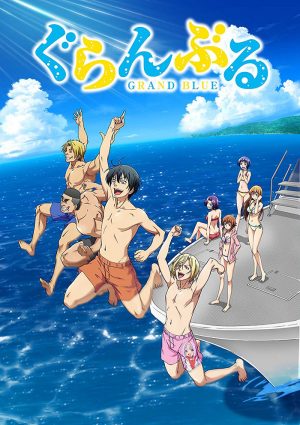 Episodes: Ongoing
Aired: July 2018 - ?
Kitahara Iori has just moved to a new town to attend university. It is in this beautiful coastal town that he meets some beautiful childhood friends and naked men, and he's forced to start diving. He's in for quite the university experience.
So Grand Blue is an anime that many are probably going to love with its slapstick humor and outrageous jokes that mirror the like of Gintama. It's got a pretty fun cast and some hints towards some sort of weird relationship with Iori's childhood friends. Let's not forget all of the stripping down, and we don't mean the women. Overall, though, we grew tired of the repetitive jokes really fast and Grand Blue doesn't offer too much different from the likes of Beelzebub or Gintama. Sure, it's a new setting, but really, it's all the same.
---
Final Thoughts
While there are some decent anime this season, there are quite a few summer anime we just had to drop. Whether it's for the plot, animation, or for no reason at all, some anime just did not earn our viewership this season! Are there any mediocre anime that you gave a chance but had to drop? Share all of your thoughts in the comments below!