Summer is finally here and now that we have passed the halfway point, we figured it was time to revisit those shows that didn't pass the three episode test. Whether they were just plain boring, the story didn't grab us, or other shows just seemed more interesting overall, these are the shows that we dropped. While we do understand that everyone's tastes are different, these are to us, what we felt like were easily able to be passed on. Note that we are not telling you to drop them, these are just what failed to keep our attention. If you have dropped similar anime, then be sure to let us know down below what your thoughts are. Without further adieu, let's move onto the list!
---
1. Baki

Episodes: 26
Aired: July 2018 - December 2018
Baki is about a super powerful high school fighter named Baki Hanma (Hammer) who wants Baki to get back into underground fighting. Baki possesses a fantastic about a fighting ability and intuition, and many hardened criminals from around the world want to meet with him. His father too was a legend, thus others want to see if his son lives up to the Baki name. When Baki does eventually arrive at the ring, he meets the hardened criminals who have escaped from all over the world to come to Tokyo to fight him. Thus his battle begins...
The first reason why we gave this the chop is the story. There is little to no explanation as to how the criminals know that Baki is in Tokyo. They just are all magically drawn to it and head there. The art is terrible and gives that Isekai Blesser of Enjerhar anime a run for its money for worst animation this season. There is really no story either as you just watch hyper-violent fights with pointless dialogue as the criminals escape from their prisons one by one. Nothing really seems interesting about it, and overall, this feels like a poor man's Megalo Box which was an excellent series from Spring 2018.
---
2. Grand Blue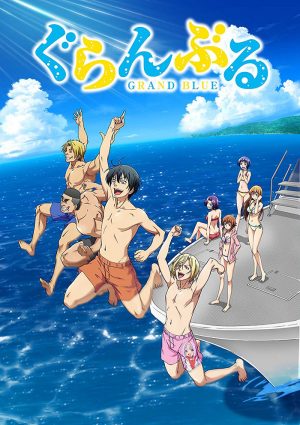 Episodes: 12
Aired: July 2018 - September 2018
Iori Kitahara has just moved to live in his uncle's surfing shop while he attends a nearby university. He opens the door to the shop and finds a bunch of drunk, muscular men in various states of undress. They are part of a diving club. They tend to drink a lot though and enjoy getting naked with each other. They coerce Iori and Kouhei, an otaku who also cannot swim just like Iori, into joining. This is their journey about learning how to swim and appreciating diving.
Grand Blue appeared to be a lot like Amanchu! on the surface, but unfortunately, the series is not. It's a lot of dick jokes, which in and of themselves are funny, but grow stale after three episodes. There are lots of drinking jokes as well, but again, this is nothing to write home about after three episodes. There is one brief scene about diving in the third episode, but the show seems to be focusing more on getting plastered and getting naked, because that's what people do when they drink? The story was not entertaining enough to keep going and that is why we dropped it.
---
3. Lord of Vermilion: Guren no Ou

Episodes: 12
Aired: July 2018 - September 2018
In 2030, there is a great sonar reverberation that occurs and paralyzes Tokyo. Then, a red mist sets in and all humans lose consciousness. Six days later though, humans start to wake up. That's when some humans awake to their new powers known as "Hero's Blood". This allows them to wield weapons and attack monsters that are starting to appear at an alarming rate. Then, Chihiro, our main character, is the last of the humans to wake up. Adjusting to this new life, secluded from the rest of the world, he starts to meet with a mysterious woman known as Yuuri. Things continue to get more complicated as he learns that the monsters were previously humans. Now, swayed by the blood and led by it, Chihiro must learn to use his power and stop those who would do society harm.
It is not that Lord of Vermilion is bad. It's not at all. Rather, it's just too much information at once. Rather than sipping from a spring, you are trying to drink from a fire hydrant of information. Playing the game we assume would be helpful, but there is just so much information crammed, especially in episode 3, that it's impossible to retain it all. Combine that with a week wait for the next episode, and anyone would be lost. It feels a lot like To Aru Majutsu no Index, and truth be told, if it moved at the pace that To Aru did and had a two cours episode count, Lord of Vermilion could have easily been a success. Unlike Persona 5 which does a great job mitigating everything into the anime itself, Lord of Vermilion struggles with not only the 12 episode syndrome, but also what is relevant information and what is not. Sure, it tries to explain it all, but there is just too much to take in and that's why we dropped it.
---
4. Asobi Asobase

Episodes: 12
Aired: July 2018 - September 2018
Asobi Asobase is a story about three classmates who end up forming a club where they can play games and explore hobbies to pass the time with. There's Olivia who pretends to be good at English and know all things foreign just because she's of western descent but she's actually Japanese born. Then there's Hanako, who is rich and talented in all aspects except she can be a tad slow at everything else. Of course, there's Kasumi who looks to be booksmart but is terrible at English, too.
Now, I know people absolutely love this anime, but I just can't take all of the comedy. It's outrageous and has me laughing at times and totally flabbergasted all the others. To me, it's a lot like watching Nichijou and Gintama, which were both enjoyable, but these types of comedy just don't hold my interest for too long. Asobi Asobase is good for people looking for a good laugh and have some time to relax, but unfortunately, I just don't have the time nor the care for such comedy so I just gotta give it the axe.
---
5. Jashin-chan Dropkick

Episodes: 12
Aired: July 2018 - September 2018
Jashin is summoned by Yurine who has no idea how to send her back no matter how much Jashin wants. As such, Jashin has to live with Yurine, a girl who lives on a tight budget. Jashin gets it in her head that if Yurine dies, Jashin can return back to Hell, so Jashin spends her day plotting out Yurine's demise.
Man, this was one of the painful anime to watch this season. The jokes about Jashin trying to kill Yurine and ending up being chopped up in pieces are overdone and extremely gruesome. It's got some sort of guro-comedy going on that I just don't enjoy. That and the other characters just aren't as interesting. It feels like a badly done Monster Musume, Demi-chan wa Kataritai, and Centaur no Nayami mash up with bad animation and mediocre jokes.
---
6. Hyakuren no Haou to Seiyaku no Valkyria (The Master of Ragnarok & Blesser of Einherjar)

Episodes: Ongoing
Aired: July 2018 - ongoing
Suou Yuuto has somehow become the patriarch of his clan of women that he is saving from one fate or another. Together, Yuuto will learn how exactly to survive in this world. With all that he learns, Yuuto is aiming to become a king with a harem of women around him.
Oh gosh, this was even worse than Jashin-chan no Dropkick. It's so cringy listening to the girls refer to Yuuto as "father" or "big brother." If it's a term of affection, it feels a bit too oversexualized and creepy for my taste. Then Yuuto is so OP, it's boring. And of course, we have gratuitous amounts of fan service which puts this anime over the top as an ecchi anime aiming to be nothing more than just ecchi with the pretense of a plot. Anime like Masou Gakuen HxH and Keijo!! owned their ecchi-ness, but Hyakuren no Haou just does not.
---
Final Thoughts
They say that 3 is the magic number and yet, even after 3 episodes, these 6 anime failed to keep us interested. They weren't exactly worth dropping immediately, but damn, they sure weren't worth keeping on our watch lists. What do you readers think? Did you manage to give any of these a chance like we did? Or perhaps there were other anime that just failed the 3 episode test for you? Share all of your thoughts down below and thank you for joining us once again at Honey's Anime.