También puedes leer este artículo en:Español
It's getting colder, and colder. Leaves have been long gone from the branches. In some places, specks of snow are drifting in midair; in others, rain and the bone-freezing wind. People, normal people, cast their minds to the prospect of a jubilant holiday season to warm up their bodies and souls: Christmas lights, deco-trees, socks hanging by the fireplace, Santa and his jolly belly, reindeers flying the sleigh.
But for us, yes, US, Fujoshis, we see Saint Nicolas' belly wobbling jollily under (or over, depends on your preference) the reindeer(s) (preferably personified, male of course) by the fireplace with his socks (and possibly clothes) scattered about. And this is what warms us up, more than anything else. So now, my dear friends, here may I introduce you to our hearts desire – and fire, for Winter 2015.
Cute High Earth Defense Club LOVE!
[Japanese: Binan Koukou Chikyuboueibu LOVE!]

We love boys in uniforms. We love boys in femmy suits. What would happen when we have boys in femmy uniforms?
We would cross our hearts and save the earth! [ Cute High ] is an original television anime series scheduled to air on TXN (TV Tokyo Network) this coming winter season. Binan is a fantasy city somewhere in Japan, and the "Earth Defense Club" at Binan High School is basically a club that does nothing, at all.
One day when two of the main characters, Atsushi Kinugawa and En Yufuin are enjoying a relaxing moment in the hot spring at the Kurotamayu bathhouse, a pink mascot-like beast appeared from midair and begged them to save the earth. They and three of their friends – Yumoto Hakone, Io Naruko, and Ryu Zaou, also members of the "Earth Defense Club" – end up with magical bracelets clasped to their wrists, and are told to "make love" in order to save the earth (now, fellow Fujoshi, please calm down, at this point we are not sure whether they will be making love to one another, or members from the antagonist team, "Earth Conquest Club." So put away whatever you're holding in your hands, and keep on reading).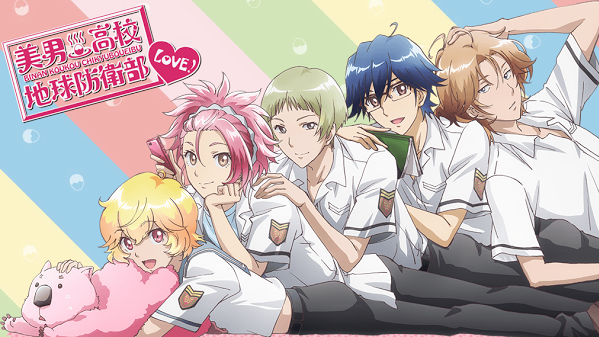 The director of the series, Shinji Takamatsu, has produced the anime for the popular JUMP manga series, Gintama (popular among the general population, however, with a extremely strong appeal to Fujoshi), therefore we could probably expect some Gintama style humor and references in the show. Also, with a strong presence of hot spring, we are also looking forward to at least some, but hopefully more substantial amount of flesh and sweat.
Cute High Earth Defense Club LOVE! Official Trailer

Episodes: Unknown
Air Dates: Jan 7, 2015 - ?
Kuroko's Basketball
[Japanese: Kuroko no Basket]

Sports is a forever favorite for Fujoshi. I mean, forever and ever. Muscular male bodies, running, jumping, prancing, splattering their hot sweat in the air, bouncing their bare flesh against one another. The steam of passionate rivalry and strong bondings among male companions are the quintessential basis for yaoi fantasies. Where else are we able find relationships and interactions as authentic and pure as such than in sports?
So here we are, waiting longingly for the third season of [ Kuroko's Basketball ]. (in the mean time, we could just feed on the large amount of fan fic slash pairings out there to quench our thirst).
The second season ended with Seirin High beating both Too Academy and Yosen High, paving their way to the semifinal match for the Winter Cup. The team that they will be playing against is not yet decided (in the anime) which we are about find out in the coming season.
Which schools will rival against each other and what more challenges and obstacles will they face? What more skills are the players going to develop and what spiritual growth will they gain?
To be honest, we don't really care. As long as they keep shooting baskets (at one another), keep sweating (over one another), and telling each other how important they mean to them (on and off the basketball court), we'll be tagging along.
Kuroko's Basketball Official Trailer

Episodes: 25
Air Dates: Jan 10, 2015 - ?
Durarara!!

There is no flesh. There is no sweat. There are no femmy uniforms nor steaming hot baths. The relationships and interactions in this show are neither pure nor authentic. The only things that are in it are complicated plots, clandestine conspiracies, outrageous perverts, lies and deceit. And these are the exact triggers that get our Fujoshi motors runnin' (especially when all the lies and deceit and plotting involves men, with men, and among men).
The first season closed with our beloved couple – Masaomi Kida x Mikado Ryugamine (if you have problems with the top x bottom arrangement, we need a serious talk) – parting and crossing different bridges. Will they meet again and how will they meet? Will they eventually have to stand on opposite sides and will they come back together as comrades? Where will their friendship go and where will it end (hopefully in the bedroom, or other rooms you prefer, we don't need to be a prude on this)?
In addition, let's not forget our more passionate couple – Shizuo Heiwajima x Izaya Orihara (if you have issues on the top x bottom arrangement on this one, we will not be talking, ever).
Will Shizuo finally be able to pin Izaya down? And will Izaya ever fold under Shizuo's fervent pursuit? Let us watch the television series, while googling up the fan fics.
Durarara!! Official Trailer

Episodes: Unknown
Air Dates: Jan 10, 2015 - ?
Boys Hollywood – Holly Stage for 50
[Japanese: Shonen Hollywood – Holly stage for 50]

Star light, star bright, the first stars we see this season will be [ Boys Hollywood – Holly Stage for 50. ]
This series is a sequel to [ Boys Hollywood – Holly Stage for 49 ]. Originally a Japanese light novel, adapted into a television anime series for summer, 2014.
The story is set in Tokyo, about five teenage boys undergoing various trainings at the "Hollywood Tokyo" theater in pursuit to become famous idol stars. While holding different goals in mind, they are able to examine the fears and anxieties in their hearts together and create unique attachments among one another.
And isn't this what we're looking for? Pair-bonding through deep soul-searching (and possibly "searchings" in other aspects) between and among young, vibrant, somehow naïve and green men. While watching them grow (closer) together and warm one another's hearts (and bodies), we are also warmed (more accurately, burnt), by the fire raging in ourselves.
Episodes: Unknown
Air Dates: Jan 10, 2015 - ?
---
Besides of these four animes which are, or could be, popular in the Yaoi fan community, there are three other animes here that have potentials to shine and rise as BL sub-icons for the Winter season.
[ Assassination Classroom ] is a manga by Yusei Matsui, adapted into anime and coming out in January along with all the others. The pairing that gets the most consensus is definitely Karma x Nagisa. However, I'm personally more interested in Koro-sensei x Nagisa, especially considering the use of all the tentacles (*perv*).
The second season of [ Tokyo Ghoul ] also intrigues a Yaoi radar. All the fighting, tearing, stabbing, cutting, bleeding, and flesh-eating, although different from sports, do have an undeniable erotic sense to them. The upcoming series is said to be an original creation by the television production team. Let's see what slash pairings we could get out of it.
The much loved PS game [ Samurai Warriors ] is finally coming out with a television anime. As [ Tokyo Ghoul ], there is only a thin line between war and love. In fact, the passion that persists in war is probably stronger and deeper than that of love. How would all the fighting and penetration (with "weapons" and "tactics") between and among different kingdoms and leagues, and generals and strategists be depicted and carried out by the creative minds of the production team? We could only wait and see.
by AL
---