Tis' the season for giving!
And loving too!
I want a nice handsome husbando for Christmas!
Where's my prince charming to make me my favorite marshmellow drink!
---
Top 20 - 16
---
20. Aqua - Konosuba
1.3%
Comments
Aqua drives me wild!
I would love to cuddle with Aqua for the entire day.
Aqua although useless, means well and is funny she's very pretty and I love her design. Who could ask for more from this amazing goddess?
19. Kaneki Ken - Tokyo Ghoul
2.5%
Comments
Kaneki is just badass, so i would love to meet him and hang out. He has to be like my favorite male protagonist.
Kaneki is a bit intimidating but I can manage his heart!
All for me baby!
18. Haruhi Suzumiya - The Melancholy of Haruhi Suzumiya
2.5%%
Comments
Haruhi is unstoppable to me and I like someone like that she's confident and doesn't take no for an answer.
Haruhi to me is an anime icon due to how amazing and unstoppable she is!
Who really wants to argue on how cute Haruhi-chan is?! She's amazing!
17. Diane - Seven Deadly Sins
2.5%
Comments
She has great assets...
Even though she's bigger than me, I know our hearts will beat as one!
I want to kiss her all over!
16. Katsuki Bakugou - My Hero Academia
2.5%
Comments
Kacchan is my favourite character overall from My hero academia due to his explosive attitude its kind of cute in my opinion.
His explosive attitude is just plain cute, Kacchan is my favourite character from my hero academia overall.
Such an explosive heart!
---
Top 15 - 11
---
15. Misaki Ayuzawa - Maid Sama!
2.5%
Comments
Love you always Misaki-chan!
I felt like I needed to add a female character, so I went with Misa! I know she'd keep the boys in check, a long with me just thinking she'd be an interesting person to be friends with.
Need I say more? Misaki deserves the best husbando and I'm that guy!
14. Dio Brando - Jojo's Bizarre Adventure
2.5%
Comments
ORE HA DIO DA!
Because he's hot
Whisper sweet things into my ear Dio!
13. L Lawliet - Death Note
2.5%
Comments
I want to spend time with L because he's adorable and quirky and my number 1 husbando so...
L is a very loved character especially to me he is quirky, adorable, and mysterious. Best girl in my opinion
Such a handsome and intelligent guy.
12. Rikka Takanashi - Chunnibyou, love, and other delusions
2.5 %
Comments
Rikka is hilarious and cute due to her chunibyo syndrome, she's secretly shy and has a funny way of talking I think it would be nice to spend xmas with her.
Rikka's chunibyo syndrome makes her talk in a funny yet strange manor, she is actually quite shy too. I would love to cast magic spells with "The Tyrant's Eye"!
Shy, cute, and funny? Perfect waifu!
11. Mafuyu Hoshikawa - Blend S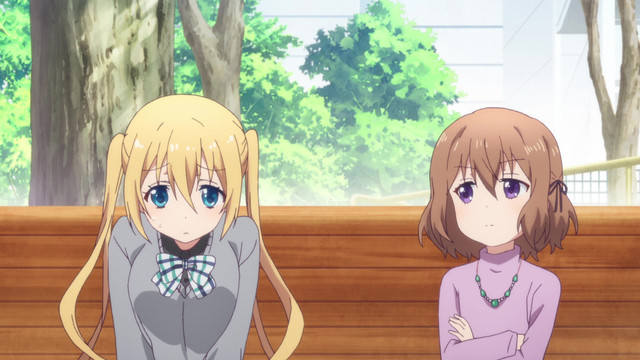 3.8 %
Comments
She is so cute and caring I love her so much I need her I want her please give her to meeeee
Cuddle up and watch movies together with Mafuyu-chan!
This is what dreams look like!
---
Top 10 - 6
---
10. Ban - Seven Deadly Sins
5.1%
Comments
Tough on the outside but sweet and soft on the inside!
I want to take him home and keep him locked in my room!
I'd like to feed him Christmas cake and share life stories!
9. Izuku Midoriya - My Hero Academia
5.1%
Comments
Well, mostly for the same reasons as Hinata, but this character is actually pretty near and dear to my heart so I couldn't leave him out. >~
I would get to visit Deku and his classmates including the teachers which would be pretty spectacular.
The hero we all need!
8. Agatsuma Zenitsu - Kimetsu No Yaiba (Demon Slayer: Kimetsu no Yaiba)
5.1 %
Comments
A true hero in my eyes
Strong, brave and supporting. Love Zenitsu!
The one husbando we truly need in our lives!
7. Lucy Heartfilia - Fairy Tail
5.1 %
Comments
I LOVE LUCY!!!!! She is my favorite character in Fairy tail.
Lucy is beautiful!
I want to create new fairy tales with her.
6. Charmy - Black Clover
5.1 %
Comments
Cute!
Charmy is charming!
Underrated character but perfect in my heart.
---
Top 5 - #1
---
5. Nami - One Piece
6.3 %
Comments
Oppai heaven!
I mean who doesn't love Nami?!
Because she is sexy as hell, and can keep me warm in winters.
4. Rukia Kukichi - Bleach
7.6 %
Comments
Sorry Ichigo but she's mine!
Because she is best girl and she is hilarious
Hands down the best girl in Bleach, don't @ me!
3. Violet Evergarden - Violet Evergarden
10.1%
Comments
I could sit down and listen to Violet's life all day.
Such a sensitive type but I love that about her.
My heart flutters for Violet!
2. Erza Scarlet - Fairy Tail
10.1%
Comments
Another red hot waifu!
She seems like such a fun person to be friends with.
Awww yeah! Erza for sure would be a great girl to cuddle with!
1. Riaz Grimmery - High School DxD
13.9%
Comments
She's all kind of hot. Classy smart great looking, and wants to take care of who she loves.
The oppai queen we all need!
She tries to be tsundere but deep down she's the best girl ever!
---
Wow, Riaz is 1st this time around! Congrats!
I can totally see why!
Praise the oppai queen for the holidays!
Oh bee-kun, don't ever change.
Deku is on the list so I'm totally happy! Merry Xmas everyone!
---