We all know that exercise is good for us and is one of those things people love to encourage you to do for any number of complaints. Back pain? Exercise can alleviate that! Feeling down? Get those endorphins! Want to be a better singer? Work on your cardio! While it has so many merits and benefits, finding the motivation or the means can be extremely hard. After a long day at a tiring job or school when you're already hurting or feeling bad, it can seem like a monumental task. You probably just want to sit down and watch some anime to relax. However, with these 3 shows, you'll be likely to find it easier than before!
3. Kaze ga Tsuyoku Fuiteiru (Run with the Wind)

Episodes: 23
Aired: October 2018 – March 2019
Good for: Finding the motivation
With a lot of sports anime, the general plot is super-good-at-sport guy joins sport's team and has to face better-at-sport guy but Kaze ga Tsuyoku Fuiteiru is nothing like this. Haiji tricks a bunch of young adults into living at a cheap dorm with the catch being they must also act as a track team for the university. Only Haiji and Kakeru are in any shape for long-distance running and the other 8 members struggle just to keep up with morning runs! This seems like a total disaster of a team at first, but the beauty of the show is how realistically everyone progresses. There are setbacks and missed practices and lots of falling short of expectations. But as everyone takes responsibility for themselves and works on their own ways to improve, things start to turn around.
They don't become a top team and, most of the time, they're barely scraping by. Though seeing the little ways that it helps bring them together and helps them in other aspects of their lives can be really encouraging. If nothing else, seeing them all on the verge of passing out and their funny faces as they run gasping for air can assure you that you are not alone! What matters isn't how fast you are, it's just that you're taking steps towards bettering yourself.
---
2. Anitore! EX (Anime de Training! EX)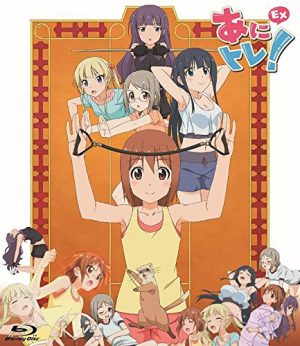 Episodes: 12
Aired: October 2015 – December 2015
Good for: At home light exercises
Anitore! EX is short and sweet. It compactly delivers simple, easy-to-do exercises, taught to you by cute anime girls! It's very fanservice-y but has a lot of useful knowledge and targets different areas of the body. For those that find it particularly difficult to get themselves motivated, this could be the anime for you! Each episode has one or more girls counting out the reps as they do them with you. Akiko, Eri, and the others treat the audience like they're all living together and training to become idols. They reach their hands to the screen like they're welcoming you and 'answer' your questions. They all have their unique exercises they prefer to do so you can either watch several in a row for a full-body workout or just repeat the ones you like!
---
1. Dumbbell Nan Kilo Moteru? (How Heavy are the Dumbbells You Lift?)

Episodes: 12
Aired: July 2019 – September 2019
Good for: Knowledge of muscle groups and how to use a gym
Poor Hibiki just wants to lose some of the weight she gained over the last year. Little did she know that joining a gym would lead to some of the craziest experiences of her life! While it's not the most realistic show, Dumbbell Nan Kilo Moteru is extremely educational on not only how to do specific exercises, but what exactly they target and how they'll affect your body.
The main cast of girls ranges from no experience to very experienced, meaning almost everyone can gain something from watching the show. Much like how the dying faces of the runners in Kaze ga Tsuyoku Fuiteiru can keep us from giving up too soon, watching Hibiki's hilarious struggles reminds us that we're on the right track.
---
Final Thoughts
Whether you want to lose weight, make your life a little easier, or just enjoy the feeling of working out, one of these characters will be able to match your goal. You don't need to be preparing for a marathon or weightlifting competition to get pumped up! These diverse, activity-driven anime can help anyone from the mildly curious to those determined to see results. If you want detailed explanations or just want a cute anime workout buddy, be sure to give these shows a try!
---