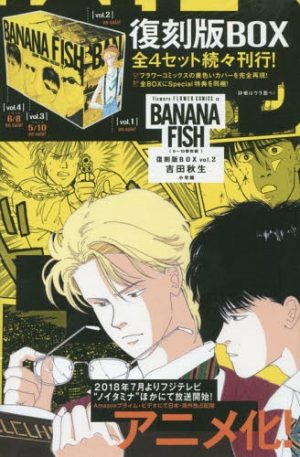 Based on Yoshida Akemi's 1985 manga by the same name, Banana Fish follows the dark, crime-infested life of 17-year-old Ash Lynx, a runaway who was brought up to be the heir of "Papa" Dino Golzine. Now 17, Ash seeks to leave the crime empire set up by the old man who raised him and kept him for his own sexual gratification. The mystery that caused Ash's brother, Griffin, to lose his mind in Vietnam has suddenly come into the hands of that same Papa Golzine, all at a time where 19-year-old Okamura Eiji, a young photographer from Japan comes into the picture. Timing all wrong? Perhaps.
The anime comes as a slightly more contemporary imagination of the same characters, themes and plot dealt with by the original '80s manga. With the story being as engaging as it is and the characters racially diverse, Banana Fish stands to yet again make an impression – just like it did a little over thirty years ago. With that being said, it's only natural to want to see more of a similar kind of work – so here we come, swooping in to show you 6 anime like Banana Fish!
Similar Anime to Banana Fish
1. Baccano

Episodes: 16
Aired: July 2007 – November 2007
Chicago in the 1930s sees the transcontinental train known as the Flying Pussyfoot is begin its legendary journey which will leave a trail of blood in its wake. In New York, an ambitious scientist and his assistant are searching for missing bottles of an elixir of immortality while a gang war between mafia groups in the area worsens. In the year 1711, aboard the Advena Avis, alchemists are about to pay a hefty price for dabbling in immortality. All these events all connect a bigger story which is explored through the eyes of a duo of would-be thieves, Isaac and Miria.
The way in which Baccano! threads together several stories with an overarching plot line is fairly similar to the way in which Banana Fish connects Ash, his brother, Vietnam and the gang warfare and organised crime in the series. The link to an overarching device or construct within the respective universes of Baccano! and Banana Fish gives both series an interesting edge to both stories that goes beyond the gang violence featured.
---
2. Durarara!!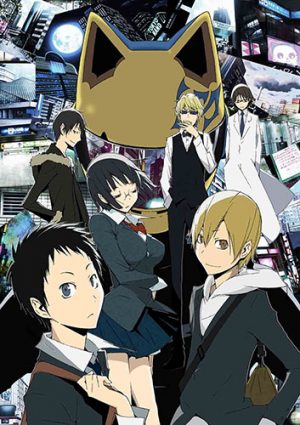 Episodes: 24
Aired: January 2010 – June 2010
Tokyo's district of Ikebukuro is characterised by strange occurrences, rumours and even anonymous gangs and shady characters, but in the mix, the legend that stands above the rest is that of the headless "Black Rider", who can be seen cruising the streets on a jet-black motorcycle. Ryuugamine Mikado has always wanted to live in the city, and his childhood friend, Kida Masaomi, convinces him to move to Tokyo. On his first day, Mikado witnesses the Black Rider, kicking off the first of several supernatural events to happen in Ikebukuro.
Durarara!!'s approach to storytelling is similar to that of Banana Fish in the way that several events are tied up to a particular nexus point – be that a character or a concept within the series. The pronounced presence of gangs and gang-related violence is common to both series, despite the huge difference in the geographical setting of both shows.
---
3. 91 Days

Episodes: 12
Aired: July 2016 – October 2016
Young Angelo Lagusa's life is changed forever when he witnesses his family being brutally murdered by the Vanetti mafia family. With nothing left for him in the town of Lawless, Angelo changes his name and leaves both the city and his past behind as he becomes Avilio Bruno. Seven years later, Avilio receives a strange letter prompting him to return to Lawless. Seeing a chance to finally exact his revenge, Avilio returns to the town and very quickly befriends Nero, the son of the Vanetti don. Slowly but surely, Avilio will enact his plan to end the people who killed his family.
The similarities between 91 Days and Banana Fish are quite numerous and the biggest lies in their presentation of organised crime circles. Both protagonists, Ash Lynx and Avilio Bruno have unsettled issues from their pasts which begin to gain traction again in the events of the series, with Ash Lynx looking to understand what drove his brother insane, and Avilio looking to kill the ones who killed his family. Another similarity is the proficiency of both main characters in the work that they do – Avilio quickly gains favour with the mafia due to his shrewdness and Ash is known as one of the best shooters of a gun within the Banana Fish universe.
91 Days Official PV
---
Any Anime Like Banana Fish ?
4. Michiko to Hatchin (Michiko & Hatchin)

Episodes: 22
Aired: October 2008 – March 2009
Michiko Malandro breaks out of a high-security prison for the fourth time in order to find a man from her past. Her only clue is 10-year-old Hana Morenos, a girl living with an abusive foster family. Hana dreams of the day she is saved from her captors by her own Prince Charming but little does she know that her "prince" will be an escaped convict claiming to be her mother. Together, the unlikely duo search for a ghost from the past in the land of Diamandra, a land of poverty, crime and betrayal and when the crime syndicate known as Monstro Preto catches wind of the duo's activities…
Michiko to Hatchin and Banana Fish are very alike in the fact that they're anime set in countries that aren't in Japan. They also both have themes involving child gangs and violence, as well as the main characters' search for answers to questions from her past. Both main characters, Michiko and Ash Lynx were rebellious as youngsters and are extremely proficient in combat.
Michiko to Hatchin Official PV (English)
---
5. Gangsta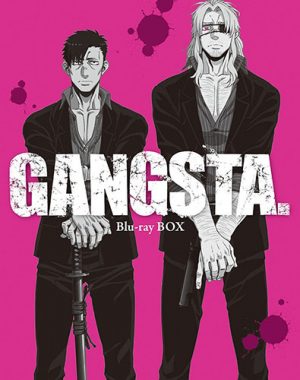 Episodes: 12
Aired: July 2015 – September 2015
Nicholas Brown and Worick Arcangelo are known in their city of Ergastulum as the "Handymen", mercenaries who take on difficult jobs. They're hired by mobs and the police alike. After they finish a job involving the killing of a pimp, they find themselves taking in Alex Benedetto, a prostitute who was also put on their hit-list. The city itself is in turmoil due to gang violence and at a point, and once being the safest place for the "Twilights". The Twilights are superhumans who were created as the result of a drug but they're now on the run from an underground organisation which is hunting them down.
Gang warfare, violence and main characters with dark pasts – Gangsta is very much like Banana Fish in terms of various elements in its setup. There's also the presence of a particular substance of focus in both series. Driven by the themes of gang warfare and crime syndicates, Banana Fish and Gangsta are very similar in their involvement of these concepts and their prevalence in the lives of the main characters.
Gangsta Official PV
---
6. Switch

Episodes: 2
Aired: October 2008 – February 2009
There is a pair of new recruits at the Japanese Narcotic Control Department named Haru and Kai. In their job they're up against drug dealers, gangs, murderers and mysterious organisations among very dangerous people. Kai, bearing a set of psychological afflictions turns from the caring individual that he is, into a killing machine in particular circumstances. The two of them do their job in addition to trying to find out the exact cause of Kai's "trigger".
The pairing of protagonists in Switch is comparable to Banana Fish's pairing of Eiji and Ash Lynx. Both Switch and Banana Fish have a focus on crime, although the geographical differences of both settings. In both Banana Fish and Switch, there is a protagonist who has a dark past – that being Ash Lynx in Banana Fish and his concern over his brother Griffin, in addition to his life on the streets before being in by a crime lord; and Kai's murderous tendencies on switch.
---
Final Thoughts
Banana Fish is an exciting anime that will lead you through crime-infested territory while boasting good-looking art and an interesting story with many twists and turns. While the series hasn't reached its conclusion yet, it is a highly anticipated title from this year's summer season, which means it's only natural to want to see more of the same. Are there other titles like Banana Fish we haven't mentioned? Drop a comment below and let us know your thoughts!
---