Five, six, seven, eight, and Dance Dance Danseur takes the stage! Arguably one of the best gems of this season, Dance Dance Danseur has all the makings of an epic Sports Anime, except it's not really about a sport. However! The blood, sweat, and more sweat shed in this anime is no less intense than what one would see in Haikyuu or Free!, and it definitely has all the drama necessary— from burning rivalries to unwavering determination, to a compulsive desire to make it to the top! Here, we follow Junpei, a martial artist who for some reason can't forget the exhilaration he felt watching a ballet performance as a child. A chance meeting with his classmate Miyako, whose mother runs a ballet studio, and some gentle persuasion (none at all, he was already jeté-ing at the suggestion) wins the angst war in his head about ballet vs. martial arts, and off he goes, on a journey to discover his passion, his self, and possibly the rival he didn't know he was looking for. All that is accompanied by his can-do attitude!
So if this cheerful and zesty protagonist who explores some real character growth, against a beautifully animated narrative captured your heart and you're looking for something more in the same vein, Honey's Anime has got you covered with our list of 6 Anime like Dance Dance Danseur!
Similar Anime to Dance Dance Danseur
1. Blue Period (Blue Period)

Episodes: 12
Aired: October 2021 – December 2021
Junpei discovered his passion fairly late in the game, and unfortunately for him, it was a passion not easily accepted by those around him. Watching Junpei struggle for his art and continuously strive to achieve makes the journey in Dance Dance Danseur all the more compelling; and if you're a fan of this kind of drama, where the mind, the heart, and the outside opinion all happen to be at war with one another, try out Blue Period. It's guaranteed to hit that same spot (only with an extra helping of angst)!
In Blue Period we are introduced to Yatora Yaguchi, a high school delinquent with an impressive academic track record. Diligent in maintaining his track record, but with absolutely no passion or motivation, he spends his time with his equally unambitious friends. That is, until he sees a vibrant version of Shibuya at dawn. Stunned by the beauty of the cityscape, Yatora decides to express those emotions on canvas, and for the first time, he finds himself exhilarated, somewhat fulfilled, and hungry to continue. Predictably, his life turns upside down as our honour-roll delinquent decides to forsake the generic path of college and career in lieu of pursuing art at the prestigious Tokyo University of Arts. Without a second thought to his disadvantage of beginning his pursuit this late in the game, and against the wishes of those around him, our MC has decided to pick up the painting knife and carve out his own path. So if beautiful animation and an underdog who goes up against all the odds is your cup of tea, Blue Period is definitely worth checking out!
Blue Period PV
---
2. Ballroom e Youkoso (Welcome to the Ballroom)

Episodes: 24
Aired: July 2017 – December 2017
For all of you dance fans out there, the next item on our list will definitely tickle your fancy. While ballroom dancing and ballet may not be all that similar, Welcome to the Ballroom definitely echoes some of the themes and finer points of Dance Dance Danseur that we all fell in love with!
Forget the similar art style and surprising late start into an activity that's considered traditionally non-masculine, these two anime have far more commonalities than one could imagine. Character growth, plucky protagonists, a great supporting cast, and a journey (literally) drenched in sweat and tears. When first exposed to their respective dance forms, both Junpei and Tatara are enthralled by the grace, power, and commanding presence of the movement. Unsurprisingly, both protagonists, who at first would never be caught in studios, find themselves unable to resist returning and pursuing dance. Earnest, passionate, and driven to put forth their best efforts, Junpei and Tatara start from scratch and set off on their respective journeys into the world of performing arts and competitive dance. So if you liked the story and style of Dance Dance Danseur but ballroom pizzazz is more your speed than classical ballet, Welcome to the Ballroom is the show for you!
Ballroom e Youkoso PV (Eng Sub)
---
3. Yuri!!! on Ice (Yuri on Ice!)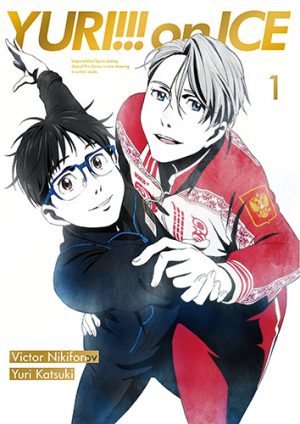 Episodes: 12
Aired: October 2016 – December 2016
If the detailed character design and slick animated sequences of Dance Dance Danseur caught your eye, then you most definitely should take a chance with Yuri on Ice! We guarantee that you'll find shades of one anime in the other, and it's no surprise given that both shows are products of anime powerhouse MAPPA. With MAPPA's history of detail-oriented productions and fluid movements, these shows have been brought to life most exquisitely. However, sharing a studio is not all these two have in common.
Much like the elegance and fluidity required to illustrate ballet, figure-skating requires similar techniques. Character-driven, beautifully-composed, and captivating stories rooted in reality, Dance Dance Danseur and Yuri on ice! are both guaranteed to please in similar ways. Yuri on Ice! tells us the story of Yuuri, a figure-skater who seems to be at the end of his less-than-successful career, who unexpectedly gains some recognition after a video of him performing skating champion Victor Nikiforov's routine goes viral and attracts the attention of the five-time champion himself. With this one moment, Yuuri's entire world turns upside down as Victor himself lands up at his door and offers to be his mentor. What follows is a journey full of ups and downs, fierce competition, rivalry, and love. A poignant and heartwarming story, Yuri on Ice! is the perfect anime to curl up with after Dance Dance Danseur.
Yuri on Ice! Official Trailer
---
Any Anime Like Dance Dance Danseur ?
4. Princess Tutu (Princess Tutu)

Episodes: 38
Aired: August 2002 – May 2003
Ballet is a complex art form rooted in tradition, elegance, fluidity, and going beyond the limitations of normal human physiology to create a performance that echoes dreamy, otherworldly stories simply through communication by the body. If ballet is what attracted you to Dance Dance Danseur, then this next anime on our list is definitely worth your while, here we have Princess Tutu!
A little more old school as compared to the rest of our list, Princess Tutu is more of a magic girl approach to ballet than Dance Dance Danseur's sports anime vibe. Ahiru is quite literally a duck. A duck who has been enchanted by Drosselmeyer to transform into the talented ballerina, Princess Tutu, whose dance is able to relieve the pain and distress people carry with them. With this albeit bizarre, but surprisingly useful ability, Ahiru sets off to collect the shards of her Prince's heart. Quite literally a retold fairytale brought to life through ballet, for those of you enthralled by the art of ballet itself, Princess Tutu is a must-watch. Its whimsical premise aside, you'll find a true gem of an anime, with its compelling storyline, an impressive range of character archetypes, and dreamy sequences. Plus, they both have a version of Swan Lake, and ballet fan or not, that's so worth checking out.
---
5. Piano no Mori (TV) (Forest of Piano)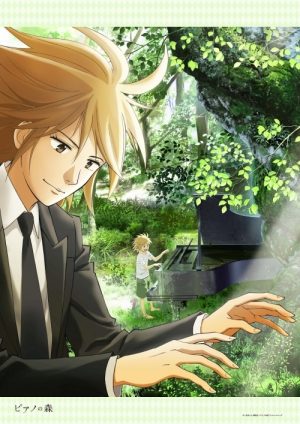 Episodes: 12
Aired: April 2018 – July 2018
Fine Art, Ballet, and Ballroom Dance, the previous contenders on this list have explored quite a range of creative, artistic, and performative forms. So it's only natural that at least one (or in our case, two) anime about music would make the list. Much like Junpei, Piano no Mori's Kai is also an untrained talent with an innate sense for classical art. Much like Junpei, Kai has to start from scratch and learn the basics. And much like Junpei, Kai seems to also be making his way to becoming an accomplished individual in his field.
Piano no Mori tells us the story of Kai, the son of a prostitute who has been playing on an abandoned piano in the forest. His path crosses with that of Syuhei, a talent trained in piano, coming from a family of prodigious pianists. With seemingly nothing in common with the exception of piano, these two set off for a grand stage in a nuanced story that explores their motivations, desires, and backgrounds in an orchestral performance of both emotion and sound. So if you're looking for an anime that's evocative in the same vein as Dance Dance Danseur, Piano no Mori is worth checking out!
Piano no Mori PV
---
6. Kono Oto Tomare! (Kono Oto Tomare!: Sounds of Life)

Episodes: 13
Aired: April 2019 – June 2019
Watching contrasting personalities like Junpei, Ruou, and Miyako come together in pursuit of a shared love for ballet (and mutual disdain for others on Ruou's part) against the background of idyllic school life is one of the lesser-noted, but equally enjoyable pleasures of Dance Dance Danseur. And if that element really struck a chord with you, then Kono Oto Tomare! should definitely be next on your list.
When delinquent Chika tries to join the Koto (traditional Japanese string instrument) club at his high school, the new club president Takezou has his reservations (and that's putting it lightly, he was about to launch a protest) but after observing his earnest desire, determination, and enthusiasm (and due to a desperate need for more members) he decides to give him a shot. However, when you stick a problem child and his cheerful posse of misfits, with an anxiety-filled stickler for rules (Takezou) and a serious, strong-willed prodigy (Satowa), personalities are sure to clash, regardless of their shared ambition of making it to Nationals. So if a fun, dynamic, and serious competition against those tranquil(ish) school days is more your speed, check out Kono Oto Tomare! for a unique and compelling story.
Kono Oto Tomare!: Sounds of Life Season One
---
Final Thoughts
And that's a wrap on our list! While Dance Dance Danseur was a stunning watch, with a compelling story and lovable characters, we're sure you'll find some strong contenders to make up for its absence on our list. So try out some of these anime, we guarantee you won't regret it!
How many of the shows on our list have you seen? Do you agree with our recs or have suggestions we may have missed? Let us know in the comments below!
---