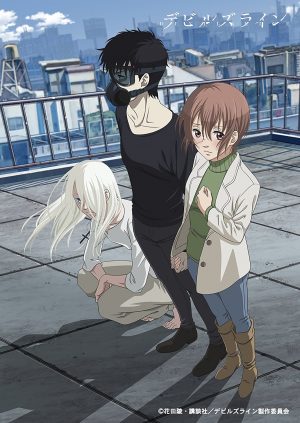 While it has only been a month since the anime adaptation for Devils Line released, we already are seeing a lot of promise for this awesome show. Usually vampire themed stories focus less on action and more on drama. However. Devils Line falls smack dab in the middle with a harmonious blend of romance, drama and action that just makes for an entertaining anime series. Each week, we here at Honey's Anime are glued to our chairs waiting for the next episode to drop. Then when it finally does drop, we must endure the pain of waiting yet another week for a new episode of Devils Line.
Due to the fact that we hate waiting for new episodes here at Honey's Anime, we decided to do what we normally do when we have a lot of free time on our hands. We simply just watch other anime similar to the show we like. That's why here at our beautiful hive we have been hard at work finding shows to enjoy while Devils Line continues airing. As per usual, we decided to share such a list of anime similar to Devils Line in our aptly titled 6 Anime Like Devils Line article. Join us as we break down our recommendation list so this way you can find a show to fill your time with.
Similar Anime to Devils Line
1. Tokyo Ghoul

Episodes: 12
Aired: Jul, 2014- Sept, 2014
Bookworm Ken Kaneki has been living his college days without a care in the world. Recently though, Ken has found something that has captured his eyes more than books in the form of a beautiful girl named Rize. Ecstatic that he's finally able to go on a date with Rize, Ken thinks the night can't get any better. Unfortunately, Ken's smile will be ruined when Rize reveals herself to not be a woman but instead a ghoul which are known for killing humans to devour them for food. Ken somehow survives almost being devoured by Rize but at a high cost…Ken is no longer human but something of a fusion between human and ghoul.
Tokyo Ghoul and Devils Line have been something we've mentioned being similar in our 6 Manga Like Devils Line article as these two stories are just so alike to one another. Both stories feature humans that end up wrapped up in a deadly world of bloodsucking creatures—though ghouls tend to eat meat too—and both stories present a very interesting question. Who is more human, the actual humans or the creatures themselves? Tokyo Ghoul is a great anime that deserves the praise and admiration it gets and we think if you haven't check it out yet but like Devils Line, now is the best time to do so. Plus, Tokyo Ghoul has more than 3 seasons now so you will have plenty of episodes to binge while you wait for more Devils Line.
Tokyo Ghoul- Season 1- Official Uncut Trailer
---
2. Vampire Knight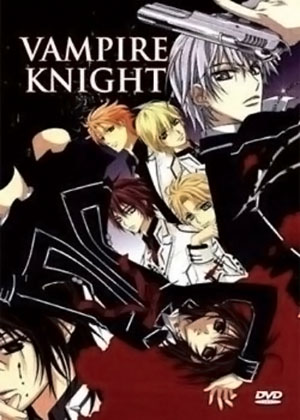 Episodes: 13
Aired: Apr, 2008- Jul, 2008
The day and night classes for Cross Academy are separated into what seem like two very different class structures. During the night, elite students roam the halls and are guided by Yuuki Cross—who happens to be the chairman's adopted daughter—who won't complain as she gets to see her crush, Kaname. However, Yuuki's job isn't easy seeing as the so called elite students of Cross Academy aren't normal but are vampires! Can these vampires be kept away from the general public and still have a somewhat normal life? Better yet, can they and Yuuki survive the troubles associated with human and vampire mingling?!
Vampire Knight hits many of the notes found in Devils Line. Strong women who face adversity in the supernatural form, check. Vampires and humans trying to get along, check. Then finally, the fact that both Vampire Knight and Devils Line have romance in a shoujo-like format just adds to both shows complimenting each other quite well. Vampire Knight might be a bit old since it was released in 2008—even though we don't consider that super old—but we love this show and you'll enjoy it too. If you love Devils Line, we recommend checking out Vampire Knight by Studio Deen.
---
3. Ajin (Ajin: Demi-Human)

Episodes: 13
Aired: Jan, 2016- Apr, 2016
Ajin were found 17 years ago in the country of Africa and ever since then, humanity has become afraid of these beings. Known for being immortal and possibly dangerous, those who are suspected of being Ajin are immediately hunted and sent for testing. However, this wasn't a concern for Kei Nagai who just wished to go to school and further his studies. Then one day when Kei is nearly killed by a truck, he realizes a harrowing truth; Kei isn't human but is an Ajin himself! Kei's day of being a normal student are over and now he will become hunted by not only those who wish to run tests on him but others who wish to recruit him for a revolution on the human race...
Ajin points a very dark question in your mind from episode one of the first season to the last episode of the second. Why are Ajin hated so much when most are just trying to assimilate into society? This might seem like a familiar question as it's a question seen in Devils Line where the devils—aka vampires in our minds—are finding joy not by ruthlessly killing humans but being with them and even falling in love. The biggest difference between shows would be that Ajin tends to lean more towards action and drama with almost no romance seen in the show. Yet, we think for those who dislike the romantic portions of Devils Line and lean towards the blood-soaked conflicts that this ultimately will be what makes you want to check out Ajin if you haven't already.
Ajin PV (Official Trailer)
---
Any Anime Like Devils Line ?
4. Shiki

Episodes: 22
Aired: Jul, 2010- Dec, 2010
Sotoba village is a quiet landscape devoid of the city life and more for those who like traditional livelihood. Megumi Shimizu however, hates Sotoba and wishes for nothing more to leave this boring town and head for the busy Japanese city life. Megumi won't ever see her dreams come to fruition though as she—like several others—dies abruptly by what seems like a strange illness spreading through the village. Doctor Toshio Ozaki aims to learn what is the cause of these strange deaths to save Sotoba and its residents, but he will soon learn that this isn't an illness that is killing the residents. Lurking behind the quiet village is a new family that moved in and within their strange castle, a dark plot is brewing. Can the villagers survive what will soon purge their village of all that lives?
Devils Line might be romantic and action packed at times but let's also state something else about it. At times, Devils Line can be quite dark and horror-like. However, do you need more horror than what is provided in Devils Line? If you said yes then you are looking for Shiki. Filled with vampires, mystery and horror, Shiki is the quintessential vampire horror that is semi missing from Devils Line. Turn off the lights, folks, and put on Shiki; you'll be in for one heck of a ride.
Shiki Parts 1 and 2 Trailer (Official Trailer)
---
5. Owari no Seraph (Seraph of the End)

Episodes: 12
Aired: Apr, 2015- Jun, 2015
Yuuichirou Hyakuya and his adopted family have found their lives devastated when a strange virus kills all adults over the age of 13. Quickly, Yuuichirou and his family learn that this was spread by vampires who wish to take over the world and make it their own place. Enslaving the surviving teens and kids, the vampires use those alive as cattle for their blood consumption. Yuuichirou and Mikaela decide to attempt an escape when Mikaela gains a map and gun stolen from a noble vampire. Unfortunately, the noble knew of Mikaela's plan and kills him as well as all of Yuuichirou's family right before his eyes. Able to escape, Yuuichirou is met by a team of vampire killers and he soon learns that not everyone has died in the world. Seeking revenge, Yuuichirou joins Guren and his team to rid the Earth of vampires…no matter what it takes.
Owari no Seraph by Wit Studios is easily one of our favorite action orientated vampire anime ever made. We love how gorgeous the animation is and equally love the story it tells of humans fighting against vampires. Owari no Seraph mirrors Devils Line in many ways—some of which are spoilers—meaning it's a good series to recommend to you folks who love Devils Line for the action it has. Don't you want to see the revenge Yuuichirou plans on unleashing upon the vampires? The answer obviously is a yes so go watch Owari no Seraph as soon as humanly possible.
---
6. Servamp

Episodes: 12
Aired: Jul, 2016- Sept, 2016
In Mahiru Shirota's mind, avoiding anything that causes trouble is the best way to enjoy life. Equally, Mahiru believes doing nothing will cause possible regrets later and that leads him to pick up a stray cat and bring it home. Eventually as Mahiru gets closer to the cat, he names him Kuro but is unaware that his affection will soon change his very life in every way possible. After returning home one day, Mahiru is awed by a random stranger appearing in his home and when the stranger gets exposed to sunlight he soon learns that Kuro and the stranger are one in the same! Kuro reveals to Mahiru that he is actually a vampire and will leave Mahiru's home in the night to avoid causing him any further trouble. Though Kuro and Mahiru won't be leaving anytime soon as fate causes them to form a contract with one another and enter a world that is far from the simple life Mahiru always aims for.
Concluding our 6 Anime Like Devils Line list we look at Servamp. What more can we say that will convince you Devils Line and Servamp are so similar to one another? Both stories have main characters who get involved with vampires and both anime have no fear of being action heavy when they need to be. Servamp isn't a series we see many talk about here at Honey's Anime and we hope that we change that by talking about it. Servamp is a wicked anime series with action, drama and of course, vampires which is perfect for all those who love Devils Line. Checkout Servamp and share the love of this awesome series.
---
Final Thoughts
When Devils Line—the anime adaptation—was announced, we wondered would it be as good as the manga series. So far, our expectations have been met and we're really digging the style of Devils Line and the story in anime format. Most likely when Devils Line does come to a close, it won't be finished and will need a second season. That's why, besides watching the shows above to bide the time for each passing week's new episode, you should check them out and be prepared to enjoy them once Devils Line season 1—though it hasn't been green lit for a season 2 yet so this is speculation—comes to a close. What are your thoughts about Devils Line and equally the anime above? Tell us in the comments and for more recommendation articles like this, one be sure to keep coming back to us here at Honey's Anime.
---