Many people are faced with various obstacles and challenges in their lives, often thinking "If I only had superpowers, things would go a lot quicker." Ultra-fast speed to get you to school or work on time, magically cleaning a room in a snap, or super brainiac powers resulting in perfect grades every semester. Whatever superpower you wish you had, if the possibility even existed, it would make life a lot easier. Such is the case for Yoshifumi Nitta, a young yakuza member who discovers, by chance, a strange little girl named Hina. With tremendous supernatural powers, Nitta finds Hina's company advantageous. As such, the duo embarks on a funny and adventurous journey.
A fantastic Spring 2018 anime, we at Honey's present to you 6 anime like Hinamatsuri, with such shows featuring psychokinesis, outstanding duos, and tons of comedy. Hopefully, these series will fall right into your watch list!
Similar Anime to Hinamatsuri
1. Mob Psycho 100

Episodes: 12
Aired: July 2016 – September 2016
Mob Psycho 100 revolves around the story of Shigeo "Mob" Kageyama. Shigeo is a middle school student endowed with psychic abilities at a very young age. As a very shy and introverted person, Shigeo realizes that the use of his abilities is perceived negatively. So, he restrains from using his skills as much as he can. As Shigeo becomes more aware of who he is without his abilities, he seeks to become friends with Tsubomi, a girl in his class, who he's had a crush on. Wanting to grow closer to her, Shigeo continues on his journey balancing his supernatural gift and learning to fit in.
Mob Psycho 100 and Hinamatsuri are both entertaining anime capturing a similar comedic style about superpowers and fighting. Our characters demonstrate a parent and child relationship, portraying personality traits that are very much alike. The duos in both make an unusual pair, but their wild antics make for an amusing viewing experience.
Mob Psycho Trailer
---
2. Beelzebub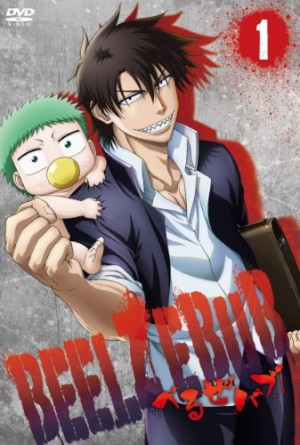 Episodes: 60
Aired: January 2011 – March 2012
Beelzebub follows the story of Tatsumi Oga, a first-year high school student at Ishiyama High. This institution is recognized for its delinquent attendants, and its common knowledge not to mess with Tatsumi. One day, Tatsumi encounters a man floating down a river. After saving this man, the man spontaneously bursts open down the middle, revealing a baby who immediately forms a bond with Tatsumi. Tatsumi later discovers that this baby is named Kaiser de Emperana Beelzebub IV, or Baby Beel —the son of the Demon Lord! With help from Hildegard, Beel's demon maid, they attempt to raise Baby Beel, surrounded by juvenile delinquents and demonic powers.
Beelzebub and Hinamatsuri share many commonalities, but the most notable is that our main male characters, Tatsumi and Nitta, are two "rough around the edges" guys who come into contact with a supernatural entity who aids them further down the road. Baby Beel and Hina have extraordinary powers but are humbled by humanity, learning and growing with the help of their young mentors. For the most part, viewers get a similar vibe when watching Beelzebub and Hinamatsuri.
---
3. Saiki Kusuo no Ψ-nan (The Disastrous Life of Saiki K.)

Episodes: 120
Aired: July 2016 – December 2016
Saiki Kusuo is your average high school student, except for the fact that he has impressive superpowers at his command. Despite the fact that his abilities are the envy of every ordinary person, Saiki finds his superpowers an inconvenience. As he tries to live life as normally as possible, his powers are a burden, continually getting in the way of being just like everyone else.
Featuring characters with psychokinetic power, Saiki Kusuo no Ψ-nan and Hinamatsuri are fantastic comedies highlighting the lives of Saiki and Hina as they try to integrate their abilities into everyday life. Whether their powers are an inconvenience or an advantage, viewers are eager and anxious to see how their remarkable skills will unfold in countless scenarios.
The Disastrous Life of Saiki K. Trailer
---
Any Anime Like Hinamatsuri ?
4. Kobayashi-san Chi no Maid Dragon (Miss Kobayashi's Dragon Maid)

Episodes: 13
Aired: January 2017 – April 2017
On one peculiar day, Kobayashi meets a dragon named Tohru in the mountains. Agreeing that Tohru can stay at her house during a drunken conversation, Kobayashi realizes what she's done the next day and turns Tohru away. As Kobayashi is feeling some guilt, or perhaps a sour stomach, she changes her mind and tells Tohru to stay, with a few conditions. Can this dragon maid clean? Do laundry? Greet people? Cook? Watch and see how Tohru acclimates to the chores of humanity while also bringing her squad of friends to Earth, how Kobayashi helps Tohru and friends along the way, and as Kobayashi discovers a new way of living.
Life was dull and boring for Kobayashi and Nitta until they were graced with a supernatural being. From that moment forward, their lives changed for the better. Both Miss Kobayahi's Dragon Maid and Hinamatsuri contain unexciting young adults who are introduced to an exciting, out of this world being that must learn how to survive with humankind. The pairs in each series ultimately learn a bunch of things from one another, and in the end, their lives improve exponentially.
Miss Kobayashi's Dragon Maid PV
---
5. Alice to Zouroku (Alice & Zouroku)

Episodes: 12
Aired: April 2017 – June 2017
Alice to Zouroku tells the story of an extraordinary girl named Sana. Sana possesses a unique ability known as "Alice's Dream", which allows her to create anything from her imagination. Sana has existed in a laboratory, enclosed and trapped and subjected to all sorts of testing. Longing for a better life, she escapes, meeting an old, stubborn florist named Zouroku Kashimura. When the authorities finally catch up with Sana, Zouroku is roped into Sana's troubles. However, underneath his stubborn quality, Zouroku has a heart of gold, offering Sana a place to stay. From this moment on, an exciting life begins for the most unlikely pair.
Both in the supernatural genre, Alice to Zouroku and Hinamatsuri share an identical story of a young girl guided by an older male but approach this concept from different directions. Alice to Zouroku has elements of mystery and adventure while Hinamatsuri is a little slice of life and comedy. Nevertheless, both stories express a personal and collective journey of two varied ways of life merging into one.
Alice to Zouroku PV
---
6. Jungle wa Itsumo Hare nochi Guu (Haré+Guu)

Episodes: 26
Aired: April 2001 – September 2001
Haré+Guu follows the story of a young boy named Haré, happily living with his mother, Weda, in the jungle. One day while out running errands, an ominous being overshadows Haré. Frightened, he quickly runs back home, arriving at the sight of a new houseguest, Guu. The next day, Guu is not who she appears to be the first time they met, but no one seems to notice the change. Throughout the series, Haré is faced with many obstacles as he tries to keep Guu out of trouble.
Haré+ Guu and Hinamatsuri are exciting comedic anime containing a colorful cast and a compelling story. The characters and overall theme are vibrant, engaging, and truly enjoyable to watch. Observing each relationship, we notice their similarities, getting a taste of slice of life appeal.
---
Final Thoughts
We hope you enjoyed our recommendations for 6 anime like Hinamatsuri. If you haven't already, make sure to check out all of these great titles, as they are ones that will not disappoint! Even though these are only a few in comparison, let us know if we've missed any! What other anime similar to this one can you suggest to other readers and us? Leave your comments below! Later!
---