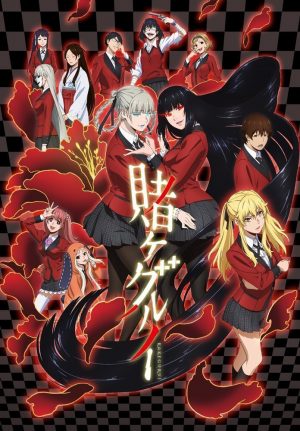 Jabami Yumeko has just transferred into Hyakkaou Private Academy. There, she will take classes, participate in club activities after she selects one, make new friends, and gamble away her future by betting millions of yen in what are probably illegal bets. You see, at this Academy, your social status is not determined by how good you are at sports, how good your grades are, nor how good your family pedigree is. Instead, your social status is determined by how good of a gambler that you are.
Now while most my dismiss this, the reality is that the bottom 100 students in the school aka with the most debt, are considered house pets and must endure endless abuse every single day by their upper ranked peers. Yumeko crushes her first and second opponents at gambling. But the thing is, she is not an excellent gambler, she just lives for the thrill of the fact that your life could be destroyed in a single moment of chance. Well, it should be by chance, but she is learning rather quickly that others do not play by the rules so she does not have to either.
Now that we have a good feel for what Kakegurui is turning out to be, we are more than happy to line up six shows, in varying similar aspects, that we feel in one way or another hold similar characteristics to Kakegurui. So place your bets on these show and let's have a gamble.
Similar Anime to Kakegurui
1. Death Parade

Episodes: 12
Aired: Jan. 2015 – Mar. 2015
Death Parade starts with a woman with no name and black hair stepping into a bar. Here is the place where there is no heaven or hell, but rather an only judgement. That judgement will determine if a person is to be reincarnated or sent into oblivion. Decim, the Judgemaster, judges all who come through the elevator doors. First, he needs to see how people will react knowing that their souls are on the line. Second, he then puts customers to the test with different activities like bowling, darts, video games and more, to see which of the customers has the darker heart and should be sent to oblivion. The one who passes is reincarnated, while the one who fails, is sent into oblivion. When the black-haired woman steps through the elevator doors with no memory by herself, Decim's convictions begin to get the better of him.
Death Parade and Kakegurui share a lot of factors in common the foremost being that the art styles are similar and dark. Explosions of red or blue are often put up against dark backgrounds. In both series, one must play a game to win, but this is no ordinary game as the stakes are extremely high. A no-name woman and Yumeko also do look slightly like each other. Also, both series show the darkness that resides within the human heart and show how far we are willing to get what we want. Betrayal and thrills are also two big shared themes. You cannot go wrong with Death Parade.
Death Parade Trailer:
---
2. Shokugeki no Souma (Food Wars)

Episodes: 24
Aired: Apr. 2015 – Sept. 2015
Souma Yukihira has been helping out his father in their restaurant for as long as he can remember. Thanks to this experience, Souma is now very passionate about cooking with his end goal to be to own his own restaurant one day. One day that all changes as his father decided to go on a culinary journey leaving Souma in Tootsuki Culinary Academy. Now, this is not any old cooking school, but rather this is an elite school with a graduation rate of only 10%! The school features something called Shokugeki which means "Food Wars" where the students go head to head in culinary battles. Can Souma overcome this new trial that has been set before him and win these Shokugeki matches?
Now we know what you are thinking, "how can these two possibly be related??" Easy. Both Yumeko and Souma have a sidekick character that is constantly indebted to them. Yumeko absolutely slays at gambling while Souma is the best at cooking; this is regardless of the fact that both are brand new to their respective academies. Every time Yumeko is gambling and urging others on, it seems orgasmic which is what happens to everyone who eats Souma's food aka everything is over the top. The one thing that both of these shows also do excellently is that the main character will always breakdown what is going on around them and explain it very carefully. You also have the ridiculously overpowered Student Council in both series and the fact that the stakes are very, very high that the students compete in. Enjoy!
Shokugeki no Souma Trailer:
---
3. Danganronpa: Kibou no Gakuen to Zetsubou no Koukousei The Animation (Danganronpa The Animation)

Episodes: 13
Aired: Jul. 2013 – Sept. 2013
Students enroll at Hope's Peak Academy when they are the elite of the elite. People who actually get through the admissions process get a unique title that reflects what their skills and talents are. Makoto Naegi has somehow gotten in with the unique title of "Super High School-Level Luck". Whatever that means… While everyone is initially thrilled to be accepted, their joy is soon destroyed. At Hope's Peak, there is a bear known as Monokuma, who explains that you have to kill one of your classmates and not get caught, in order to escape. If you are caught, you will be killed. However, that does not set everyone free as you cannot break free from the cycle without killing someone.
Danganronpa and Kakegurui both start out with the threat of immense danger. Seeing Yumeko bet 10 million yen like it is nothing is enough to make everyone sweat. The schools too have a bizarre set up in both that make for an interesting story. Thriller and dark, both anime also, much like with Death Parade, pull back the band-aid on the human soul to see how dark of a place we can go to. True, there is no death in Kakegurui, but when your back is up against a wall, you do not know what you are capable of doing.
Danganronpa The Animation Trailer
---
Any Anime Like Kakegurui ?
4. Gyakkyou Burai Kaiji: Ultimate Survivor (Kaiji: Ultimate Survivor)

Episodes: 26
Aired: Oct. 2007 – Apr. 2008
Kaiji Itou is your run-of-the-mill thug. He gets drunk at night and steals hubcaps. His life changes for the worse when he is betrayed by his old co-worker and suddenly owes a massive debt. Of course nothing this good could ever happen, but he is approached by someone who tells him that if he gets on this cruise and gambles, he has a chance to clean up his debt. However, nothing is as it seems. Now, he has to go up against other people and their strange way of thinking in order to not only free himself from this hell but also his debt. Welcome to hell.
Kaiji and Kakegurui thankfully both talk about gambling as the center plot vehicle. Kaiji has to get out of debt and so does Yumeko towards the midway point of Kakegurui. Both Kakegurui and Kaiji also visit that common point of the darkness is the human heart that pushes us physically and mentally further when our backs really are against the wall. The game of gamble is all about chance and both Kaiji and Yumeko show us that there is often a lot more than just luck or chance that goes into gambling.
---
5. No Game No Life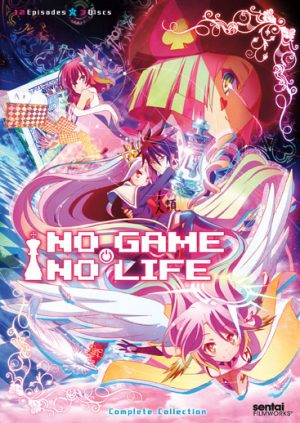 Episodes: 12
Aired: Apr 2014 – Jun 2014
Shiro and Sora are shut-ins. They do nothing but play online games and have built up a massive amount of notoriety as well. Playing under one name, they crush all who challenge them. That is until a strange email comes and offers them a chance at a different sort of game. Not one to back down, the two are summoned to another world by Tet, the god of games. There, the world does not have wars. Instead, bets of equal value are placed and high stake games are played. The game changes each time but the challenge is always the same: Win big or lose everything. Now, Shiro and Sora finally have a new goal in life: to win this new game by uniting all of the people and then defeating Tet.
Just like with Kaiji, here we have another anime that centers on gambling as the main focus. The difference is though is that as we have seen in Kakegurui, money varies as with the 4-way gambling. However, the thrill and the risk are still just as high. Just… you know, in NGNL kingdoms are bet, not money. People are really pushed to their limits too with everything that they have to give and get. Not to mention too, there is a decent amount of fanservice in both series which is odd. More so for the rest of the themes that Kakegurui entails, but some has to happen.
No Game No Life Trailer:
---
6. Lostorage Incited WIXOSS

Episodes: 12
Aired: Oct 2016 – Dec 2016
Suzuko Homura has come home to Ikebukuro where she grew up. There, she had a best friend named Chinatsu Morikawa. She cannot wait to meet her! However, one day, she decided to learn how to play a popular card game called WIXOSS. Suzuko has a problem connecting with her new classmates and hopes that this will be a stepping stone for conversation. She opens the deck and is greeted by a voice. One of the cards is alive! Explaining how things work, she is given five coins. If she loses them, then her memories are lost forever. If she wins a WIXOSS battle though, she can take a coin from an opponent. She gets dragged into an underworld where battles are being forced and have to find Chinatsu.
Here, the price is lost memories or your past while in Kakegurui, what can be lost is not just money, but one's future as well. Being in debt is a very bad thing as the evil student council makes a plan for you and threatens to force you to live out your days according to their plan. These two are thrillers in their own ways while Kakegurui is much more so than Lostorage Incited WIXOSS. Though both have dark stories and the big difference is that Suzuko represents hope while Yumeko is quickly becoming a symbol for depravity. Check this one out though because you will not be disappointed.
Lostorage Incited WIXOSS Trailer:
---
Final Thoughts
With that, our list of anime that is similar in more than one way to Kakegurui comes to a close. Some honorable mentions would be Rio: Rainbow Gate! if you are looking for more ecchi and fanservice, Prison School if you want to go the Student Council route, as is Kill la Kill. There are plenty of shows that are good but one thing is for certain, Kakegurui is quickly becoming an anime that anime fans need to see in order to continue calling themselves anime fans. We hope you enjoyed this list and you are enjoying Kakegurui!
---