También puedes leer este artículo en:Español
The freezing temperatures, blistering winds, and heavy snowfalls around the globe means one thing; winter is in full swing! And what better time of year to stay inside, where it's nice and toasty, and dive into some of the season's most exciting anime?
Just in case you're out of the loop, we're here to fill you in on the latest action shows of the new year. These shows are so jam-packed with action, they'll have your heart racing and your blood pumping, which is the perfect way to beat the winter chill. Here are our Top 9 Action Anime for Winter 2017!
9. Schoolgirl Strikers: Animation Channel

Episodes: Unknown
Aired: January 2017 - ?
Although only a few episodes in as of this writing, Schoolgirl Strikers is shaping up to be one of the highlights of the anime season. Based off of the popular Japanese social network game developed by Square Enix, Schoolgirl Strikers tells the story of the girls at Goryokan Academy, a prestigious new Junior/Senior High school with a sprawling campus. However, Goryokan Academy has "another face," one that the public doesn't know about.
The Academy is also the training ground for an elite combat unit, the 5th Force, whose sole goal is to protect the rest of mankind from the "Oburi," invisible monsters that are slowly but surely devouring the world. The girls of Goryokan Academy may look like your average, demure students, but they're the only thing standing between certain destruction, and they're not in the practice of taking prisoners.
With an ensemble cast of cute but deadly girls, the show is perfect for fans of action or school anime. It strikes a nice balance between getting to know the girls while they go about their school lives, and smoothly animated combat sequences that will leave viewers hungry for more.
TV anime "Schoolgirl Strikers Animation Channel" PV
---
8. Chiruran: Nibun no Ichi (Chiruran ½)

Episodes: Unknown
Aired: January 2017 - ?
The Shinsengumi are an enduring topic in Japan, with countless stories told in both anime and manga. Chiruran ½ is based on a manga of the same name and is unlike any other series about the Shinsengumi. To start, it's a short-form show, with each episode clocking in at roughly 2-3 minutes. Where other shows deal with the dramatic bloodshed the brave warriors of the Shinsengumi face in their daily lives, Chiruran ½ instead chooses to follow them in a more laid-back setting, where instead of fighting for their lives they're cracking jokes and bonding, all while upholding the samurai code of honor.
The animation style is also quite unique, as the entire cast is depicted in a cute, chibi-style. But don't let their looks deceive you. Cute though they may be, they're hardened warriors, ever at the ready to draw their swords and dive into battle. The show blends elements of history, action, and comedy into one bite-sized package, and is the perfect recommendation for even casual fans of anime, who might not have time to dive into something a little longer.
Animation "Chiruran Ni no bun no ichi" (pre-broadcast) & Comics 17 volumes on sale
---
7. Chou Yuu Sekai: Being the Reality

Episodes: Unknown
Aired: Jan 2017 - ?
Another relatively short-form show on the list, Chou Yuu Sekai: Being the Reality runs about 15-minutes and combines elements of action, fantasy, and sci-fi. Based off of a manga published online, Chou Yuu Sekai takes place in a world where mysterious beings, appropriately dubbed "Disasters," continually threaten the safety of mankind. Not willing to simply rest on their laurels, a special military unit, Saber, was created to fight back, alongside a privatized paramilitary organization dubbed Blade.
The story centers around Noii, a high school student who dreams of joining Saber, and fighting alongside his heroes against the Disasters. Although he lives a rather humdrum life, everything changes after the arrival of Motis, a mysterious transfer student who is more than she seems. Will humanity be able to drive back the Disasters and live a life of peace? You'll have to watch to find out.
---
6. Chain Chronicle: Haecceitas no Hikari (Chain Chronicle: The Light of Haecceitas)

Episodes: 12
Aired: Jan 2017 - ?
Based off of the popular Japanese tower defense game of the same name, Chain Chronicle takes place on the continent of Yggdra, a fantastical land where humans live alongside creatures like ogres and forest spirits in peace under the benevolent dominion of the Holy King. Until an evil army led by a tyrant known as the Black King invades, conquering the land, occupying the capital city, and slaying the Holy King. It's up to the valiant effort of a band of heroes to defeat the Black King's army and overthrow the scourge once and for all.
Centered around the exploits of Yuuri and the amnesiac cleric, Phoena, Chain Chronicles is sword-and-sorcery fantasy to its core. The characters are unique twists on well-worn fantasy archetypes, and the slickly animated battle sequences can hang with the best of them.
Anime "Chain Chronicle - Haecceitas no Hikari" Chapter 1 Preliminary Notice
---
5. Onihei

Episodes: 13
Aired: Jan 2017 – Apr 2017
Onihei is an anime adaptation that retells a classic Japanese jidaigeki period drama that originated as a light novel and has been adapted to both the big and small screen. Onihei follows Hasegawa Heizo, a libertine who learns the true meaning of responsibility when he inherits his father's position as the head of a special police task force charged with pursuing arsonists and burglars in Japan's old capital, Edo.
Onihei is like a hard-boiled detective story set in an era gone-by. Like any police procedural worth its weight, Onihei has a compelling cast of heroes, villains, and everything in between populating the mean streets of Edo. With heaping doses of violence, profanity, and adult content, Onihei comes with a strict "mature audiences" warning and isn't for the faint of heart.
Anime "Onihei" Broadcast from January 9
---
4. Mobile Suit Gundam: Iron-Blooded Orphans 2nd Season

Episodes: 25
Aired: Oct 2016 - ?
Season two of the latest iteration of the hit Gundam franchise is in full swing. Over 300 years have passed since the end of the conflict between Earth and its space colonies, known as the Calamity War, and the planet is divided into four blocks ruled by economic powerhouses. The military organization Gjallarhorn keeps the peace. When the representative of the repressed citizens of Mars travels to Earth with the Third Army Division as her guard, a failed assassination attempt reignites quenched tensions and plunges the unseasoned youngsters of the Third Division into all-out war.
Season two picks up right where season one left off, and devotees of the series won't want to miss a single action-packed second of the larger-than-life conflict!
Mobile Suit Gundam: Iron-Blooded Orphans Season 2
---
3. Hand Shakers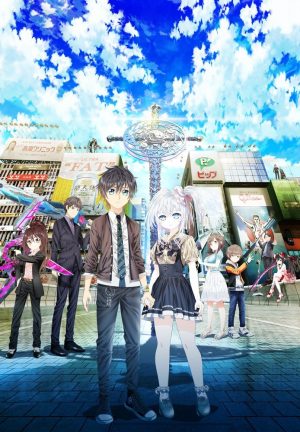 Episodes: 12
Aired: Jan 2017 – Mar 2017
Set in Osaka in the near-future, Hand Shakers tells the story of Tazuna, a high school student with a knack for machines, who visits a university research facility to do a job. Once on site, he encounters a sleeping girl named Koyori, and he is transported to a mysterious world called Ziggurat when he touches her fingertips, as if by fate. There, he discovers that he and Koyori are a pair of "Hand Shakers," people who come together by joining hands and are able to summon powerful weapons from their psyche, called "Nimrods." The Hand Shakers of Ziggurat are all in a contest to see who is the most powerful, and the winners will gain an audience with God.
Hand Shakers fulfills the season's requirement for action-oriented ecchi, balancing both the situation comedy of budding romance with the pulse-pounding action of the confrontation between Hand Shakers. The dynamic between Koyori and Tazuna is charged with the highest stakes possible, as letting go of each other will have serious repercussions for both of them!
Hand Shakers Trailer
---
2. Youjo Senki (Saga of Tanya the Evil)

Episodes: 12
Aired: Jan 2017 - ?
As punishment for insulting God, an arrogant salaryman is punished for his actions by being reborn in the moment of his death. When he wakes in an alternate universe ravaged by war, he finds himself in the body of a 9-year old schoolgirl named Tanya, who is the Second Lieutenant of the Imperial Army. Tanya has a strange destiny; if she doesn't die of natural causes, and doesn't accept her faith in God, she is destined to an eternity in Hell, where she will be punished for all the sins of her past lives.
Youjo Senki is an interesting take on the genre, and all the more fun because of it. Although it is religiously charged, the concept of a young girl with the soul of a much older man embracing her destiny and becoming a ruthless soldier in order to escape eternal torment is enough to entice any fans of the genre.
TV anime "Youjo Senki" special information PV
---
1. Ao no Exorcist: Kyoto Fujouou-hen (Blue Exorcist: Kyoto Saga)

Episodes: 12
Aired: Jan 2017 – Mar 2017
Blue Exorcist follows the exploits of Rin and Yukio, twin brothers raised by the exorcist, Shiro Fujimoto. When Rin witnesses his adoptive father's death, he draws a legendary demon-slaying sword Kurikara, which has the power to subdue Rin's demonic heritage as one of the sons of Satan. In the discovery of his legacy, he learns he has the ability to ignite blue flames capable of massive destruction and takes on more demonic features. He enrolls in the prestigious exorcist academy, True Cross, with the hopes of becoming a man like Shiro, and eventually defeating Satan. Upon enrolling, he finds his brother is one of the teachers, already an accomplished exorcist in his own right.
Set in Kyoto, season two starts with the brothers on a quest to recover a powerful demonic relic that was stolen from the academy. What strange exploits will Rin and Yukio get into on their quest to overcome their heritage, and defeat the ultimate evil represented by their father?
Blue Exorcist -Kyoto Saga- Trailer
---
Final Thoughts
And with that, our list comes to a close. These exciting new shows, as well as follow-ups to shows we already know and love, should keep any action fan busy until the cold, dark days of winter give way to the warm light of spring, and a new anime season. Are there any new action shows that should be on the radar of anyone who calls themselves an anime fan? Sound off in the comments and let us know!
---