Welcome again for another holiday gift guide from us here at Honey's Anime. In this article, we'll be continuing our suggestions to you if you haven't seen the previous article, Part 1, then make sure to head over to that article by clicking the link, here.
The suggestions in this article are some of our favorites and we had the wonderful privilege of reviewing them on Honey's Anime as well. We'll make sure to hyperlink in each specific selection. So for now, let's get into it!
GKIDS & Shout! Factory
GKIDS and Shout! Factory have always teamed up since who knows when, and this year they have released some phenomenal films this year and below are our selections for that we highly recommend. Continue on and get your wallets ready because these will definitely be a great gift for the special otaku!
The Deer King
The Deer King, Presented by GKIDS Comes to Blu-Ray + DVD on October 18 and All Major Digital Platforms on Oct. 4, 2022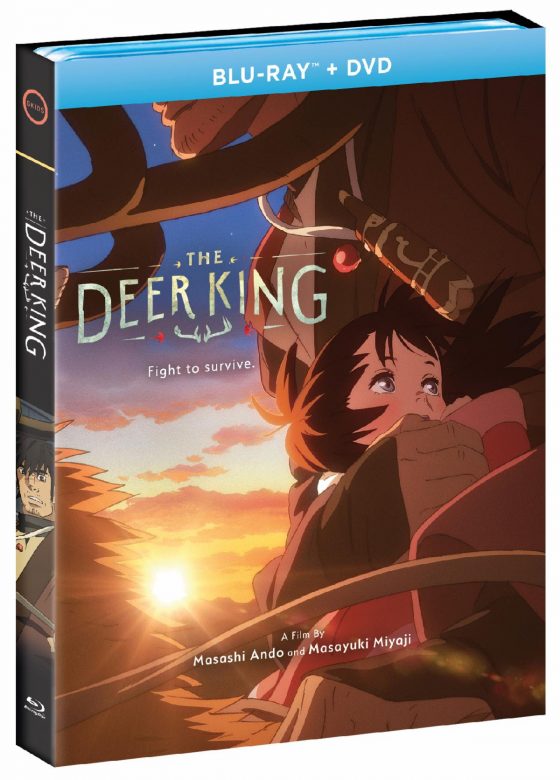 The much-anticipated, extraordinary new animated film The Deer King is coming to Blu-ray + DVD on October 18 and to all major digital platforms on October 4 from GKIDS with distribution by Shout! Factory. Bonus features on the release include conversations with the voice cast, an introduction from director Masashi Ando, a design gallery, and more.
The Deer King is based on the award-winning fantasy novel series by author Nahoko Uehashi, which sold over two million copies and won major literary awards. Animated by the acclaimed studio Production I.G, the film marks the directorial debut of acclaimed animator Masashi Ando, who previously worked as a character designer, animation director, and key animator with the famed Studio Ghibli (Spirited Away, Princess Mononoke), and with directors Satoshi Kon (Paprika, "Paranoia Agent"), and Makoto Shinkai (your name.). Co-director Masayuki Miyaji is best known for directing the 2009 series Xam'd: Lost Memories and working on Studio Ghibli films such as My Neighbors the Yamadas. Known for their work in series and feature animation, notable works from animation studio Production I.G include the legendary film Ghost in the Shell, and the highly influential series FLCL, Haikyu!!, and Psycho-Pass.
An action-packed anime film with dazzling animation, The Deer King is a breathtaking story of survival. Following a brutal war, former soldier Van toils in a mine controlled by the ruling empire. One day, his solitary existence is upended when a pack of wild dogs carrying a deadly and incurable disease attack, leaving only Van and a young girl named Yuna as survivors. Finally free, the pair seek out a simple existence in the countryside but are pursued by nefarious forces. Intent on protecting Yuna at all costs, Van must uncover the true cause of the plague ravaging the kingdom—and its possible cure.
Bonus Features
Bringing the English Dub to Life
Interview with Director Masashi Ando
Introduction from Masashi Ando
Design Gallery
Trailers
Goodbye, Don Glees!
The Feature Directorial Debut From Atsuko Ishizuka, Trails Ahead to Blu-Ray + DVD on December 27 and on Digital Platforms on Dec. 13, 2022
The coming-of-age anime film Goodbye, Don Glees! will arrive in a Blu-Ray + DVD combo release on December 27 and become available on major digital platforms on December 13 from GKIDS with distribution by Shout! Factory. This touching animation adventure features an interview with director Atsuko Ishizuka and is now available for pre-order at GKIDS.com and ShoutFactory.com.
Produced by the acclaimed Studio Madhouse, Goodbye, Don Glees! is the first original feature from writer/director, Atsuko Ishizuka, who previously directed the widely lauded series A Place Further Than The Universe, and the feature No Game, No Life: Zero. The vibrantly animated picture screened in competition at various major film festivals, including Annecy International Film Festival, Tokyo International Film Festival, and Fantasia Fest. The film stars famed Japanese voice actors Ayumu Murase (Shoyo Hinata," Haikyu!!"), Natsuki Hanae (Tanjiro Kamado, "Demon Slayer"), Kana Hanazawa (Akane Tsunemori, "Psycho-Pass"), and Yuuki Kaji (Eren Jaeger, "Attack on Titan") in its original Japanese language version.
Teen misfits Roma, Toto, and Drop call themselves the "Don Glees," an informal name for their backyard adventures. One day, when the trio gets blamed for a nearby forest fire, they set off into the woods to prove their innocence. As disaster strikes their expedition, tensions flare between the friends as they realize that growing up has taken them on wildly different paths in life.
Director Atsuko Ishizuka follows up her critically acclaimed series A Place Further Than the Universe with her first original feature film. With luminescent animation and lush backdrops, Goodbye, Don Glees! is a tender coming-of-age story about the fearlessness of being young and the bittersweet journey of self-discovery.
BONUS FEATURES
Interview with Director Atsuko Ishizuka
Trailers
Fortune Favors Lady Nikuko
The Delightful Animated Film Fortune Favors Lady Nikuko Arrives on Digital, Blu-Ray, and DVD From GKIDS on July 19, 2022
The charming anime film Fortune Favors Lady Nikuko will be released in a Blu-Ray + DVD combo, as well for digital download on all major platforms, from GKIDS, with distribution from Shout! Factory on July 19, 2022. Packed with bonus features including a "Making of" documentary, the Blu-Ray + DVD combo Fortune Favors Lady Nikuko is currently available for pre-order on GKIDS.com and ShoutFactory.com.
From acclaimed director Ayumu Watanabe (Children of the Sea) and STUDIO4°C (MFKZ, Mind Game) comes a heartwarming and moving comedy-drama with touches of magical realism. Fortune Favors Lady Nikuko is about an unconventional family and the bonds that they share in their sleepy seaside town.
Planned and produced by the beloved Japanese actor and comedian Sanma Akashiya, Fortune Favors Lady Nikuko was based on the novel of the same name by Kanako Nishi. The uplifting film won the Axis: The Satoshi Kon Award for Excellence in Animation at the Fantasia International Film Festival and continued collecting accolades including a Best Independent Feature nomination at the 49th Annual Annie Awards.
The film marks the latest collaboration between GKIDS and STUDIO4°C, following GKIDS' local distribution of previous STUDIO4°C works Children of the Sea (from Fortune Favors Lady Nikuko's director Ayumu Watanabe), MFKZ, Mind Game, Genius Party, and Genius Party Beyond.
Synopsis
Brash single mother Nikuko is well-known for her bold spirit, much to the embarrassment of Kikuko, her pensive yet imaginative daughter. In contrast to her mother, Kikuko wants nothing more than to fit in as she navigates the everyday social dramas of middle school. Life in the harbor is peaceful until a shocking revelation from the past threatens to uproot the pair's tender relationship.
Bonus Features
Making Of
Film Completion Press Conference
Official Premiere Event
Sanma Akashiya Birthday Event
Guest Speaker Event
Trailers
BELLE Collector's Edition
Critically-Acclaimed Animated Masterpiece From Academy Award-Nominated Director Mamoru Hosoda Coming to 4K UHD on August 30, 2022, in a 3-Disc Collector's Set
BELLE, the fantastical, heartfelt story of growing up in the age of social media from the acclaimed Academy Award®-nominated director Mamoru Hosoda and Studio Chizu (Mirai, Wolf Children, Summer Wars), will be celebrated with a deluxe Collector's Edition, coming August 30, 2022, from GKIDS with distribution by Shout! Factory. A 3-Disc set, BELLE COLLECTOR'S EDITION will include the film in UHD™ + Blu-ray™, will be available both in the original Japanese and with an English dub, and contain a bonus disc of exciting new special features, wrapped up in beautiful deluxe packaging.
BELLE was released on all major digital platforms on May 3, 2022, as a Blu-ray + DVD combo pack and in a Target-exclusive Steelbook edition on May 17, 2022.
The extensive bonus features on BELLE COLLECTOR'S EDITION include those from the Blu-ray™ release, as well as several new captivating offerings, such as new special dialogues with the cast, a new interview with Takeru Satoh, a new Eric Wong interview, and more.
BELLE boasts a star-studded English voice cast including Chace Crawford, Manny Jacinto, Kylie McNeill, and Hunter Schafer. Fans of this heartfelt fable for a digital age can pre-order copies now by visiting ShoutFactory.com and GKIDS.com/store.
Lauded by critics around the globe following its world premiere at the 74th Annual Cannes Film Festival, and North American premiere at the 59th Annual New York Film Festival, this stunningly animated film is a breathtaking adaptation of a tale as old as time that was nominated for five Annie Awards including Best Independent Feature.
On BELLE, the Japanese creative team worked in collaboration with a roster of international talents. Character designer Jin Kim, the artist behind several iconic Disney features including Moana, Tangled, and Frozen, designed the titular Belle. Cartoon Saloon's Oscar®-nominated Tomm Moore and Ross Stewart (Wolfwalkers, Song of the Sea, The Secret of Kells) also join the team, contributing artwork for the various virtual fantasy worlds within the film. Hosoda continues his film collaborations with architects and is joined by up-and-coming British architect and designer Eric Wong, who designed the virtual world of "U." Taisei Iwasaki ("Blood Blockade Battlefront.," Studio Ghibli's "Giant God Warrior Appears in Tokyo") along with composing original songs and score, led multiple composers and produced the film's music entirely. Other composers include the critically acclaimed Yuta Bandoh ("Yuri on Ice") and BAFTA nominee Ludvig Forrsell (Kojima Productions' "Death Stranding"). The film's main theme "U" was performed by the groundbreaking Japanese act millennium parade, led by the composer of the song Daiki Tsuneta.
Suzu is a shy, everyday high school student living in a rural village. For years, she has only been a shadow of herself. But when she enters "U," a massive virtual world, she escapes into the online persona of Belle, a gorgeous and globally-beloved singer. One day, her concert is interrupted by a monstrous creature chased by vigilantes. As their hunt escalates, Suzu embarks on an emotional and epic quest to uncover the identity of this mysterious "beast" and to discover her true self in a world where you can be anyone.
Belle Collector's Edition Bonus Features
NEW Behind the Japanese Dub
NEW Promo Events with Hosoda and Cast
NEW Special Dialogues with Cast (Kaho Nakamura, Takeru Satoh, Lilas Ikuta)
NEW Interview with Takeru Satoh
NEW Eric Wong Interview
The Making of BELLE
A Conversation with Director Mamoru Hosoda
The Music of BELLE
Hosoda Draws Belle
Finding the Voice of Belle
Scene Breakdowns
Mamoru Hosoda at Animation is Film
Design Gallery
Kylie McNeill Performs "Gales of Song"
Trailers
---
Final Thoughts
And that is folks! Make sure to check out these4 wonderful titles as they will make GREAT gifts for that special otaku. We want to thank GKIDS and Shout! Factory for sending these titles for us to review on Honey's Anime. Make sure to click the Recommended Post to read our reviews of these anime films.
Are going to grab one of these titles! Or if you've seen these films, what are your thoughts? We'd love to hear from you in the comment section so sound off! We hope enjoyed this gift guide and that it helps decide on what to get that special someone. Happy holidays and a great New Year!
---