"Girls, we run this motha…(yeah!)"
The most awesome thing about anime is that it knows no bounds, sometimes encompassing things and events existing in society. In reality, the conflict of war is a tragic and troubling subject, where the ones who fuel the effort and get their hands 'dirty' can't come to terms with the reasons why they are in battle. Only that they have a duty, making sure that their companion in arms is given the chance to return home safely, resuming the life they had to put on hold. Specifically, the structure of warfare is drastically changing, providing women equal opportunities as men to enlist in once "female restricted" assignments. As such, the Girls of War Fall 2016 captures this fundamental fact: girls can kick ass and look good doing it!
Here at Honey's, we're introducing to you an exciting division of recommendations, solely to give you guys a taste of current flavors based on popular previously aired anime. So, with that being said: Who run the world? Girls!
About KanColle (Kantai Collection: KanColle)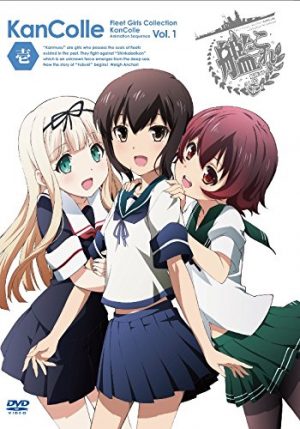 Episodes: 12
Aired: January 2015 – March 2015
KanColle is an action, military, sci-fi anime that is based on a game. A group of special young women are the only force that can beat the treacherous creatures, abyssals, who have presently drawn out humanity from the seas. As these young women are born with the power to fight the abyssals, they have a unique and incredible ability, in that they possess the souls of Japanese imperial warships of World War II. Using weapons specialized for their powers called outfits, the great mission to take back the seas for mankind is about to begin.
Liked KanColle? Watch Shuumatsu no Izetta (Izetta: The Last Witch)!
Episodes: 12
Aired: October 2016 – Current
Shuumatsu no Izetta (Izetta: The Last Witch) is an action, military, historical and magical anime chronicling the last known witch in existence, Izetta, and her faithfulness to her first real companion, Princess Ortfiné Fredericka von Eylstadt aka Finé. In the 1940s, the country of Germania sought conquest and world domination by invading neighboring sovereignties, thus resulting in a massive world war. As Germania begins its invasion on Elystadt, Izetta pledges loyalty to her princess and country, promising to do what she can in the war effort. From this, Princess Finé's secret strategy and weapon being Izetta, creates a huge impact on the tides of war, but is it enough to stop Germania's forces?
Three Major Similarities Between KanColle and Shuumatsu no Izetta
1. Historical Roots in World War II
Although the foes of our heroines, the Fleet Girls of KanColle, and Princess Finé and Izetta of Shuumatsu no Izetta, are comparably different, both anime have a core foundation in the major historical event of World War II. Utilizing similar imagery, names and locations, we can compare some of what's going to happen in these episodes to our own timeline. Essentially, for those who aren't good at history, researching numerous elements from both anime, such as the names of imperial fleets or which country was invaded when, can easily pique one's interest in the varied and notable past events.
2. Breathtaking Scenic Artistry
Many of us can appreciate the time and effort put forth into quality animation when we watch our favorite anime. Both KanColle and Shuumatsu no Izetta take place in rural, countryside settings, filled with vast seas and forestry, unpopulated by industrialization. Whether either force traveled by air, sea, or land, we can observe that the beautiful and vibrant details of nature were intended for viewers to admire the beauty from every aspect imaginable.
3. Unbreakable Loyalty and Admiration
In KanColle, Fubuki has zero combat experience. Since the military needed girls for battle, she was placed in the famed 'Third Torpedo Squadron' shortly after training. While she works with her new group members, Fubuki hears about Akagi, who is all around the best in the fleet. Immediately, Fubuki looks up to Akagi-senpai, putting in the extra work to get on her level. Although she's got a lot of work ahead of her, Fubuki's squadron notices her efforts, doing all they can to help and support her in being her best. After some time, Akagi-senpai appreciates Fubuki wanting to be like her, offering her guidance and combat tips.
In Shuumatsu no Izetta, Princess Finé is Izetta's first true friend, as she accepts Izetta's magical gift as a beautiful blessing instead of a curse. Princess Finé came to her rescue when they were young girls, as the villagers tried to run Izetta out of town. From that instance, Izetta felt she owed a lot to Princess Finé. Once Izetta emerged from hiding, destiny brought these besties together, and in return, Izetta saves the Princess from her captors. As the story unfolds, we can truly observe the trust and codependency between Princess Finé and Izetta, promising to care and be there for each other.
---
Liked KanColle? Watch Brave Witches!
Episodes: 12
Aired: October 2016 – Current
Brave Witches is an action, military, sci-fi magical anime. In this twelve episode series - still airing -, we watch humanity faced with the sudden complex of a mysterious foe, the Neuroi. As the Neuroi have invaded most of Europe, military officials devise countless methods to stop these creatures. Fortunately, the most successful approach demonstrated is to use the power of Strike Witches, girls who possess magical powers and are the only ones who can pilot the 'flying striker units'. As many witches assemble to contribute their strengths, the new Allied Forces 502nd Joint Fighter Wing was created. Gaining notoriety as the Brave Witches, these gals do what they must to bring peace to Europe once more!
Three Major Similarities Between KanColle and Brave Witches
1. Expect The Unexpected
Both Fubuki from KanColle, and Hikari from Brave Witches begin their story with minimal experience in their field, gradually 'wowing' us with their hard work and determination. The girls are extremely motivated, displaying the natural talent they hold, in addition to the extra training they commit to. Fubuki and Hikari appear as weak, substandard girls compared to the others in their group, but in the end, become the individuals their peers can really rely on.
2. #SquadGoals
The girls of assorted fleets in KanColle, and the 502nd Brave Witches both possess groups of cute girls involved in military combat, i.e., warships and aircrafts in KanColle, and aerial dogfighters in Brave Witches. Each anime offers an assorted range of personalities and appearances, encompassing how the girls in the groups complement each other and clash with one another. The girls in both anime overall provide a fantastic support system throughout, which is essential to building teamwork and getting the task and mission completed.
3. Work Hard, Play Hard
As the fate of the world rests on the shoulders of the girls of KanColle and Brave Witches, we can expect to give these gals a break from fighting and training when they have free time.
In addition to combat, the fleet girls in KanColle continue training in a school-like setting. To ease tensions and lighten the mood, the girls find relaxation in baths, eating dessert, and competing in curry cook-offs. In this environment, we watch the girls interact and build close relationships that become beneficial towards their missions.
For the Brave Witches of the 502nd, the Saturnus Festival was once cancelled, but reinstated to boost morale around the base. Even though supplies were really low, they miraculously received reinforcements from the notorious 501st Strike Witches. Their delivery included lots of food, drinks, and classified secrets, reminding them, "All work and no play makes Jack a dull boy."
Final Thoughts
GIRL POWER! *peace signs* We hope this article gives you a little sample of what types of ass-kicking babes exist among the countless genres of anime out there! As there are so many other choices, let us know if you agree with these picks. Furthermore, feel free to leave your suggestions and comments below! Thanks and enjoy!
---