Kawaii culture spans a wide variety of topics and industries. From fashion to décor to art, kawaii is everywhere! With that said, we're not talking about anime filled with cute magical girls today (sorry, magical girl otaku). Still, we wanted to find something with adorable themes and a feeling of levity after being watched. Get ready for next-level cuteness with these charming selections!
Maojou de Oyasumi (Sleepy Princess in Demon Castle)

Princess Sya is kidnapped from her home country and brought to stay as a prisoner in the Demon King's castle! What's a captive to do? In this case, the princess passes hours of boredom by frequently causing a little mayhem while looking to set the scene for a great upcoming nap.
Though the scenery of Sleepy Princess in Demon Castle is the Demon Castle itself, Princess Sya is as cute as can be! She walks around with this air of not caring about the consequences related to the current task and looks only for her next nap. Get ready for the cuteness of this adorable princess' quests and prepare for the belly laugh coming when you see how she decides to get there!
Miira no Kaikata (How To Keep a Mummy)

After receiving a sarcophagus from his father, who travels Egypt, Sora is surprised to find inside a real, bandage-wrapped mummy. Though this mummy is only a few inches tall and barks like his dog to get attention, Sora takes to the mummy, Mii-Kun, and takes him in. Several of his friends soon happen upon other lesser-known creatures whom they adopt as pets. What follows is a delightful story of companionship and the cute adventures of small fantastical creatures.
In contrast to the Sleepy Princess of Demon Castle, this anime's cuteness is most apparent in the relationships built. Whether you find yourself most in love with the mildly grumpy oni-child that is great at giving the thumbs up or the round and squishy baku who eats the bad dreams of his companion, you will get your kawaii fix here.
Konohana Kitan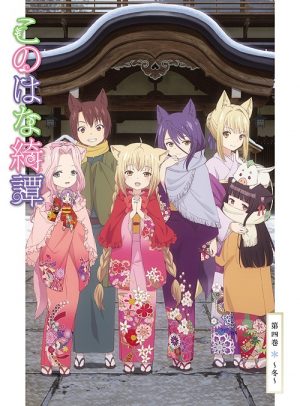 After years of growing up in the mountains, it is time for Yuzu to make her way into the world, and what better place could there be to start than the hot spring hotel, Konohanatei? Together with a staff of other fox-girls, Yuzu learns more manners and caretaking while developing relationships with everyone around.
Enjoy the beautiful scenery and characters depicted in this cute anime! Yuzu is steadfast and determined to learn but is also clumsy and plain-spoken. This klutzy cutie starts to learn the Konohanatei hot springs resort duties while having some touching encounters with the guests who visit. Take a load off and get ready for relaxation with Konohana Kitan.
---
Final Thoughts

As the year rounds its end, stresses run high. Take some time to enjoy a new show and scratch that kawaii itch! Have you seen any of these yet? Which will you watch next? Please tell us in the comments!
---