An anime year wouldn't be complete without a healthy dose of shounen titles, and 2020 didn't fail us there. Whether you wanted anime remakes of early titles or new-age samurai/demon action, the shounen gods delivered to us otaku plenty of epic anime to fill our shounen desires. We here at Honey's Anime have gone through the dozens of 2020 shounen titles and have compiled a list for you all to check out. It's time to see what shounen anime came out above all others in our Top 10 Shounen Anime of 2020 list!
10. Munou na Nana (Talentless Nana)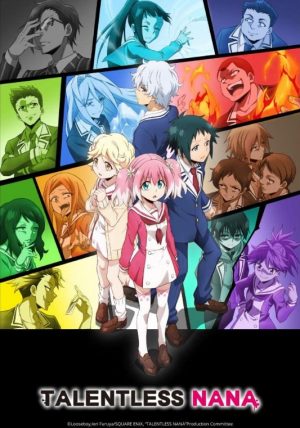 Episodes: 13
Aired: October 2020 – Currently Airing
Dubbed the "Enemy of Humanity", Earth wondered if it would face destruction from these new otherworldly beasts. Thankfully, special teenagers were assembled who have supernatural abilities. Called "The Talented" these teenage warriors will be trained together in a special school to hone their skills and give humanity a fighting chance. One young girl named Nana Hiiragi has joined those considered to be Earth's saviors but with no powers herself, she will need to use another weapon to win this new war…the power of intellect!
Talentless Nana starts our top 10 list and overcomes series like Darwin's Game—which was a solid shounen series—and Dragon Quest: The Adventure of Dai to earn the first entry worth discussing. Talentless Nana has proven to be a truly interesting take on the concepts seen in most supernatural/superpower anime by mixing in a healthy dose of shounen and psychological themes. Time after time Talentless Nana surprises its viewers by delivering unexpected plot events and some truly darker story moments that keep each episode a true surprise! We suspect Talentless Nana will only continue to break our anticipations with each episode and we always enjoy a series that can keep us guessing what awaits next!
---
9. Enen no Shouboutai: Ni no Shou (Fire Force Season 2)

Episodes: 24
Aired: July 2020 – December 2020
The battle with Shou truly changed Shinra Kusakabe. Now with a desire to save lives and end the terror that is the Infernals, Shinra wishes to become a true hero and end this horror once and for all. Unfortunately, Shinra and his fellow Fire Force aren't going to save the world so easily as new threats steadily seep from out of nowhere. The Fire Force will need to be ready as The Evangelist begin their plan to resurrect the Great Cataclysm seen nearly 250 years ago.
Fire Force Season 2 continues the great shounen series from last year with new battles and even more enemies for Shinra and his team to face! We love Fire Force Season 2 and can't wait for season 3 to release giving us even more of this incredible shounen anime! Don't worry, if you still need more Tamaki ecchi scenes, Fire Force Season 2 delivers.
---
8. Shokugeki no Souma: Gou no Sara (Food Wars! The Fifth Plate)

Episodes: 13
Aired: April 2020 – September 2020
Souma Yukihira has endured trial after trial since joining Tootsuki Culinary Academy. Yet, as any chef will tell you, the battle to create the ultimate dish never truly ends. Souma and his friends are about to engage in the final trials that will lead them to changing the world of cuisine. A new enemy approaches, one that Erina never expected and it will take all of Souma's new skills to win in the greatest Shokugeki of his life!
Food Wars! has been met with some negative reviews/comments over the years but this final season allowed the series to end in a slightly better light. Here at Honey's Anime we reviewed Food Wars!! The Fifth Plate—which you can find linked below—and we really felt it wasn't a bad finale for this solid shounen series. Don't wait, go find out what happens to Souma and his fellow chefs in training in Food Wars!! The Fifth Plate!
---
7. Tonikaku Kawaii (TONIKAWA: Over the Moon For You)

Episodes: 12
Aired: October 2020 – December 2020
Nasa Yuzaki had his future planned out well before high school. With a desire to become famous, Nasa scored first on national exams to prove that he would one day become someone worth knowing. However, life changed quickly for Nasa when a truck nearly kills him after he witnesses an almost unreal beauty. Desiring to not let this beauty walk out of his life, Nasa pleads for the stranger to go out with him! The unknown beauty agrees to date Nasa but under one condition…the two must be married!? Nasa and his new wife—Tsukasa—are about to embark on a strange love that will change Nasa's desires forever!
Life can be quite…eventful when you least expect it. The shounen genre has always tried to show us that even if you plan for success, you may not reap what you sow. TONIKAWA: Over the Moon For You is a perfect example of life being quite bizarre but in a way that is both hilarious and cute! Watching Nasa with his new love is always a wondrous sight and the comedy of these two newlyweds never gets old. Those who need a romance themed shounen will find TONIKAWA: Over the Moon For You to be the perfect anime to wrap up 2020 with!
---
6. Haikyuu!! To the Top

Episodes: 13
Aired: January 2020 – April 2020
The challenge is heating up for Karasuno High School's volleyball team! With their decisive victory over Shiratorizawa Academy, the nationals are finally within their grasp. The competition is only going to get tougher for Shouyou Hinata and his volleyball team but with new training regimens planned, their skills will only soar higher! Can Karasuno become the nation's volleyball victors or will their new training partners prove their skills are still too low leveled to make a difference?
No shounen top ten list would be complete without Haikyuu!! somewhere on it! This latest third season has truly been amazing watching Karasuno overcome their own limits and proving their victories aren't just flukes. Each game—whether it's training or for real—boosts our energies here at Honey's Anime making Haikyuu!! a truly captivating shounen series! Part 2 has begun airing as of writing this article so now is your chance to catch up on Haikyuu!! To the Top!
---
5. Maoujou de Oyasumi (Sleepy Princess in the Demon Castle)

Episodes: 12
Aired: October 2020 – December 2020
Princess Syalis—full name Auora Suya Rhys Kaymin—at first glance seems too cute and adorable to be a princess. Another fact that doesn't help the princess' image is the fact that she sleeps…a lot! While Syalis waits for the destined prince to save her and change the world of demons and humans, Syalis can only really do one thing…sleep! Watch as our Princess Syalis sleeps, does cute things, and tries to occasionally be a princess in Sleepy Princess in the Demon Castle!
As you'll see in another of our entries later, not all shounen needs to gravitate towards epic battles with friends or to save the world from an evil force. Sleepy Princess in the Demon Castle aims to be a series about a princess enjoying her time while she waits for her destiny and you'll fall in love with this show if you give it a shot. Not only will you laugh at the randomness of Princess Syalis' cohort of friends/enemies but you'll smile as you see her do millions of moe activities! Sleepy Princess in the Demon Castle is a sleeper hit—pun intended—but one you shouldn't sleep on yourself!
---
4. Yuukoku no Moriarty (Moriarty the Patriot)

Episodes: 11
Aired: October 2020 – December 2020
Before he was an enemy of the world's greatest detective, William James Moriarty was a college mathematics professor with an eye for detail. Using his superior intelligence, Moriarty is always willing to lend a hand to those who enlist in his services. However, Moriarty is destined to become Sherlock Holmes' greatest enemy and that future has been set in stone for a reason. Witness the birth of a man who wishes to change the world in Moriarty the Patriot!
Moriarty the Patriot was—and is—still our biggest surprise series this year. Not only does Moriarty the Patriot take a classic character and revamp him for a modern audience but it does so with amazing flair thanks to great animation and storytelling! Watching the rise of a villain seems strange but Moriarty's growth as a smart math professor to cunning future threat is truly breathtaking and we will miss this series when it wraps up this December. Maybe Santa will give us more Moriarty the Patriot this year…
---
3. Kakushigoto

Episodes: 12
Aired: April 2020 – June 2020
Mangaka Kakushi Gotou has truly shown the world the power of pervy manga and has made a successful career doing so. Gotou had to tone back his inappropriate content though when his daughter Hime came to be. Now Gotou's main mission in life is to continue making manga but hiding his actual job from his daughter. Can Gotou continue using clever methods to fool Hime or will she learn her dad's true profession?!
Kakushigoto at first might not seem like a shounen series but when you realize its true nature, you'll quickly know why it deserves our top 3 spot. Watching Gotou go from mild manner mangaka—who is a bit perverted—to more of a father figure is the true definition of growing up! You'll laugh alongside our single dad as he protects his daughter from all things indecent all while still writing indecent manga ironically! We absolutely loved Kakushigoto and think shounen fans who want more than action will adore it as well!
---
2. Jujutsu Kaisen

Episodes: 24
Aired: October 2020 – Currently Airing
Despite being part of Occult Club, Yuuji Itadori has little interest in the world of the supernatural. Yuuji only cares about enjoying life and visiting his sickly grandad in the hospital. Unfortunately for our lazy high schooler, Yuuji is about to learn the paranormal is very real and very dangerous. Forced to consume a strange cursed object, Yuuji ends up harboring a demon within his very body! Thankfully, he is rescued by a Jujutsu Sorcerer who gives Yuuji an ultimatum. Yuuji can either let his new demon curse consume his soul or he can join a high school where students are trained to save humanity from the darkness unseen by most.
Surprising no one who has read the manga, the anime adaptation of Jujutsu Kaisen has definetly been one of the best shounen series in recent years. Filled with supernatural battles, cool martial arts, and a strange—but interesting—cast of heroes, Jujutsu Kaisen keeps us entertained weekly and we can't get enough of this series. While 24 episodes have been set for the first season, we can only hope Jujutsu Kaisen gets even more love quickly and will be on our Top 10 Shounen Anime of 2021 list.
---
1. Kimetsu no Yaiba Movie: Mugen Ressha-hen (Demon Slayer Movie: Infinity Train)

Episodes: 117 Mins
Aired: October 2020
The Demon Slayer Corps has been assigned a new mission! Kyoujurou Rengoku has asked Tanjirou Kamado and his allies to accompany him on an investigation. A slew of disappearances within a train signals demon activity but Tanjirou and his fellow slayers will discover this isn't just an ordinary demon attack! Enmu has prepared a dastardly trap and it will take the Demon Slayer Corps skills to prevail alive from this mission!
Demon Slayer took the world by storm when it released last year and it wasn't too surprising studio UFOTABLE would release a movie as soon as they could! Demon Slayer: Infinity Train feels like an extended episode of Demon Slayer but with even more shounen action that just doesn't let up! Not only was it well received by fans but it held the highest grossing movie title for quite a while! Even if Demon Slayer: Infinity Train wasn't a full anime series, we can't deny it was one of the best shounen works to release in 2020 without a doubt!
---
Final Thoughts
The shounen genre is a staple in the anime world and we truly need to continue to preserve its legacy even as anime advances into new territory. 2020 might have been a hectic and painful year but shounen anime helped mend our hearts a bit by giving us some truly incredible anime for us to binge out our leisure. What shounen anime was your favorite of 2020? Comment below to let us know! For even more Top 10 articles keep stuck to our anime crazed hive here at Honey's Anime!
---