Christmas is fast approaching! The Christmas season is a time to show love for one another, often through giving gifts that we know our friends and family have been yearning for.
For some of us, deciding what to ask for from our loved ones can be difficult. Almost as difficult as deciding what to give them! We at Honey's Anime have tried to help with this a little, by giving you a list of some of the best anime gifts available this year. We included a variety of options, with everything from manga to board games, to try to include something for everyone! This merchandise includes mostly anime from 2018, though we do still include a few classic and upcoming series in the mix.
10. Jump Force pre-order

There are plenty of anime-related video games out there to choose from. On every console, from the Nintendo Switch to the Playstation, anime and games have often shared a close relationship. With so many anime series represented in the gaming world, you can easily find a game involving your favorite show. Shounen anime in particular have had a few games come out recently, including Dragon Ball FighterZ and Naruto to Boruto: Shinobi Striker. Though these are all great options to choose from, we think we've found one of the most exciting choices being released in the next few months…
A game focusing on the major Shounen Jump characters, Jump Force is available for pre-order now and will be released on February 15th of 2019. This game is promising because of how many characters it has announced so far, the quality of graphics and the amount of content that appears to come along with it. While we're not sure yet about all the details, the beta of Jump Force proved that playing as some of our favorite anime characters will be amazingly fun! With everyone from Luffy to Seiya announced so far, we're excited to see where this game will go. Jump Force is a great option for you if you love shounen anime or classic fighting games like Street Fighter.
---
9. Mahoutsukai no Yome (The Ancient Magus' Bride) Blanket

As the days get longer and the nights colder, there is nothing we love more than being able to curl up in a nice blanket and relax indoors. Top off that relaxing day with some of our favorite anime or rereading our favorite manga, and we'll be all set for the best day ever!
As one of the most popular anime from early 2018, Mahoutsukai no Yome (The Ancient Magus' Bride) wowed us with its amazing visuals and heartfelt story. The series was impactful for many people, and we thought viewers might want something to remember it by! This blanket would be a great gift for any anime fan who loves Mahoutsukai no Yome. It's a great memory of the series, and the blanket is also great during the colder months of the year.
---
8. Saitama "Ok" Christmas-Themed Shirt

Whether you're someone who likes to represent your favorite anime loud and proud or someone who takes a more subtle approach in your love for anime, wearable items are always a great option for a gift. And for the holidays, there are plenty of Christmas-themed shirts and hats to give fans a more festive spirit! With so many different options to choose from, most every anime can be represented with some sort of clothing item.
Here at Honey's Anime, we're so excited about the new season of One Punch Man finally coming out in April of next year. Nothing would get us in the Christmas spirit more than our favorite hero, Saitama, expressing his joy at the holiday season! Or rather, as much joy as he normally shows when fighting off his foes. Of course, if it was involving a special sale at the store, we know Saitama would be much more animated!
---
7. The Master Guide to Drawing Anime: Tips and Tricks book

The New Year's celebrations follow soon after the Christmas season. For many of you, that might mean that you are already thinking about resolutions. Whether you want to learn a new language or how to draw, there are plenty of tools that can help you with your goals! If you already have all the anime-related gifts you could ever want, we suggest taking time to think about what it is you want to achieve. Your friends and family might not be able to pay for a year of classes, but they can give you the self-study tools to work through your dreams on your own time. After all, books are one of the best learning tools (maybe that's the reason why textbooks are so expensive?).
If you're looking for something to help teach you how to draw anime well, look no further than Christopher Hart's latest How-To guide! This book looks into the details behind drawing anime characters and scenes, with tutorials for different expressions, poses and even action scenes. Whether you are starting from the basics or strengthening your specific skills, The Master Guide to Drawing Anime: Tips and Tricks will be a definite help.
---
6. Fate/Stay Night: Heaven's Feel – I. Presage Flower movie

Of course we would like to ask for our favorite anime series as a gift. However, to ask a friend or family member to buy an entire series for you can be unrealistic, given how expensive they can be. A much more reasonable alternative can be to ask for part of a series, an OVA collection or a movie instead – though these choices can sometimes be just as spendy! While the smaller amount of content just won't be the same, you will still get to see your favorite characters.
One of the biggest focuses of the anime community right now is the Fate series. With multiple seasons of different stories in the universe, a popular mobile game and now additional movies coming out, Fate has plenty of content for fans to enjoy! If you love Fate, the Heaven's Feel movies have been some of the best parts of the franchise, showing a closer look at Sakura Matou's story. This first movie came out in October 2017, but the movie is now available for you to own, and well worth your time – though we must admit, the limited edition is still expensive!
---
5. Monopoly Sailor Moon

Do you love board games? While there are still not as many anime-related board games, some famous anime series do have a few board games available. These include popular series like Sword Art Online and Naruto, as well as a few classic anime. Board games are a great gift to have, since you can include friends and family in on your enjoyment of playing the game. You never know, you might even make someone you know want to watch the series!
One of the best board games out there has got to be Monopoly, and we found an amazing Sailor Moon edition of the game that would be a great gift. If you're a fan of the classic 90's series, you will certainly appreciate the nostalgia that comes with this game. And even if you're not a huge Monopoly person, the opportunity to own Tuxedo Mask or Sailor Mars makes this game well worth it in our opinion!
---
4. Boku no Hero Academia (My Hero Academia) manga, Vol. 1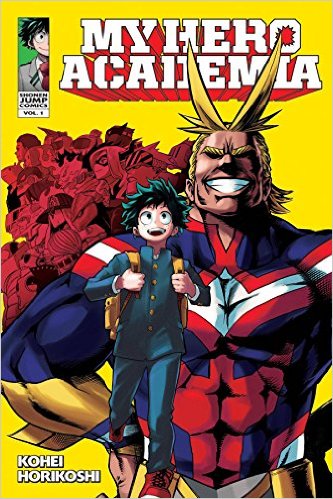 Looking for a cheaper option to ask your friends and family for? Or maybe you have people in your life that are worried about you spending too much time in the front of a TV. Whatever the case, there is a simple answer to both of these problems: manga. Many of our favorite anime were born from a manga series. You will get to read the original scripts from the series you love, and do so for much cheaper than what it would cost to own the animated show. There are plenty of manga out there, yet to be animated, that deserve just as much love!
Our choice for the manga on this list comes from one of the most popular anime. Boku no Hero Academia is a shounen story about superpowers, heroes and the strength of one boy. There is a reason it has captivated so many anime fans; it's just that good. The latest season has finished recently, but the manga is still being put out regularly. With all the free time off from jobs and school during the holidays, there is no better time to start the manga series!
---
3. Crunchyroll Premium membership

If you feel like you're falling behind on the latest airing anime series, maybe it is time to get caught up! The best way to get access to the newest anime shows is to pay for a subscription, though not every streaming site has all of the season's latest series. Paying for a subscription service does mean that you are supporting the animation industry while you watch, giving feedback with your views—and usually without those pesky or potentially dangerous ads getting in the way.
One of the best anime streaming sites out there is Crunchyroll. The company offers a good portion of the most recently airing shows, as well as many older classics to enjoy. If someone gifts you a subscription, even if it is just for three months, the amount of time you save skipping the ads is worth what you pay! Crunchyroll also offers discounts on items in their store, and access to their library of manga, if you are a Premium member.
---
2. Made in Abyss Blu-Ray

You didn't think we would go through the whole list without including an anime series, did you? For all of us anime fans, the ultimate goal is to own the shows we love so that we can watch them over and share them with other people in our lives (i.e., force them to watch with us!). Asking for a Blu-Ray anime series is an expensive gift. But for us, there is almost no better way to show an anime fan you care than by bringing their favorite series to them to keep! It can be difficult to decide whether to get a classic anime or something new and exciting. We decided to opt for one of the best series of the past few years, an anime that has won almost all of our awards: Made in Abyss.
Made in Abyss is a mysterious, dramatic fantasy series revolving around the main characters Riko and Reg. The art is beautifully unique, the characters are interesting and well-developed, and the storyline is one of the most intriguing we have come across in a while. Though the series was a staple of last year, fans have not forgotten how impactful it was. The Blu-Ray just released this past October, and it is well worth asking for as a gift. Even if you haven't seen this anime, the series is great to pick up for almost anyone who enjoys anime as a whole! It tops our Christmas list for this year, except for one final item…
---
1. Fullmetal Alchemist Alphonse Elric Silver Figure pre-order

Every year, the most desired anime-related merch comes from – you guessed it – figures! Fans of an anime series can be picked out from a crowd by their shelves full of cute, intricately carved figures that represent the most beloved characters from their shows. Though figures can be quite expensive, there is nothing more satisfying than watching your collection slowly build as you show off the characters from your favorite anime. Whatever your taste in anime, there is a figure out there for you. We decided to go with an exciting classic anime character to top our wish list!
Alphonse Elric, brother of Edward, is one of the main characters from the beloved Fullmetal Alchemist series. This especially exclusive figure is offered through Aniplex, the company which produced the anime. We've seen other adorable or more serious figures of Alphonse, but none as detailed and intense as this! Though it is still in pre-order for a few more months, we think the wait will be well worth it to receive a gift like this one. This is a premium figure to add to any anime fan's collection, even at its high price point.
---
Final Thoughts
These potential gifts cover not only a wide variety of anime, but also a lot of different gift options for anime-related items. Whether you're looking for something to share with family and friends, something to help you plan out your goals or just something to remind you of the love you have for an anime series, we have plenty of options for you!
Did we miss any items on your own wish list? Share your own Christmas gifts in the comments below! Though we did cover a lot, we're sure we didn't include everything you wanted!
---