Introduction
Summer was some slim pickings this year. Each year there is something about summer that… well let's just say that there is a very clear black and white line between what is good and what is not so good. With that in mind, let's explore those shows that, for one reason or another, have stood out well.
1. Shingeki no Bahamut: Virgin Soul
Shingeki no Bahamut: Virgin Soul is the sequel to Genesis. It's been ten years since the events of Genesis; Humans are in power, gods have fled, and demons have become enslaved. The 2nd season of Shingeki no Bahamut: Genesis. The new King has taken power and gods are no longer revered, which has caused the loss of their power. Here, we have a bright eyed girl named Nina who is looking to find a place to settle, even when unrest vibrates barely below the surface of the capital.
Shingeki no Bahamut: Virgin Soul began airing during the spring and since then, I have been enthralled by all aspects of it. It never bores, even though I have not seen the prequel yet. The cast of characters are all quirky with fun personalities of their own much like watching anime like Cowboy Bebop or Trigun, however there are many moments when Shingeki no Bahamut: Virgin Soul gets serious and you just have to hang onto your seat to find out more. While having a female protagonist causes plots to bend towards a romantic edge, Nina is an enjoyable and adorable protagonist who is hard to dislike. Sure, there's romance, but there's enough conflict that it doesn't take over every single waking moment, although it is a fun addition. Each episode ends on a slight cliffhanger and of course, I am sad to see Shingeki no Bahamut: Virgin Soul come to an end!
2. Ballroom e Youkoso
Fujita Tatara is your normal middle school student without any real inclination or direction. That is, until he happens to come across a dancing studio and falls in love with the sport of ballroom dancing. Now, Tatara may be a beginner but he's eager to give the world of ballroom dancing his best shot.
I'll be honest, when Ballroom e Youkoso first came out, I thought it was going to be for the fujoshi out there. I thought Ballroom e Youkoso would be among the likes of Free! and Days!, but in fact, Ballroom e Youkoso is all sports and all shounen in a way that Free! never was. It's probably one of the most shounen-like of all the sports anime I've seen. Maybe it's because of that or strange art style that kept me watching, but I have to say, Ballroom e Youkoso is one of my top anime of the summer season! It's funny, engaging, and the characters are really enjoyable. I have never had an interesting in ballroom dancing since I have no ability to dance, but I love this anime. Ballroom e Youkoso was a great surprise for this season!
3. Aho Girl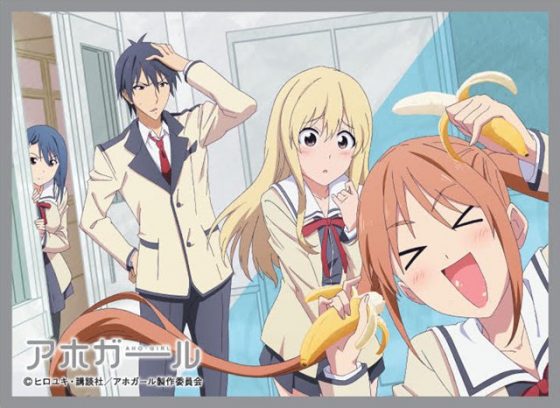 Hanabata Yoshiko is the definition of a complete idiot. She just cannot seem to do anything right. She studies hard for all of her tests but gets straight zeroes. Yoshiko isn't very talented either. However, she loves bananas and her childhood friend, Akkun even when Akkun wants nothing more than to get away from Yoshiko. Yet, Yoshiko is happy-go-lucky and never stops smiling or trying her best.
Strap yourselves in because Aho Girl is one fantastic anime. Usually, I find anime humor to be lacking. Anime like Gintama are hit or miss, but Aho Girl manages to hit all the right notes all of the time. Sometimes Aho Girl reminds me of the pure stupidity of hanging with my best friends when we are just goofing around. Sometimes Yoshiko shocks me by her obtuseness. Yoshiko also has a few friends, and her mother, who just can't stop with their hilarious antics. I don't want to spoil too much about Aho Girl, otherwise it wouldn't be funny, but I will say that Aho Girl is a great anime worth watching, and it rightly deserves the title of best comedy of the season.
4. Made in Abyss
A large abyss appeared once and since then, people have been attempting to explore its vast depths. The Abyss is an enormous pit with many strange and mysterious creatures and items. Adventurers and explorers are drawn to its mysteriousness. Here, they are called Cave Explorers. In a town nestled near The Abyss lies an orphan named Riko who wishes to follow in her lost mother's footsteps and become a Cave Explorer. One day, Riko comes across a strange robotic boy from the abyss as well as her mother's old white whistle which will be the start of a whole new adventure.
As I've stated before to people as well as in one article or another, Made in Abyss is completely deceiving. You are first misled by the cute chibi-style kids features in the anime, but the dark tones in the animation style speak of another story. As you delve deeper into Made in Abyss, you will be shocked, if not disgusted, by the events that go on. It may not be for the weak of heart. Still, it's a really great anime and I'm glad I didn't just judge it based on its art style and drop it mid-first episode.
5. Hajimete no Gal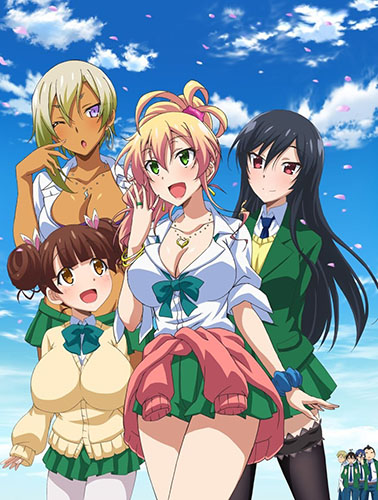 Hashiba Junichi is a single high school boy in a school seemingly full of overly affectionate couples. In a do-or-die way—or as a prank—Junichi's friends send a love letter to the class gal, Yame Yukana, from Junichi. The stereotype is that gals are easy. Despite the love letter being false, Junichi is forced to go along with the plans and somehow lands himself a new gal girlfriend. However, that's not going to be the end of it for these two! There's a lot more drama and unexpected events to unfold!
Hajimete no Gal has had mixed reviews amongst the anime community but as far as anime from this season goes, Hajimete no Gal is in the top. It is unexpectedly funny and despite being ridiculously ecchi—the first scene in episode 1 is literally a censor because Junichi is looking up Yukana's skirt—Hajimete no Gal reminds me a lot of Prison School in the way that the characters take themselves a little seriously but all of it is just stupidly funny. Even the ecchi scenes are so far overdone that it's clearly to make fun of itself for being an ecchi anime. Sound familiar to anyone? I also have to say that the side characters are extremely funny, which is unusual for a lot of anime. I love Junichi's glasses friend who reminds me of Gakuto from Prison School, but the creepy lolicon makes me laugh too by how absurdly creepy he is—NOTE: I do not condone pedophiles!—but the cast is great and there's no real character that is lacking. Even Yukana's best friend, Ranko, ranks amongst my top favorite characters! If you are looking for something that's really not taking itself seriously and makes fun of all that is ecchi, then you're in for a treat with Hajimete no Gal.
---
6. Boku no Hero Academia 2nd Season
There is no point in really introducing this anime because why are you not watching it? Like seriously, are you an anime fan? Then you know what this series is about. Now, this season focused on the battles between students for the first half of the season and then we saw the villains return with the attack on Tenya's older brother and Midoriya going for more training. It culminated in the students having to take tests against the teachers, and ended on a rather good note in that the finale did not feel like one. Rather, it felt like a series intro into a new season.
This season of Boku no Hero Academia was just so PLUS ULTRA it is not even funny. I normally avoid shounen anime like the plague because they tend to follow the most stereotypical setups and rarely have a likeable main character, but the way that Boku no Hero Academia does it is just so perfect! There is so much diversity when it comes to characters that there is a character for everyone. The highlight for me was seeing Todoroki's backstory. That took him from meh to best boy. I will fight you if you disagree. 10/10 the best show I watched all season.
7. Re:CREATORS
Right on the heels of Boku no Hero Academia was the excellent work that was Re:CREATORS. Called the anti-isekai for its deconstruction of the most overused genre out there these days, Re:CREATORS is all about the characters from stories being summoned into our real world. When they are all brought here though, they do not all align themselves with Altair, the woman who has brought them there. Rather they split into two factions, those who are with Altair, and those who resist her chaos and madness. Those who resist her meet up with Sora, a boy who somehow is all at the center of it all. Thus their story plays of of being summoned to our world and not him being summoned to theirs.
Re:CREATORS was an excellent story from start to finish touching on personal struggles, cooperation, growth, and suicide. Leave it to Rei Hiroe to create something after Black Lagoon that would be this good. Does it surpass it? No. Was it a great anime? Yes. Again here too there was a diverse cast and as long as you were not rooting for mamika (too soon?) then you were bound to enjoy the journey that they went on. Admittedly I wanted to see more of Blitz, but we cannot get all that we want right?
8. Kakegurui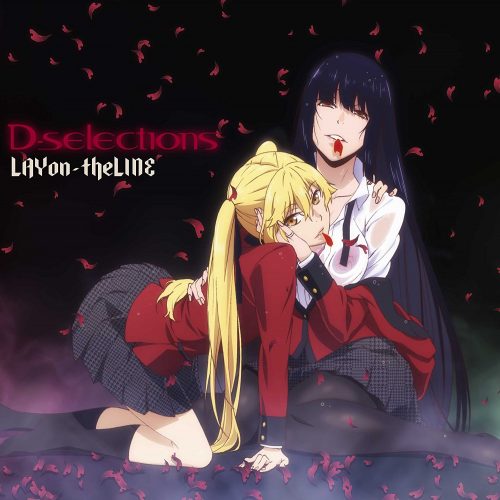 Jabami Yumeko transfers into a new school and is immediately challenged to a gambling game. You see, at her new school, no one cares about grades, sports, or friendship. What matters is how good of a gambler you are. That is how you determine both your social status as well as your future. Jabami crushes her challenger Mary, and immediately Mary is considered to be a housepet and is a slave to those around her. The thing though is that Yumeko is not about winning. Rather she is about the gamble and the thrill of not knowing what is going to be the outcome. That is why she gambles. Not cash. Not glory. Not notoriety. It is all about the thrill or the rush.
With Kakegurui, the bets will have you on the edge of your seat with each episode as you try to deduce how Yumeko is going to win. She does lose, but whether or not that was lady luck or someone cheating, she doesn't know. However, what she does do, is go through the school working her way up to the student council president who sits on high and has designed the school this way. Yumeko does not care and crushes everyone in her way without mercy. The thrill of seeing her not only bet her fate, but win it back and explain how she did it is what makes Kakegurui so great. I can only hope we get another season since that is what the ending hinted at!
9. Princess Principal
London has been split into two separate regions/countries following a war. They are split by a wall in this steampunk fantasy anime. There within the Kingdom side, there is a school. While most students are there just to further their studies, there are five girls who are not. They attend classes, but they are actually part of a secret cell of spies whose job is to take out those who oppose the government and resist the duke of Normandy and his nefarious schemes. These girls are spies; living creatures who tell lies.
When it came to Princess Principal, I was torn at first because with the characters all being little girls, it looked almost as if they were just going to be moe 99% of the time and slide a knife into the back of a target and call it even. Rather, each character was given a sad backstory that added depth to them, they were very serious about their missions and were constantly talking about them, and the soundtrack was stellar. Each episode was interesting and the series was aired out of order which meant you had to pay attention to see if the current episode was before or after the last one you saw. Sure, there were cute moments for those who were looking for them like when Chise challenged that man to a duel, but it was not overly sugary sweet making those moments enjoyable as well. The best part too was how dark the series ended up being.
10. Tenshi no 3P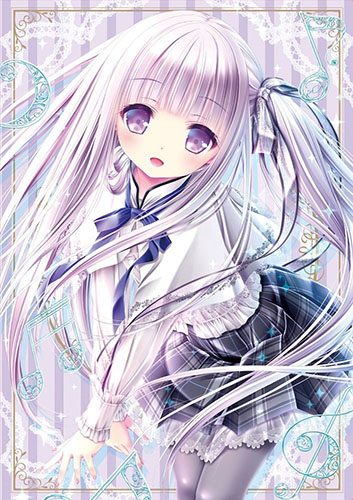 Kyou Nukui is a shut in who does not go to school. You see, he was mocked for poetry that he wrote in school and because of it, he no longer goes to school. Instead, he spends his days writing and creating music that he uploads online. One day, an email comes that asks him to meet people about work. It turns out that the person or persons, are fifth grade little girls. When he tries to back away without being seen, Nozomi puts her foot down and says that if he runs, she will scream for the police and then say that he touched them. Forced to listen, they ask for help with producing their band. Thus his journey of growth and helping these three girls and getting closer to them begins.
I have no illusions about this show. I knew what I was getting into when I watched it and I rather enjoyed it. There was the typical little sister who wanted onii-chan's love and then three girls all have different personalities. There is the high school girl who obviously likes him, and then we even had the two island girls as well! Each with their own personalities. I have to say that I enjoyed all of them with maybe Nozomi having a very small lead over the others. What I really liked about this anime too was that it pushed Kyou out of his self-inflicted isolation as well as allowed him to grow while helping Jun, Sora, and Nozomi. The Opening was actually rather good too. This show was great. If you are just here for the lolis, then you will enjoy it. If you are here for the story and jokes, then you will also enjoy it.
---
Final Thoughts
That wraps up our top summer anime. While there was a litany of shows that did air, these were the ones that stood out enough to us to write about. What about you though? What were your summer shows? Let us know below!
---