The 2017 year has come to a close and yet, many of us are still buzzing with many of the great anime from last year. One genre that really had us talking was drama, as many of the drama anime for 2017 left us feeling quite fulfilled, or unfulfilled. From romance to family drama, the 2017 drama anime did have us in knots until the very end. And that is why, today, we are going to bestow upon you the best drama anime for 2017!
If you don't know where to start or which drama anime were the best last year, let us at Honey's Anime be the ones to give you the heads up. We've done the research. We've watched the drama anime for 2017. We heard the popular opinion. That is why this is our top 10 best drama anime for 2017!
10. Vatican Kiseki Chousakan (Vatican Miracle Examiner)

Episodes: 12
Aired: July 2017 - September 2017
In Vatican City exists a group with the shole purpose of investigating so-called miracles that occur all over the world. This organization, in the Holy Land of the Catholic people, and its priests are given the title of miracle investigators and the organization is called Seito no Za (Assembly of Saints). Vatican no Kiseki will follow the story of two brilliant priests, Robert Nicholas and Hiraga Josef Kou, as they seek out so-called miracles and find out the truth behind such "miracles".
If you love creepy rumors and strange "miracles," you'll find Vatican Kiseki to be one heck of a show. It takes the horror elements of most horror movies involving catholicism and turns it into a rather interesting anime. There are several story arcs held around the world and you'll get to see how Robert and Hiraga investigate these ghastly miracles all while finding out just what happens to the people involved.
---
9. Seikaisuru Kado (Kado: The Right Answer)

Episodes: 12
Aired: April 2017 - June 2017
Shindou Kojirou is a rather stoic government official who relies on his rational in order to become a master negotiator with a great reputation. One day, while about to take off for a business trip, something unusual occured. An enormous cube materializes and consumes Kojirou's entire plane. In Japan, authorities are trying to get the people back and figure out what the cube is. Inside the cube, Kojirou ends up speaking to a Yaha-kui zaShunina who takes the form of a human. This entity requests Kojirou's assistance with negotiating. Yaha-kui zaShunina merely wishes to advance humanity.
Seikaisuru Kado is a rather interesting anime that deals with negotiating and the fate of Japan. Kojirou and Yaha-kui zaShunina form this relationship out of convenience, but slowly develop to become real friends. While this may not be your usual melodramatic anime, we still get to see how two different living beings interact and converge with each other. If you need to know how things unfold between these two universes, please give Seikaisuru Kado a chance.
---
8.Ballroom e Youkoso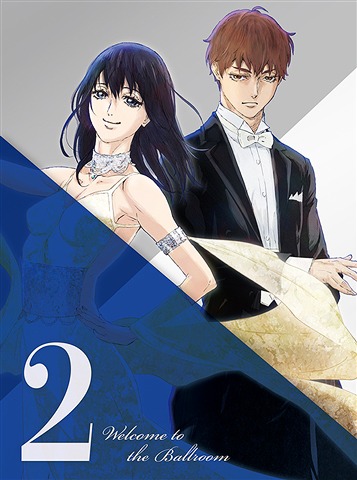 Episodes: 24
Aired: July 2017 - December 2017
Fujita Tatara is a middle school student without a clue as to what he wishes to do with his life. One day, he comes across a dance studio and is drawn to the sport of competitive ballroom dancing. Upon finding a new love for this sport, Tatara gives it all in order to dance and compete amongst the top dancers. Tatara now dreams of one thing: becoming a great competitive dancer!
Ballroom e Youkoso was a strange anime this year, but it still managed to capture a lot of fans who enjoy shounen anime. Tatara wants nothing more than to become a better dancer and so, he challenges himself and takes on new partners in order to continue competing and advancing his skills. This has led to drama between his partners as well as others who may be involved. Tatara will go against the most difficult dancer and discover that perhaps, he may or may not have the skill to compete against them. Ballroom e Youkoso is an anime about one boy's love and struggle with the art of ballroom dancing.
---
7. Kakegurui

Episodes: 12
Aired: July 2017 - September 2017
Gambling is as addictive as it is cunning, and many of the high rollers know this well. Hyakkaoau Private Academy is a school with such high rollers who use their riches to gamble their way to the top or end up as dogs with millions of yen of debt. Students' statuses can tip at the drop of a hat with everything at stake. It is here that a mysterious girl named Jabami Yumeko transfers to, and Yumeko is a girl who knows the love of gambling well.
Kakegurui is a rather interesting anime for 2017. While it may not sound the most dramatic, throughout the anime, viewers got to see as characters fell apart at the seams trying to win at these ridiculous duel of luck. Is it cheating? Is it worth putting your life on the line? Just what are you willing to give up in order to take down the rest? Kakegurui is an anime with everything on the line and that's what makes it such a worthwhile drama anime for 2017. Watch as your favorite characters lose everything or win it all, and all the consequences that come with each outcome.
---
6. Kuzu no Honkai

Episodes: 12
Aired: January 2017 - March 2017
Love can be painful. It can be endless, especially if it's unrequited love. Yasuraoka Hanabi knows this well as she has been in love for a long time, but the object of her affection loves someone else. Unable to quench her thirst for love, Hanabi turns towards those around her for affection in a way that slowly hurts the most important in her life as well as herself.
Kuzu no Honkai was a very complicated drama anime of 2017 with love webs and characters who were spiraling downward. Hanabi would make promises and then break them in favor of hurting herself more, which only led to more of the same from other characters. While Kuzu no Honkai may have only been 12 episodes, the amount of drama that is contained within those episodes is incredible considering the number of characters introduced into the story. If you are looking for complicated love webs and self destructive behavior, Kuzu no Honkai is a drama anime of 2017 that has it all.
---
5. Sakurada Reset (Sagrada Reset)

Episodes: 24
Aired: April 2017 - September 2017
There is a special town called Sakurada where people have powers. However, when they leave the town, their powers disappear. It is here that our main character, Asai Kei, lives with the power to remember everything. He meets a girl named Haruki Misora who has the power to go back in time to "reset" the events that have happened. Together, the two will use their powers to help out others who may have experienced trouble in their life. Along the way, they hear rumors of a MacGuffin stone that may have more importance than being just a rumor.
Sakurada Reset is an interesting anime with lots of twists and turns. We have a very quiet Misora who appears to want nothing more than to do Kei's bidding and Kei, whose past is more complicated than we know. Then new characters continue to enter into Sakurada Reset to further complicate the plot and character relationships. This mysterious town will continue to become more complicated and there are so many more mysteries to uncover in Sakurada than you could ever dream. If you liked anime like Shinsekai Yori, you will enjoy Sakurada Reset.
---
4. Princess Principal

Episodes: 12
Aired: July 2017 - September 2017
Set in the 19th century in an alternate world, the Albion Kingdom's capital, London, has been divided by a wall that separates east and west London. It is in this kingdom that give girls attend the Queen's Mayfair, a famous academy known for its tradition. These five girls are special, however. They are actually spies who each use their special abilities in order to accomplish their missions. Along the way, the Princess of the Albion Kingdom discovers them and requests to work with them in order to become queen.
Princess Principal was a surprising anime that wow'd viewers in the summer anime season. While it may first appear to be some sort of moe anime with an all girl cast, the story becomes a lot deeper as we delve into the darkness that is hidden behind each girl. Why is it that they work as spies? What do they aspire for in life? What did they leave behind in their quest for work and information? These girls are more than they appear and you can be sure that this anime will be full of great twists and plot like a great drama anime should!
---
3. Inuyashiki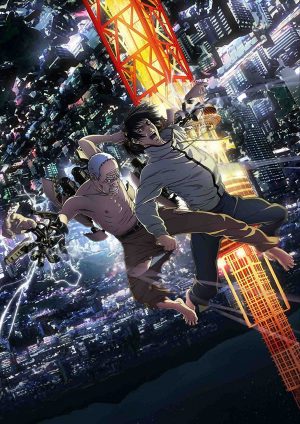 Episodes: 11
Aired: October 2017 - December 2017
Inuyashiki Ichirou is a fifty something year old man who doesn't seem to be happy with his home or work life. Then one day, Inuyashiki gets even worse news: he has cancer. Just when he is about to give up on everything, Inuyashiki gets into a strange accident and is rebuilt to be something out of this world. With his new found abilities, Inuyashiki decides to save lives and help people. However, a high school student was also involved in the accident and received the same powers, but he's not about to use them for good just yet.
Inuyashiki was an anime that really ignited our emotions within the first episode with Inuyashiki's desire for life despite his hateful family and the rotten people that live in Tokyo. We really felt our blood boiling. However, Inuyashiki is a seinen anime that really rings true to its genre. We see that evil is not quite white or black with complications involving our antagonist, Hiro. What about the other characters who have some good in them? Inuyashiki is a thought provoking anime that makes us question what is right and who we root for when people show they might have a bit of humanity in them. Despite being only 11 episodes long, Inuyashiki will be quite an enjoyable watch for many fans in love with drama with a rather satisfying conclusion like no other.
---
2. Shuumatsu Nani Shitemasu ka? Isogashii desu ka? Sukutte Moratte Ii desu ka? (WorldEnd)

Episodes: 12
Aired: April 2017 - June 2017
Beasts have nearly wiped out humanity. The lone survivor is Willem, a man who had been in a deep sleep for hundreds of years and has just awoken. The Beasts have yet to be defeated, but the only things able to fight against the Beasts are Carillon, holy swords wielded by fairy soldiers. Unfortunately, these same fairy soldiers will die upon using up all of their powers to wield the Carillon against the Beasts.
It's hard to discuss the drama in WorldEnd without spoiling too much of its plot. It starts off building off the story for both main characters, and as the story goes on, we see more and more tragedy befall the characters, especially one of them in particular. There is tension between those who are disfigured and not. Willem finds himself working at an orphanage of young girls who will be used as weapons. There is war brewing to help save what is left of humanity. Everything brews together to create one of the most enjoyed drama anime of 2017.
---
1. Shouwa Genroku Rakugo Shinjuu: Sukeroku Futatabi-hen

Episodes: 12
Aired: January 2017 - March 2017
Yotarou has thrown away his young ways to take the name of Yurakutei Sukeroku III! With his master's support, Yotarou has also reached shin'uchi status. Rakugo is becoming less popular these days and Yotarou is taking on more responsibility than ever before. He is filling in as a husband to the single mother, Konatsu. There is a lot on Yotarou's shoulders. Just how exactly will he be able to handle all of it?
Shouwa Genroku Rakugo Shinjuu: Sukeroku Futatabi-hen is hailed as one of the best drama anime of 2017 and for good reason. While the narrative starts off a bit dull, you find yourself quickly drawn in as you learn about each character, their hardships, and their present situation. The characters will truly pull you in and you'll find yourself developing a deep emotional connection with many of them as you watch as they proceed through their lives. Things are becoming more complicated in this sequel and there's bound to be many twists and turns along the road. If you loved the first season or love drama, you know you just have to watch Shouwa Genroku Rakugo Shinjuu: Sukeroku Futatabi-hen.
---
Final Thoughts
With that, folks, we draw our top 10 best drama anime for 2017 to a close. it was a tough decision, but we think we did a pretty good job. Don't you agree? Or maybe you don't. Please let us know which drama anime for 2017 belong on this list and which ones you would rather get dropped all in the comments below!
---