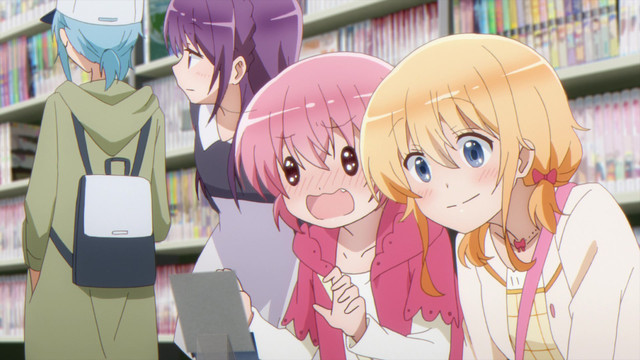 Throughout 2018, there were tons of fantastic anime that gave off relaxing atmospheres and helped heal our souls. These iyashikei anime were some of the best shows of the year. Today we are going to look at the best iyashikei 2018 had to offer. We will be looking at the characters, art styles, stories, and anything else that help give the series their soothing nature. Now join us as we take a look at the top ten iyashikei anime of 2018.
10. Slow Start

Episodes: 12
Aired: January 2018 - March 2018
Thanks to an untimely illness, Hana Ichinose missed out on her high school exams. Afraid of what everyone would think of her, Hana moves to a new city and starts living in her cousin's apartment building. Now starting high school a year later than everyone, Hana worries about being alone at a new school with no friends to rely on. Despite her shyness, Hana is able to quickly befriend a group of girls. Now alongside her new friends, Eiko Tokura, Kamuri Sengoku, and Tamate Momochi, Hana strives to work hard and catch up to her peers.
Slow Start captures the essence of iyashikei with its moe elements. The story is simple and there isn't much going on, but the simplicity creates a nice relaxing experience and allows for the characters to carry the series. The best part of Slow Start are the different characters and their interactions with one another. The characters all have cute designs and always have interactions that are either funny or heartwarming. Slow Start also gives you a nice colorful art style and some soft music to add to the relaxing atmosphere of the series.
---
9. Rokuhoudou Yotsuiro Biyori

Episodes: 12
Aired: April 2018 - June 2018
Rokuhoudou Yotsuiro Biyori follows the story of our men working at the Rokuhoudou tea shop. Each of the four guys has their own specialty that helps make Rokuhoundou run. The owner Sui makes the tea, Gre creates the latte art, Tokitaka cooks the food, and Tsubaki makes all kinds of sweet treats. Together, the four guys are able to help their customers relax while creating one o the best dining experiences around.
The anime brings together some of the best elements of the other anime on this list. Like with other anime set in a cafe, there is some delicious looking food that are best-looking parts of the series and combines it with some of the light-hearted character moments of a story driven anime. What we get is an anime with a relaxing atmosphere and some great slice-of-life elements. The four main guys are all great and compliment each other's personalities and make for some interesting character dynamics.
---
8. Isekai Izakaya: Koto Aitheria no Izakaya Nobu (Isekai Izakaya: Japanese Food From Another World)

Episodes: 24
Aired: April 2018 - September 2018
Somewhere in Kyoto, there is a bar called Izakaya Nobu. Inside of Izakaya Nobu lies a secret door that connects to a whole new world. The door allows the people of this new to the world to come in and take a load off as they experience some of the best food Japan has to offer. Chef Nobuyuki Yazawa and his server Shinobu Senke are able to provide a unique experience for every customer that comes through the door.
Much like the characters in the anime, whenever we get to visit Izakaya Nobu we are treated to a laid back atmosphere and some delicious looking food. We get to watch as the characters that come into Izakaya Nobu experience these new foods for the first time. Seeing the characters experience pure bliss from the food they are eating in a laid back bar creates a light-hearted viewing experience. The anime also has a segment at the end of each episode showing you how to make one of the delicious looking dishes featured in the anime.
---
7. Comic Girls

Episodes: 12
Aired: April 2018 - June 2018
Moeta Kaoruko is not your average high school student. Kaoruko is a manga creator, who uses the pen name Chaos. Unfortunately, her manga came in at the bottom of the read survey ranking. In hopes of motivating her, Kaoruko's editor recommends that she move into Bunhousha Dormitory, a dormitory that only houses female manga creators. Along with her new roommates Koizuka Koyume, Irokawa Ruki, and Katsuki Tsubasa, Kaoruko strives to make her manga better than it ever was before.
Another one of the year's best moe iyashikei anime, Comic Girls has a simple plot and cute and funny characters that make it a great anime to unwind with. The girls all have hilarious personality quirks that help add variety to the comedic elements of the series. The whole cast is very expressive and energetic, and there are plenty of moments where their different personalities get to shine. Comic Girls also has a colorful art style that really helps bring the whole thing together.
---
6. Yama no Susume: Third Season (Encouragement of Climb Season 3)

Episodes: 13
Aired: July 2018 - September 2018
Ever since falling and breaking her arm as a kid, Aoi Yukimura has preferred to stay indoors and is deathly afraid of heights. Aoi's childhood friend Hinata Kuraue loves being outside and is often found climbing mountains. Now that the girls have started high school, Hinata invites Aoi to climb a mountain together like they did when they were kids. After reluctantly agreeing, Aoi gains a newfound appreciation for mountaineering.
Season 3 of Yama no Susume brings you all of the light-hearted mountain climbing you love and so much more. This season focuses more heavily on the relationship between Aoi and Hinata and less on hiking through the mountains. Some of the more dramatic moments take away from the light hearted tone of the series, there are still plenty of heartwarming scenes of the group spending time together to help it achieve the relaxing nature found in previous seasons. The anime is at its best when the girls are out enjoying nature, create that familiar and relaxing atmosphere.
---
5. Gakuen Babysitters (School Babysitters)

Episodes: 12
Aired: January 2018 - March 2018
After losing his parents, Ryuuichi Kashima and his younger brother Kotarou had nowhere to go. During his parents funeral, Ryuuichi meets a woman named Youko Morinomiya who offers them a place at the academy she runs. In exchange for a place to stay, Ryuuichi must work as the academy's babysitter. Ryuuichi agrees in order to have a better life for him and his brother. Ryuichi begins his new life taking care of his brother and all o the other eccentric kids at Morinomiya Academy.
Despite the gloomy and depressing setup to the series, Gakuen Babysitters is a really light-hearted and funny series. The large cast of wonderful characters alone makes the anime worth watching. While all of the characters are great, the toddler characters are what make the series really shine, bringing a whole new level of comedy and feel good moments. The colors used in the anime's are are soft and helps set the relaxing mood, making it a perfect anime to watch whenever you need to feel at peace.
---
4. Mitsuboshi Colors

Episodes: 12
Aired: January 2018 - March 2018
Ueno is home to a group that protects the peace in the city. The group is called the Colors, and they meet in the corner of one of Ueno's parks. Colors is made of three elementary school girls. Mitsuboshi Colors follows the lives of Yui, Sacchan, and Kotoha has they hang out, play games, and solve various problems for the people of Ueno.
Mitsuboshi Colors captures the essence of childhood. The story follows the fun and imaginative adventures that make up the girls lives. Watching the girls going around defending the city from "evil" made for some of the most heartwarming moments of the year. Outside of the story, Mitsuboshi Colors also has a cute art style and a solid soundtrack that help add to the lightheartedness of the series.
---
3. Sora yori mo Tooi Basho (A Place Further Than The Universe)

Episodes: 13
Aired: January 2018 - March 2018
Mari Tamaki has always wanted to do something bigger with her life. No matter how hard Mari tries to do something, her fears always stop her from moving forward. That all changes when she meets Shirase Kobuchizawa, a girl who is in search of her lost mother. Seeing Shirase focused on saving money for an expedition to Antarctica, Mari decides to chase her dream and join the Shirase. Together with Hinata Miyake and Yuzuki Shiraishi, the girls are able to set out on their journey to Antarctica.
Sora yori mo Tooi Basho is filled with many fantastic elements that make it one of the best anime of the year. Mari and the other girls share a genuine and pure friendship that gets built up over the course of the series. These bonding moments and the setting help give the anime its iyashikei moments. The story of Sora yori mo Tooi Basho is bit deeper than some of the other anime on the list and has serious moments that really make it interesting. While the story has a variety of different emotions and themes, it never loses the iyashikei feeling to it.
---
2. Hakumei to Mikochi

Episodes: 12
Aired: January 2018 - March 2018
Hakumei and Mikochi are two tiny girls that live in the forest full of wondrous things. Thanks to their small size they are able to do things like ride insects across the skies. The two girls share a tiny house made inside of a tree and spend their days exploring the forest. With tiny human-like creatures like Hakumei and Mikochi, talking animals, and so much more there is always something going on in the forest.
One of the more unique anime of the year, Hakumei and Mikochi has a perfect style and setting to make it one of the best iyashikei anime of the season. The anime has everything you want from a great iyashikei anime, with cute characters, a simple and relaxing story, and a beautiful world. There is a wide variety of characters from the human characters to the talking animal characters, every character brings a new and interesting dynamic to the series. While the story and characters are great, the anime's strongest aspect are the visuals. Every aspect of the visuals is on point, with great character designs and brightly colored and beautiful backgrounds.
---
1. Yuru Camp△ (Laid-back Camp)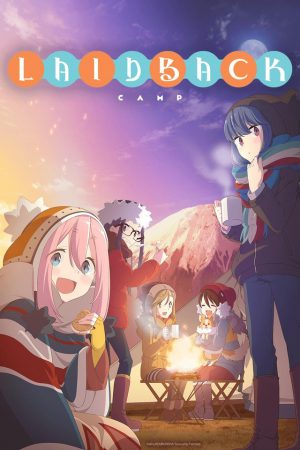 Episodes: 12
Aired: January 2018 - March 2018
High schooler Rin Shima is unlike other girls her age, as she has taken up the unusual hobby of solo camping. One day while camping at the base of Mount Fuji, Rin runs into a girl named Nadeshiko Kagamihara who accidentally fell asleep after riding her bike up the see the mountain. Rin invites Nadeshiko to her camp and feeds her dinner. Despite their drastically different personalities, Rin enjoys her time with Nadeshiko and starts to think that camping with others may not be so bad. Nadeshiko also enjoyed her new experience and decides to join the Outdoor Activities Club at her new school.
Yuru Camp captures the essence of iyashikei in many different ways that makes it the best iyashikei anime from 2018. The story of is lighthearted and relaxing. Watching the girls travel around and camping in all kinds of different places makes it a great anime you can watch and unwind with after a long day. Yuru Camp is also incredibly visually soothing with the soft art style, beautiful backgrounds, and some fantastic character designs.
---
Final Thoughts
That's it for our list of the top 10 iyashikei anime of 2018. Hopefully, reading about all of these fantastic relaxing anime made you want to sit back relax and watch some anime. What did you think of our list? What was your favorite iyashikei anime from 2018? Let us know in the comments.
---
---