Slice of life anime, as you can infer from the words, depict the everyday life of ordinary people. Sometimes, slice of life anime can have Sci-Fi elements, or can involve fantasy; the thing that doesn't change, though, is that the story focuses on a sequence of events in a character's life. Slice of life anime come with all kinds of shades: they may have a serious tone, or may be comedy-oriented; their plot may, or may not progress; their characters may, or may not be in-depth analyzed. In short, slice of life shows can suit everyone's taste! Some of them, though, are especially created for a female audience. Therefore, in this ranking, we'll talk about 10 amazing slice of life anime very popular among the girls! Stick with us until the end to discover them.
10. Binan Koukou Chikyuu Boueibu LOVE! (Cute High Earth Defense Club LOVE!)

Episodes: 12
Aired: January 2015 – March 2015
Usually it's up magical girls to save the world, but it's not the case with Binan Koukou Chikyuu Boueibu LOVE! In fact, in this non-conventional show there are five boys fighting in order to defend people deprived of love. Summoned by a pin wombat giving them the power to turn into princes, our five protagonists will fight against the evil. But when they're not fighting, they struggle with school clubs, ending the day hitting the hot spring!
With Binan Koukou we have the first evidence that slice of life anime can involve fantasy, and supernatural elements. In fact, the story follows the daily struggles of five boys who just want to play, or do nothing, at least until Wombato – the pink wombat – appears in front of their eyes and turn them into princes of love! We don't think we need to explain why this show is intended for a female audience, but we can add that the characters can also be easily shipped by the fujoshi, as there are hints of BL here and there!
---
9. Watashi ga Motete Dousunda (Kiss Him, Not Me!)

Episodes: 12
Aired: October 2016 – December 2016
Kae Serinuma is a high school student, and a real otaku. She has a big passion for BL, and reads a lot of manga, and watches a lot of shows. She is very fat, but doesn't care about her looks: she only cares for BL. When her favorite character dies, though, she gets so depressed that she loses weight. That's the exact moment when the boys begin to notice her! But Serinuma is an otaku to the core, and she's not used to being popular, so when cute boys court her, she just begins to ship them with each other!
WataMote is very popular among girls, all the more among the fujoshi! Probably because Kae Serinuma is a relatable character: she is an otaku, a dreamer, and a fujoshi who ships the hotties of her school. This slice of life show follows her antics, and her new daily life as a popular girl. It goes without saying that each episode is full of gags, and absurd situations that will make you crack up! Another reason to watch it? It's a feast for the eyes.
---
8. Nijiiro Days (Rainbow Days)

Episodes: 22
Aired: January 2016 – June 2016
Nijiiro Days revolves around four high school boys, and their delusional love stories. Natsuki, Tomoya, Keiichi and Tsuyoshi have totally different personalities, yet they are best friends, get along very well, and always help each other. Day after day, they will go through teenage angst, learning about love, and how complicated it is to face their feelings!
Nijiiro Days follows the four protagonists' lives, as they grow up and meet their beloved ones. It is interesting to recognize four distinct personalities, and see how they react to certain events. Nijiiro Days has a lighthearted atmosphere, yet it can be both sweet, and very funny. As a slice of life show full of hotties, we highly recommend it!
---
7. Amaama to Inazuma (Sweetness & Lightning)

Episodes: 12
Aired: July 2016 – September 2016
After his wife's death, Kouhei Inuzuka has been taking care of his daughter Tsumugi, who is a 5-year-old child. Busy with his job, and lacking culinary knowledge altogether, he feeds Tsumugi with ready-made meals from the convenience store. One of Kouhei's students, Kotori Iida, offers to let them have dinner at Kotori's family restaurant. They soon discover that the restaurant is almost always closed, and Kotori often eats alone, as her mother is away for work. That's how Kouhei and Tsumugi begin to frequent Kotori's restaurant, cooking and eating delicious homemade food with her.
Compared to the shows we mentioned above, this slice of life, seinen show has a more serious tone to it. For as funny as some scenes may be, it's a show revolving around a widowed father who is busy with his job, but at the same time tries his best to see his daughter happy and smiling. This heartwarming story follows Kouhei and Tsumugi's lives, exploring the meaning of family, and how sharing meals with the people you love is valuable. Girls will find this slice of life anime simply adorable!
---
6. Sakamoto Desu ga? (Haven't You Heard? I'm Sakamoto)

Episodes: 12
Aired: April 2016 – July 2016
On his first day of high school, Sakamoto's charm has already attracted all the girls, and left the boys fuming with jealousy. He is clever, and handsome, and excels in whatever he does. Many tries to derail him, or trip him up, yet Sakamoto stays cool and gets out of trouble without efforts. While trying to reach his level of perfection, his classmate, schoolmates, and even teachers will learn a lot at their expense.
Sakamoto Desu ga? follows Sakamoto's life as he tries to get through the day solving problems, getting out of trouble, and showing off his excellence. While the girls can't stop admiring him, the boys can't stop trying to make him fail. Sakamoto Desu ga? is a humorous slice of life show, with a lighthearted atmosphere. It's impossible for girls to not love Sakamoto and his deeds, and that's why it had to be mentioned here.
---
5. Kimi to Boku. (You and Me.)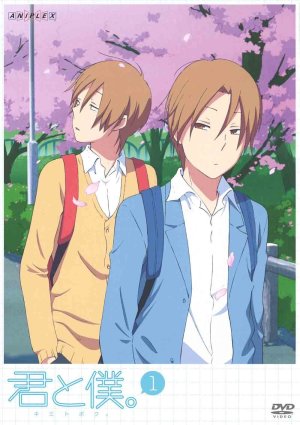 Episodes: 13
Aired: October 2011 – December 2011
Kimi to Boku revolves around four high school boys, who have known each other since their childhood, and attend school together. Yuuki and Yuuta Asaba are twins, Shun Matsuoka is the kind one of the group, and Kaname Tsukahara is the class head. They consider their school life boring; an infinite cycle of repetitive things. But the situation is about to change; in fact, the new transfer student Chizuru Tachibana, with his sparkly personality, will light things up, and add adventure to their routine!
Kimi to Boku portrays the daily lives of four friends who deal with boredom. When a boy who is half German, and half Japanese enters their lives, they discover a new world through his stories from a distant country. Kimi to Boku is a slow-paced story, but very intriguing for those girls who like uncomplicated anime just to relax. Give it a try, all the more because these boys are the cutest!
---
4. Kimi ni Todoke (From Me to You)

Episodes: 22
Aired: October 2009 – March 2010
Sawako Kuronuma is timid and quiet, and her behavior is easily misunderstood by her classmates. In fact, they think she is mean, and scary just like a character from a horror movie. Sawako suffers for her situation, as she only wishes to make friends and go through high school years happily. Kazehaya is her bright classmate, and all what Sawako would like to be: popular, smiling, and always surrounded by friends. When Kazehaya notices Sawako and begins talking to her though, both their lives begin to change for the better, and Sawako's true personality finally pops up.
Kimi ni Todoke is the sweet story of a high school girl whose personality gradually shows to the fullest, granting her a lot of friends, and a caring boyfriend. The story portrays the daily lives of Sawako and the people she comes to know; each of them with a sparkly personality, facing the teenage concerns about love, life, and the future. We recommend this slice of life anime to every girl, as it is very relatable, and at times even funny. Kimi ni Todoke is full of good vibes, and it debates various themes such as loneliness, fear of not being accepted, and the like, with a lighthearted tone.
---
3. Kuragehime (Princess Jellyfish)

Episodes: 11
Aired: October 2010 – December 2010
When she was a little girl, Tsukimi Kurashita went with her mother to an aquarium, and from that moment onward became obsessed with jellyfish. Now, 19-year-old Tsukimi lives with five other otaku unemployed girls, dreaming of becoming an illustrator, but spending her time as a social outcast. Her life is turned upside down when a mysterious woman helps her save a jellyfish in a pet store, and then begins hanging out at the girls' apartment. Confident, fashionable, and beautiful, she is the polar opposite of Tsukimi, yet the woman hides some secrets, as well...
Kuragehime is a rare gem in the world of the josei and slice of life anime. Tsukimi Kurashita has low self-esteem issues, and is unable to see her own potential, plus she lives as an outcast, daydreaming instead of working hard for her dreams. It's amazing how the meeting with the mysterious woman will turn the tables; we follow Tsukimi's daily struggles, as she begins to get out of her comfort zone. Probably once in a lifetime, every girl faces the same troubles Tsukimi goes through! And that's why we felt like recommending Kuragehime from the bottom of our hearts.
---
2. Nodame Cantabile

Episodes: 23
Aired: January 2007 – June 2007
Born in a distinguished family, Shinichi Chiaki is a first-class musician who dreams of playing in Europe. There's a problem though: due to a childhood trauma, he is afraid of flying. Megumi Noda is a slobby, and less than feminine girl with an innate talent at playing piano. She dreams to become a teacher. When these two polar opposite people meet, magic happens, and while Nodame will push Chiaki to face his fears, Chiaki will become Nodame's direction in life.
Nodame Cantabile is a wonderful, modern fairy tale, full of humor, and non-conventional characters. It shows how, step-by-step, two talented young people build their future together, following their dreams. Plus, Nodame's personality is really something else, and her antics will make you crack up, all the more because Chiaki keeps getting mad at her. If you wish to watch a lighthearted slice of life anime, full of romance, music, and gags, please, consider Nodame Cantabile. It won't fail you!
---
1. Barakamon

Episodes: 12
Aired: July 2014 – September 2014
Seishuu Handa is a self-confident, handsome calligrapher. The perfect image he has of himself, though, is brutally crushed when his award-winning piece is labeled as "unoriginal". His father then exiles his son to the Goto Islands, secretly hoping that Handa will find a new inspiration and learn a thing or two about life. On his first day in the Goto Islands, Handa has his new house invaded by a boisterous child – Naru – and after her, the strangest people keep barging in as if that was their own home. Used to living alone, with little human contact, Handa doesn't feel like he will survive this turbulent experience...
Barakamon is a slice of life anime full of very funny moments, but leaving room for deeper thoughts, as well. The story follows Handa in a completely new environment, having his quiet life turned upside down by neighbors, kids, and locals. The experience on the Goto Islands, day after day, will teach him a lot about himself, and will help him recover the confidence he had lost. Not only that, but the new adventures with his new friends, will give him a new inspiration for what he enjoys the most: calligraphy. Barakamon is a realistic, heart-warming story, with comedic parts that won't fail you. A must-see in the universe of slice of life shows.
---
Final Thoughts
Barakamon puts an end to our ranking of 10 Slice of Life Anime For Girls. Just how we said up above, slice of life shows can be very different from each other, and yet portray sequences of the characters' lives. We really hope the girls out there will find this ranking useful somehow, but we don't mean to discriminate: these shows can be enjoyed by boys as well! So don't be shy, and let us know what you think in the comments below: what other shows could have fit this ranking? What is your favorite slice of life anime? See you next time!
---