Tis the season for romance! XOXO! This article couldn't have come at a better time! Honey's got you feelin' some type of way and it's just in time for that romantic holiday, Valentine's Day! Whether you're cuddling up with your SO or chillin' with buddies for so-called, "Gal/Pal-entine's", we hope that for this special occasion, the time is well spent doing what you all love most, anime binging!
Charging into 2018, we want to reflect on 2017, a year certainly not short of irresistible romance anime. As such, it was pretty difficult gathering a few of the best ones we believe made a big mark this year. Therefore, the choices on this list are special as there are so many series in circulation. So, without further ado, here is our list of top 10 best romance anime for 2017. Let's go!
10. Seiren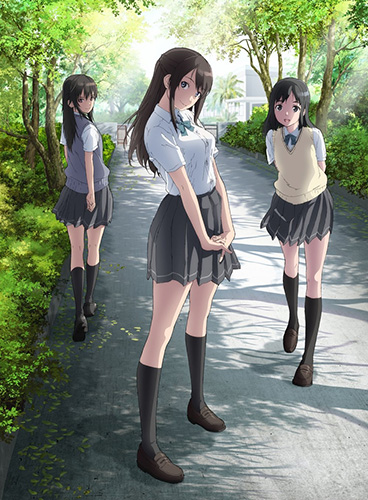 Episodes: 12
Aired: January 2017 – March 2017
Shoichi Kamita is your average student at Kibito Private High School. In the introductory scenes, we watch Shoichi being contemplative, blocked off at one of life's obstacles: what does he want to do after he graduates? In this romantic school comedy, Shoichi is faced with three different girls, all offering their own unique experiences. In each scenario, we observe their romantic memories, and overall, how his life with Tsuneki, Miyamae, and Kyoko essentially unravels.
Seiren expresses the open and endless possibilities of putting yourself out there when it comes to dating and relationships. Shoichi displays that each of his relationships is distinct and special, showing that there isn't any particular route to a successful romance, but only that the experiences must be tried and tested with your partner. Portraying realism along with heartbreak and growth, Seiren is a 2017 romance that shares life's simplicities and perplexities concurrently.
---
9. Masamune-kun no Revenge (Masamune-kun's Revenge)

Episodes: 12
Aired: January 2017 – March 2017
The anime Masamune-kun no Revenge follows the story of a boy named Masamune Makabe. When he was a kid, a girl named Aki Adagaki often bullied him because he was chubby and overweight, calling him, "Piggy". Using this hate as a source of motivation, Masamune works hard, along with the aid of puberty, blossoming into one fine and handsome boy. Looking like a snack, Masamune is ready to exact his revenge on Aki. Working the fine details into befriending her and then breaking Aki's heart, as he slowly works his way into her life, Masamune is suddenly having second thoughts. Something heartwarming unveils and totally catches him off-guard. What could it be? He's falling for his bully!
Masamune-kun no Revenge gives us reason to remember that we must "play nice with others!" The story from beginning to end is absolutely entertaining, as it keeps viewers in suspense with various plot twists. It's funny the way the heart works, as Masamune's vengeance turns into infatuation. Containing bouts of comedy and fanservice, Masamune-kun no Revenge reminds us that hot heads and cold hearts never solve anything.
---
8. Fukumenkei Noise (Anonymous Noise)

Episodes: 12
Aired: April 2017 – June 2017
Fukumenkei Noise is a tale about a girl named Nino Arisugawa and two guys named Momo Sakaki and Kanade "Yuzu" Yuzuriha. The trio was close childhood friends, and as chance would have it, the guys parted ways from Nino. However, six years later, they all unexpectedly reunite in the same high school. Deeply rooted in music, Nino, Momo, and Yuzu are together again in the music club. Will these three be able to rekindle what was lost? or will the changes in time set their relationships off-key?
Our best romance anime for 2017 list isn't complete without a complicated love triangle in the mix! Although our characters are struggling with this intense situation, we as viewers can't help but spectate the drama unfolding before our eyes! The concept of Fukumenkei Noise is nothing new, but what really brings this anime to light is the great, alternative music, it is really upbeat and feet tapping! The story also contains a wonderful balance of lightheartedness and comedy, making each episode fun to watch. In the end, we really are guessing whom Nino will choose, as both guys exude wonderful qualities.
---
7. Gamers!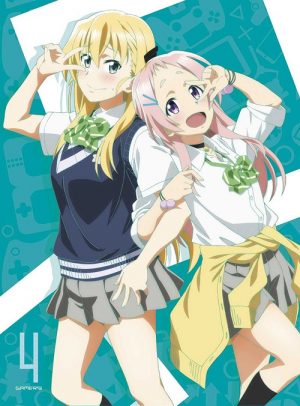 Episodes: 12
Aired: July 2017 – September 2017
The anime Gamers! documents the life of high schooler Keita Amano, just your average kid who enjoys gaming. One day, Keita runs into the most popular and cutest girl in school, Karen Tendou, and is completely wowed. As a guy who games to kill time, Keita is about to be introduced to a completely fanatical side of gaming he's never seen before when Karen invites him to join the school's game club. Shaken to the core, Karen's fascination for Keita becomes somewhat frightening for him, but nevertheless, his uneventful life is spontaneously twisted and chaotic with Karen and the club members now a part of it!
We at Honey's can say that if our high schools had a gaming club, going to school would have been a million times more enjoyable! If anyone out there is fixing to create a club, a game club would be an awesome idea! Additionally, for all the gaming fans out there, this anime is one that can be truly appreciated, as it highlights all sorts of games, not any specific genre. On the subject of romance, Gamers! falls right into this category because it centers on the beautiful sentiment of relationships and coming of age. We become invested in these characters, feeling as they do, and only hope that in the end, the outcome is positive for all parties involved. Save to file R, for romance.
---
6. Hitorijime My Hero

Episodes: 12
Aired: July 2017 – September 2017
Hitorijime My Hero introduces us to Masahiro Setagawa, the neighborhood gang's lapdog. Masahiro never had a group to belong to, but he preferred it rather than being at home. Around this time, word on the street was spreading about a guy called the "Bear Killer" who went around beating up people. The gang calls Masahiro to check out a place where "Bear Killer" was last spotted. Hoping to have more strength in numbers, Masahiro arrives at the scene to a bunch of beat up thugs. "Bear Killer" took them all down! To Masahiro, this guy seems more like a hero than a nuisance. Further into the series, we learn that "Bear Killer" is named Kousuke Oshiba, a new teacher at Masahiro's high school. Additionally, we are also introduced to his brother, Kensuke Oshiba, and his conflicted relationship with childhood friend, Asaya Hasekura.
Hitorijime My Hero is an exciting 2017 anime that is super engaging and entertaining. It has a really great balance of romance, drama, SoL and school elements. It is also a Shounen-Ai that is tastefully executed, making fans out of those who wouldn't normally explore this genre. The characters are all likable and ones we'd definitely root for. Wrapped in a bow, Hitorijime My Hero is a fun and heartwarming viewing experience.
---
5. Kuzu no Honkai (Scum's Wish)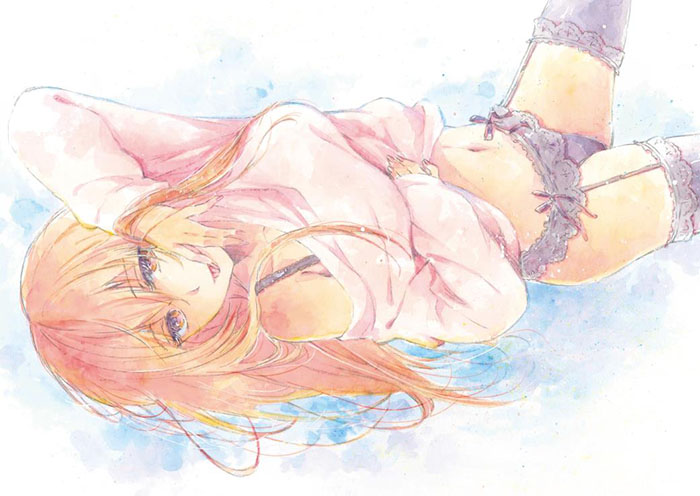 Episodes: 12
Aired: January 2017 – March 2017
In Kuzu no Honkai (Scum's Wish), we are introduced to eight dynamic characters who are all connected to each other in some shape or form: Hanabi Yasuraoka, Mugi Awaya, Narumi Kanai, Akane Minagawa, Noriko Kamomebata, Sanae Ebato, Atsuya Kirishima, and Takuya Terauchi. These eight individuals are smitten with someone, not just a simple crush, but with intense, fiery passion. However, they all can't just reveal their feelings to their love interest, as easy as it seems, because they are plagued with the pain of being in love with someone they cannot be with.
With a beautiful soundtrack and delicate and soft animation, Kuzu no Honkai is one of many outstanding unique romance anime for 2017. We observe our characters experience changes and growth romantically and sexually. With Japanese culture being very traditional about these subjects, being that most are very mum about it, we notice that this anime does not hold back expressing our characters' feelings. Love is something many of us have a hard time figuring out and it's even more challenging as a teen. Kuzu no Honaki reminds us of these barriers we have placed around our heart and that it is easier to recognize these feelings when we let these barriers down.
---
4. Net-juu no Susume (Recovery of an MMO Junkie)

Episodes: 10
Aired: October 2017 – December 2017
Recovery of an MMO Junkie centers on the life of 30-year-old Moriko Morioka. Considering herself an "Elite NEET", Moriko has taken time away from work and responsibilities, i.e. quit her job in search of a more fulfilling life. In her journey, Moriko discovers an MMO game and is instantly hooked. Here, Moriko creates Hayashi, a dashing male character. Sticking out as a total noob, a kind and beautiful character named Lily reaches out to help her. Simultaneously, as real life continues on, several encounters with various in-game players instantly add excitement to Moriko's once uneventful existence.
Coming into adulthood, we can all appreciate a little me time every now and then. Whether it's for a day, week, month or year, the minuscule break from life's routines can provide mental clarity, giving us a chance to figure out the more valuable and meaningful things in life. Net-juu no Susume's Moriko was essentially stuck in a rut and needed to find something to enjoy again. Discovering her love for games and eventually, someone IRL was the break she needed in order to make living enjoyable again.
---
3. Tsurezure Children

Episodes: 12
Aired: July 2017 – September 2017
Tsurezure Children highlights the romantic experiences of several fascinating high school students with some of them possessing the potential of forming into couples. Exposing the delicate nature of puppy love, we are suffering and celebrating with these guys and gals when they learn about crushes, love, heartache, and acceptance. In this anime, we discover our characters' trials through various situations with every step along the way a sweetening affair.
Tsurezure Children boasts fantastic animation, an intriguing storyline surrounding romances with different couples, comedic elements, and a lovey-dovey sensation while watching the guys and girls interact. There is a realistic quality to the plot, such as in the way the youths interact with one another, the trek to and from school, joining clubs for your crush, or gathering after school at the usual hangout; all of which we can totally relate to in some shape or form. Tsurezure Children in its entirety shows that after couples overcome the negative aspects of relationships, the end results clearly define love to be a bittersweet emotion.
---
2. Tsuki ga Kirei

Episodes: 12
Aired: April 2017 – June 2017
Tsuki ga Kirei chronicles the lives of middle school students Kotarou Azumi and Akane Mizuno, as these bright and hopeful individuals pursue their dreams and ultimately fall in love with each other. In their final year of middle school, the two start off as strangers in the same class, but a few chance encounters bring them together. Highlighting the essence of young love, Tsuki ga Kirei documents Kotarou and Akane's love at its many stages.
Tsuki ga Kirei portrays sweet, tender, and innocent love through the eyes of Kotarou and Akane, examining that relationships are not always cut and dried like some imagine it to be but is filled with much heartache, sacrifice, and anxieties. Showing that there is more to romance than enjoying each other's company, we notice subtle details that form the foundation of Kotarou and Akane's romance. As with the variant phases of the moon, these two adorable lovebirds are getting to know the many sides and faces of their relationship.
---
1. Mahoutsukai no Yome (The Ancient Magus' Bride)

Episodes: 24
Aired: October 2017 - Ongoing
The story of Mahoutsukai no Yome centers on a young girl named Chise Hatori. At 15 years old, Chise is auctioned off as a slave with her final bid being five million big ones. The highest bidder, a tall, masked and cloaked gentleman known as the notorious magus, Elias Ainsworth, claims his prize and takes Chise away to his small cottage in rural England. The duo commences a new and exciting magical life together, with adventure and mystery waiting at every turn.
As a peculiar child, it was fate and fortune that brought Chise and Elias together. With 24 episodes in total, this series gives us time in unraveling the story, patiently revealing the budding relationship between apprentice (future bride) and mentor. The overall animation and soundtrack are fantastic, really setting the mood for this magical and fantasy reality. Moreover, the way Chise and Elias interact with one another is very "Beauty and the Beast", having many of us invested in this Disney-like scenario.
---
Final Thoughts
Be still my heart, we've reached the end! We hope you enjoyed our recommendations for top 10 best romance anime of 2017! If you haven't already, make sure to check out all of these great titles! Additionally, stay tuned to some of these romantic hits, as sequels and multiple seasons may be in the works, giving you more to binge on! Woohoo! Let us know if we've missed any other great anime from 2017 by commenting below! Thanks for tuning in friends!
---