There's something about romance anime that gets to us. The joys and hardships of falling in and out of love, the passionate emotions behind each character, or the butterflies and intense, heartfelt moments we share with the characters. Cute romance anime can be described with one word, "AWW!" Aside from its relatable qualities, cute romance anime makes us feel this warm fuzzy feeling. With intense and intriguing storylines that evoke empathy following each scenario, viewers can't help but wait in anticipation, hoping and rooting for the best, and only expecting happily ever after.
So, in the following anime, we present to you ten recommendations for the best cute romance series. We know there are many more adorable, lovey-dovey shows, but here's what we've gathered so far! Here we go!
10. Hatsukoi Monster (First Love Monster)

Episodes: 12
Aired: July 2016 – September 2016
Hatsukoi Monster follows the story of 15-year-old Kaho Nikaidou as she spends a year away from home to attend a new school and dormitory. Kaho was born into a prominent background. So many people go out of their way to be nice to her in order to avoid any conflict. One day, Kaho dodges a near-fatal accident when a tall and handsome stranger saves her life. Rescued by this knight in shining armor, Kaho falls hard for this guy. Wanting to know her hero's name, he responds by telling her she is weird. In another occurrence, Kaho discovers that his name is Kanade Takahashi and with a change of heart, he decides to give their relationship a try. However, a small detail is left out of the picture: Kanade is actually in the fifth grade! Concluding that she does not want to be labeled a cougar, Kaho intends to break it off. However, after spending more time with Kanade, the more attractive he becomes to her.
As this plot presents to us a rare scenario of a high school student dating an elementary student, the essential message of the story reminds us that age is nothing but a number when it comes to romance. With an array of amusing and entertaining characters, Hatsukoi Monster provides a noteworthy and unique viewing experience. Designing the fifth graders to appear as good-looking and mature young men is utterly silly!
---
9. Osake wa Fuufu ni Natte kara (Love is Like a Cocktail)

Episodes: 14
Aired: October 2017 – December 2017
Love is Like a Cocktail follows the story of Chisato Mizusawa and her husband Sora. Chisato is an office gal; pretty, intelligent, and hard working. Sora is a bartender. The couple is as cute as can be, particularly when it comes to spending time with one another. Although Chisato isn't a fan of drinking alcohol, a different side of her emerges when she is drunk and in the company of her husband. A doting and caring partner, Sora tends to her every need. Love is Like a Cocktail highlights the daily lives of these lovebirds, with or without the intoxicating beverages.
With a simplistically sweet storyline, Love is Like a Cocktail is a cute romance anime that is easy to follow with an exceptionally adorable couple leading the series. An original and unique anime, Love is Like a Cocktail is a series that is uplifting and entertaining. As this anime captures the lives of your typical couple, it takes a step further to showcase why their romance is above the rest. Screaming "couple goals," Love is Like a Cocktail oozes cuteness.
---
8. 3D Kanojo (Real Girl)

Episodes: 9+
Aired: April 2018 - Ongoing
Hikari Tsutsui is a mega otaku and the ultimate shut-in, trying to avoid all social functions as much as possible. At school, Hikari's peers continuously pick on him for being creepy and weird, but fortunately, has only one friend, Yuuto Itou, who sticks by him, sharing the same interests. One day, Hikari is assigned to clean the school pool with another student named Iroha Igarashi, a girl with a personality Hikari despises. However, Iroha is friendly to Hikari, even sticking up for him when bullies pick on him. After a while, Hikari sheds his misconceptions about Iroha, and it appears that she may be his first real-life 3D girlfriend! Where's a player's guide when you need it?!
Now loading….3D Kanojo is a fantastic romance anime for the Spring 2018 season. Love is blooming for Hikari and Iroha, as the story captures how one can grow out of his or her comfort zone and all the reasons why to never judge a book by its cover. Hikari and Iroha conquer love in this series, arousing interest and fascination for the viewers. 3D Kanojo reminds us of the familiar phrase, "opposites attract."
---
7. Tsuki ga Kirei (Tsukigakirei)

Episodes: 12
Aired: April 2017 – June 2017
Tsuki ga Kirei chronicles the lives of middle school students Kotarou Azumi and Akane Mizuno, as these bright and hopeful individuals pursue their dreams and ultimately fall in love with each other. In their final year of middle school, the two start off as strangers in the same class, but a few chance encounters bring them together. Highlighting the essence of young love, Tsuki ga Kirei documents Kotarou and Akane's love at its many stages.
Tsuki ga Kirei portrays sweet, tender, and innocent love through the eyes of Kotarou and Akane, examining that relationships are not always cut-and-dried like some imagine them to be but filled with much heartache, sacrifice, and anxieties. Showing that there is more to romance than enjoying each other's company, we notice subtle details that form the foundation of Kotarou and Akane's cute romance. As the moon undergoes various phases in it's cycle, these two adorable lovebirds are getting to know the many sides and faces of their relationship.
---
6. Ao Haru Ride (Blue Spring Ride)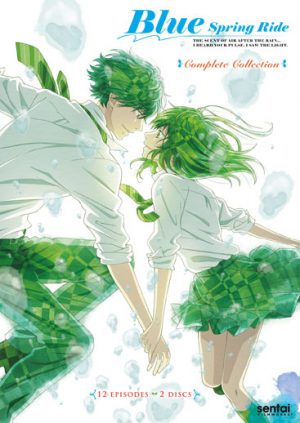 Episodes: 12
Aired: July 2014 – September 2014
Ao Haru Ride follows the life of Yoshioka Futaba, a newly enrolled high school student. Recognized as the "cute girl" in middle school, Yoshioka is on a mission to revamp her image; she was disliked by the girls and wanted by all the boys. As we dive deeper into the story, we observe that Yoshioka is faced with the many issues and obstacles of being a teenager: love, romance, friendship, etc. On top of that, her new, contrasting image changes the way she truly is. Additionally, Yoshioka's crush from middle school, Kou Mabuchi, joins her. Similarly, Kou's appearance has also changed dramatically since middle school. Collectively, Ao Haru Ride centers on Yoshioka and Kou discovering themselves and the development of their relationship.
Kou and Yoshioka's relationship is very innocent, cute, and flirtatious. Kou frequently announces how different Yoshioka is from before and misses the old her. As they are both crushing on one another, they deny these feelings by dating others. Uncertain about seeing other people, Kou and Yoshioka wonder if these relationships they are in are of any value. When they finally accept being with each other, they realize that affection and familiarity upstage personal appearances and pride. Aww!!
---
5. ReLIFE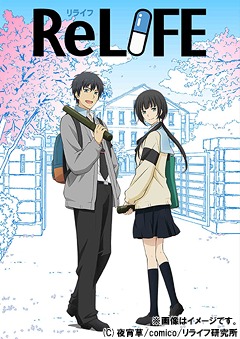 Episodes: 13
Aired: July 2016 – September 2016
ReLIFE documents the life of 27-year-old Arata Kaizaki. After quitting his first company job, Arata bounces around from one place to the next, often regarded as a loser by those who know him. On one occasion in his uneventful life, Arata is introduced to Ryou Yoake, a member of the ReLife Research Institute. Ryou offers him an opportunity to change his life by taking a mysterious pill. With nothing left to lose, Arata takes the pill, waking up the next day to find that he is 17 years old again. Now engaged in a unique experiment for the ReLife Research Institute, Arata must attend high school as a transfer student for one year. Believing that the task will be straightforward, Arata is proven wrong.
ReLIFE follows Arata's struggle adjusting to his new but hectic life, learning to avoid all of his past mistakes. Arata slowly discovers more about his classmates, participating in new experiences and involving himself in romances. The chance to do-over life is something one dreams of when moments have passed and regret lingers. We believe this is a cute romantic anime in that there are inspirations, subjectivity, and primacy in correcting life's prior wrongs.
---
4. Wotaku ni Koi wa Muzukashii (Wotakoi: Love Is Hard for Otaku)

Episodes: 8+
Aired: April 2018 - Ongoing
Wotaku ni Koi wa Muzukashii is a cute romance comedy centered on the lives of Narumi Momose and Hirotaka Nifuji. After reuniting for the first time since middle school, Narumi and Hirotaka discover that they work at the same company. Narumi secretly conceals her fujoshi lifestyle, and Hirotaka is a gamer otaku. The two hit it off while grabbing drinks after work and begin dating, but will work and play become a deadly mix?
Wotaku ni Koi wa Muzukashii is a simple, light-hearted, cute romance series that highlights the triumphs and woes of being in a relationship with an otaku. Viewers embark on a journey with Narumi and Hirotaka as their relationship develops and evolves into something more than just coworkers. The love story is laid back and relatable, making this Spring 2018 series a highly recommended one.
---
3. Shigatsu wa Kimi no Uso (Your Lie in April)

Episodes: 22
Aired: October 2014 – March 2015
Your Lie in April follows the life of Kousei Arima, a piano prodigy notably known as the "human metronome". After the death of his mother, who played a significant part in his piano career, Kousei begins to suffer from an ailment, rendering him unable to hear the sound of his music. Because of this condition, Kousei stops playing the piano. As some time has gone by, Kousei then has a different outlook on being a pianist when he meets Kaori Miyazono, a lively and effervescent violinist. With her help, Kousei rediscovers his true passion for piano and the feeling he gets from doing what he loves. In this anime, we observe characters that are really intense and animated, driving viewers to root for this duo's success.
Your Lie in April is a cute romance anime because of the devotion Kousei, and Kaori have for each other. Drama and romance-themed, in addition to different genres, the story and characters are the backbones of this series, giving each episode depth and meaning. Watching Your Lie in April gives us a better understanding of how life can be, the ups and downs and having a great support system to lift you up. A charming and enjoyable anime, Your Lie in April is a beautiful work of art from start to finish.
---
2. Yuri!!! on Ice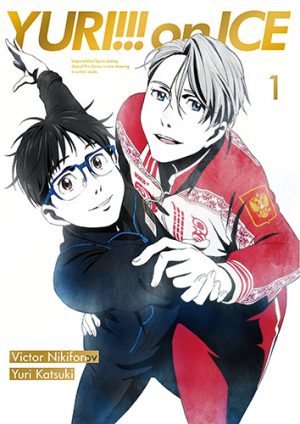 Episodes: 12
Aired: October 2016 – December 2016
Yuri Katsuki is one of Japan's most promising figure skaters. However, his perception changes when his skating routines place him in the lower rankings at the Grand Prix Finale. Absorbed in defeat, Yuri reassesses his skating career. When he reconfirms that skating is what he wants to do, Yuri is determined to get back on the ice in tip-top shape. Coming back onto the scene, Yuri finds that he's going to have to bring his A-game, seeing that his competitors are in it to win it. In this anime, we watch the intense drama unfold, as the guys are ruthless, going to great lengths to be known as the best.
Figure skating is one of the most passionate sports in the Winter Olympics and Yuri!!! on Ice realistically represents the game. The skaters are expressive in their routines both on and off the ice. Their stories are beautiful, and their reason for competition varies. The cute romantic aspect of this anime accurately shows that the skaters are allowed to have fun in their personal lives, reminding us that these guys aren't larger than life, but experience the same emotions as everyone else. Moreover, the story and characters make a lasting impression on viewers, which is why Yuri!!! on Ice is one highly popularized series.
---
1. Kimi no Na wa. (Your Name.)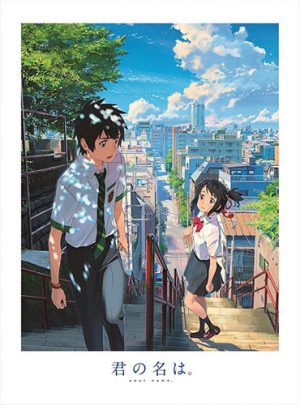 Episodes:
Aired: August 26, 2016
Kimi no Na wa. tells the story of high school students Mitsuha Miyamizu and Taki Tachibana, and how they one day miraculously swap bodies. In the process of finding answers to end this madness, the two try their best not to mess up each other's lives, with Taki living Mitsuha's pleasantly serene life in the country and Mitsuha juggling Taki's busy schedule in Tokyo. Interlinked by this mysterious curse, Mitsuha and Taki form a unique bond. Kimi no Na wa. is an incredibly heartwarming film that speaks to all walks of life.
Kimi no Na wa. is highly praised in the anime world. Aside from the supernatural body switching, we are exposed to the lives of two different students. Director Makoto Shinkai is recognized for many outstanding works, with this film being an adaptation of his novel. Kimi no Na wa. is acclaimed for being so visually appealing and emotionally relatable. The animation in this film is stunning; with beautiful colors, details, focus, and movement. The soundtrack highlights both art and story exceptionally well. The cute romance portrayed in this film is extremely realistic, minus the supernatural stuff, resonating with viewers of all ages and romantic status. Naturally, the feels in this movie are as epic as all the otaku in the world cutting onions all at the same time.
---
Final Thoughts
We hope you enjoyed our recommendations for top cute romance anime! If you haven't already, make sure to check out all of these great titles! As always, we truly appreciate you guys tuning in. Also, let us know if we've missed any other great cute romance anime by commenting below! Thanks, and see ya!
---
---
Are you in the mood to watch some cute romance anime, but you're not sure the anime that comes to mind fit the category of cute, or just want to watch something that will make your heart bleed like Kimi ga Nozomu Eien? Fortunately for you, dear reader, we got you covered!
We're going list 10 cute romance anime and… we're going to… uh… list 10 cute romance anime… Yeah, that's literally it. Pretty straightforward, but that's it. *ahem*
Before we go on, we're gonna set a simple rule: Regardless of content, art style, and settings, the list is focused on anime with couples doing adorable things on screen, or they do stuff that makes the viewers happy, laugh, or just go AWWWWWW! Admittedly, being "cute" can be very suggestive, so some of you may not find certain entries cute. But hey, like beauty, cute is in the eye of the beholder. Woah, that's profound. *ahem*
Oh and we're going to avoid spoilers altogether, so don't expect anything revealing. That's for you to find out. I mean, come on… Don't let the internet spoil the fun! Yeah, that's food for thought for ya!
Here we go!
10. Sasameki Koto (Whispered Words)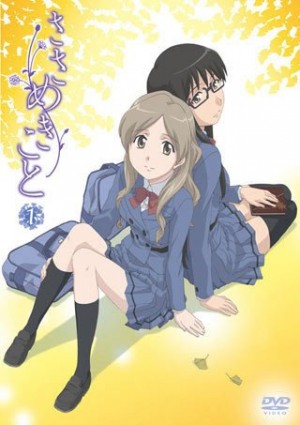 Episodes: 13
Aired: October 2009-December 2009
Now, now! Yes, the anime is very slow, but once you adjust to its pace, it's really a sweet story of two girls falling in love. And its slow pace made this number 10. You gotta start somewhere! Or something like that...
Murasame Sumika is a tall, intimidating girl who is the admiration of everyone in school with her athletic skills and smarts. Little does everyone know, Sumika is in love with her best friend Kazama Ushio. While Sumika hides her yuri love, her best friend is more open: Ushio loves girls, especially the cute ones! Sadly for Sumika, Ushio doesn't see her as a romantic partner because Sumika is not a cute girl. Sasameki Koto tells the story of two girls slowly realizing their feelings.
If you're watching this anime for the yuri fanservice, you'll be very disappointed. While Sasameki Koto is a genuine yuri show, things develop slowly but naturally with a few yuri fanservice here and there. The anime doesn't try to cash in all of that kissing, hugging and holding hands at all. Sasameki Koto paces itself and focuses more on the character's friendship and relationship in a rather realistic way. However, the anime is no way dull — there are lots of carefully place humor and some yuri fanservice like Sumika collapsing with a nosebleed after seeing Ushio naked, and her live-in maid Hayasumi Noe getting the idea Sumika wants "to do something else in bed with Ushio". It's sometimes slow, but cute and sweet.
---
09. Kanon (2006)

Episodes: 24
Aired: October 2006-March 2007
Before you hurt yourself, yes, go with the 2006 remake of Kanon. I'm not saying Kanon 2002 by Toei Animation has a bad story. It has a good story, but… that art style… Uguu. Anyways, Kanon is based on a visual novel of the same name and it tells the story of Aizawa Yuuichi, who moves to his cousin in a quaint town somewhere in… well… somewhere in Japan after seven long years.
Unfortunately for Yuuichi, he has no recollection why he left town seven years ago, and as he went around town with his cousin Nayuki, he barely recalls anything. What happened to Yuuichi seven years ago? Did something happen that made him forget his childhood memories of that town?
After settling in, Yuuichi bumps into several girls, all of which are somehow connected to his past. As he befriends these girls, he slowly pieces together his forgotten memories and finally discovers what happened that day.
During its time, "the guy who went back to town years later and then meets childhood friends" routine wasn't used to death and it was Kanon 2006 that helped popularized this trope with the added emphasis in cute romance. The anime can be summed up with Yuuichi befriending these girls like going along with their antics, etc. It's pretty much typical romance scenarios nowadays, but like any other romance anime adapted from visual novels is there are lots of interesting girls to support and cheer. Things may get serious and can be quite dramatic, but the experience of seeing these girls develop and Yuuichi finding his answers are the best parts of the show. Uguu…
---
08. Ore Monogatari!! (My Love Story!!)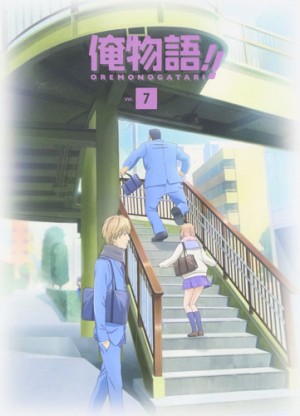 Episodes: 24
Aired: April 2015-September 2015
Takeo is a big guy… For yo—*ahem*
Gouda Takeo is tall and muscular for his age as a high school freshman, but behind all that intimidating mound of muscle lies a heart of gold, and is considered a hero by the guys at school. Too bad for him these traits did not translate well for his love life. To make matters worse, his cool and handsome best friend-childhood friend Sunakawa "Suna" Makoto effortlessly steals the heart of every girl in school, even including the girls Takeo likes.
One day Takeo saves the girl Yamato Rinko from a train molester (not talking about someone who literally molest trains), and he immediately fell in love with the girl. Knowing his predicament and his best friend's ability to sweep any girl off their feet, Takeo assumes Rinko is in love with Suna. Selfishly Takeo decides to be a cupid for Rinko, even though he also wishes to yearn love.
The story isn't a Beauty and the Beast thing, but rather the story of the Blue and the Red Ogre. Takeo fell in love with Rinko, but gave up because he already saw how things go — He likes a girl, this girl likes Suna, and then Suna rejects girl. Things are different this time around when Takeo was surprised Suna complimented a girl for the very first time and since he has no chance of winning, Takeo decides to help out. Little does Takeo know that our heroine here has genuine feelings towards him, and this cute romance story revolves around it. Ore Monogatari!! is a different kind of show that involves a man in love who doesn't look like an angsty teen with eight grader syndrome.
---
07. Sakura Trick

Episodes: 12
Aired: January 2014-March 2014
Sakura Trick tells the love story of Takayama Haruka and Sonoda Yuu, and how they slowly build their newfound love for each other. Their love life isn't really easy as they battle against a jealous big sister and hide their relationship from everyone… and Haruka is always finding ways to get a few smooches from Yuu.
Currently the only genuine yuri anime to have come out, and what makes this anime stand out among other yuri anime is Sakura Trick, which has less drama and more cuteness. I mean, seriously, go check a list of yuri anime and see how many of them are not drama. The story is just two cute girls in love doing cute things together. Haruka is an airhead, but somehow smart enough to sneak kisses when there are people around, and Yuu, sometimes spoiled but a very understanding girl. There are a few serious moments but they don't stick out like a nail. Oh, and there are LOTS of kissing.
---
06. Kareshi Kanojo no Jijou (His and Her Circumstances)

Episodes: 26
Aired: October 1998-March 1999
Miyazawa Yukino is the perfect model student. Smart, attractive, athletic, admired by fellow students, and admired by the teachers at school. However, her perfect exterior is just a mask to hide the fact she only did it to receive praise and wants to be the center of attention. At home, she's nothing but perfect—she's a slobbish person and has no real friends. All things change when she meets Arima Soichiro.
Yukino soon abandoned her fake ways, and slowly opened up throughout the series and eventually ended up making real friends outside Soichiro. Despite her deceitfulness, her skills are the real deal and people still admire her, with or without her mask.
Yeah, some traditional 90s anime! This anime is very whacky since this was made by GAINAX, the same folks who made the bizarre FLCL, so there are lots of moments that will make your jaw drop in amazement or laugh your butt off. Despite that however, KareKano tells a mature story of a couple falling in love. Yukino and Soichiro's unusually cute relationship starts when Yukino tries her best to keep her facade and find ways to find dirt against Soichiro. Obviously, Yukino really didn't succeed because the two ended up together.
---
05. Hachimitsu to Clover (Honey and Clover)

Episodes: 24
Aired: April 2005-September 2005
Honey and Clover tells the story of art students Takemoto Yuuta, Mayama Takumi, Morita Shinobu, Yamada Ayumi, and Hanamoto Hagumi as they go about their colorful and often chaotic lives.
Aside from Morita's, uh… "eccentric" behavior, and the anime's sometimes serious tone, Honey and Clover has lots of cute moments involving everyone's rather complicated and, what's the right word, crisscrossing love lives. There's Ayumi's unrequited love towards Takumi, Takumi and his affection towards an older woman, Morita's attraction towards the tiny lady Hagumi, and Yuuta's fondness of Hagumi with the ever lurking feeling that he felt like a third wheel after noticing Morita's constant interaction with the girl. Honey and Clover is an emotional ride with lots of cute moments that we suggest you won't miss.
---
04. Kimi ni Todoke (From Me to You, Reaching You)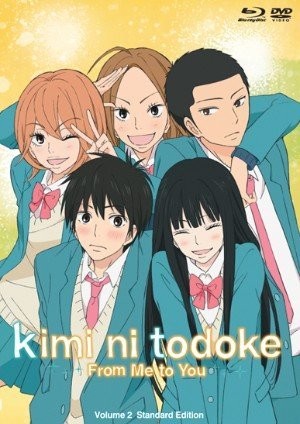 Episodes: 25
Aired: October 2009 - March 2010
Kimi ni Todoke tells the story of Sawako Kuronuma who longs to make new friends in high school. But because of her resemblance to the ghost from the "The Ring", and because people often mistake her timid demeanor for maliciousness, she has earned the nickname "Sadako."
Enter Kazehaya Shouta, the kind and popular guy in class. He is Sadako's inspiration to try harder to make friends. Sawako's school life slowly changes as she and Shouta become friends and like every romance story out there, love starts from that friendship.
I do get this Ugly Duckling-like message after watching the anime, but that's just me though. Anyway, Sawako just wants to earn new friends, but since she resembles a titular horror character, and her rather oddball personality, everyone in class avoided her. Things changed after she meets Kazehaya, her world opened up, and people start to see her true self. Most of the story is Sawako discovering new things with Kazehaya and like any girl inspired by someone, she slowly develops new feels of friendship and love. And Sawako can be very cute around Kazehaya with her timidness.
---
03. Toradora!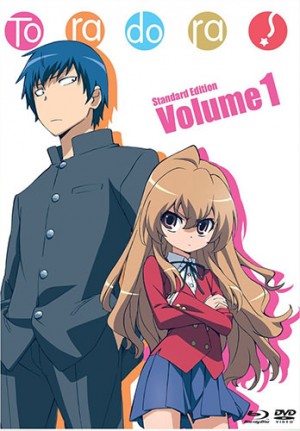 Episodes: 25
Aired: October 2008-March 2009
Takasu Ryuuji is a nice guy, but due to his intimidating eyes, people only see him as a delinquent and so he's totally hopeless about his chances at making friends, never mind getting a girlfriend. On his first day as a second-year highschool student, he is happy to be in the same class with his best pal Kitamura Yuusaku and his crush Kushieda Minori. However, he unwittingly bumps into Aisaka Taiga, the school's "most dangerous animal."
Toradora has a lot of serious sides, but still has a large dose of great comfy moments involving Ryuuji and Taiga helping each other out with their love lives. Taiga has a crush with Kitamura Yuusaku and every time they meet, Taiga tends to panic as she tries to talk to him. Ryuuji is more composed, but he can't do much without Taiga helping him get close to Kushieda Minori. Eventually, the two slowly develop this bond that will later bloom into a beautiful, yet innocent young and especially cute romance. Is this the greatest story ever told which fans claim? I dunno, but Toradora is indeed a very well-made story.
---
02. School Rumble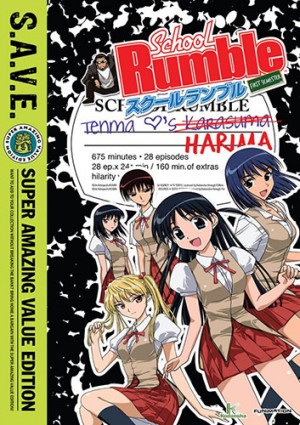 Episodes: 26
Aired: October 2004-March 2005
A lot will argue that School Rumble doesn't have any romance, but they're wrong! School Rumble has a huge cast of characters with their own romantic situations that often results in a ton of misunderstandings. Our hero Harima Kenji is in love with airhead Tsukamoto Tenma, and Tenma is in love with oddball Karasuma Ouji.
The story revolves around Kenji trying to express his feelings to Tenma but ended up getting paired with Tenma's little sister Yakumo, or the rich girl Sawachika Eri. Kenji is not interested in Eri at all, and so does Eri, but after a ton of misunderstandings and awkward situations, Eri developed feelings towards our hero, and our hero, though it took him a while, respects Eri as a person. When I say misunderstanding situations, I mean way, way, over the top situations which leads to funny and cute situations involving Kenji and Eri. I won't say much, but seeing these two seemingly incompatible people in awkward, cute, and silly moments is one of the best things of School Rumble.
---
01. Amagami SS

Episodes: 25
Aired: July 2010-December 2010
Tachibana Junichi had a rough Christmas from two years ago. Junichi had planned to meet a girl during Christmas and to his demise, the girl didn't show up. Why didn't she show up on their date? Was there another reason? This troubled our hero, and for some reason he made his closet into a makeshift planetarium where he ponders these questions. Fortunately for Junichi, his life as a young man changes for the better when he encounters the many girls in his school.
Amagami SS is one of the best examples of a dating sim adapted into an anime without resorting to the usual harem. Most dating sims or visual novels being adapted often results in a guy having hoards of girls flock over him, or there are some adaptations where one guy has to pick one girl he's going to love. Amagami SS takes a different route by creating multiple arcs in which the hero has to date and win one girl.
Tachibana Junichi meets girl, befriends girl, they activities and stuff with girl, develops feelings, and then falls in love. Rinse and repeat. Thankfully, it never gets repetitive because each girl is unique with their own likes, dislikes and the preferences Junichi will learn to understand. It's very fun to watch how each arc progresses and how our hero reacts to different girls.
Why is Amagami SS number one? Variety and many love stories packed in one series! Oh and each girl is so cute adorable, and very charming. A lot of people will favor Tanamachi "Sex Hair" Kaoru while others prefer the eccentric Morishima "Wow!" Haruka. There's something for everyone!
---
Final Thoughts
And there you have it! The best part of any romance is how the couples, or potential couples, react with each other, and these kinds of situations are what makes a romance anime such a joy to watch. Some moments can be very serious while some can very funny, but either way, these moments are a great way to show how cute people in love really are.
Here are some honorable Mentions: Inu x Boku SS, Nodame Cantabile, Tasogare Otome x Amnesia, Tonari no Kaibutsu-kun, Lovely Complex, Love Stage!!, Kotonoha no Niwa, Fruits Basket.
So what do think of this list, dear readers? Dou know other cute romance shows that weren't in this list? Please leave a comment below!
---