También puedes leer este artículo en:Español
As far as we can trace back into our history, schools have been an established institution solely to provide a learning environment for teachers to instruct students. When we think of schools, we imagine an all-day schedule of learning, designed as a means for students to find their natural talents. In the world of anime, we get to observe this and more in the way students learn magic, as well as their day-to-day lives in school. Magic is a topic that's existed for a long time and continues to bewilder and ensnare its admirers.
As such, in the following anime, we present ten recommendations for the best magical school series. We know there are many more remarkable and mystical shows, but here's what we've gathered so far!
10. Kuusen Madoushi Kouhosei no Kyoukan (Sky Wizards Academy)

Episodes: 12
Aired: July 2015 – September 2015
Ages ago, humankind was near extinction at the hands of a treacherous force of gigantic magical insects that, over time, evolved to be stronger and more aggressive. These foes threatened humans off the planet, and now, they inhabit floating cities. Escaping to the sky, citizens are not in the clear yet, as these devil beetles continue to endanger humanity. For security, wizards attend exclusive, prestigious academies to train and fight these nasty creatures. Sky Wizards Academy introduces us to Kanata Age, a young man whose prestige was tarnished, but now has a chance for redemption. By instructing a substandard group of students, Kanata has the opportunity to help them and himself.
Sky Wizards Academy brings us to a school of wizards who must learn how to defend their home from devil beetles. As they wield magical abilities, our characters bring us excitement and jaw-dropping action sequences, all the while learning how to balance the struggles and successes of being teens.
---
9. Majimoji Rurumo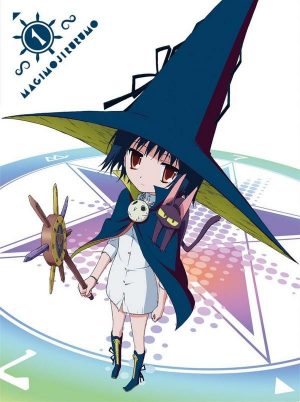 Episodes: 12
Aired: July 2014 – September 2014
Due to an unfortunate incident, Kouta Shibaki is known as the school's pervert. As the female students avoid him, Kouta's school life is very solitary. One day in the school library, Kouta discovers a strange book that divulges the steps to summon magical witches. Curious, Kouta tries the spell out, and an apprentice witch named Rurumo Maji Mojiruka appears! Unexpectedly, Kouta ends up helping Rurumo in exchange for his soul being spared. As Rurumo persuades Kouta with 666 magical wish-granting tickets to become a real witch, every time a wish is granted, Kouta's life is shortened. What will Kouta decide to do?
Majimoji Rurumo presents to viewers a seemingly simple story but, in fact, offers the opposite. Filled with comedy, romance, slice of life and magical elements, Kouta is conflicted with the option of saving his life or making someone else happy. Kouta and Rurumo make a fantastic pair, taking us on an amusing journey filled with adventures and thrill.
---
8. Binan Koukou Chikyuu Boueibu LOVE! (Cute High Earth Defense Club LOVE!)

Episodes: 12
Aired: January 2015 – March 2015
We've all heard of magical girls, but rarely do we see magical boys! In Binan Koukou Chikyuu Boueibu LOVE, our magical boys are part of Binan High's Earth Defense Club. One day, a pink wombat appears, forcing the boys to become Battle Lovers and protect Earth from a band of vicious villains. All our heroes want to do is have fun and hang out. Will the Battle Lovers be able to fight off these unusual creatures or will hate conquer love?
With five magical warriors called Battle Lovers to fight off monsters, Binan Koukou Chikyuu Boueibu LOVE has us swooning! Every episode is filled with various monsters, and we get to observe how our heroes take down each beast. Both outrageous and exciting, the premise develops into something grand, revealing fascinating facts and growing to learn a little bit more about each magical boy.
---
7. Seireitsukai no Blade Dance (Blade Dance of the Elementalers)

Episodes: 12
Aired: July 2014 – September 2014
Seireitsukai no Blade Dance is a story about a group of youths training to become elementalists at the prestigious Areishia Spirit Academy. For a time, this privilege was granted to girls, but that is about to change. Kamito Kazehaya is the first male in 1,000 years presented with this opportunity. As he forms a contract with a spirit, Kamito is forced to enroll at Areishia Spirit Academy and participate in a particular tournament. Will Kamito fare well or fail altogether?
Seireitsukai no Blade Dance is a fantastic magical school anime because we get to discover the unique ways in which elementalers compete with their range of weapons and abilities. Featuring a young man who wants to climb the ranks in this female-dominated occupation, viewers can't help but root for his success, going against the odds to prove the possibility for all genders to be elementalers. Moreover, Seireitsukai no Blade Dance contains an adventurous story, with constant twists and puzzles to look forward to.
---
6. Mahoutsukai Precure! (Maho Girls Precure!)

Episodes: 50
Aired: February 2016 – January 2017
Mahoutsukai Precure! follows the story Mirai Asahina, a 13-year-old girl who is loving, lively, and funny. On one particular day, Mirai notices a strange object falling from the sky. Eager to find out what has transpired, she makes her way towards to park with her trusty BFF, a stuffed bear called Mofurun. When Mirai arrives at the park, she can't believe what she's seeing, a girl named Riko flying around on a broom. Riko introduces herself, sharing that she's also 13 years old and lives in a magical world. Mirai is intrigued as Riko is in search of a magical and powerful jewel called "Link Stone Emerald." However, her quest to locate the gem is not as pleasant as it seems.
Don't be fooled by how youthful Mahoutsukai Precure appears! This magical school anime is bold and bright, suitable for all ages. The series presents a valuable message of maintaining close friendships, which working together makes a problem easier to solve. Mirai and Riko set out on this epic quest, and with each episode, their journey becomes more treacherous yet exciting.
---
5. Magic-Kyun! Renaissance

Episodes: 13
Aired: October 2016 – December 2016
Kohana Aigasaki is an Artista who comes from a world where art materializes into musical sound, melodies that are magical. Kohana is inspired by her mother's beauty and artistic talent to produce beautiful musical art. Kohana has the opportunity, as a transfer student, to attend Hoshinomori School of Magical Arts, her mother's alma mater. Kohana arrives at the school to find an array of students who sparkle with abundant magical talent. Kohana learns from her new roommate that many students can already perform standard skills; which worries her, since being the daughter of a world-renowned Artista, people expect a lot from her. Into the school year, Kohana is placed on the planning committee for the school's annual Hoshi Festival with six boys, specializing in various art forms. Collectively, they expand and inspire one another's talents, hoping to make this year's festival a success.
Magic-Kyun! Renaissance is radiant. The story and characters are so full of life and positivity, it's magical. The students all have such great talents that each of their abilities makes Hoshinomori a unique and inviting place. Magic-Kyun! Renaissance reminds viewers of how the world should be, a setting that is both mystical and fascinating.
---
4. Rokudenashi Majutsu Koushi to Akashic Records (Akashic Records of Bastard Magic Instructor)

Episodes: 12
Aired: April 2017 – June 2017
Alzano Imperial Magic Academy is the most distinguished magic school in the Alzano Empire. Students at the academy undergo vigorous training to become outstanding magicians, such as Sistine Fibel and her good friend, Rumia Tingel. The two are on their way towards success until one of their prized instructors retires. In his stead is the young Glenn Radars, a complete opposite from their treasured mentor. Additionally, troubles arise as terrible forces within the empire's wall start making a ruckus. Vastly different, Sistine, Rumia, and Glenn are threaded together to take down this foe.
Rokudenashi Majutsu Koushi to Akashic Records is an enjoyable magical school anime that boasts relatable, lovable characters, tons of comedy, and incredible action scenes. The story also teaches us that there is a huge difference in learning about magic and putting that knowledge towards practical use. The characters bring the story to life, quickly making this series binge-worthy.
---
3. Trinity Seven

Episodes: 12
Aired: October 2014 – December 2014
The destruction of Arata Kasuga's town and the disappearance of its people were caused when the red sun stopped shining, and an occurrence called the "Breakdown Phenomenon". However, hope is restored when the use of the magical grimoire creates his home artificially. Investigating the phenomenon, Lilith Asami appears before Arata to further research why this artificial world is disintegrating. Instead of handing over the secrets, Arata decides to enroll Royal Biblia Academy, the secret magic school, in which six other magical users await him. Together with Lilith, these six form the Trinity Seven, the elite of the school, and embrace their talent and intelligence.
Trinity Seven is a mysterious magical school anime that makes you want more. The storyline builds upon every episode, as each solution or result is met with more intrigue. The diverse characters interact with one another flawlessly, adding to the continuous action, fantasy, comedy, and romance.
---
2. Mary to Majo no Hana (Mary and the Witch's Flower)

Episodes:
Aired: July 8, 2017
Mary and the Witch's Flower documents the ordinary life of Mary, who by chance meets Tib the black cat and stumbles across a beautiful and magical flower. By this enchanted flower, Mary is bestowed the honor of being a witch for a limited amount of time. In this short period, Mary encounters the beautiful and enchanting world of witchcraft, leading viewers to the most fantastic adventure imaginable. We are shown all the pros and cons of magic, from one new engagement to the next.
Mary and the Witch's Flower is an excellent anime movie that must be on your "to watch" list if you haven't already! It is a beautifully animated film that boasts fantastic animation. The story is suitable for all ages, and we cannot stress enough how great it is. Mary and the Witch's Flower features magical elements set in a fictitious Western country. Mary, a magical witch, ignites willfulness, adventure, and an insatiable thirst to unlock the unknown. A highly acclaimed film, Mary and the Witch's Flower entices wonder and magic.
---
1. Little Witch Academia

Episodes: 25
Aired: January 2017 – June 2017
Little Witch Academia is about a school for witches, showing the path and journey towards becoming witches. The story starts with an introduction about famed witch Shiny Chariot. Shiny Chariot is fantastic, and everyone wants to be just like her! However, over time, her fandom slowly fizzles out, and her followers grow out of their obsession. Fast-forward and we are introduced to Atsuko Kagari, a new student at Luna Nova Magical Academy, and still a loyal mega fan of Shiny Chariot. As Atsuko muddles through her boring studies, the constant trash talk about her Shiny among peers, and her lack of magical talent, can she essentially prove to herself and others that she has what it takes to become a witch? "Never forget, believing is your magic!"
Little Witch Academia is a beautiful anime story because it expresses perseverance and determination in becoming a great witch. While many may find it simple to blend and fit in, Atsuko goes against the grain, showing that being yourself is your real strength. Being able to stand out regardless of what others may say is an admirable feature, something that proves easier said than done in a competitive environment. Additionally, Little Witch Academia is a super entertaining anime that empowers and is endearing.
---
Final Thoughts
We hope you enjoyed our recommendations for top magical school anime! If you haven't already, make sure to check out all of these great titles! As always, we truly appreciate you guys tuning in. Also, let us know if we've missed any other significant, awesome magical school anime by commenting below! Thanks, and see ya!
---
---
There are many folks who want Harry Potter to be remade into an anime version. Instead of hoping for that to occur, why not appreciate the magical school anime that are already available to us? The theme of magic is a constant fantasy of mankind as many of us dream of having super powers to make our lives easier and more eventful. Being in a magical school would mean that hardly any of us would hate school either as the subjects would be so fun that we would be looking forward to going to school! Here are 10 of the anime we would like to introduce to you so you can bask in the sweet fantasy of magical school worlds!
10. Mahou Sensou (Magical Warfare)

Episodes: 12
Aired: Jan. 2014 – Mar. 2014
Takeshi Nanase is a regular high school boy who is on his way to kendo practice when he stumbles upon an unconscious girl. The girl is clad in a uniform which he does not recognize but nonetheless, he rescues her. Upon gaining consciousness, the girl named Mui Aiba reveals that she is a student at Subaru Magic Academy, and she has accidentally turned Takeshi into a magician too. Thereafter, Takeshi along with his new magician friends, Kurumi Isoshima and Kazumi Ida, enroll in the Subaru Magic Academy.
A boy's life is changed after he found a girl magician. Takumi and his 2 new magician friends may be new magicians, but they have different reasons to enroll in the magical school. While there are many magicians who want to live in harmony with non-magicians, there are those with evil intent who are known as the Ghost Trailers. The good magicians called the Wizard Brace, strive to protect non-magicians against the Ghost Trailers.
---
9. Mahou Sensei Negima! (Negima!)

Episodes: 26
Aired: Jan. 2005 – Jun. 2005
Negi Springfield is a 10-year old magician who is given a strange task in order to pass the final test which would qualify him as a Master Wizard. The task in question is to be an English teacher at an all-girls school! Negi makes the mistake of embarrassing one of his students, Asuna Kagurazaka, which results in her bearing hatred towards him. Later, Asuna finds out that Negi is actually a magician, and she threatens to reveal his secret unless he helps her.
In the strange world of Mahou Sensei Negima!, even the supposedly normal school Negi is teaching at has strange students such as a vampire, a robot, or even a person from the future! As a magician, Negi does not only need to fight against evil magicians but also help his students pass the exams! Even though Negi is just a kid, this is a harem anime so some ecchi content is bound to be present.
---
8. Shugo Chara!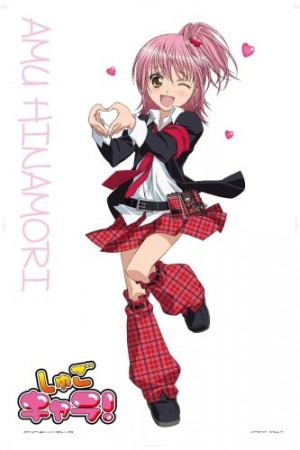 Episodes: 51
Aired: Oct. 2007 – Sep. 2008
Underneath the cold exterior of Amu Hinamori who is studying at Seiyo Elementary, she is really just a shy girl who is easily intimidated. Therefore, she makes a wish one night to be reborn as her "would-be" self, which leads to the presence of 3 eggs in the morning. Each of the eggs are in the colors of red, blue, and green respectively, that would then hatch into 3 Guardian characters who go by the names of Ran, Miki, and Su.
The Guardian characters would not only advise Amu in her path to discovering her "would-be" self, but they also can change the personalities and abilities of a person, albeit only temporarily. Therefore, the audience gets to watch as Amu struggles with different personalities! Amu finds that she is not the only one with Guardian characters, as there is a student council group in her school called the Seiyo Elementary Guardians which consists of people who own Guardian characters.
---
7. Baka to Test to Shoukanjuu (Baka and Test – Summon the Beasts)

Episodes: 13
Aired: Jan. 2010 – Apr. 2010
Akihisa Yoshii is the "baka" or idiot in the story who belongs in the lowest-tier class known as F. As for the A class, it is filled with the best of the best students and therefore, deserve the high-class amenities. On the flip side, F class has the worst furnishings. The only way the students of other classes get to enjoy the best furniture and fittings is by battling it out to get the furnishings of other class. And the battle involves summoning fantasy creatures!
Despite being a magical school, it seems like it is not all fun and games, which kinds of strike a chord with us who attended regular schools. Students are competitive and those who do not do well are branded as losers and placed in the lowest-tier class with the worst furnishings that makes the environment unconducive for studying. All in all, the series is focused on its comedy aspect, so expect to laugh even when it is a battle between the magical beasts!
---
6. Gakuen Alice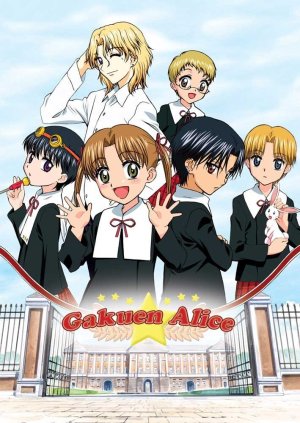 Episodes: 26
Aired: Oct. 2004 – May 2005
Sakura Mikan is surprised to find out that her best friend, Hotaru transfers to a school meant for gifted students with "Alices", which are basically superpowers or magic ability. As Mikan has heard that the school has a reputation for being like a prison, she goes to the school to discover more about the issue.
There are many magic abilities classified as the types of Alice, which can range from Latent Type, Technical Type, Somatic Type, Special Ability and Dangerous Ability. To find out what each term means, you should watch Gakuen Alice. Since this is a school, the performance of students is evaluated, and in this series, it is done by using the star system. Gakuen Alice also explores themes associated with students such as bullying.
---
5. Zero no Tsukaima (The Familiar of Zero)

Episodes: 13
Aired: Jul. 2006 – Sep. 2006
Like other nobles in the story, Louise Françoise Le Blanc de La Vallière has magic abilities. She attends the Tristain Academy of Magic which is known for being a prestigious academy. However, Louise is not exactly good at magic, earning her the name "Louise the Zero" among her peers. When it comes to summoning a familiar, she wishes to summon a powerful one, but what she ends up summoning is a simple human boy from Japan named Saito Hiraga.
As with other schools, one will end up being mocked by others if one does not perform well, which happens to Louise in her magical school. Determined to prove her worth, she wants to summon a powerful familiar but instead gets a seemingly weak boy named Saito. She treats him pretty much like a slave but the summoning does not seem like a total failure after all as the two begin to develop puppy love for each other. Besides different elements of magic being wielded by magic users, the story is spiced up with the presence of magical creatures such as elves and dragons.
---
4. Rakudai Kishi no Cavalry (Chivalry of a Failed Knight)

Episodes: 12
Aired: Oct. 2015 – Dec. 2015
There are individuals blessed with the ability to use magic and materialize weapons using their souls. These unique individuals are known as Blazers and those who want to further hone their magic capabilities would attend magic academies to attain the rank of Mage-Knights. Ikki Kurogane has such dream of becoming a Mage-Knight and so he enrolls in the Hagun Academy, but he is pretty much the worst student there and is under the F-rank. Due to some unfortunate event, he is challenged to a duel by an A-ranker named Stella Vermillion.
In the magical school, Ikki is dubbed as the worst student but while it may seem like Stella would easily defeat Ikki, there is more than meets the eye. So somehow, the story does not run away from the cliché that usually the strongest character would end up getting stronger and turns out to be strongest. One of the highlights in Rakudai Kishi no Cavalry is its magic battle tournaments, which shounen fans would love.
---
3. Cardcaptor Sakura

Episodes: 70
Aired: Apr. 1998 – Mar. 2000
Sakura Kinomoto is a 10-year-old girl who comes across a book containing cards. They are actually magical cards known as Clow Cards and Sakura accidentally releases them. The Beast of Seal known as Keroberos informs Sakura that because the cards are set free, they would cause chaos s each card possesses incredible powers. Hence, Sakura is tasked to be the Cardcaptor who will be retrieving all the cards.
Sakura is just an elementary school girl but she is given a difficult mission to retrieve the powerful cards. But after all, she is the one at fault so she should be held responsible for it. Basically, this is a story about a young girl clad in a cute outfit who captures magical cards and gains the magical ability of the cards. However, due to how enjoyable the series is, you somehow forget that you are watching someone collecting cards.
---
2. Mahouka Koukou no Rettousei (The Irregular at Magic High School)

Episodes: 26
Aired: Apr. 2014 – Sep. 2014
Magic is not only for those who believe in alternative practice as it works with applied science in Mahouka Koukou no Rettousei. Tatsuya Shiba is a magician who acts as a bodyguard for his sister, Miyuki Shiba. Both the siblings will be studying at the First High School which is a school for magicians. Depending on the entrance exam scores, students are placed in different classes such as Blooms for the elites, and Weeds for the worst scorers. Despite his talent, Tatsuya is categorized as Weeds.
This is a story about an underrated magic wielder. Tatsuya is actually considered pretty overpowered so it is ridiculous that he is not placed among the elite rank. This situation rings a bell with the common school system that does not seem to recognize different talents among students, so students in the worst classes are always deemed as untalented or unintelligent. The series is pretty unique in that it combines futuristic technology with magic. Another thing not to be missed in the series is school magic competitions!
---
1. Little Witch Academia

Episodes: 1
Aired: Mar. 2013
Kagari Akko is an ordinary girl who aspires to be like her idol, a great witch known as Shiny Chariot. Thus, Akko joins the Witch Academia to realize her dream of becoming like the famous witch, Shiny Chariot, even though she does not have the advantage of being from a lineage of a magic family. Disappointingly, after she and her 2 best friends, Lotte Yansson and Sucy Manbavaran, enrolls in the academy, Akko finds out that Shiny Chariot is not really that popular after all.
In school, it is common to admire a person and wish to be like him or her, but after finding out more about that individual, usually we see more flaws and do not have such strong admiration anymore. That's the experience of Akko after she joins the magical school. Akko is just a regular human being like us, yet she gets to enroll into a magical school, which kind of reflects our situation of being a normal human who desires a magical school life. Aside from the different types of magic, the witches are dressed in the stereotypical witch garb and hat.
---
These are the top 10 magical school anime that we can think of. The combination of school and magic seems to be a common element that you can see these themes in many anime series. Are there any other magical school anime which you would like to introduce to us and the other readers? Do leave your comments below as they would be very helpful for those who are seeking to watch magical school anime!
---