Game characters have had humble beginnings since they first took the screen. From the noble shields that bounced a ball back and forth in Pong, to the maniacal rampages Super Star Mario unleashed upon helpless turtle shells, their feats have grown year over year. Just after one game character has done something unbelievable, another one just has to top that, leaving you further dumbfounded by each leap in spectacle.
The characters who perform the most amazing feats we call Overpowered, or OP for short. Developers have been one-upping each other for decades by creating more and more OP characters to win sales. It's not enough just to have the best powers and abilities to be truly overpowered. It's how the characters use their abilities, conduct themselves, and how their enemies react that truly solidifies their status. Today, we take a look at the Top 10 most Overpowered game characters around.
10. Doom Slayer (Doomguy) from DOOM

System/Platform: PC, PS4, XBO
Publisher: Bethesda Softworks
Developer: id Software
Release Date: May. 12th, 2016
First of all, let me tell you about my man here's bad luck. He's going to Hell. Not because he's just a downright evil, nogood, despicable human being, mind you. He just so happens to be on Mars at the absolute worst time. Previously known as "Doomguy", four games and three trillion rounds of ammunition after the original game released in 1993, our hero is still alive and kicking. The hordes of demons that rise from the eternal pit to kill him, not so much.
Chainsaws, rocket launchers, shotguns, heavy machine guns, and the mother trucking B.F.G. keep this guy's arsenal packed to the absolute limit. Even when playing these games on the highest difficulty, you have to kind of feel sorry for the hellish screams your enemies shout as they eat round after round from your vast arsenal. It's a hard OP hero that can make you feel sympathy for the devil after all.
---
9. Galen Marek (The Apprentice) from Star Wars: The Force Unleashed

System/Platform: PC/Mac, PS3, 360, PS2, Wii, PSP, DS
Developer: LucasArts
Publisher: LucasArts
Release Date: Sept. 16th, 2008
With a subtitle like "The Force Unleashed", this game had some high expectations. In terms of over-the-top super-powered combat, it most assuredly delivered. An orphan trained in the ways of the Sith by Lord Vader himself, Starkiller, as he was codenamed, quickly becomes Darth's favorite tool of destruction for kill or be killed suicide missions.
LucasArts developers drained the well dry of ways to use the Force that the Star Wars films hadn't even dreamed of. One of the most memorable scenes from this game involves Starkiller using the Force to bring down an entire Star Destroyer mid flight. That's completely different from stacking rocks or even lifting an X-Wing from a swamp. From killing Rancors, fighting off bounty hunters and taking down surviving Jedi, Darth Vader's secret apprentice proved himself to be truly overpowered.
---
8. Akuma from Street Fighter V

System/Platform: PC/Linux, PS4, XBO
Developer: Capcom
Publisher: Capcom
Release Date: Feb. 16th, 2016
The oppressive and fearsome Akuma was formerly known as pupil Gouki before he was completely engulfed by the Dark Hado. Now a malevolent fighter who seeks only to kill others until he is himself killed, he wields a fearsome fighting art that was outlawed because of its relentless cruelty. An antagonist to the other characters in the series, namely Ryu, he is a character that has given nightmares to players throughout the Street Fighter series.
Even without his menacing appearance, his moveset is simply devastating. Purely designed to punish careless players and catching even veteran fighters off guard, Akuma poses an almost unbeatable challenge when in the right hands. As a force to be reckoned with in both the lore and the playerbase, Akuma is a foe no one should underestimate.
---
7. Dracula from Castlevania: Lords of Shadow 2 (Akumajō Dracula: Lords of Shadow 2)

System/Platform: PC, PS3, 360
Developer: MercurySteam
Publisher: Konami
Release Date: Feb. 25th, 2014
The lord of darkness and vampire of legend, Castlevania's Dracula is even more fearsome than you'd ever want to know. In the previous game, fans saw how hero Gabriel Belmont became the loathsome enemy they'd faced throughout the series and gained a new understanding of his devastating skillset. The first thing Dracula does upon his awakening from 1,000 years of slumber is to set about kicking Satan back down to hell, like you or I would cancel our Hulu subscription.
In his former quest to slay the Lords of Shadow, he ended up becoming an even more terrifying existence. He is impervious to just about every method you would use to fight a vampire, the same methods that have killed other iterations of the character. The only actual bane to his existence is his own sword known as the Vampire Killer, which he instead uses to ruin the days of everyone else that gets in his way. This further adds another level to his overpowered-ness
---
6. Albert Wesker from Resident Evil 5 (Biohazard 5)

System/Platform: PC, PS4, XBO, PS3, 360
Developer: Capcom
Publisher: Capcom
Release Date: Mar. 13th, 2009
"Why won't you die?" - the collective chant of everyone who has fought this antagonist of the Resident Evil series, characters and gamers alike. From the onset, Albert Wesker was a human with only just a few desirable genetic traits. Throughout the course of the series and subsequent betrayals of his former allies, Wesker became something inhuman altogether. On a mission to bring about the evolution of humans and to become a god to rule them, Wesker affiliated himself with Umbrella, Tricell, and the shadowy "Organization" to further his goals.
The Resident Evil series has seen its fair share of nightmare boss encounters. It's bad enough when you have a series of mutated monsters made by science that possess a low level intelligence. Wesker, on the other hand, is a bonafide genius with more enhancements than just about every enemy the players have faced in the games. Even if, separately, his skillset and intelligence aren't too frightening, together they make for a dangerously overpowered combination.
---
5. Asura from Asura's Wrath

System/Platform: PS3, 360
Developer: CyberConnect2
Publisher: Capcom
Release Date: Feb. 21st, 2012
Asura's Wrath tells the revenge story of one of the Eight Guardian Generals who defend civilization from the Gohma. Asura was victorious in a great battle, but was afterwards framed for the murder of their emperor. With his wife murdered and his daughter kidnapped, Asura was banished to the underworld for 12,000 years. All that time did nothing to quell his rage and desire for revenge. Long story short, they didn't know who they were messing with.
As a demigod, Asura's level of strength is even higher than you would expect from his status. Throughout the game, he challenges other deities and overcomes them by an extreme margin. Even foes larger than the Earth itself are just stepping stones in his path towards vengeance. Asura's dominant strength and ferocity in combat make him an adversary that his foes won't easily survive angering.
---
4. Bayonetta from Bayonetta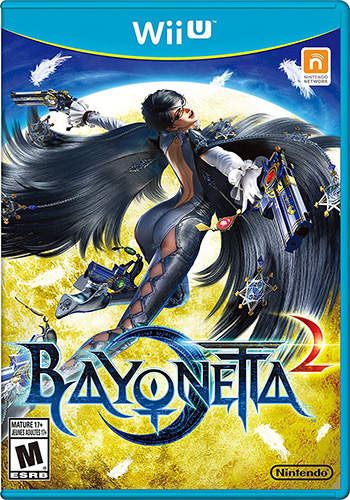 System/Platform: PC, Wii U, PS3, 360
Developer: Platinum Games
Publisher: SEGA
Release Date: Jan. 5th, 2010
Bayonetta is a powerful witch unlike any other. Possessing a vast arsenal of magic weaponry, not to mention a magical suit made entirely of her own hair, she dispatches foes with the utmost prejudice. Awakening after 500 years of sleep, she finds that a previous battle has erased much of her memories of the past. Beset by her order's rivals, the Lumen Sages, and the angels of Paradiso, she quests to reclaim that which she has lost.
As an Umbra Witch, she has a mastery of time which allows her to unleash a flurry of combos before her opponents can even react. Capable of evasive maneuvers that would put anyone else to shame, she is unperturbed by almost any attack that is aimed at her. As a master of shapeshifting, the bigger her opponent is the more her hair transforms to take them down. No matter how much power her enemy has, the end result is inevitable. The way she playfully dances and taunts her victims without tapping into her true strength makes her an even more overpowered heroine.
---
3. Dante from Devil May Cry 4

System/Platform: PC, PS4, XBO, PS3, 360
Developer: Capcom
Publisher: Capcom
Release Date: Feb. 5th, 2008
The younger of twin sons born to the demon Sparda and a human mother, Dante is a supernatural private investigator whose job description belies his true power. A devil hunter by trade, he hires himself out to those seeking an end to their paranormal problems. In his neverending quest to avenge his family, he is resolved to punish as much evil as possible, and the more powerful the better.
Wielding his iconic great sword "Rebellion" and dual pistols "Ebony & Ivory", Dante almost never breaks a sweat during his battles. Toying with the most sinister of monsters while smiling, even the most mortal of wounds inflicted upon him result in nothing but slight annoyance thanks to his outstanding durability. Met with any real challenge, Dante uses Sparda's bloodline to awaken the Devil Trigger, transforming into an even more overpowered form, thus leaving his opponents thoroughly wrecked.
---
2. Sephiroth from Final Fantasy VII

System/Platform: PC, PS1
Developer: Square Co., Ltd.
Publisher: Square Co., Ltd.
Release Date: Sept. 7th, 1997
The pinnacle of Shinra's super soldier program, Sephiroth was a monstrous warrior even before his transformation. After merging with the essence of Jenova, he became a supreme being capable of feats mere mortals couldn't hope to achieve. In cutscenes and boss fights, Sephiroth made every encounter with him seem like a truly epic battle against the dark and divine.
Released nearly two decades ago, the exploits of Sephiroth still seem just as impressive as they were then. It's bad enough that his sword, Masamune, is long enough to stab you from the checkout register while you're in the produce aisle. And the fact that he's able to kill a certain party member even though Phoenix Downs exist is truly overpowered in its own right.
---
1. Kratos from God of War 3

System/Platform: PS4, PS3
Developer: SCE Santa Monica Studio
Publisher: Sony Computer Entertainment
Release Date: Mar. 16th, 2010
Kratos was once a Spartan soldier who nearly died in combat. In a desperate plea to conquer his enemies, he became the servant of the god of war Ares in exchange for Herculean strength and power. Afterwards, Ares betrayed him and caused him to murder his own wife and daughter in a bloodlust fueled rage. This sent Kratos on a revenge spree which not only saw the death of Ares, but the other gods who saw fit to let it happen.
Kratos has no qualms about his opponent's status, size, power or any metric you would use to gauge strength. Titans, gods, mythological beasts; nothing has survived arousing his ire. Even his own allies cannot hope to outlast his anger if it is directed towards them. His rage is all that guides him. Death for him throughout the series is simply a mild annoyance. In his last trip to the underworld, Hades himself became a casualty of his vengeance. As the series has continued, so too have his feats of strength.
---
Final Thoughts
Overpowered game characters add another dimension of fun to our favorite games. Either through laying waste to countless AI enemies, beating your friends using broken characters, or the elation of having just defeated the most powerful being in the universe by the skin of your teeth, it's always fun. With games getting more and more realistic every year, developers continue to think up new ways to show off just how much they can let loose in these 3D worlds. We personally can't wait to see what's next.
Do you have any favorite overpowered game characters? Do you think a character on this list isn't tough at all, or is way tougher? Let us know in the comments!
---