Introduction
There must be something about all girls anime, slice of life, and sports. Why are they just so fun? They can be moe, ecchi, and just plain hilarious. One of our favorite all girls anime involving "sports" from last season has to be Bakuon!! Who doesn't love the silliness of these motorcycle loving girls?
Well, if you really love Bakuonn!! From last season due to the fun cast and their love of motorcycles, we have some fun anime for you to check out. Of course, we're only talking about this Fall 2016 anime season. If you haven't started watching this season, then we have some cute anime that will quench your thirst for more Bakuon!! So if you like Bakuon!!, watch these anime!
About Bakuon!!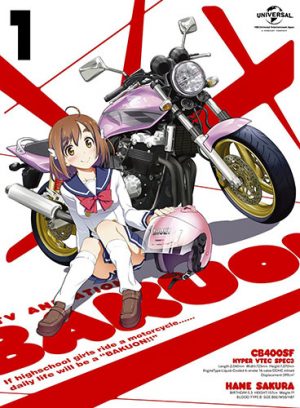 Episodes: 12
Aired: April 2016 - June 2016
Sakura Hane is a bit of a dunce when it comes to most things. One day while biking to school with difficulty, Hane sees Amano Onsa riding by with ease on a motorcycle. This has sparked Hane's interest in motorcycles, but where to start? Well, Onsa may be just the girl to assist Hane in her lust for riding.
Liked Bakuon!!? Watch Long Riders!
Episodes: Unknown
Aired: October 2016 - ongoing
Kurata Ami is a simple minded girl who is captivated by the sight of a folding bicycle sitting at the train station. This may have been love at first sight for Ami as she decides to dive headfirst into the world of biking. First, that involves buying a bicycle and actually learning how to ride it!
3 Major Similarities Between Bakuon!! and Long Riders
1. Love for Wheels
Something that Bakuon!! and Long Riders share is a love for wheels. Actually, well, the girls in both anime have a love for wheels. In Bakuon!!, the girls absolutely love riding on their motorcycles. In Long Riders, we have an all girl cast that has a passion for bicycle riding. Both groups of girls just absolutely cannot think of much else outside of their passions for their wheeled vehicles.
Heck, the characters are all very similar. You have your clueless main characters (whom we will discuss next) who just got into this sport, your knowledgeable characters that help guide our main characters into the world of wheeled vehicles, and a cast of knowledgeable characters who bring their passion into the group. How fun is that? They're almost the same anime, huh?
2. Clueless Main Character
Hane is Bakuon!!'s main character who knows nothing about motorcycles but chooses her bike based on it being the color pink. Similarly, Ami from Long Riders discovers a love for bicycling by merely seeing a cute folding bike. Rather than getting a bike that helps her ride or is easier to ride (lightweight and aerodynamic), Ami picks a folding bike because "it's cute."
Both characters are continually clueless about their new sport and continue to learn throughout the anime. They make a lot of rookie mistakes, but that's just what we love in a main character in an all girls anime, isn't that right? Who is more relatable (or more comedic), than a girl who just doesn't have all her stuff together? It's cute to watch Ami figure out what she needs to do to become a better bicyclist like her new friends. Doesn't she just make you want to get yourself a bike and start a riding?
3. Story Progression
The funny part about Long Riders is that it follows the almost the same story progression as Bakuon!! The main characters basically fall in love with their new sport at the first sight of a wheeled vehicle, they meet someone who helps fan the flames of their new passion, and then they make new friends who take them on this journey into becoming new riders.
They're both fairly similar in plot in many ways. Ami, like Hane, doesn't excel in biking like the rest of her friends and has to take the time to discover why exactly she cannot ride like everyone. Whether it's because of her athletic ability, immaturity, or the hardware she has, Ami's friends are willing to help her through the process the same way Hane's friends are willing to help Hane.
---
Liked Bakuon!!? Watch Ping Pong Girls!
Episodes: Unknown
Aired: October 2016 - ongoing
Thanks to the aid of Kamiya Agari, Tsumujikaze Koyori has stumbled upon the ping pong club at her middle school. Agari is regarded highly as the ace of the club, while Koyori lacks athletic ability and common sense. However, when Koyori picks up her ping pong paddle, she's ready for a game! Agari is not so OK with giving up the mantle of ace, but there's something about playing against Koyori which really sparks a fire in everyone in the ping pong club.
3 Major Similarities Between Bakuon!! and Ping Pong Girls
1. Main Characters Lost in Their Hobbies
The same way Hane gets lost in her passion for motorcycles and Ami for her love of bicycling, Koyori is yet another main character who just loses herself in the game of ping pong. Koyori picks up her ping pong paddle and the world just seems to fall away. Koyori just merely loves the sport of ping pong.
She does not seem competitive and does not get drawn in by the idea of competing against others; Koyori just loves the game. This is the same with Hane and Ami who don't go into their sport for competition but rather for a newfound passion for their own sports. Although Koyori takes on a more traditional sport than riding, it doesn't make her any less similar to Hane as a main character.
Let's not forget just how clueless Koyori seems. Like Ami and Hane, Koyori just doesn't have any talent in any other sport or in school. Guess that just makes her relatable to others! Or maybe just similar to Ami and Hane.
2. All Girl Fun
Yes, we are talking about fun in an all girls anime, but let's not forget what all girls mean. It basically means you're going to get some ecchi humor without the inclusion of male perversion in their fun. Bakuon!! featured some double entendres, especially involving the training bike Hane learned to ride on, that you just cannot ignore. That doesn't even include girls mentioning each others boobs and bodies, and ecchi nudity.
In Ping Pong Girls, there is a cast of characters that are constantly casting attention to each others' breasts and groping each other. Well, the team captain does most of the groping, but it cannot be ignored! How often do you get to have this sort of light hearted ecchi humor in an anime?
3. Determined Spirit
The characters of Bakuon!! possess very determined spirits whether those be competitive or filled with a desire to do great treks that not many are willing to do like traveling to Hokkaido. Likewise, the characters of Ping Pong Girls are all very determined to beat each other and win in the tournament. Their passions burn quite strongly in their love of the sport. They are all determined to play against each other and succeed when it comes to ping pong. It's this kind of determined spirit that you just have to enjoy.
Final Thoughts
So here are our suggestions for anime that will satiate your thirst for Bakuon!! From wheeled vehicles to goofy characters, these anime will be sure to entertain. This Fall 2016 anime season has quite the selection for all of you otaku out there, so be sure to tune in! What did you think about Bakuon!!? Which anime will you start next from this Fall 2016 anime season? Be sure to share your thoughts below!
---