También puedes leer este artículo en:Español
Today we present you with what's coming in the world of Anime, more precisely in the comedy department. We have a wide selection of comedy titles coming up this Spring season and most of them look quite promising.
To get you more acquainted with these shows, we've prepared a list of the most anticipated comedy shows of the upcoming season. Some of them are quite unique and original while others guarantee that you'll end up rolling on the floor laughing so hard your sombrero will fall off and you'll drop your taco. So be sure to check these shows out!
These are the most anticipated shows of Spring 2016!
7. Hakuouki: Otogisoushi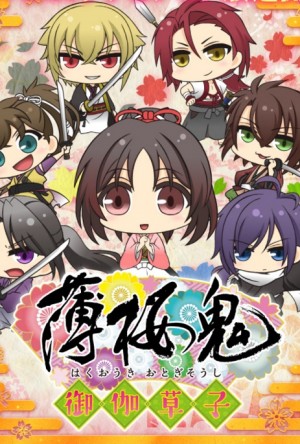 Episodes: Unknown
Aired: April 5th, 2016 to ?
Hakuouki: Otogisoushi is a very promising comedy show of this Spring season, based on the super-popular otome game. It follows the everyday life of Hakuouki's characters, but in miniature. For those of you who haven't played the game or watched the anime adaptation, Hakuouki is a historical drama about the rise and fall of the Shinsengumi in feudal Japan.
Very much like Attack on Titan: Junior High, Hakuouki: Otogisoushi takes the original story's popular characters to turn them into the loveliest midgets ever. You'll find lots of petite samurai fooling around and doing silly stuff. And let's be honest, we all love chibis.
【4月より放送開始】テレビアニメ「薄桜鬼~御伽草子~」番宣15秒♪
---
6. Neko Neko Nihonshi

Episodes: Unknown
Aired: April 6th, 2016 to ?
Neko Neko Nihonshi is the anime adaptation of a manga comic which parodies life in feudal Japan. These hysterical (no typo there) short series present some of Japan's historical figures such as Queen Himiko, daimyo Oda Nobunaga and samurai Ryouma Sakamoto… as cats!
Neko Neko Nihonshi retells some of the major events in Japan's history in the most ridiculous and adorable way possible. That is with all of its protagonists being cute little kittens. If you want to learn some of Japan's history and get a good laugh while at it, or if you just happen to love funny kitties, then this educational parody will be perfect for you.
---
5. Tonkatsu DJ Agetarou

Episodes: Unknown
Aired: April 10th, 2016 to ?
Agetarou is the heir to his family's Tonkatsu restaurant, though he's not so excited about cooking. Instead, he prefers the night life. That is until he has an epiphany; he realizes there are many similar things between cooking and DJing. From that moment onwards, Agetarou is determined to master and to combine the arts of being a DJ and cooking Tonkatsu.
By merely looking at the illustrations you'll get an idea of how bizarre this show is. Tonkatsu DJ Agetarou is a very atypical anime, yet promises to be a lot of fun. It has groovy music, comedy and the weirdest characters seen in a while. We're looking forward to meat (yup) the master of DJ cuisine. I'm sure he'll deliver some tasty beats. 😉
TVアニメ「とんかつDJアゲ太郎」PV 1
---
4. Unhappy (Anne Happy)

Episodes: Unknown
Aired: April 7th, 2016 to ?
Unhappy is likely to be the most kawaii slice of life comedy show of the upcoming Spring season. It's a school show starring five moe girls, each of them with a sort of curse or "bad karma" that makes their lives miserable. Hanako, Hibari, Botan, Hibiki and Ren will have to find the way to cope with their problems and not be discouraged by them.
This show presents a set of poor girls who can't seem to help being miserable, as they all have a reason to be unhappy. These "unhappiness" are quite absurd and ridiculous, like Hibiki's terrible sense of direction or Ren's curious attraction of everything female (whether human or animal). We're guaranteed to get a lot of fun from this super kawaii show.
【PV】TVアニメ「あんハピ♪」 しあわせPVその1(OP版)
---
3. Uchuu Patrol Luluco (Space Patrol Luluco)

Episodes: Unknown
Aired: April 1st, 2016 to ?
Uchuu Patrol Luluco (or Ruruko) is the cutest romantic comedy in quite some time. Ruruko is an extraordinarily ordinary girl who lives with her father in Ogikubo, a city located in outer space in the Milky Way, where earthlings and aliens coexist. There, she will meet ΑΩ Nova, a mysterious transfer student from across the galaxy. Ruruko's life is about to turn upside down in the face of her first love.
Contrary to Ruruko's character, this show is everything but ordinary. We'll get to join these intergalactic characters in their ridiculous adventures. This unearthly story promises to be one of the funniest of the season. Why? Because there's no gravity in space. 😛
『宇宙パトロールルル子』CM 第一弾
---
2. Tanaka-kun wa Itsumo Kedaruge

Episodes: Unknown
Aired: April 9th, 2016 to ?
Why fall in love when you can fall asleep? Meet Tanaka-kun, a languid boy who spends most of his time sleeping, particularly in class. However dim this character may seem though, you will have trouble not loving him. He's charming and irresistible in a very peculiar way.
At school, he meets the large Ohta-kun, who takes a certain interest for him. Ohta will try to open Tanaka up and help him shake off his dark and shut-in ways. This school slice of life comedy is one of the most anticipated of the upcoming season, plus the main character is kawaii as hell.
TVアニメ「田中くんはいつもけだるげ」PV
---
1. Sakamoto Desu Ga? (Haven't You Heard? I'm Sakamoto)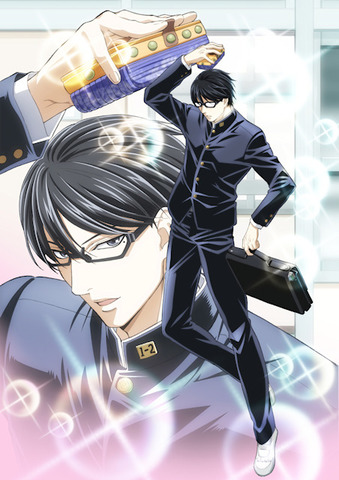 Episodes: Unknown
Aired: April 8th, 2016 to ?
And for the most anticipated comedy show of the Spring season 2016 we have Sakamoto Desu Ga?. In this seinen school comedy we'll meet the amazing star student, Sakamoto. He's a first year high school student who's good at everything. He's attractive, he's smart, he's graceful, he's athletic and he's cool. But not regular cool, he's cool at a whole new level of coolness. I would say he's at -459.67°F.
Every girl at school wants to be with him and every guy at school wants to be him. That is why Sakamoto is often played tricks on by his envious classmates. Of course, this only serves to make Sakamoto show off and get even more attention as he fools his classmates in the funniest and most cracking ways. Watch out for Sakamoto! You won't be able to get your eyes off him.
TVアニメ「坂本ですが?」PV
---
These are the most anticipated comedy anime right now. We all hope that these shows meet and exceed our expectations. We personally can't wait to watch Sakamoto Desu Ga?, but we're also eager to see what the rest of the titles have to offer.
Nobody knows for sure which one is going to become the top comedy show of the Spring season. By the way, We'd like to know which of these shows YOU are looking forward to watch the most and why. These anime have different styles for all kinds of tastes, so you'll surely find one that fits you.
---