También puedes leer este artículo en:Español
It's the beginning of a new year of anime, people. Hopefully, you have all made resolutions to watch at least 8 anime per season, because there's going to be a lot of good shows coming out this year. If not, and you can only spare time for a few shows this year, then this list will help you narrow down what you need to be watching in the sports and idol genres. That's because this list here will be ranking the sport and idol shows appearing on the Winter airing block in order from least appealing to massive amount of hype. Be sure to leave a comment below about what show you are most looking forward to watching this season, especially if it hasn't graced our list. That said, let's dig in.
7. Idol Jihen

Episodes: TBA
Aired: Jan. 2017 - ?
Idol Jihen is just starting up and is promising a bright start to the new year, which is something we all need. In Idol Jihen's world, things have not been going to well. The gap between the wealthy and poor has grown immensely, the environment is decaying at an enormous rate, and the whole political system is corrupt. That is until seven idol political parties pop up to say the day. There's the Heroine Part, Sunlight Party, Starlight Party, Bishoujo Party, Wakaba Party, Subculture New Party, and SOS Party. These parties are using the incredible power of song and dance to vitalize a world distraught with suffering.
Though at number 7, this idol anime promises solid animation that can be enjoyed by most people. It is, after all, under the careful hands of the trustworthy and well-respected MAPPA Studios. With recent shows like Yuri!!! on Ice and Days (TV) having wide appeal in the sports genre, it seems highly plausible that MAPPA will be able to pull of an upset and let Idol Jihen become one of the most talked about shows this season.
Idol Jihen PV:
---
6. Tiger Mask W

Episodes: TBA
Aired: Oct. 2016 - ?
Continuing on from October of 2016, Tiger Mask W pushes forward the story of two young wrestlers who grew up in the same dojo, but are now natural enemies in the ring. In this sports anime, the dojo the two characters grew up in was destroyed by a wrestling organization known as the Tiger's Lair. Both of the characters actually desire to bring an end to the Tiger's Lair, but one has decided to take it on as an outside force, representing the school of his former teacher, while the other wants to destroy it from the inside. This is how the two have become enemies in the ring as one wards the mask of Naoto Date and the wears the Tiger's mask.
This anime is extremely niche. It works well if you have a cankering for some old-school fight scenes. It even has some decent writing to keep up interest for those less interested in the fighting. However, the animation can be somewhat difficult to swallow if you're looking for something that is more attuned to most anime of modern times.
Tiger Mask W PV:
---
5. Marginal#4: Kiss kara Tsukuru Big Bang

Episodes: TBA
Aired: Jan. 2017 - ?
Let's meet with Atom Kirihara, Rui Aiba, L Nomura, and R Nomura, who make up the hottest pop group to hit the galaxy, Marginal#4. Though you will definitely get to see some quality concert-like scenes, this anime's main focus is on the downtime of these four stars. To be specific, we get quite a nice look at their daily school lives and how they handle the slower moments of life.
Marginal#4: Kiss kara Tsukuru Big Bang has quite a bit of hype surrounding it with the quality of its teaser video as well as the backing of Warner Bros. as producers. Now, that might be somewhat concerning; but with J.C. Staff working on this idol anime as well, it seems that it will land easily on its feet. In fact, since this is the studio that has brought us such greats as Toradora! and Shokugeki no Souma, this idol anime is going to have to meet at least a few high expectations.
Marginal#4: Kiss kara Tsukuru Big Bang PV:
---
4. Minami Kamakura Koukou Joshi Jitensha-bu

Episodes: 12
Aired: Jan. 2017 – Mar. 2017
Are you ready to meet the members of the girls cycling club? Well, Maiharu Hiromi wasn't quite ready for it either. However, maybe she should have expected something like this to happen, especially when you consider the fact that she was riding her bike to school everyday and ended up meeting with the president of the girls cycling club. Well, in then ends, fate seems to have set some things in motion for her as well as for the girls cycling club.
J.C. Staff is at the helm of this anime adaptation and so it will be interesting to see how well they adapt to the sports side of the anime spectrum. No one needs to worry about the school side of things or whether or not the characters will be lovable. Those aspects are guaranteed under J.C. Staff's supervision, and so far the animation looks very promising for endearing moments as well as humor. Hopefully, their work on shows like Shokugeki no Souma will allow them to properly adapt the timing for suspense during more competitive moments in this anime. Let's also hope that the episode that has been destined to be unaired doesn't have the series ending on a huge cliffhanger that will force us to open our wallets to buy the Blu-ray.
Minami Kamakura Koukou Joshi Jitensha-bu PV:
---
3. BanG Dream!

Episodes: TBA
Aired: Jan. 21 - ?
BanG Dream! follows the dream of Kasumi Toyama as she tries to discover the "Star Beat," a special sound she heard while starting at the sky one night. Well, upon beginning her first year of high school, Kasumi stumbles upon a star-shaped guitar that ignites all of her passion. Immediately she teams up with four other girls and starts rocking out to create the perfect sound for herself.
BanG Dream! is coming from a media franchise of the same name that formed in 2015 and has already produced three manga. The animation is extremely lively and fits well with the energetic protagonist as well as the performance aspect of the anime. The main question and concern for this anime, especially since a lot of people have high hopes for it, is whether or not it will be able to create a full cast of likeable characters. The band is composed of five members so the chemistry must be extremely good, for both conflict and growth of the characters. Also, each character should have a fairly distinct characteristic. It's in this area that shows with a lot of band members tend to fall a little short.
BanG Dream! Trailer:
---
2. All Out!!

Episodes: 25
Aired: Oct 7, 2016 to Mar, 2017
There's no single star player in rugby. Well, okay, there are star players, but the team's success is dependent upon the whole team rather than a single character. All Out!! stays true to this premise, as 1) they consistently lose as a whole because their team is currently weak and 2) each character gets quite a bit of spotlight. These two reasons are also what have led the show to be so great. Despite having an absolute newbie as the main protagonist, the focus isn't solely on him and his progress. The whole team is basically unprepared and so we get to see everyone's growth, even the powerhouse that is Sekizan has a few things to learn from his coach and peers.
Slated to continue through March of this year after its successful launch in October, All Out!! has gained a lot of attention and has a lot of hype for the second-half of its 25-episode run. The writing has been solid and several characters have gotten the spotlight sent their way. There's also been good pacing between practice, off-time, and scrimmages. The main question is whether or not the pace will develop to handle the start of the rugby season's competitive play.
All Out!! PV: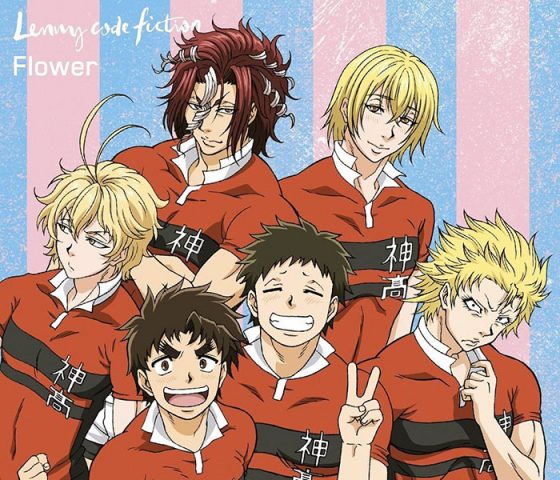 ---
1. Yowamushi Pedal: New Generation

Episodes: TBA
Aired: Jan. 2017 - ?
The third season of Yowamushi Pedal is just starting up and people are ecstatic. After two strong seasons, with the second ending with Sohoku's victory over the reigning champs, Hakone Academy, at the Interhigh national race, it will be interesting to see where the third season takes us. This is especially true as third-years Kinjou, Makishima, and Tadokoro have retired from the team.
As always you can expect great rivalries and intense races, but whether or not they will properly handle the nuances of the team's transition is up in the air. How are Onoda Sakamichi, Imaizumi Shunsuke, and Naruko Shoukichi going to handle the new rule of their new captain, Teshima Junta, and vice captain, Aoyagi Hajime? Will their competitive edge be strong enough to take on the new blood that has entered Hakone's lineup? A lot of personalities and talents will clash once again in this wondrous sports anime.
Yowamushi Pedal: New Generation PV:
---
Final Thoughts:
So are you ready for the onslaught of sports and idol anime coming at you right now? If you only have room for one, then you can't go wrong with Yowamushi Pedal: New Generation. That show has proven itself over recent years capable of handling the intensity that goes along with both competition and friendship.
---