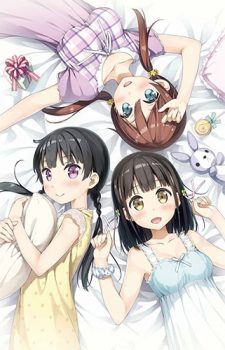 Decisions, Decisions! We are often faced with choices to make on the daily. Whether it is deciding on what to have for lunch today or picking out an outfit for a date, it feels like the longer we ponder on the dilemma, the harder a solution appears to us. In this case, we find our character is a young man, seemingly handsome, stuck in a predicament of which girl crush he likes the most. From this, using three choice anime, we introduce to you, an exciting division of recommendations, solely to give you all a sampling of current flavors based on popular previously aired anime. So, with that being said: eenie meenie miney mo!
About Amagami SS

Episodes: 25
Aired: July 2010 – December 2010
Amagami SS is a rom-com, slice of life anime following Junichi Tachibana, who two years ago got his heart broken by his crush when she stood him up on Christmas Eve, one of the most romantic days of the year…heartless! Feeling vulnerable, Junichi feels he has to close his heart to future relationships, in the hope that he won't experience heartbreak again. Following this decision, he meets six lovely girls, Haruka Morishima, Kaoru Tanamachi, Sae Nakata, Ai Nanasaki, Rihoko Sakurai, and Tsukasa Ayatsuji, who may each change his perception on romance altogether. Furthermore, one of these girls might make Junichi's Christmas Eve a positive, memorable one. Watch and see how each romance unfolds!
Liked Amagami SS [Pick Your Girl Winter 2017]? Watch Seiren!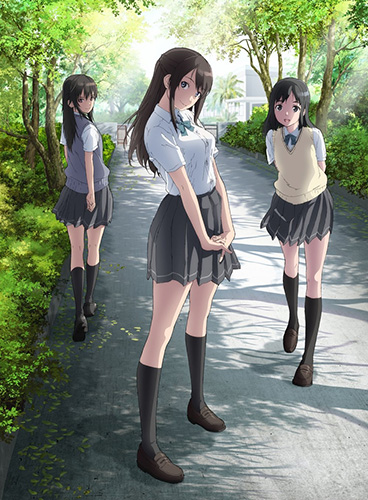 Episodes: 12
Aired: January 2017 – March 2017
Shoichi Kamita is your average student at Kibito Private High School. In the introductory scenes, we watch Shoichi being contemplative, blocked off at one of life's obstacles: what does he want to do after he graduates? In this romantic school comedy, Shoichi is faced with three different girls, who all offer their own unique experiences. In each scenario, we observe their romantic memories, and overall how his life with Tsuneki, Miyamae and Kyoko essentially unravels.
Three Major Similarities Between Amagami SS and Seiren
1. What if…?
Sharing the same premise and author as Amagami SS, both series follow our main characters in multiple arcs, highlighting a different girl in an alternate setting. Showing a variety of conclusions for each romance, instead of letting viewers decide which girl would be most appropriate for our main character, we are presented with many possibilities. Moreover, it is intriguing to observe the different personalities that make each couple united.
2. Tis The Season For Romance
Unlike western culture, where Christmas is a religious celebration, in Japan, Christmas Eve is celebrated and thought of as a day of joyfulness and romance. On this holiday, the day is spent with couples exchanging gifts and sharing quality time with one another.
In both anime, Christmas Eve is a critical component in the romances. In Seiren, Shoichi's childhood friend, Kyouko, has spent many Christmas Eves throughout the years with him. Now that the two are a little older, Kyouko hopes he sees her as more than just his childish friend. In Amagami SS, the event surrounding Christmas Eve tarnished the way Junichi views relationships, focusing only on its negative components. After his encounters with Haruka, Karou, Sae, Rihoko, and Tsukasa, something seems to take place on this very day, resulting in making Christmas a happy time for everyone.
3. "Don't Be So Hard To Get, Baby, Baby"
In comparing Seiren and Amagami SS, we have a number of girls who are resistant to how they truly feel, really playing hard to get. Making things more complex for an already troubled and confused male lead, our girls Tsuneki and Miyamae from Seiren, and Haruka, and Karou from Amagami SS hold back their feelings for some time, until they finally realize it is easier to let their guard down. Knowing that there is too much strain, physically and emotionally, in playing hard to get, the girls come to realize a sense of relief when expressing their heart's desire.
---
Liked Amagami SS? Watch One Room!
Episodes: 11+
Aired: January 2017 – Ongoing
" A new season, a new life…since you work so hard every day, you're bound to have a wonderful encounter."
In the anime One Room, you, yes YOU!, are the star of the series. In this point of view perspective, we discover what life is like in "your" one room. Throughout these twelve episode shorts, Moka, Yui and Natsuki interact with their Senpai/Onii-chan, spotlighting three very special relationships.
Three Major Similarities Between Amagami SS and One Room
1. "Lean On Me"
"Who you gonna call?" In One Room, you are a tutor for Yui, big brother to Natsuki, or Moka's old childhood friend; and in Amagami SS, a respectable classmate to Ai and Rihoko. Senpai/Onii-chan and Junichi are both great guys that our girls seem to count on for help. Reliable, compassionate, and dependable, these young men usher in some of the few great qualities of a blossoming companionship. Moreover, we observe in both male leads a generous trait.
2. Awkward Moments
With One Room and Amagami SS, not only do we experience the serious, yet difficult decisions of Senpai/Onii-chan and Junichi, we are also presented with some embarrassing and silly moments. To entice our viewers a little more, both anime give us a taste of fan service. Serving it up in above average quantities, each episode includes an erotic, sexualizing moment to spice up an already awkward situation.
3. "I … Declare …LOVE!"
Nothing gets the blood pumping like when you finally work up the courage to tell your crush you like them. The rush, the adrenaline! As we intensely watch various scenes in One Room and Amagami SS, the focus is real, and you let out a big gasp when a character finally says, "I love you", "I wanna be your girlfriend", "Will you go out with me?"…Something along those lines. In our opinion, moments like these are our favorite when it comes to romantic comedy anime!
Final Thoughts
We hope this article gives you a little sample of this type of anime in existence, where our male lead is caught in a dilemma of picking the girl he fancies most! In our opinion, these "follow your heart" anime are absolutely engaging, ones that'll keep you guessing and rooting for your favorite. Furthermore, they offer an element of realism. As there are so many other choices, let us know if you agree with this assessment. Moreover, feel free to leave your suggestions and comments below! Thanks and enjoy!
---