También puedes leer este artículo en: Español
Homerun! Does this word bring excitement to you? If you already knew about baseball then there's a high probability that it might; but, if you are oblivious about baseball and have no idea what the word means, 'Homerun' in baseball is basically 'Goal' in soccer or football. If you are new to baseball and want to learn more about it, there's always a first for everything right? But if you already know about baseball and you have a passion for it, here are the Top 10 Baseball Anime! So let's get it going!
10. Touch

Episodes: 101
Aired: Mar 24, 1985 to Mar 22, 1987
Despite the fact that they are twins; Uesugi Tatsuya and Uesugi Kazuya have a striking contrast in personalities. Tatsuya, the older twin, was the ace pitcher in his school baseball club, popular amongst the girls, and a straightforward guy. Kazuya however, is nowhere close to match his older twin. But when Kazuya falls in love with Asakura Minami, the twins' childhood friend, he becomes motivated to surpass his older twin in baseball and all other things.
Touch is an interesting work from Adachi Mitsuru who spawned two more anime about baseball; H2 and Cross Game. Overall, this anime has a fairly slow character development in terms of the protagonist, Kazuya; as he works his way to being an adequate person. But once the main plot starts to unfold, the character development makes it all worthwhile!
---
9. H2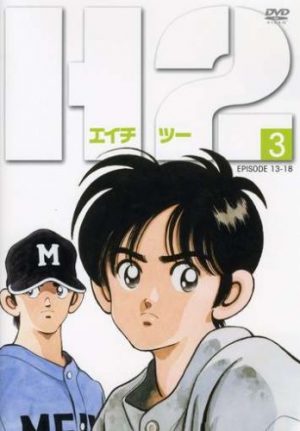 Episodes: 41
Aired: Jun 1, 1995 to Mar 21, 1996
Kunimi Hiro is a former prodigy pitcher who retired in baseball after being diagnosed with a serious shoulder injury. He then moved to a new school that has no baseball club and joins the football club hoping to forget about baseball altogether. After a series of events, Hiro finds himself unable to forget about baseball and decides to pursue his dream once again.
As I mentioned in the previous selection, H2 is also one of the great works from Adachi Mitsuru, so it will be no surprise to find out how similarly the characters are drawn. The character development in this anime is also similarly slow. But all in all, it gets really exciting when the protagonist gets involved with baseball again and helps his baseball club to reach the Nationals!
---
8. Cross Game

Episodes: 50
Aired: Apr 5, 2009 to Mar 28, 2010
Kitamura Kou ends up spending a majority of his time hanging out with Tsukishima Wakaba, who belongs to a family that is Kitamura's business client. Although Wakaba is really fond of Kou, the same can't be said with her sister Aoba, who resented Kou for some reason. Years after Wakaba's death by an unfortunate accident, Kou decides to pursue baseball since it was something that Wakaba encouraged Kou to pursue prior to her death.
Cross Game is arguably the best work by Adachi Mitsuru, over and above the other two anime listed so far. This anime is packed with interesting romance in its peculiar love-hate relationship between the two protagonists; Kou and Aoba. Aoba's resentment towards Kou slowly fades away through their involvement in baseball. This anime is definitely something worth checking out!
---
7. Princess Nine: Kisaragi Joshikou Yakyuubu

Episodes: 26
Aired: Apr 8, 1998 to Oct 14, 1998
Hayakawa Ryo possesses the extraordinary talent of pitching derived from her late father who was a legendary pitcher. At first, Ryo plans to help out at her mother's oden shop and keep baseball only as a hobby. But after the chairman of a prestigious all-girls school, Keiko Himuro decides to offer Ryo full scholarship for her school as long as she joins the baseball club, Ryo finally agrees to help Himuro's plan to establish an all-girls baseball club to prove that girls can do just as well in baseball as boys.
If you are a girl then this might be the right baseball anime for you! Although it might seem a bit sketchy, it's really enjoyable from both girls' and boys' perspectives. Regardless, the anime brings out that female empowerment that girls need to pursue baseball and all other type of sports that are labelled as 'boys' sports. You just can't help but cheer for these girls in the anime!
---
6. Taishou Yakyuu Musume

Episodes: 12
Aired: Jul 3, 2009 to Sep 25, 2009
During the transition from the Meiji era to the Taisho era, westernization in Japan is still not widely accepted. Therefore, women are still expected to be feminine and become housewives. Ogasawara Akiko sets out on a mission to change that. In her plan to break the stigma of girls doing boy's activities, she decides to form a baseball club and prove to her father that girls are as capable as boys and that they should be allowed to pursue their own dreams instead of being tied down to their obligation as housewives.
This anime has a similar plot to the previous selection on the list, as both protagonists struggle to prove that girls are as good as boys when it comes to sports. But what makes this anime stand out is that the characters that join the club have no knowledge whatsoever about baseball. So how the story progresses is really interesting in terms of how the girls struggle to learn about baseball.
---
5. Moshidora (What If a Female Manager of a High School Baseball Team Read Drucker's)

Episodes: 10
Aired: Apr 25, 2011 to May 6, 2011
Kawashima Minami decides to take over after her childhood friend Miyata Yuuki was unable to continue her job as manager due to her illness. Despite Minami's resentment for baseball, she learns to love it after Yuuki expresses her true feelings about baseball. Now set on being the best baseball club manager, Minami accidentally brings a book that was actually about how to manage a business startup. She then uses the basic principles from the book and applies them to baseball club management.
From the title you can probably imagine how compelling this anime is going to be. It's a one-of-a-kind anime that brings you the perspective of managers and coaches, not just the players themselves. The protagonist learns to understand the players and therefore is able to bring out the best in them. If you are looking for something fresh and new, the plot of this anime is the perfect fit!
---
4. One Outs

Episodes: 25
Aired: Oct 8, 2008 to Apr 1, 2009
When Tokuchi Toua, a prodigy of pitching with a record of 499 wins, loses to Kojima Hiromichi, a prestigious batter for Saikyou Saitama Lycaons, on a high-stakes bet called 'One Outs', Toua decides to quit gambling and join Kojima's baseball team as payment for the bet that he lost. Since mind games and psychological battles are Toua's forte, he uses them to help his team achieve their goal to go to the Nationals.
One Outs centers more on the psychological and mind battles between Toua and other players. This anime emphasizes not just the physical aspects of baseball but also the mental and mind games as well. It messes up how players will react in given situations, so the suspense is real. You will most certainly enjoy this baseball anime since it has a unique and different 'flavor'.
---
3. Ookiku Furikabutte (Big Windup!)

Episodes: 25
Aired: Apr 13, 2007 to Sep 28, 2007
When Mihashi Ren, a socially distorted student, decides to move to Nishiura high school after being shunned by his former schoolmates, he finds himself unable to quit baseball after being encouraged to do so in middle school. Coincidentally, Nishiura's baseball club was lacking a pitcher and Mihashi was accepted to fill the position. There, he met Abe Takaya, a catcher that realizes Mihashi's unique slow pitching style and is able to utilize it as a way to make Mihashi a true ace for his baseball team.
It's entertaining to see how whimsically Mihashi reacts to everything. How Mihashi establishes an inseparable bond with Abe is really heart-warming in this series since Abe was the only one to be able to get Mihashi to come out of his shell. Overall, the characters' development is great and makes this a really fun series to watch!
---
2. Diamond no Ace (Ace of Diamond)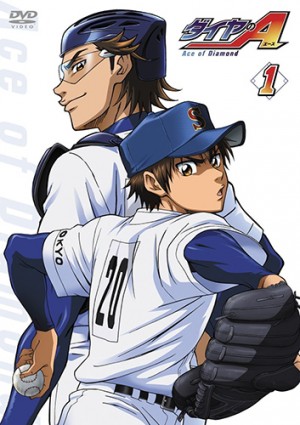 Episodes: 75
Aired: Oct 6, 2013 to Mar 29, 2015
After receiving an invitation to attend an elite school that has a prestigious baseball club, Sawamura Eijun was hesitant at first about leaving his teammates behind, but his teammates realize that Eijun's talents would go to waste as the team wasn't able to keep up with him and so they encourage Eijun to win the Nationals in their place instead. In his new baseball club, Eijun meets Miyuki Kazuya and they both help each other to get their team to the Nationals.
Here's one of the series that everybody is hyped about nowadays, and it's because of the emotions that this anime puts you through. The protagonist's relationship with his former teammates is a definite ticket aboard the 'all-feels' train. It's a good example of how a strong bond can affect someone in great ways. The anime also brings out laughter through the eccentric personalities of the characters. So it's not surprising for viewers to be crying and laughing at the same time while watching this anime!
---
1. Major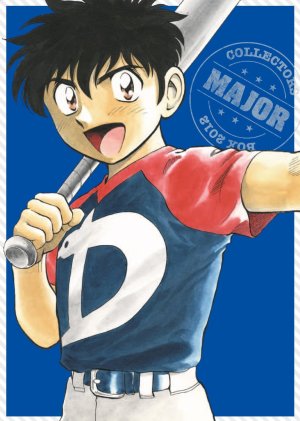 Episodes: 26
Aired: Nov 13, 2004 to May 21, 2005
The story follows Honda Gorou, son of the prestigious former Major League batter, Honda Shigeharu and his dream to become just like his father. Due to severe injuries that forced his father to retire from the Major League, Gorou was devastated but he did not let that setback deter him from his love for baseball and his goal to be in the Major Leagues.
This anime is by far the best baseball anime there is. Spanning for 6 seasons, this anime is a really memorable piece for those who have watched it from the first season. It doesn't just give you the excitement and suspense of baseball, but also the emotional aspects of drama really shine through in this anime. Throughout 6 seasons, Gorou learns a lot and grows to be closer to achieving his dream. The character development is phenomenal and you really should check this one out!
---
And that's the end of the Top 10 Baseball Anime List! If you enjoy baseball and want to know more about baseball through anime, be sure to check out some of these anime: Miracle Giants Doumu-kun, Kyojin no Hoshi, and many more! What's your favorite baseball anime from the list above? Do you have any more suggestion for baseball anime? Leave them in the comments below!
---