Anime has a lot of variety when it comes to genres. There is a lot to choose from! One genre of anime that is getting more popular these days is the sports genre. Simply put, it tackles the lively world of competitive sports. Whether it's basketball, soccer, baseball, or others, they fall in this category. Sports in real life are already as intense as can be, but when a sport is adopted or portrayed in an anime, it becomes even more extreme as it brings interesting storylines, heart-pounding action, and intriguing characters for viewers to enjoy.
Cycling, in general, is a cheap and green way of transportation that can either be used for recreation, exercise, or sport. Mainly as a sport, cyclists use bikes in order to race their way to the finish line. As what Naruko Shoukichi in Yowamushi Pedal said "Cycling isn't like other sports. You don't need to support your own body. Most sports consume a lot of stamina by forcing you to support yourself. But in cycling, the bike supports your body for you. You don't have to be quick, have the strength to kick a ball or possess explosive strength. All you need to do is to turn your legs."
So here at Honey's Anime, we would like to showcase for you, our dear readers, 5 selections regarding cycling anime. Now, let's pedal away down the list and through the finish line!
5. Hill Climb Girl from Nihon Animator Mihonichi (Japan Animator Expo)

Episodes: 35
Aired: Nov. 2014-Oct. 2015
Have you seen the music video or even heard the song "MEMEME" by TeddyLoyd feat. Daoko? Well then, that music video was an episode of Japan Animator Expo just like Hill Climb Girl. Japan Animator Expo features original animations by different creators that were released weekly on the Japanese video sharing site called NicoNico. All of the anime that are featured here are fairly short, showing different kinds of unique storylines, artworks, and visuals.
If you want to watch Hill Climb Girl, it is in episode 2 of the collection. The story of Hill Climb Girl is very short and simple. A high school girl, Hinako, races every morning with her mama chari bike against a boy on their way to school. She always losses in the process, but nonetheless, she never gives up. After her recent loss, she gets a chance of winning with the help of her inspiration, Bradley Wiggins. The animation is in CGI which is done quite well. It exhibits wonderful bright colors that give off a very refreshing feeling. A very well done anime short that can be watched at anyone's leisure.
---
4. Idaten Jump

Episodes: 52
Aired: Oct. 2005-Sept. 2006
Unlike our other selections here that feature road racing, Idaten Jump focuses more on BMX racing. Yamato Sho and his friends love MTB riding (Mountain Bike Riding) and they practice in the X-zone. However, another MTB group named "Shark Tooth" challenges Sho with the winner having claim over X-zone. On the day of the race, a dark smoke surrounds Sho and his friends, and they realize that they were transported into a different dimension. In order to get back home, Sho must collect 10 pieces of emblems by winning the so-called "Idaten Battle." Now, Sho embarks on a journey as he tries to win the battles in order to get home.
The beginning of Idaten Jump might surprise viewers because of its bizarre, unexpected start, but as you progress along, you will be rewarded with amazing action revolving around cycling. Even though cycling is the main center for the action of the series, Idaten Jump spices the sport even more by adding unconventional road tracks with superpowered bikes to boot. It's a good old show that will remind viewers of their childhood days.
---
3. Nasu: Andalusia no Natsu (Nasu: Summer in Andalusia)

Episodes: 1
Aired: Jul. 2003
The same director as Ghibli's Spirited Away, Howl's Moving Castle, and Princess Mononoke comes with another memorable piece, Nasu: Summer in Andalusia. The story revolves around Spanish cyclist, Pepe Benengeli, as he competes in the Vuelta road race. He faces emotional turmoil along the race because of the wedding of his ex-girlfriend to his brother and the pressure that was put upon him by his sponsors to win the race.
Same as some of our selections here, Nasu: Summer in Andalusia unveils the workings behind the wonderful sport that is cycling. Cycling is simply not just pedaling your way through the finish line, it involves regulation of one's breathing, the immediate response to one's surroundings, great teamwork, and an ample number of strategies to win the race. The movie teaches the viewers all of these, while the protagonist reflects on his relationship with his family, teammates, and his hometown. Usually, when a person's mind is divided, they cannot concentrate on the matter at hand. Well, not for Pepe, as he uses this to fuel himself to reach the finish line. Being one of the oldest show in this list, Nasu is well written and is a very solid anime in general. If you want to see more of Pepe, watch him in the sequel Nasu: Suitcase no Wataridori.
---
2. Over Drive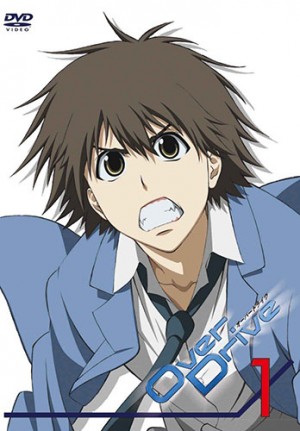 Episodes: 26
Aired: Apr. 2007-Sept. 2007
Shinozaki Mikoto is just your average timid teenage boy who has a big crush on Fukazawa Yuki. Unexpectedly, Fukazawa suggested that Shinozaki join the high school cycling club, thus leading him to the world of competitive cycling. As he discovers his love for cycling, he dreams of one day being able to race in the biggest bicycle tournament in the world: The Tour de France. But before that, he has to face the ultimate hurdle of all, learning how to ride a bike.
Over Drive definitely shows you what it's like to be an underdog. It is presented before us through the eyes of our protagonist, Shinozaki Mikoto. During the first half of the series, it is shown to viewers how Shinozaki trains hard to attain his dream goal. Towards the other half of the series, we're shown how Shinozaki's training has paid off. Overall, the show was amazingly good in that it focuses more on an individual's development. That everyone at some point will find something that they are good at and can inspire others as well. Shinozaki is a prime example of a person who works hard and was rewarded by the surprising satisfaction of doing something great. The show has a nice touch of romance, comedy, and drama mixed together, earning Over Drive the number 2 spot on this list.
---
1. Yowamushi Pedal

Episodes: 38
Aired: Oct. 2013-Jul. 2014
Speeding its way to our top list is Yowamushi Pedal. When Bicycle anime is mentioned, the first to come to mind is Yowamushi Pedal. Spanning 2 seasons, spin-offs, a movie and a 3rd season on the way, Yowamushi Pedal indeed gave a new fresh viewpoint to the sport. Onoda Sakamichi, a first-year high school student in Sohoku High School, is an Otaku by heart. He plans to join the anime club, but to his dismay, it closed down due to lack of members. Determined to reopen the club and fulfill his dream of having a friend, he searches for a potential member, and there he meets Imaizumi Shunsuke -a cyclist who has taken an interest in Onoda's hidden potential in cycling.
Just like Shinozaki Mikoto from our previous selection, Onoda Sakamichi is what you may call a "lame" character from the first impression. They are characters with low self-esteem who found a new perspective because of Cycling. Unlike Shinozaki who started at the very bottom to harness his skills, Onoda already has the talent and only improves it to make it better. While Over Drive focuses more on individual growth, Yowamushi Pedal, on the other hand, focuses more on teamwork. Despite the large array of characters, Yowamushi Pedal never fails to flesh them out. It gives us little glimpses and hints on why these characters choose to race with their bicycles. The races are long but very entertaining, it puts a mix of drama and comedy along the sidelines to keep the viewer's attention. It also features amazing music that will surely make you fired up for the show.
---
Feeling the wind against your skin, the sweat and heavy breathing due to pedaling, seeing different sceneries around you, and being the fastest among anybody else; cycling is truly exhilarating. Cycling can be done by everyone. As long as you have a bike, and know how to use it of course, then you're good to go!
Cycling anime are few and uncommon in the sports genre, but thankfully, the sport is getting more recognized. Look out for the upcoming adaptation of Long Riders! this fall and Minami Kamakura Koko Joshi Jitensha-bu in the near future. Both mentioned anime also revolve around Bicycles / Bikes in general. Please do tell us your favorite Bicycle anime in the comment section below! If you want more anime related topics, then just stay tuned to Honey's Anime. Ja ne! Now signing off!
---