Sports play such a major role in our lives, whether it be for recreation or perhaps a career which you plan to embark on. Whatever the case may be, the thrill of playing sports is amazing. With so many to choose from it can really be a challenge to find the one you truly love, but once you do decide to choose one it truly brings out the best in you. When you pour your heart and soul in something you love, more of that same love comes back to you in a major way. The wonderful aspect about sports is that it's a form of artistic expression, which gives you an opportunity to show off your passion in motion.
Tennis has always been a sport that many flock to because of its easy learning curve, and action packed sets. Each and every time a ball is hit, the crowd grows silent as they watch poetry in motion. The players on the court demonstrate true form and finesse each time they perform that incredible serve to build advantage, or release an epic backhand as their counter attack to avoid the ball going over the line. The back and forth rhythm is like watching a live orchestra with the rackets as their instruments trying to match the tempo of the ball being hit. This motivated us to bring you our top six tennis anime that we think you'd enjoy.
6. Teekyu

Episodes: 12
Aired: October 7, 2012 to December 23, 2012
We've cleaned up the court and we are now ready to kick off our top six tennis anime, starting with Teekyu. The story revolves around four schoolgirls who all come with their own wacky personalities, and are the sole members of the school tennis club. Nasuno is quite wealthy and typically gets her own way when she demands it; Marimo gets herself into trouble a lot by doing extremely lewd and strange activities; Kanae gets bored extremely fast while Yuri is the more unconventional character of the cast.
We chose Teekyu as our sixth tennis anime because despite some of the girls being very aloof about playing Tennis consistently, you can see that they're are trying their best to accomplish what they set out to do. Yuri is the more passionate out of the bunch, and has a mean serve when the heat gets turned up. The other girls try to stay focused, but end up losing momentum along the way. Tennis doesn't have to be perfect or high level in order to be spectacular, it just needs to be enjoyable which is what these girls exemplify. They may not have the necessary talents to be at the highest level, but when they all come together to have fun and swing the racket it creates a genuine environment where no one is judged.
---
5. Usakame

Episodes: 12
Aired: April 12, 2016 to June 28, 2016
If you really enjoyed our number six pick for top tennis anime, then you'll most definitely enjoy its spin off series. Usakame follows the life of four girls who really have a passion for the sport, and work hard to pursue their dreams of becoming professional players. Kinako, Ayako, Kurumi, and Nishi join the Usakame Tennis Club so that they can all work together to make Tennis more exciting. Each character brings their own flow to the series such as the high energy and finesse of Kurumi, and the more respected upperclass Ayako who is relatively skilled at the sport compared to her friends. It is a show that educates us on the finer aspects of building close friendships, while coming together to achieve success in the same sport they all love to play.
Usakame was chosen as our top five because of how wonderful the flow of the story is. While the episodes may be short, much of what takes place in each episode will resonate with you as they demonstrate that it doesn't matter what your level of skill is, as long as you enjoy playing and improving. Usakame is more about the introduction to the sport for many who may feel like Tennis may be too competitive, and provide a great positive tone that's very inviting for those who tune in. It's lighthearted and full of information that will get you excited to give Tennis a try, even if you feel you're not great at it.
---
4. Softenni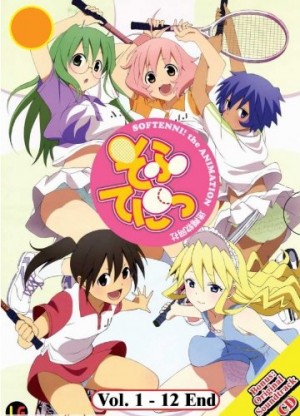 Episodes: 12
Aired: April 8, 2011 to June 24, 2011
Softenni is the story about Asuna who is so in love with the sport that while working on her family's farm, she uses a pitchfork to practice her swing. She's a member of her school tennis club called Soft Tennis, along with Kotone, Chitose, and Kurusu. Kotone shows a lot enthusiasm toward her love for the game, Chitose loves her food, and Kurusu, despite being bizarre, is extremely talented. The four set out to master their skills as a major tournament approaches, ensuring that they take their training seriously. Things don't always go the way they want it to since they've lost a lot of their matches, with Chitose's inability to win even a single match and Asuna not being able to create better form. The anime takes us along their journey into becoming professional athletes while learning the ups and downs of earning the right to play in the championship.
Tennis is always a fun sport to play with friends and Softenni is a great example of just being able to have fun and work hard to ensure results are met. All four characters have their own set of goals they want to reach, but end up finding themselves in messy situations that are funny to watch. We realized that its best to live our lives and never take it so seriously all the time, but still work hard doing what we love to achieve happiness. Whether you're a pro at the game or just getting started, these girls demonstrate that they'll keep going no matter how long it will take them because passion and perseverance is what separates the great from the champions.
---
3. Ace o Nerae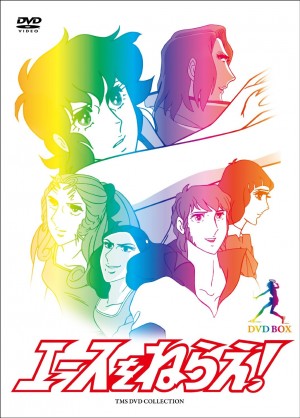 Episodes: 26
Aired: October 5, 1973 - March 29, 1974
Ace o Nerae comes in at the number three spot on our tennis anime, and this classic is a must watch for any tennis fan. The original series launched back in 1974 and featured female tennis player Reika, who is also nicknamed Madame Butterfly. The main protagonist is Hiromi who is a freshman and decides to join the same team that Reika is on. Hiromi struggles to find her rhythm when training but maintains her motivation because she looks up to Reika as her inspiration. The team eventually gets a new coach who sees potential in Hiromi and so he trains her to become a great tennis player. This sparked some jealousy within Reika as much of the attention was going towards Hiromi and towards her, and over time Hiromi's skills began to improve dramatically. It's a story about strong competition and a love for the game in this action packed tennis anime.
Ace o Nerae really exemplifies the true art of what Tennis represents, which is expression and determination. Reika has such a love for the sport and you can see it in every serve and backhand she performs, and Hiromi shows that side of determination to attain the same level of talent as her teammate. It really captures the true essence of Tennis where two players battle it out to see who has the stronger heart on the court, and who can finish off the match with style. This is a definite watch for those interested in high octane Tennis action.
---
2. Baby Steps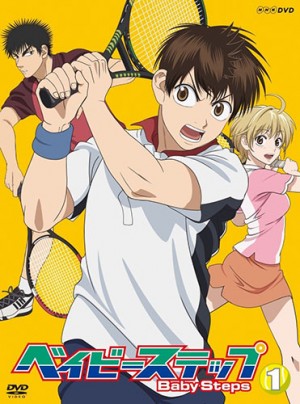 Episodes: 25
Aired: April 6, 2014 - September 21, 2014
Much like the shows name, learning the art of Tennis requires that you take baby steps in order to reach the highest level of performance. In this fantastic story we follow the life of Eiichirou on his epic journey to becoming the best Tennis player in the nation. At first Eiichirou decided to pick up Tennis because he felt he had to, and not because he truly enjoyed it. He was concerned about his lack of exercise and how it effected his health, so he ended up joining the Southern Tennis Club at the start of his freshman year.
Along the way he meets another passionate Tennis player named Natsu, who shows a hunger for the sport and is determined to becoming a professional. Eiichirou's feelings about the sport start to change as he begins to realize the finer aspects behind it, and soon becomes fascinated by the game.
Baby Steps truly deserves the number two spot because it tells an incredible story about a boy who makes the most of his diligent and purist nature to create his own unique playing style. Taking baby steps toward learning the game, Eiichirou's skills begin to develop, and he strives to stand on equal footing with Tennis' best players.
---
1. Prince of Tennis

Episodes: 178
Aired: October 10, 2001 to March 23, 2005
The world of Tennis can be harsh and competitive at times, but once the ball gets rolling and you pour your heart into it the rush grows stronger. We thought it would be a great idea to put on our gear and shape up for one of our favorite anime, Prince of Tennis. This popular series has charmed the pants off many fans who show a love for the passionate and determined Ryouma, whose positive attitude and grace throughout his matches made us all cheer in excitement. The story follows Ryouma on his inspirational journey to become one of the best Tennis players the country has ever seen. He pushes himself over the top so that he can one day surpass his father's name and his own personal triumphs. Alongside the rest of the Seigaku team, Ryouma continues to fight to make his dreams come true for everyone and to leave a legacy in his name.
Prince of Tennis is the most popular Tennis franchise in Japan not just for girls, but also for all of the aspiring Tennis players out there. Ryouma inspired many to pick up the racket and train as hard as they could until they could reach the upper echelon of the tennis scene. Ryouma showed charisma and integrity while making sure to keep his promise to achieve the best not only for himself but those around him. He leads by example and helps us realize that our greatest success doesn't come from doing something for ourselves, but to share in abundance with those around us so we all can achieve greatness.
---
Closing Statement
The art of tennis is one that is hard to paint if you haven't really picked up the racket and started swinging towards success. While the environment is extremely competitive its the commitment to the game that changes it all. This same philosophy can be said for anything you strive to work hard for in your life, and so the only way to get there is to train for it. Nothing ever comes easy, because the value you put into your work will become a testament of your true worth. If you have any other anime that you feel should make the list, be sure to let us know in the comments section down below! And also follow us on twitter for the latest article updates and tweets!
As always for all of your sweet anime needs, keep it locked here on Honey's Anime.
---