Christmas is one of the most joyous times of the year. Whether you enjoy spending time with people you care about or you enjoy the beauty of freshly fallen snow, there are plenty of reasons to enjoy Christmas. The Christmas season has an infectious cheer that not even the world of manga can avoid. Some of the best depictions of Christmas stories come in the form of shoujo manga. Shoujo manga capture the romantic side to Christmas, often having major scenes with the characters sharing their first Christmas together. Today, we are going to be looking at the top 10 Christmas scenes in shoujo manga. The manga are going to be filled with scenes that understand the essence of Christmas while incorporating their shoujo elements to create a scene that feels like the best Christmas has to offer.
10. Christmas Romance

Authors: Harada, Saa
Genres: Comedy, Romance, Shoujo
Volumes: 1
Published: 2014
Sano Ito has been waiting for the release of the latest novel from her favorite author. Set to release on 23rd of December, Akira Umeda's newest novel is sure to be a hit. While talking to her friends about the upcoming release, Ito learns that there is a boy in her school that is also named Akira Umeda. Ito discovers that the Akira Umeda at her school is, in fact, her favorite author, but the excitement of meeting her favorite author is ruined when Akira is nothing like she thought he would be. Although Akira is annoyed with Ito at first, Ito may be just what he needs to pull himself out of his shell.
Despite its name, Christmas Romance lacks some of the more typical Christmas visuals that will appear in the other entries on the list. While it may not have any of the visuals or Christmas traditions you see in most shoujo manga, it does have a nice little romance story centered around the holidays. The story focuses on Ito and Umeda as they bond together over novels despite their drastic difference in personalities. Watching as Ito grows to truly care for Akira makes for a nice heartwarming story for you to enjoy during Christmas. Christmas Romance serves as a great first entry on the list because it has many of the typical story-driven elements that make for a great Christmas chapter.
---
9. Koukou Debut (High School Debut)

Authors: Kawahara, Kazune
Genres: Comedy, Drama, Romance, School, Shoujo, Slice of Life
Volumes: 15
Published: 2003 - 2013
Haruna Nagashima dedicated her middle school life to softball Now in high school, Haruna decides to leave softball behind in order to become more feminine and find herself a boyfriend. Haruna uses magazines to learn all about fashion, but the magazines only do more harm than good. While out trying to get somebody to hit on her, Haruna runs into a good-looking fashionable guy named Yoh Komiyama. After Yoh gives Haruna some fashion advice, Haruna asks Yoh to teach her all about fashion. Although Yoh declines the offer at first, he changes his mind after seeing how dedicated Haruna was. Yoh agrees to help Haruna but only under the condition that she doesn't fall in love with him.
After days of planning, Haruna finally gets to see her hard work pay off as the date she planned with Yoh was going perfectly. The date takes a turn after Haruna and Yoh get a fortune that shows how incompatible they are. Haruna runs away crying, but Yoh catches her and tells her how he feels and the two share a kiss in the falling snow. The chapter also features plenty of Christmas scenery from the Santa Palace to the snow filled city. Not only does the chapter do a great job creating a Christmas atmosphere, but it also features great romantic development with Yoh and Haruna taking a serious step forward in their relationship.
---
8. Kimi Ni Todoke (Kimi ni Todoke: From Me to You)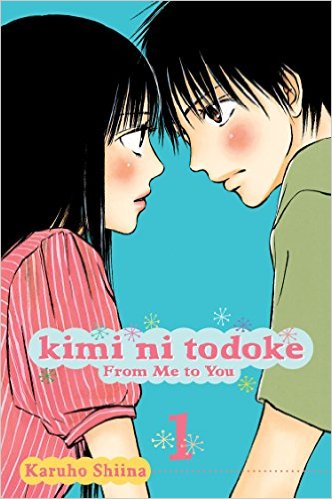 Authors: Shiina, Karuho
Genres: Romance, School, Shoujo, Slice of Life
Volumes: 30
Published: 2005 - 2017
Despite her kind personality, Sawako Kuronuma her classmates only see her as creepy. Sawako's shy and quiet nature, along with her wild appearance, cause her to be ostracized from the class. Thanks to her appearance, her classmates began referring to her as Sadako after the character from "The Ring." Sawako dreams of making friends and living the life of a normal high school girl. Luckily for Sawako, one of the most popular boys in school Shouta Kazehaya starts talking to her. With Shouta's help, Sawako is able to show to the class she is just like them.
Kimi ni Todoke's actually has an extended Christmas arc spanning a multitude of chapters. The tone of Kimi Ni Todoke's Christmas chapters is a bit more serious with the tension between Sawako and Shouta building up ultimately culminating in an awkward environment during the Christmas party. Sawako and Shouta eventually reaffirm their feelings for one another with a kiss. There are also some great romantic moments with some of the side characters with Chizuru and Ryuu exchanging gifts privately. Kimi ni Todoke finds a nice balance between the Christmas traditions and the story, giving you a series of chapters that not only have serious story implications but also show off some of the best parts of Christmas.
---
7. Strobe Edge

Authors: Sakisaka, Io
Genres: Drama, Romance, School, Shoujo
Volumes: 10
Published: 2007 - 2010
Ninako Kinoshita doesn't know what it means to be in love, but after she runs into Ren Ichinose while boarding a train, she gets her first taste of love. Ninako's first love couldn't be any more complicated thanks to Ren already being in a committed relationship. Although Ninako wants to be with Ren, she forces herself to come to terms with Ren's relationship, but fate keeps bringing them together. Not all hope is lost for Ninako's love life thanks to Ren's close friend Takumi Andou taking an interest in Ninako.
Strobe Edge has plenty of fantastic Christmas scenes throughout its Christmas chapters. We get great scenes with Ninako and her co-workers putting up a Christmas tree, and some more serious scenes with Ninako, Andou, and Ren. However, the best Christmas Scenes in Strobe Edge come from the other couple in the series, Saiyuri and Daiki. The pair shares some very tender moments together and even have a private date at Daiki's new home on Christmas day.
---
6. Tonari no Kaibutsu-kun(My Little Monster)

Authors: Robico
Genres: Comedy, Romance, School, Shoujo
Volumes: 13
Published: 2008 - 2013
Shizuku Mizutani spends her high school life only worried about her grades. Thanks to her desires to be the best academically, Shizuku has lived a life of solitude, never taking the time to make any friends at school. One day, Shizuku is asked to bring handouts to an absent student named Haru Yoshida in exchange for some reference books. Shizuku's delivery is anything but easy thanks to Haru's unpredictable nature. Haru takes an interest in Shizuku and decides to return to school in order to be with Shizuku. Shizuku and Haru begin an unlikely friendship that nobody saw coming.
Christmas comes at a complicated time for Shizuku and her friends making for a very interesting evening. With Natsume's Christmas party underway, Haru can't shake the feeling that Yamaguchi really does have feelings for Shizuku. Haru has a serious confrontation with Yamaguchi before he walks Shizuku home. What happens next makes for one of the cutest Christmas confessions. Shizuku ends up telling Haru how she feels about him in the same place Haru has confessed his feelings many times. The scene is beautiful with the snow falling and Shizuku finally accepting Haru's feelings with a promise that they will be able to work through any problems that may come their way.
---
5. Heroine Shikkaku (No Longer Heroine)

Authors: Koda, Momoko
Genres: Romance, School, Shoujo
Volumes: 10
Published: 2010 - 2013
While Hatori Matsuzaki looks like an upbeat and friendly girl on the outside, she is actually incredibly selfish and self-centered. For as long as she can remember, Hatori has had a crush on her childhood friend Rita Terasaka. Hatori has always thought she would eventually marry Rita and they would live happily ever after, but her plan is ruined when another girl confesses to Rita and her starts dating her. With her dreams crushed, Hatori decides to stop at nothing to get Hatori to notice her feelings and claim him for her own.
Heroine Shikkaku captures Christmas the only way it knows how, with a combination of its strange brand of comedy and drama. Hatori grows jealous over the fact that Rita and Nakajima are spending Christmas Eve together. She is so jealous she even drags her boyfriend Hiromitsu to spy on them. After Hiromitsu gives Hattori her present, she realizes how silly she had been acting and decides Hiromitsu is the only guy for her and she even makes up with Nakajima. Heroine Shikkaku features a wonderful Christmas chapter that not only has some great romantic elements but also dives deep into the friendship between Nakajima and Hatori.
---
4. Hirunaka no Ryuusei (The Daytime Shooting Star)

Authors: Yamamori, Mika
Genres: Comedy, Romance, School, Shoujo, Slice of Life
Volumes: 12
Published: 2011 -2014
After living most of her life in the country, Suzume Yosano moves to Tokyo to live with her uncle after her father is transferred to Bangladesh for work. On her first day in Tokyo, she not only gets lost but she also runs into a strange guy at the train station. While looking for her uncle's home, Suzume passes out in a park. Suzume awakens to find herself in her uncle's home, having been saved by the same strange man from the train station. Now on her first day of school, Suzume runs into the man for a third time as the strange man turns out to be Satsuki Shishio, her homeroom teacher.
Hirunaka no Ryuusei has some of the best Christmas Chapters visually with loads of Christmas decorations, snow, and presents being exchanged. The story happening during Christmas is also fantastic with Suzume and Mamura growing closer together romantically. Suzume and Mamura leave the party and start looking at the Christmas decorations around the city. After hearing Suzume's story about skipping her birthday and about how Shishio stood her up on Christmas, Mamura gives her his scarf and tells her not to cry. Mamura tells Suzume that he knows all about her relationship with Shishio and eventually confess his love Suzume.
---
3. Takane to Hana (Takane & Hana)

Authors: Shiwasu, Yuki
Genres: Romance, Shoujo
Volumes: 12+
Published: 2014 - Ongoing
High school student Hana Nonomura finds herself stuck at a marriage ceremony after her older sister refuses to attend. The man she is to be matched with is 26-year-old Takane Saibara. Takane is unimpressed with Hana and insults her appearance, leading Hana to bring an abrupt end to the meeting. Thanks to Hana's outburst and witty personality, Takane takes an interest in her and Hana agrees to go out with him to get back at him for the way he treated her.
Takane to Hana captures a different style of Christmas with the chapter being filled with more comedy than romance. The eccentric group gets together to celebrate Christmas with a party. The Christmas party is upbeat and fun giving you tons of laughs while the group celebrates. There are also some nice romantic parts with Takane and Hana exchanging gifts in their own special way and a conclusion being reached with the rival pining for Takane's love.
---
2. Usotsuki Lily (Liar Lily)

Authors: Komura, Ayumi
Genres: Comedy, Romance, Shoujo, Gender Bender
Volumes: 17
Published: 2009 - 2014
One day, Hinata Saotome is asked out by En Shinohara, one of the best looking boys in the whole school. En turns out to be different than she had imagined, as Hinata finds out En is actually into dressing like a girl. En has a hatred for men so he dresses up like a girl so he doesn't have to see his own reflection. Although En's hobby may be strange, Hinata still decides she wants to go out with him.
Usotsuki Lily's Christmas scene is also filled with a more comedic tone, with En's family being very eccentric and all having their own quirky personality that comes out during the Christmas party. Although the comedy is one of the best parts in in this scene, the main part that makes it great is the development that happens between En and Hinata. En starts to sulk about Hinata enjoying her time with all of the boys in his family. Hinata confronts him and the two share a kiss as they grow closer than they ever had before.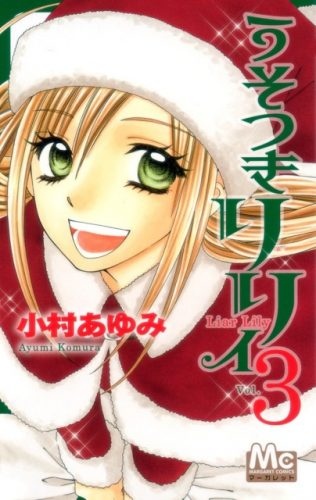 ---
1. Chocolate Christmas

Authors: Takeuchi, Naoko
Genres: Comedy, Romance, Shoujo, Slice of Life
Volumes: 1
Published: 1987 - 1988
Ryouko hates spending Christmas Eve alone. While listening to the radio, she hears a DJ named Choco talking about how much he hates Christmas and how he is always alone. Understanding how Choco felt, Ryouko brings him a special Christmas cake and delivers it to the radio station for Choco. A year later, Ryouko gets a job at the same radio station in hopes of meeting Choco. However, meeting Choco won't as easy as she thought, due to Choco hiding his identity from most of the station.
What better to finish off the list than a manga centered around the Christmas season? Ryouko and Choco come together over their desire to have somebody to spend Christmas with and ultimately come together on Christmas day. Chocolate Christmas has fantastic Christmas scenes from beginning to end and you can't go wrong with picking a favorite. The manga captures the Christmas visually unlike any other manga on this list, with each paging being filled with Christmas decorations. Along with the visuals, the Manga also does a fantastic job at featuring the romantic elements that make Christmas in Shoujo manga.
---
Final Thoughts
That's it for our list of the top 10 Christmas scenes in shoujo manga. With so many great shoujo manga featuring a Christmas chapter, it's hard to pick just 10. The manga on the list cover a wide variety of different takes on Christmas with plenty of drama and romance for you to enjoy. What's your favorite Christmas scene in a shoujo manga? Let us know in the comments below.
---