También puedes leer este artículo en:Español
As the big holidays draw near, everything begins to have that holiday's theme incorporated into it in some form or another, and anime is no different. No matter the genre or length of the series, most of them find a way to have an episode dedicated to the characters celebrating said holiday together while at the same time incorporating some connection to the main plotline. Probably no holiday does this better and is bigger celebrated than Christmas.
One thing to keep in mind is that in Japan, Christmas in general has more of a Valentine's Day connotation to it. As a result, a lot of the anime Christmas stories that take place are much more romantic in nature as opposed to exchanging presents under a Christmas tree. There are also a variety of tones towards the Christmas celebration as a result, ranging from comedic to somber. That being said, however, there are still some great examples that show the importance of togetherness, the spirit of giving, and generally what Christmas is all about. Here are the Top 10 Christmas Anime.
10. Ore Monogatari (Episode 17)

Episodes: 24
Aired: Apr 2015 - Sep 2015
Takeo Gouda may be a high school freshman, but he certainly isn't the typical one with his intimidating appearance. However, even though he looms over his peers, Takeo is more like the "gentle giant", and has earned the respect of his peers through his chivalry. Despite his great qualities, they aren't enough to help him with girls, and it doesn't help matters that his best friend, Makoto Sunakawa, is who all the girls seem to fall for. It's up to Takeo to figure out a way to win over Rinko Yamato, the latest girl he is interested in, before she falls for his best friend like all the others.
Since this anime is already focused on romance, the Christmas episode that occurs seems to fall right into place with the ongoing plot. Takeo and Yamato play matchmaker for Osamu Kurihara, one of Takeo's friends who is very sociable until he gets around Nanako and makes things awkward. However, Kurihara is able to makes things right when he obtains a star from the top of a giant Christmas tree, allowing him and Nanako to confess their feelings for each other. Even though Christmas seems to be mainly a backdrop to the events going on, it gives a realistic feel to how Christmas can be celebrated in Japan as well as the togetherness of friends.
---
9. Sergeant Frog/Keroro Gunso (Episode 39)

Episodes: 358
Aired: Apr 2004 – Apr 2011
Sergeant Keroro is the captain of the advance team sent to Earth to collect information for the ensuing invasion. Bear in mind that he also happens to be a frog. When his ship crash-lands on Earth, Sergeant Keroro tries to take refuge in the Hinata household. Unfortunately, he is discovered, loses his weapons, and is ultimately abandoned by his people for being discovered. However, there are other agents in similar positions to his also on Earth, and as Sergeant Frog is left to fend for himself, he will have to figure out how a new way to take over the planet.
As Christmas approaches, Sergeant Frog decides that Christmas is the perfect time to attempt to take over the world. Unfortunately, his comrades are caught up in celebrating the spirit of the season, and to make matters worse, Sergeant Frog believes that it may be a race against Santa Claus as to who can take over the world first. However, Sergeant Frog is eventually won over by Santa and even sets out doing good deeds to earn Santa's approval, resulting in him being rewarded Christmas morning. This interpretation of Christmas seems really appropriate for all ages, especially kids. We see how everyone is so happy celebrating the holiday and how someone that doesn't want to celebrate it can eventually be won over. Definitely your classic feel-good Christmas special.
---
8. Seitokai Yakuindomo (Episode 11)

Episodes: 13
Aired: Jul 2010 – Sep 2010
Tsuda Takatoshi is a 1st year student at Ousai Academy, which has recently become a gender-integrated school. Takatoshi learns just how true this is as he realizes on the way to the school as well as once he gets there that he is completely surrounded by girls as well as outnumbered. Somehow, amongst the chaos, Takatoshi finds himself the vice-president of the student council, and must uphold those responsibilities while surviving the candid conversation being used around him.
This anime is all about verbal adult humor with some visual gags thrown in as well, and the Christmas special is no different. Takatoshi and his friends decide to spend their Christmas at a vacation house of Aria's, and they have a wonderful time having Christmas dinner and exchanging gifts. However, the adult humor comes in when Takatoshi repeatedly gets the same type of gift from his new friends. Even Santa makes an appearance to give everyone a gift, only to leave Takatoshi with the same gift. Even though this Christmas special is much more adult oriented, the themes of celebrating it with friends and the spirit of giving can still be applied.
---
7. Toradora! (Episode 19)

Episodes: 25
Aired: Oct 2008 - Mar 2009
Ryuuji Takasu and Taiga Aisaka are opposites: Ryuuji is a kind person with a scary face, and Taiga is a scary person with a doll-like demeanor. As fate would have it, their paths end up being intertwinded as each are interested in the other's best friend, leading them to try to help each other winning the hearts of the other's best friend. As they spend more and more time together in order to help each other, both Ryuuji and Taiga must figure out who it is they actually care for.
Another Christmas special with the romantic comedy element, this one is different in the sense that some major plot development goes in this episode, most specifically Taiga breaking down and realizing that its Ryuuji that she actually has feelings for. In classic romantic anime fashion, neither of the characters realize what they really want until it's too late, resulting in more drama. That being said, the Christmas party that takes place is full of Christmas spirit, and Ryuuji noticing that Taiga has isolated herself from it despite loving Christmas parties is crucial to setting up one of the most important scenes in the show. If you're a fan of the romantic stories that place in anime Christmas specials, this is one to check out.
---
6. Love Hina Christmas Special Silent Eve

Episodes: 1
Aired: Dec 25, 2000
Keitaro is faced with a dilemma. On the one hand, he has to retake the prelimary tests that he desperately needs to pass. On the other hand, the test are on Christmas Eve, and with it being the first Christmas of the millennium, rumor has it that confessing your love on this day will result in it coming true. Keitaro must decide if he has enough time to pass his tests and declare his love to Naru or whether he has to choose between them, and it looks like there are others looking to confess their love as well…
One thing that makes this romantic Christmas movie stand out is that this came out on the first Christmas Day of the new millennium, making the movie stand out that much more in terms of Christmas spirit as well as the perception it currently has in Japan. Otherwise, the story has the usual clichés of characters misunderstanding certain situations, chasing after each other, and finally ending up with the right person at the end. A classic feel-good romantic Christmas movie for fans of the genre.
---
5. Sword Art Online (Episode 3)

Episodes: 25
Aired: Jul 2012 – Dec 2012
Virtual reality has finally reached the point where a massive online role-playing game called Sword Art Online can be instituted. Using nothing but your thoughts with the aid of "NerveGear", Kazuto Kirigaya aka "Kirito" is among the first to get the game, only to find himself trapped in it along with select others by the game's creator. It's up to Kirito to adapt, survive, and ultimately win if he wants to escape this new virtual world.
This Christmas special is unorthodox to say the least; not only is it happening early in the series as opposed to later, it's also not one with a happy ending. Kirito befriends a member of the Moonlit Black Cats Guild named Sachi only to lose her and the guild to a trap that ultimately takes their lives. Kirito believes that he can bring Sachi back if he can defeat the Christmas event boss and obtain the necessary item, only to find upon defeating said boss that the item is useless. However, Kirito receives a message from Sachi on Christmas Eve telling him not to blame himself and to fulfill his dreams as well as a farewell hummed tune to the melody of "Rudolph the Red-Nosed Reindeer". A sad ending that emphasizes why people feel it's important to spend time together on the holidays.
---
4. The Disappearance of Haruhi Suzumiya

Episodes: 1
Aired: Feb 2010
Haruhi Suzumiya specials are known to be mysterious and complicated, and this one is no different. On December 18th, Kyon makes his way to school to the SOS Brigade's holiday celebration, only to find that nobody seems to remember Haruhi Suzumiya whatsoever and that Itsuki Koizumi has gone missing. It's up to Kyon to not only makes things right again, but somehow go back to the past in order to ensure that things stay right, resulting in the complexities of time travel. However, it makes the Christmas celebration on the 24th that much more meaningful at the end for Kyon, as he alone knows what's it like to have lost someone and to be able to reunite with them under these types of circumstances.
---
3. The Big O (Episode 11)

Episodes: 26
Aired: Oct 1999 – Mar 2003
40 years ago, something happened to Paradigm City that caused everyone to lose their memories, resulting in starting again from scratch with whatever remained. One clue of the past that remains, however, is the presence of the MegaDeuses, or giant robots, and their threat to Paradigm City. It's up to Roger Smith and his robot, Big O, to not only stop them but somehow keep order in the city.
Even on Christmas Day Paradigm City is under attack; luckily, Roger and Big O are able to stop the threat and restore peace once again. Afterwards, Roger and Dorothy are able to exchange gifts with each other. But the true spirit of Christmas comes forth in the relationship between Oliver, a poor saxophone player, and Laura, his blind girlfriend. At the end of the episode, Oliver confesses to Laura that he's not able to give her a gift to her for Christmas, only for Laura to say that her gift is just being able to be with him. Even in tough times, both financially and in terms of danger, Oliver and Laura's love for each other reflects the true meaning of Christmas.
---
2. Gintama Christmas Special (Episode 37)

Episodes: 303
Aired: Apr 2006 - Mar 2016
Aliens from outer space have taken ahold of planet Earth; as a result, a prohibition exists on swords, leading to many samurai being disregarded. However, one man stays true to the path of the samurai despite his rash personality, his fondness for sweets, and the fact that he has to take odd jobs in order to survive. That man is Gintoki Sakata, and with a little help from his friends, they just might be able to make things a change for the better.
Without a doubt, this Christmas special is amazing. Running into Santa and his reindeer due to an accident, Gin's rational reasoning with them eventually breaks down into a fight. Things eventually calm down and Gin treats them, deciding to help Santa and Ben leave toys for children in order to discover the meaning of Christmas. This results in a disaster due to them dressing up in black "to improve Santa's image" only to be mistaken as thieves as well as only leaving kendamas for the poor children since they can't afford expensive things for the rich kids. They finally decide to leave a gift for Kagura but end up trying to prank her instead, resulting in Kagura beating them up due to her weird dreams. Kagura wakes up in the morning to find her gift as well as the message "Merry Christmas" written out from the dried blood of Gin, Santa, and Ben. Completely different from the usual Christmas specials, this one deserves to stand out for the absurd comedy used yet still conveying a good Christmas message overall.
---
1. Tokyo Godfathers

Episodes: 1
Aired: Aug 2003
It's another Christmas Eve for 3 homeless people scavenging the trash until they stumble upon a sight they don't see every day: a newborn baby. Hana, a transwoman, Miyuki, a runaway teenager, and Gin, a quarrelsome alcoholic, come together to try to find "Kiyoko's" mom and dad, resulting in events that involve a mysterious envelope, kidnapping, and even death. But as the trio search for the newborn's parents, they will also find out who they truly are as well by confronting their individual pasts.
Doesn't get much better than this. Directed by Paprika director Satoshi Kon and co-written by Cowboy Bebop, Trigun, and Samuria Champloo creator Keiko Nobumoto, Tokyo Godfathers shows how the spirit of Christmas can reach the people that can really benefit from celebrating such a holiday as well as give those people hope. A lot of the events and relationships that we see happen are a reality that not many want to think about, but it's important to acknowledge in order to learn from it as well as how to hopefully avoid those kinds of situations. Fortunately this story ends in a positive way; not many stories in this type of environment do.
---
One thing is for certain: regardless of whether there's a romantic, a humorous, or even a sad connotation, all these anime in some form or another convey the important messages as to why Christmas is important and what it means to people. Hopefully there will continue to be awesome Christmas specials in the future that follow in their footsteps. But what do you guys think? Do you feel there were too many of one genre on this list? Do you feel there's a Christmas special missing? Post your opinions in the comments!
---
---
We're already entering Christmastime and Christmas Eve is just around the corner. As we impatiently wait for Santa, we can spend our free time getting ready and in the Christmas mood.
In order for you to do that, I will provide you with some of the best Merry Christmas Scenes in Anime. You know, those Christmas scenes that fill your heart with hope and wishes, that remind you of the most important aspects of Christmas, and that make you believe in Christmas miracles.
I give you my Top 10 Merry Christmas Scenes in Anime!
10. Hamtaro / Tottoko Hamtarou (episode 25)

Episodes: 296
Aired: Jul 2000 – Mar 2006
Christmas has arrived at Laura's house, not just for her, but for Hamtaro and the Ham-Hams as well. They get started with the preparations by setting up the Christmas tree and clearing up some doubts about what Christmas is about. Boss finds out about the existence of Santa and he's determined to get lots of gifts. In order to achieve that, he reads a book on manners and starts being nice and polite to others.
Early on Christmas Day, the Ham-Hams are surprised that they all got gifts including Boss, who's overcome by joy after all his hard work. In this lovely final scene we get to see Boss enjoying the merriest of Christmas for him so far, and also realize that our efforts never go unrewarded.
---
9. Sergeant Frog / Keroro Gunso (episode 39)

Episodes: 358
Aired: Apr 2004 – Apr 2011
Keroro is constantly planning on conquering the Earth, even during Christmas. This time, he plans on taking advantage while everyone is distracted celebrating the holiday. Sadly for him, his team is also possessed by the Christmas spirit and he ends up all alone on this one. He blames Santa for this new failure and thinks of him as a rival who's also after world domination.
Eventually, our froggy friend realizes Santa is not only too powerful for him, but that he's also a nice person who brings gifts to good boys. By the end, Keroro catches the Christmas spirit and performs good deeds in order to earn Santa's approval. The Christmas magic is felt when Keroro goes to sleep, exhausted from all the work he's done, and we see a Christmas gift waiting for him at the end of his bed.
---
8. The Big O (episode 11)

Episodes: 26
Aired: Oct 1999 – Mar 2003
Paradigm city is being threatened on 25th December. Luckily, Roger Smith and the Big O are there to protect the city and its inhabitants. After a short fight against a giant creeper vine, Roger gives Dorothy a birthday present (though it wasn't really her birthday), and what's even more surprising, she gives him a Christmas gift. How considerate of her!
However, that shallow exchange of gifts (despite being a thoughtful gesture, it felt empty and lacking meaning or emotion) is not what makes this Christmas special. What makes this Christmas so merry is Oliver and Laura's unconditional love for each other. In the last scene, he tells her he doesn't have a gift for her, and she answers that her gift is being with him. Those who seem to be poorer are certainly the richest, on a Christmas full of love.
---
7. Clannad: After Story (episode 13)

Episodes: 24
Aired: Oct 2008 – Mar 2009
This episode of Clannad is not a Christmas special, but it has 2 Christmas scenes. On the first of these, Tomoya and Nagisa take a walk outside during Christmas Eve. Tomoya then buys her a present and he reveals his joy for spending Christmas alone with her for their first time.
I find this short scene to be extremely romantic and touching, especially when you know all the trials they had to endure to be together and as happy as they are. In Japan, Christmas is very much related to lovers and this particular scene is all about being happy next to one's significant other. A Christmas with that kind of love is certainly the merriest.
---
6. Ranma ½ (OVA "Tendo Family Christmas Scramble")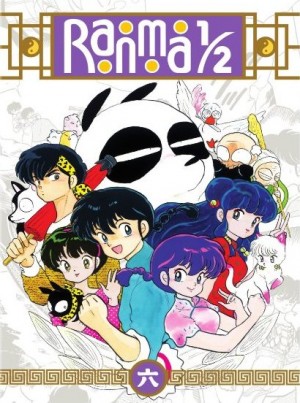 Episodes: 161
Aired: Apr 1989 – Sep 1992
On this Christmas special, the Tendo family throws a big Christmas party, with a lot of guests, food, gifts, karaoke and romance. Both Ranma's and Akane's fathers believe this is a great opportunity to bring their children together, but some of the girls who are after Ranma have other plans in mind.
The episode reaches its climax when Ranma manages to escape from the girls chasing him and gets some alone time with Akane. They get past their differences and exchange gifts. Akane's gift for Ranma is a hideous scarf she made herself, but Ranma appreciates the thought behind it and puts it on to make her happy. Being that nice to each other is quite unusual for both Ranma and Akane, which makes this scene so special and Christmassy.
---
5. Sword Art Online (episode 3)

Episodes: 25
Aired: Jul 2012 – Dec 2012
This Christmas special is one of those that make you cry like a little girl. It starts with Kirito accepting the Moonlit Black Cats' offer to join their guild. In time, they become quite close and Kirito begins to care a great deal for these people, especially for a girl, Sachi. Sadly, few weeks later, the Moonlit Black Cats walk into a trap and every member gets killed except Kirito.
Our hero spends months blaming himself for their death, but he is told that the Christmas event boss will drop a revival item when defeated, so he goes after it. Despite his success, the item turns out to be useless to bring back Sachi. Then suddenly, a Christmas miracle happens! Kirito receives a message from Sachi on Christmas Eve, telling him that her death was inevitable and not his fault.
She ends her message asking him to live to fulfill his dreams and thanking him for the time they spent together. Then she makes her farewell by humming "Rudolph the Red-Nosed Reindeer" to wish him a Merry Christmas.
---
4. The Disappearance of Haruhi Suzumiya

Episodes: 1 (Movie)
Aired: Feb 2010
As we would expect from a Haruhi Suzumiya special, this story is completely twisted, complex, full of mysteries and supernatural occurrences. The Disappearance of Haruhi Suzumiya is set on 18th December, when Kyon arrives at school to realize that his world has changed completely and nobody knows of Haruhi's existence. He sets out on a quest to find Haruhi and Itsuki, and to bring the world back to normal.
Eventually, Kyon succeeds and everything is as it used to be, but he still has to travel to the past in order to preserve this reality. In the final scene, Kyon is back at school on 24th December, and he decides that the space-time continuum can wait for his time travel. For now he has to attend Haruhi's Christmas hot-pot party. Certainly, Christmas will be the merrier around someone like her.
---
3. Kobato (episode 19)

Episodes: 24
Aired: Oct 2009 – Mar 2010
You know how Christmas is all about being with the people you love, leaving our differences behind and just getting along. Well, Kobato's Christmas special represents that aspect of Christmas quite well. It starts off with Kobato feeling terrible because Fujimoto's been treating her coldly. She believes it is her fault, but it is later revealed that Fujimoto was abandoned as a child during Christmas.
Domoto, on the other hand, is as charming as ever towards Kobato, and he intends to make her happy by giving her the perfect Christmas gift. Aware of what troubles Kobato's mind, Domoto sends Fujimoto to make up with her. This is a lovely Christmas scene, with snow falling down on Kobato and Fujimoto's heads while they reconcile thanks to Domoto's selfless action. It just gives me the feels.
---
2. Himouto! Umaru-chan / My Two-Faced Little Sister (episode 8)

Episodes: 12
Aired: Jul 2015 – Sep 2015
Christmas at Umaru and Taihei's place is obviously the warmest and coziest of all. On this Christmas, Taihei has to work overtime, so Umaru is left home alone decorating the apartment and waiting for him in the comfort of her kotatsu. A few hours later though, Taihei arrives home with Kirie-chan, so the three of them get to enjoy a wonderful Christmas together.
However, the scene from this episode that represents the Christmas spirit the most is at the very end. Taihei sends a photo of him dressed as Santa to Kanau, his female boss, and wishes her a merry Christmas knowing that she would spend the holiday alone. She can't help to be cheered by Taihei's gesture, as her Christmas doesn't seem so cold anymore.
---
1. Seitokai Yakuindomo (episode 11)

Episodes: Jul 2010 – Sep 2010
Aired: Jul 2010 – Sep 2010
The members of the Student Council are having their first Christmas together, which of course, turns out to be a very sexual one. Takatoshi and the girls spend the holiday at Aria's vacation house with Aria's maid, Dejima-san, who's just as perverted as the rest of the girls.
They spend a lovely Christmas Eve having delicious food and having lots of fun like one big family (a very kinky family). Then, the time comes to exchange gifts and Takatoshi is not very pleased when he gets one that vibrates. Luckily for him, the lovely Shino has a special gift made for him. Surprise! It also vibrates.
But this Christmas proves to be the merriest of all in the last scene, when Santa appears to wish everyone a Merry Christmas and he give Takatoshi one last and very cool gift… you guessed it, another vibrator.
---
Okay, folks, this is it for our list of Merry Christmas scenes. These are the ones we considered that best represent the magic of Christmas or that spread the Christmas spirit the most. I encourage you to watch these scenes and episodes if you haven't (or re-watch them if you already have) to get in tune with this magical and beautiful time of year.
Other Merry Christmas scenes can be found on Digimon Adventure 02 (ep.38), on Pokémon: Santa's little helpers, and on Stitch! (ep.13). Please, don't be afraid to leave a comment on your favorite Christmas scenes and specials. Merry Christmas! ˆ_ˆ
---