También puedes leer este artículo en:Español
The lasts of the winter anime season have come and gone, and we're entering another new season. Already have a list comprised of which anime you anticipate the most? Well, there's no good reason to not consider to add to the list, especially if you're interested in anime in which a lot of girls are being cute and having fun, because spring 2016's list of slice of life anime will have a lot of them!
Here's a collection of slice of life anime for spring 2016 that you might want to look through! We've worked out the general information for you as well—not all of us has the time to look up each one of these anime to see what they'd be about—and you could just sit tight and see what this particular genre has to offer in spring 2016. Who knows, maybe you'd have another anime to add to your to-watch list!
8. Usakame

Episodes: TBA
Airing Date: April 12th, 2016
From the director of all Teekyuu anime adaptations, we are looking at the anime debut of the famous Teekyuu's spin-off manga that focuses on their official rivals, the Usakame girls. Usakame will tell the story of the four members of Usakame tennis club who had originally appeared in Teekyuu as the opponents. There's the 'my pace' girl Tanaka Kinako, the leader Suzuki Ayako, the airhead Satou Kurumi, and the genius tennis player Nishiaraidaishi Nishi. What kind of mundane, and perhaps strange, daily happenings in their tennis club will they face?
One of the main marketing points of this anime is the seiyuu—if you love both Teekyuu and the Earth Star Dream unit, this anime would be a must-see, because all of Earth Star Dream members would be involved in voicing the characters in Usakame. For now, the official website only lists the four main characters and pitching Usakame's status as Teekyuu's spin-off, but from the adorable artwork and descriptions provided, do expect much silliness and light-hearted jokes for this particular anime!
---
7. Pan de Peace!

Episodes: TBA
Airing Date: April 3rd, 2016
Adapted from the 4-koma manga by the same title, Pan de Peace! Centers around the daily life of Tani Minami, a cheerful girl who is starting high school and loves bread very much. Pitched as a "delicious, cute and soft bread comedy!" anime, Pan de Peace! will be your choice if you'd want to see cute girls eating bread with love. Other than Minami, you'd be seeing the cool Aizawa Yuu who is actually a very shy girl, Fukagawa Fuyumi whose family own the Fuwafuyu Bakery, and everyone's beloved Sakura Noa, who loves French bread the best.
The actual manga is written by Emily and will be serialized in the ComicCune magazine after its online run in ComicWalker since 2014. The manga is really just about girls being very friendly and half-in-love with bread (or, in Noa's case, sometimes claiming that French baguettes is her weapon), with random trivias about bread sprinkled here and there. Personally, it'd probably be better to expect Pan de Peace! to be a very slow-paced anime, considering how mundane the manga feels like. It does, however, gives a peaceful and happy atmosphere, and the characters are extremely cute. Whether or not it would be interesting enough to keep your attention, you gotta see it for yourself!
---
6. Sansha Sanyou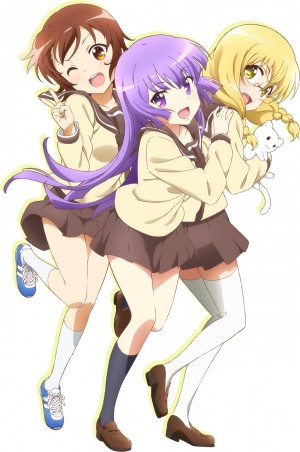 Episodes: TBA
Airing Date: April 11th, 2016
Three girls with distinctively different personalities: Odagiri Futaba, the energetic transfer student, Hayama Teru, the class president who has the most innocent look but unexpectedly also the blackest heart, and the rather haughty princess Nishikawa Youko whose family had just fallen from the pedestal and have now become poor. Three personalities that are unlikely to get along with, but somehow become friends anyway. Doga Kobo presents to us Sansha Sanyou, the story of these three adorable girls and their hilarious daily life.
Sansha Sanyou is originally a 4-koma manga by Cherry Arai, serialized in Houbunsha's Manga Time Kirara since 2004. Long time fans of Cherry Arai would definitely be ecstatic and looking forward to the anime adaptation. The three main characters' seiyuu, Wakui Yuu, Kanazawa Mai, and Imamura Ayaka, would be singing both the Opening and Ending theme songs for this anime, which, true to the spirit of the series, is very cute and light-hearted. It's cute girls being adorable, making friends, and going through silly everyday things, so if that's your jam, don't forget to check this anime out. As its first episode is even aired at Cinema Sunshine Ikebukuro the week before it hits TV, there's a bit of high expectation for Sansha Sanyou, and hopefully it doesn't disappoint!
TVアニメ『三者三葉』第1弾PV
---
5. Haifuri

Episodes: TBA
Airing Date: April 10th, 2016
Here is one anime that fans of Yoshida Reiko, the screenplay writer of both Aria and K-On! would be looking forward to. Set in a world where most of Japan's territory is now part of the ocean and marine cities thrive, Haifuri tells the story of female students who dream to be Blue Mermaids, whose task is to protect the ocean. The anime would center around the childhood friends Misaki Akeno and China Moeka, drawing up the bright and fun high school life of them and their friends as they strive to be Blue Mermaids.
A manga adaptation of the series has been published last year in the seinen manga magazine Monthly Comic Alive, illustrated by Abe Kanari. Another point to look forward to from this anime would be the female seiyuu lineup—from the rising Amemiya Sora and Natsukawa Shiina to the more senior Kobayashi Yuu, Itou Kanae and Asumi Kana. A character song CD including a mini drama story would be released on April 6th. All in all, it looks like we could expect another bright slice of life focusing on high school girls' daily life out of Haifuri—check out the characters and see how adorable they are for yourself!
2016年4月新番組アニメ「はいふり」PV第1弾 / Hai-Furi
---
4. Bakuon!!

Episodes: TBA
Airing Date: April 5th, 2016
High school girls and motorcycles! Isn't the concept of it exciting? We have Bakuon!! this spring season, bringing you the story of an all-girl school's motorcycle club and their members, all of whom love motorcycles a lot: Sakura Hane, Suzunoki Rin, Amano Onsa, Minowa Hijiri, and Kawasaki Raimu. Hane is only a beginner, though, setting out to get her own license (not that she knew what license is, in the beginning), and the anime would set to follow her new 'motorcycle life' as Hane experiences continuous surprises and discoveries every day.
Bakuon!! began as a manga by Orimoto Mimana, serialized in Young Champion Retsu—its seventh tankoubon is bundled with an OAD, released this March. Considering its demographic as a seinen manga, as well as what the PV has shown, the anime seems to have an ample amount of not only fanservice, but also details on the motorcycles the girls use; from Honda CBF400 SF to Kawasaki ZX-12R. Its promising exciting scenes of motorcycle rides and cute banters and humor between high school girls. The main cast, including Ueda Rina, Touyama Nao, Uchiyama Yumi and Yamaguchi Rikako, would also be singing the ending theme song for the anime, adorably titled "Buon! Buon! Ride On!"
「ばくおん!!」PV / 「Bakuon!!」 Official Trailer
---
3. Shounen Maid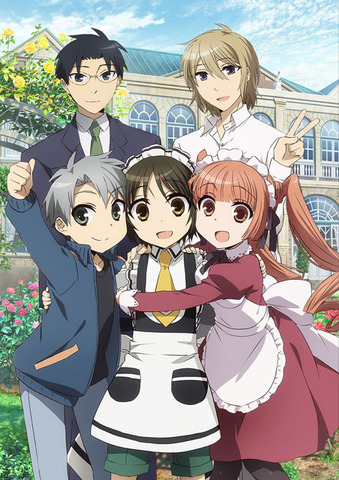 Episodes: TBA
Airing Date: April 8th, 2016
Komiya Chihiro, an elementary school boy, is left with no relatives after his mother's death. He oddly doesn't feel depressed about it (yet)—perhaps too used to the fact that his mother was rarely home due to work, leaving him the role of almost house-husband, as his school friends put it, as cleaning is Chihiro's specialty. Except then his uncle shows up to be his guardian, and Chihiro is dragged to live in a house so messy it's practically a dumpster. What could Chihiro do but take up the maid uniform and promptly go on a cleaning spree, beginning his days as the shounen maid?
Adapted from a manga with the same title, Shounen Maid is a work by Ototachibana, published in B's Log Comic since 2008. No, despite what it looks like (and tons of fanservice for girls, hurrah!), it's not a series of the Boys Love genre, it's actually a slice of life shoujo series. No, it doesn't have anything to do with the shota porn series Shounen Maid Kuro-kun that you'd definitely find on Google when you look up the title. Shounen Maid, according to its PV, questions the meaning of 'family'. Do look forward also to the seiyuu performing this anime; the old cast who did the drama CD for the manga had been replaced, but the new cast aren't to be look down upon either—a lineup of Fujiwara Natsumi, Shimazaki Nobunaga, Maeno Tomoaki, and even Hanae Natsuki!
2016年4月新番組「少年メイド」第1弾PV【TBS】
---
2. Kuma Miko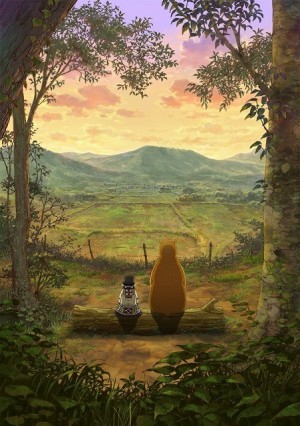 Episodes: TBA
Airing Date: April 3rd, 2016
You should be excited for this extremely cute-looking, adorable anime! Kuma Miko introduces the friendship between Amayadori Machi, a middle school student who is also a Miko (Shinto shrine maiden) and Kumai Natsu, a talking bear who lives with Machi and is also Machi's guardian. Upon Machi's wish to attend school in the city, Natsu gives her a set of trial to teach her about life in the city.
Kuma Miko is originally a manga by Yoshimoto Masume that is serialized in Monthly Comic Flapper since 2013, and starting 2014, it was added to Kadokawa's webcomic service Comic Walker. With just one PV, Kuma Miko already shows how cute and silly the anime would be—the ending song, sung by Machi and Natsu's seiyuu, Hioka Natsumi and Yasumoto Hiroki, literally begins with a light banter between the Miko and the bear. It's the kind of cute both male and female viewers could appreciate; character designs are extremely cute, but pair that with a couple of bear hugs, silly dancings, and hilarious-looking side characters! This definitely should be one of your top choices for this season's slice of life anime.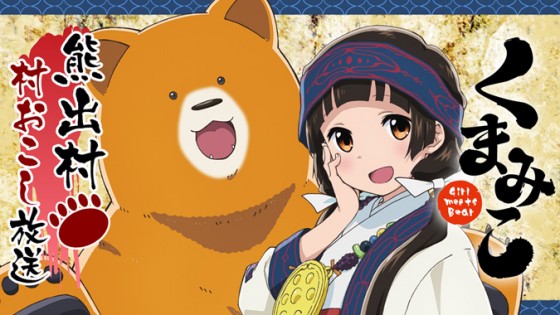 【TVアニメ化決定】「くまみこ」特報PV
---
1. Flying Witch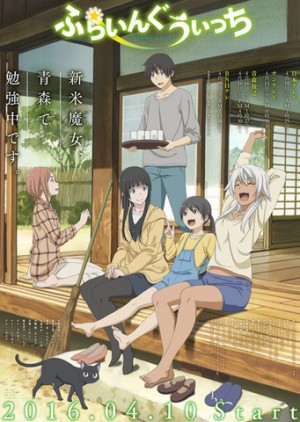 Episodes: TBA
Airing Date: April 10th, 2016
Kowata Makoto is a rather airhead of fifteen year-old girl who needs to be independent as a witch and, with her cat familiar Chito, moves into her relatives' house in Aomori. Living in the same house as her cousins, Kuramoto Kei and Kuramoto Chinatsu, going to a normal high school and making friends, casually spending her day as a normal highschool girl despite her oddities as a witch sometimes, Makoto's daily life that begins in Aomori is calm, relaxing, and warm—despite how it's April and Aomori still has snow piling up everywhere.
Flying Witch would cast Shinoda Minami, Suzuki Eri, Sugawara Shinsuke, and Kayano Ai together to bring the characters to life. It began as a manga by Ishizuka Chihiro, serialized since 2012 in Bessatsu Shounen Magazine. The manga itself is very light-hearted and tells of mundane everyday happenings in the quiet town where Makoto lives—from casually finding a mandrake after school, gardening and trying to catch pheasants, to helping out in an orchard. The atmosphere and overall story is very similar to Silver Spoon, which makes it very enjoyable. Judging by the PV, the anime would pretty much have the same light-hearted, mundane and warm note to the whole thing. Spoil yourself with the bright spring colors for the anime, and put Flying Witch in your number one choice for slice of life anime if you love simple, heartwarming stories about daily life.
アニメ「ふらいんぐうぃっち」PV第1弾
---
Slice of life anime are usually a lot of fun, if a bit feelsy in several episodes. But they're usually the good kind of feelsy—the kind that's easy for the viewers to sympathize with, leaving you with a feeling of having watched a very nice show. Hopefully the anime we have listed for you would be up to all of our expectations!
Well, wasn't that a lot of girls doing cute things in the slice of life genre for this season! All you have to do is take your pick of what kind of slice of life anime you'd like to watch? Light comedy, onslaught of cuteness, sports, or just mundane daily life stories? Considering the cute boy anime is great, too. You've got to at least have one relaxing slice of life anime in-between your to-watch list—rest up your brain and heart, and just enjoy!
---
Vote for your most anticipated anime of Spring 2016!